20 QUESTIONS WITH ALEX WILLMS—PHOTOS BY DAVE SWIFT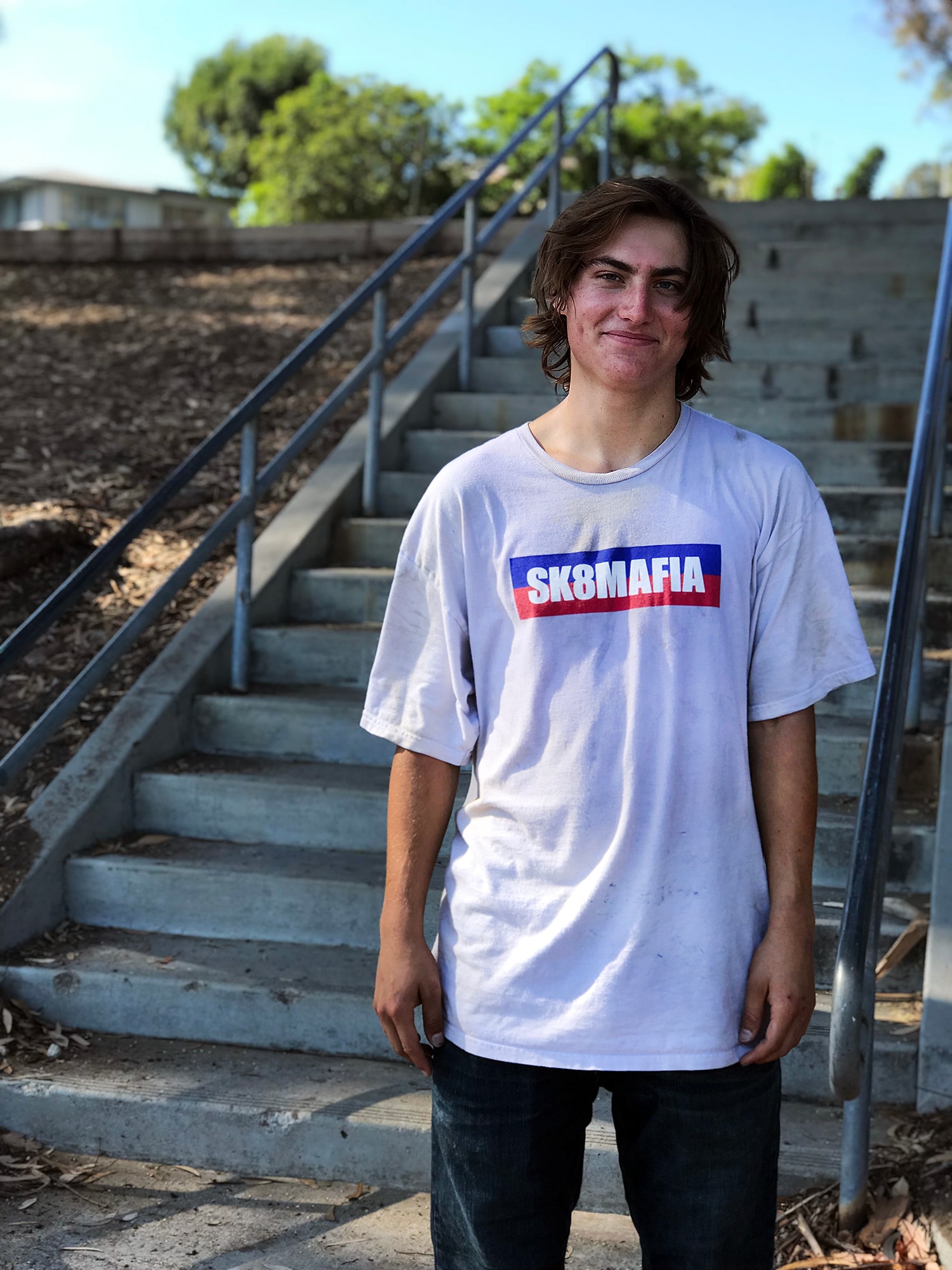 WORDS & PHOTOS: Dave Swift
The first time I saw this kid it was a clip of him backside grinding this multiple-kinked rail in Mira Mesa and I just had to find out who it was. I asked this local North County filmer Tylre Wilcox and he told me the guy's name was Alex Willms. The next thing I asked was, "Did anyone shoot a photo of that?" No was the answer so I asked Tylre if he'd ask Alex if he'd do it again for a photo. The answer was yes and we met up at the spot the very next day, he landed it again for the photo and because I was still working for a print magazine at the time I was sure the photo would get used. Never happened. I felt bad but Alex just shrugged it off. We've shot a bunch of times since and Alex has certainly been on a roll. Look for plenty more of this up and coming San Diego kid in the near future.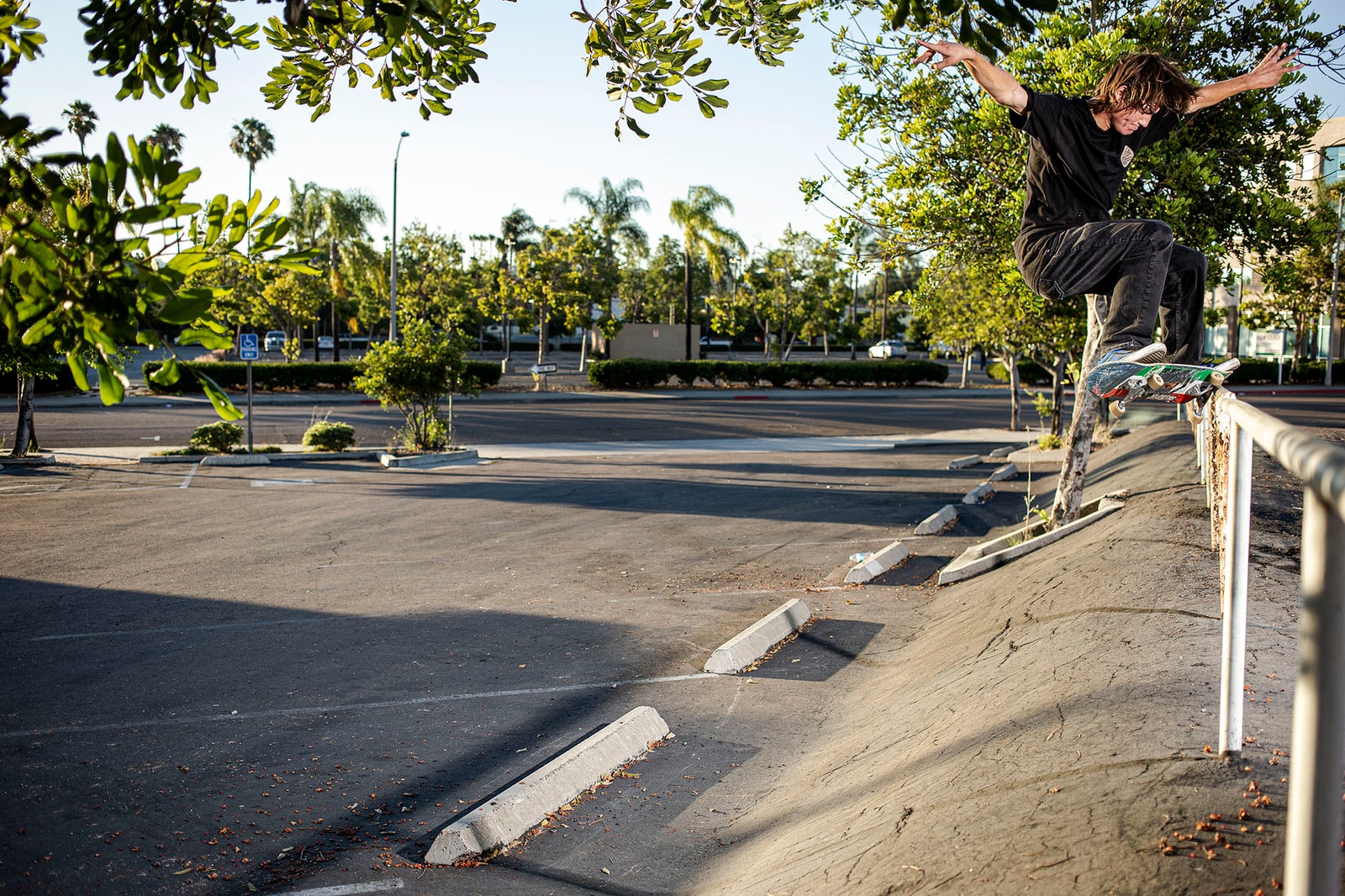 This spot in Escondido has been going off and on since the early 1990s and I'm glad I finally got to shoot something there. Alex posted a basic clip on his Instagram that I saw and asked if he'd be down to shoot something. Boom, we got two things, this frontside crooks to fakie being one of them. 
How old are you and where are you from?
I'm 21 years old and from Carmel Valley in San Diego, California.
Did you skate the Carmel Valley Skatepark as a youth? If so, did you get to see Wes Kremer skate there a lot?
Yeah, that's been the local park for more than a decade for me. I got to see a lot of legends show up there over the years. Wes would come through in the mornings sometimes—I remember one day he was rolling on a cruiser set-up and kickflip back tailed the bump to ledge first try.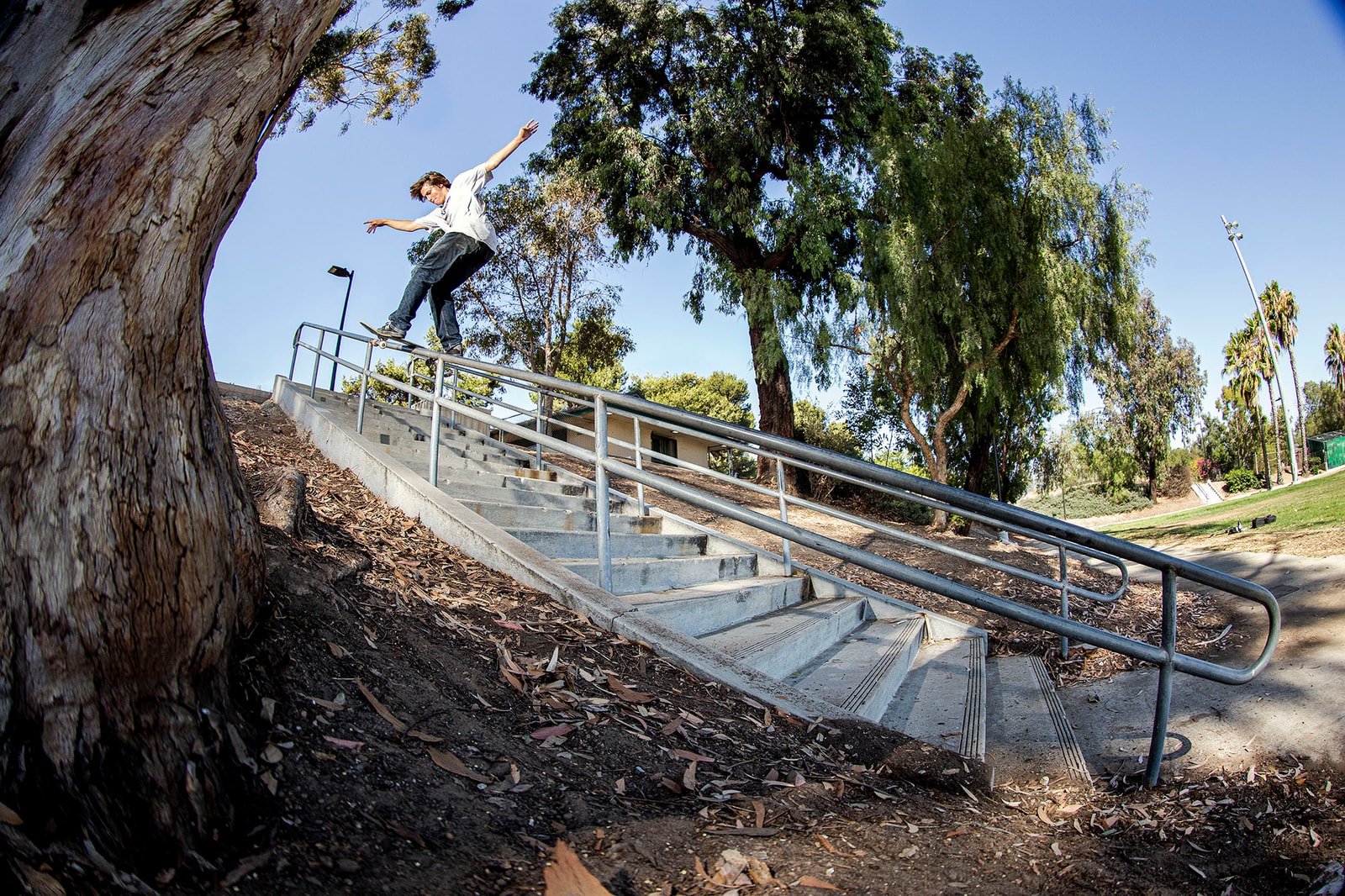 Alex told me that he got knocked out pretty good on this rail awhile back. His doctor alluded that he's lucky to be alive. So, going back to conquer his fear with another trick wasn't that easy and he took a couple hard slams before rolling away from this long front board.
Growing up, diid you watch a lot of skate videos? Which one was your favorite?
I've always watched skate videos and loved Misled Youth, Mindfield and A Happy Medium 2.
Do you prefer online video parts that come out often or company full length DVD's (or whatever fucking format is best these days)?
I'll watch whatever but full-lengths are preferred.
What video parts have you had come out over the years?
I had a part come out in the Sun Diego video Youth, a couple parts in my homies video Mohkie 1 and Mohkie 2 and a Thrasher part last year.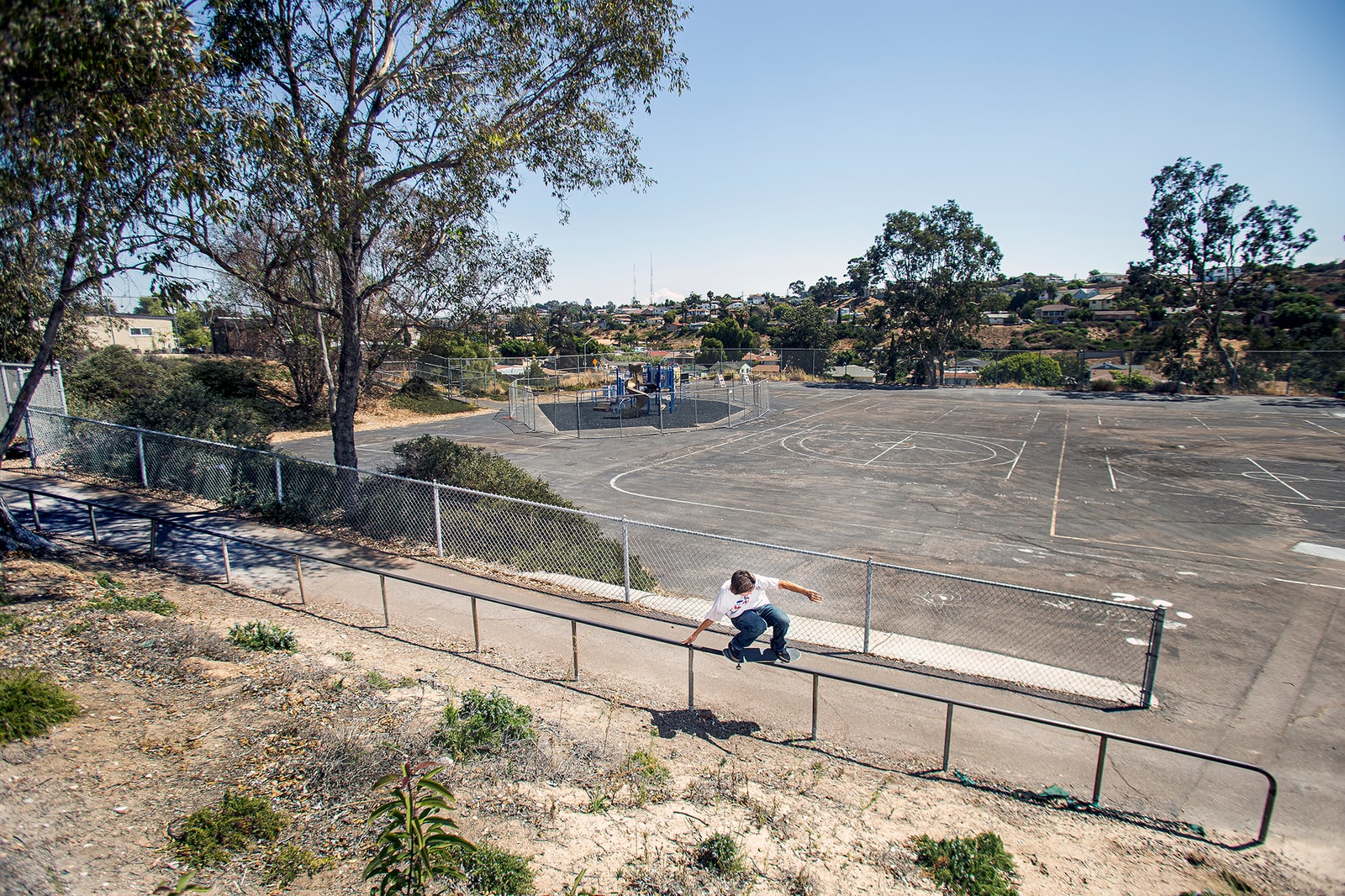 So, this is a Smith grind layback. Yeah, you heard correct. I saw him do one of these on an Insta clip and asked if he'd be down to shoot one. He came up with this spot at a school deep in San Diego. I didn't expect such a long bar but once he got the hang of locking into the Smith laying back on his hand for a bit it was no problem at all. Sick and original.
What was your first sponsor and how did they notice you?
I got on Sun Diego Board Shop flow in 2014. I would go there often and the manager at the time Dana was always super cool. Eventually he asked to see some of my footage and was down to hook it up.
I think we've been out to shoot photos nine times since I've known you and you've never let me down. I say that with a chuckle and hope that I didn't jinx it. Anyway, what is the longest, or most times you've had to go back to land a trick?
There's this one trick (switch backside heelflip). I battled for a couple years, you were there the last time when I made it. I've gone back to the school probably seven or eight times but only got to actually skate three of those times for two-to-three hours each time. It ended up taking over two years of missions to get it.
Who is in your skate crew?
I like to skate with a bunch of crews. I'm lucky to have friends in North County, East County, and the Sk8mafia Buhms of course. Notable G's are Isack, Jesse S, Bread, Bobo, Yaka, DC, Izzy M, Alexis R, Nick S, and many more.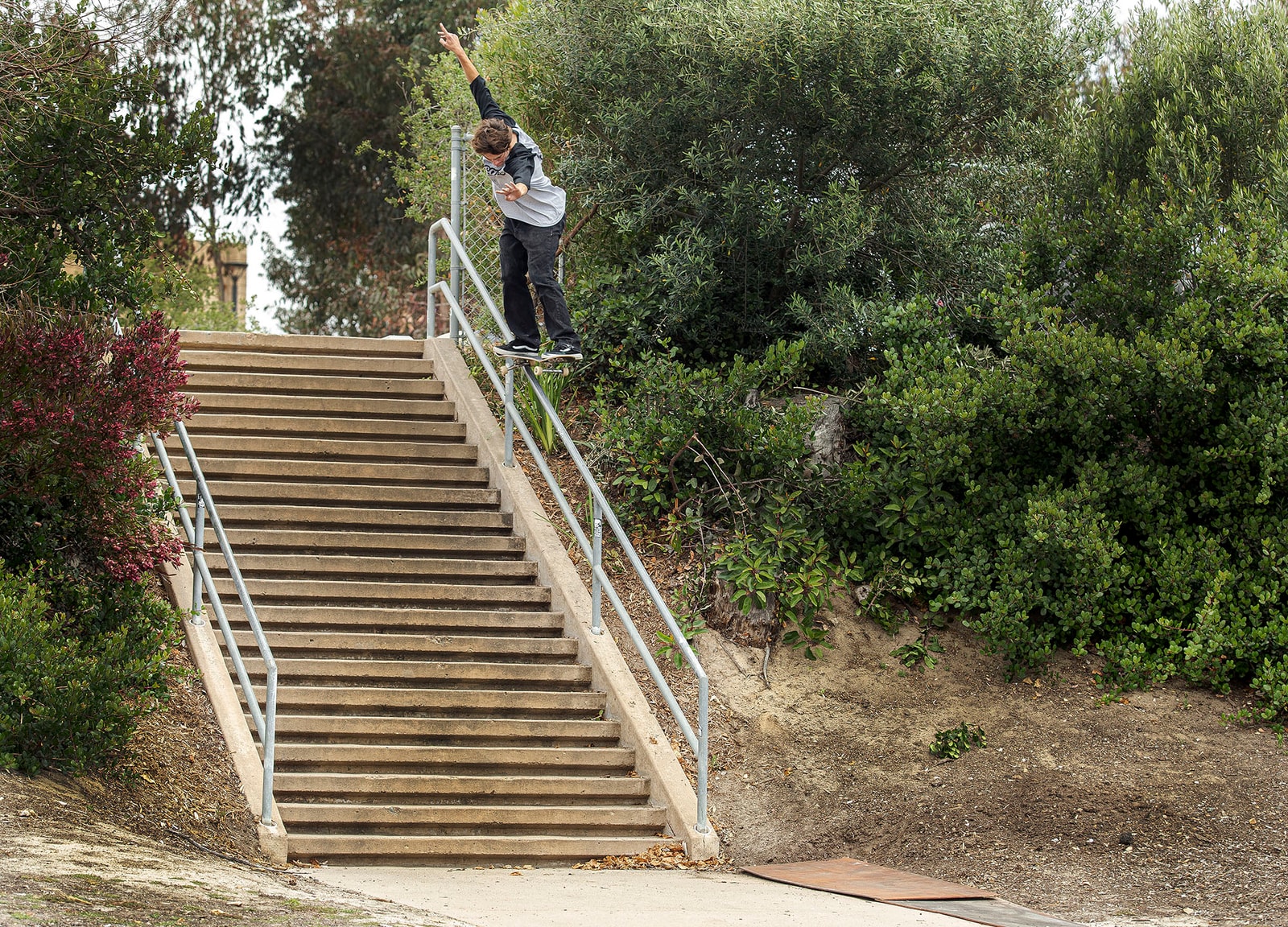 This is Alex's high school and he did this 21 stair 5-0 on his 21st birthday. Another fun fact about this place is I went to my only prom here.
Stupid question, did you graduate from high school? If so, do you plan on furthering your education?
I did. I finished my general ed at community college and I'm working towards getting a degree.
What's the gnarliest clip you've ever got and put straight to Instagram?
Probably a skatepark trick, I like to save up for video parts.
I see your riding for the Sk8mafia these days. How does it feel to be part of such a solid San Diego squad?
It's unbelievable! I'm stoked I get to skate and hang with the dudes who have contributed so much to the San Diego skate scene and to skateboarding as a whole. It's a trip sitting in the van next to dudes whose skating I grew up watching and looking up to.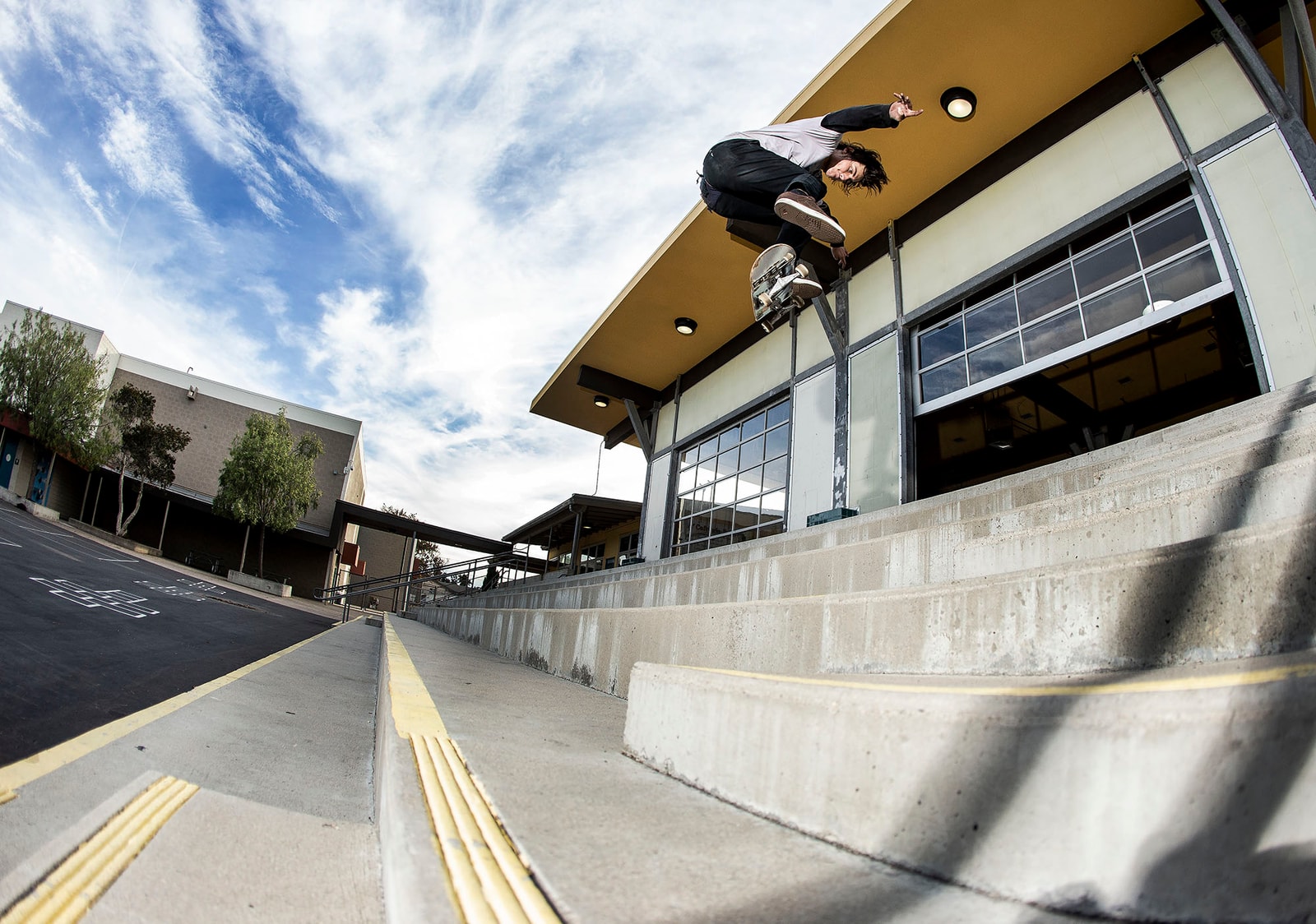 This is the trick that Alex battled for a couple years and finally got the day I showed up to shoot some photos. I guess I'm a good luck charm. 
From the first time I shot photos of you I noticed you have some amazing bar balance. What do you owe that to?
I noticed a while back if you want to sit on a rail you need grooves. I love doing slappy grinds which dig into your trucks a lot.
Where have you traveled to for skateboarding?
Skateboarding has brought me to hell and back. Also, all over California, Arizona, Las Vegas and New Jersey.
Where do you want to travel to?
The East Coast sounds sick.
No time for girlfriends?
Sure there is.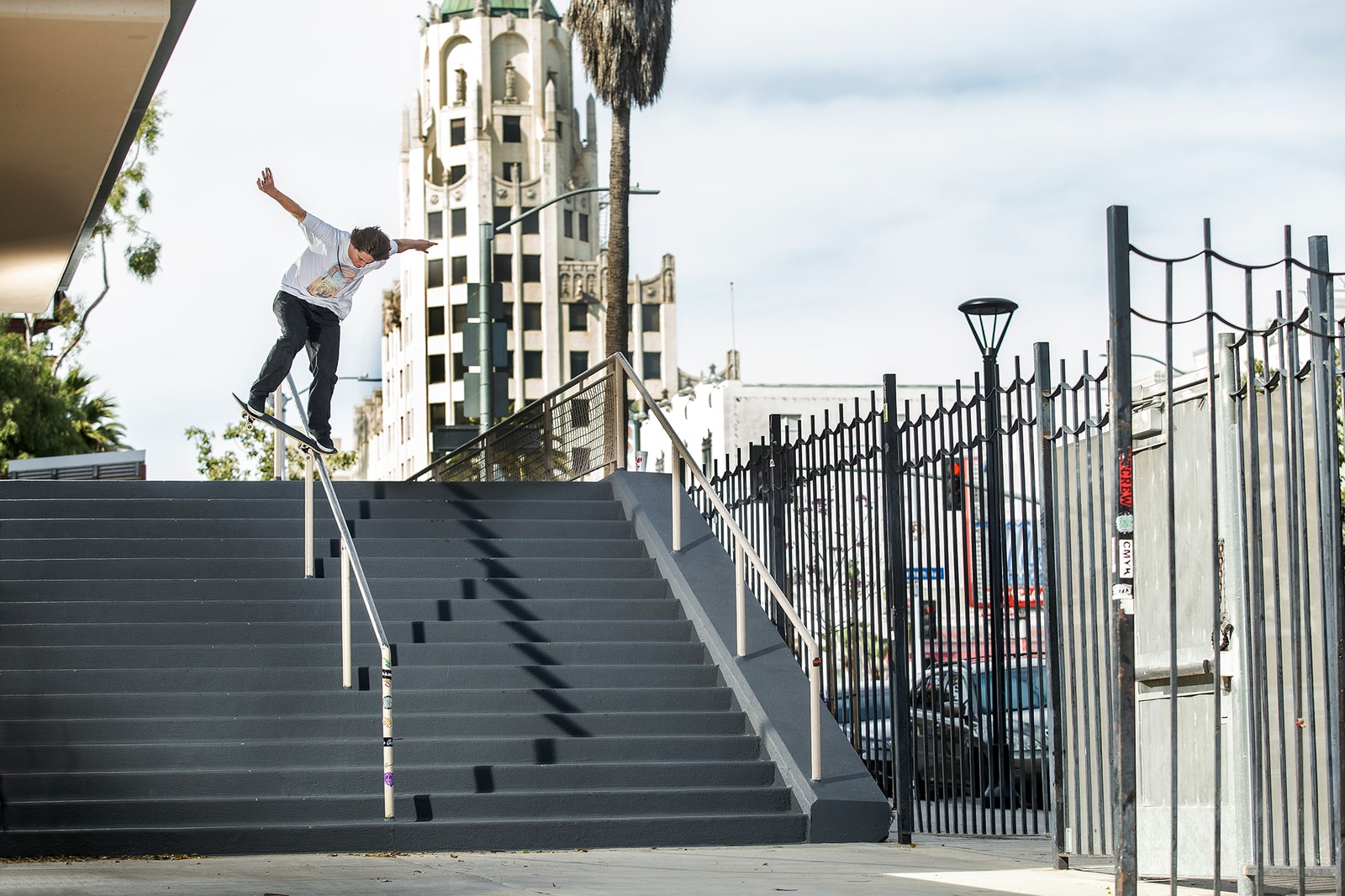 Got in a car with Alex, drove shotgun to Hollywood High from Oceanside to get this switch bluntslide down the 16. Right away the parking guy denied us entrance but we convinced him to give us a few tries (I'm certain he'd heard that many times before) which was all that was needed. Probably fifth try right here and straight back to Oceanside.
You told me the other day you had a speech impediment; I've never noticed it before. What's that all about or did you just want to avoid doing this interview on the phone?
I have anxiety that affects my speech sometimes. I'm better at writing things down.
Your top five skaters of all time?
Tommy Sandoval, Jon Allie, Wes Kremer, Cory Kennedy, and Heath Kirchart.
Do you have any superstitions or fears?
I don't like bugs.
Growing up to you get your skateboards from a shop or online?
Skateshop.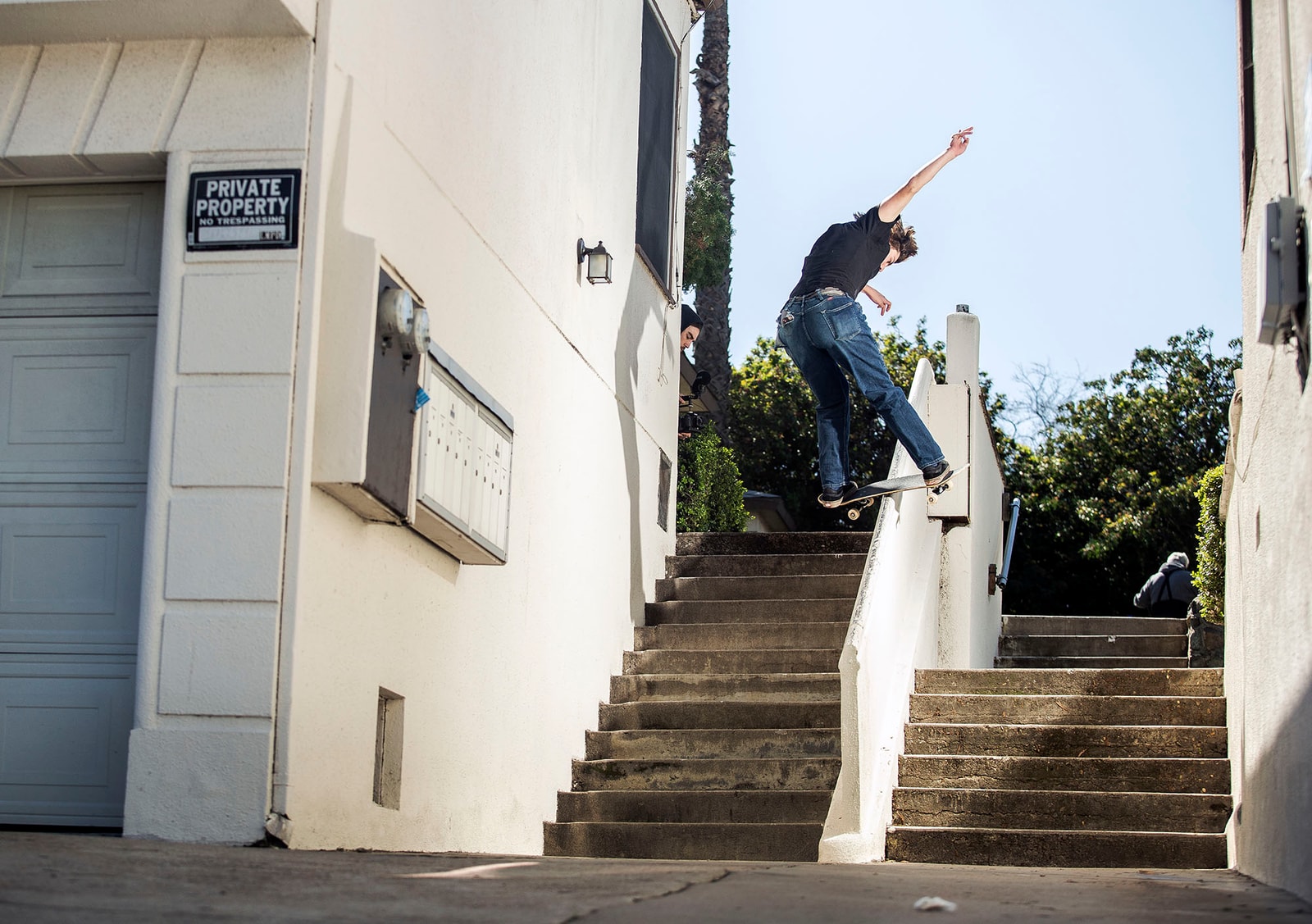 San Diego has some hidden gems out in the cuts. This gap out to switch front board was at some apartment building where if the owner caught you there was no tellin' what he'd do. I've heard he's told other skaters he carries a gun. Needless to say, this was done speedily and we got the fuck out.
Who would you like to thank?
I want to thank Isaac Eteminan, Jesse Silva, Dan Connelly, Rhino, Dave Swift, Izzy Murguia, Mark Johnson, Sk8mafia, Local Skateshop, Independent Trucks, Bronson Speed Co., and everyone who supports.
Check out our "One Day" video with Willms here, and for more of Dave Swift's extensive portfolio visit his site here.