ALMOST (VEGAN) CHEESE AND CRACKERS: SALAD GRINDS & BEAN PLANTS #67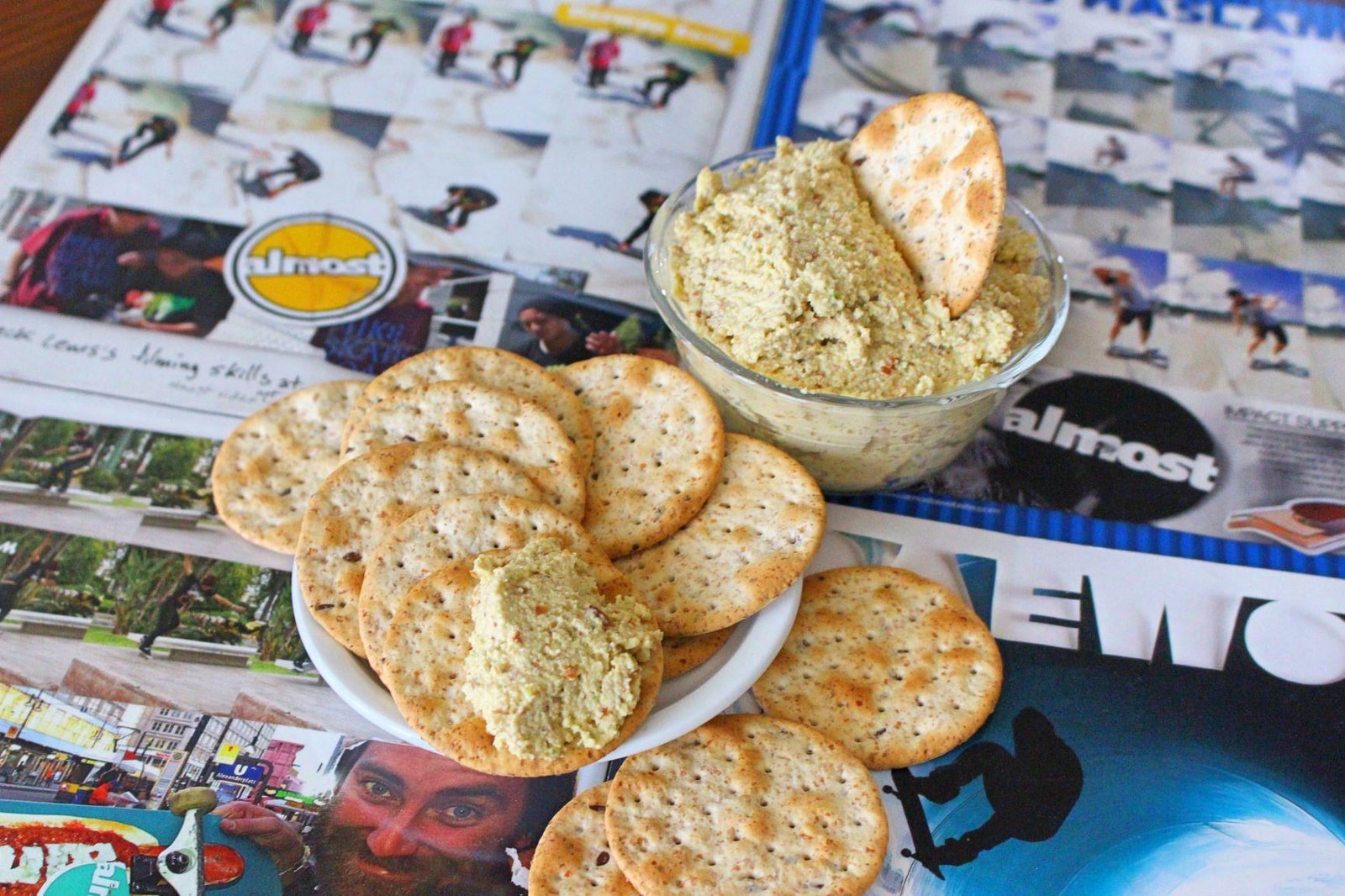 ALMOST: (VEGAN) CHEESE AND CRACKERS
(smoked jalapeno vegan cheddar spread)
WORDS: Johnny Lozano
I was enjoying a philosophical conversation with a buddy the other day regarding which types of video parts age best. I had pointed out that I'm still blown away every time I watch Guy Mariano's Mouse part, which led to a debate about whether predominantly tech parts or predominantly rail parts stand up better to modern scrutiny. While there are no wrong answers, what we failed to discuss was the staying power of predominantly mini-ramp parts.
Maybe it's because a mini-centric part is hard to come by (unless you're Todd Falcon). Two stick out in recent memory: Dave Bachinsky's "Bachinsky Gone Wild" (an amazing part for sure, and, as it turns out, a mere precursor to the madness he throws down today) and, of course, Almost's 2006 Cheese and Crackers video. When it comes to aging well, Cheese and Crackers is like gouda (I would also accept "Cheese and Crackers is as gouda(s) gold"). And perhaps it's because it doesn't hang its hat solely on tech ingenuity (though it has that in spades); its intense creativity, humor and song selection make it a video worth watching over and over. Indeed, even the roster is untouchable: Daewon Song and Chris Haslam together make for a perfect wine and cheese pairing. It's an open question as to whether tech wizardry in the streets ages better than pioneers of the '90s slaying rails, but it's pretty much beyond debate that Cheese and Crackers will always whet the appetite.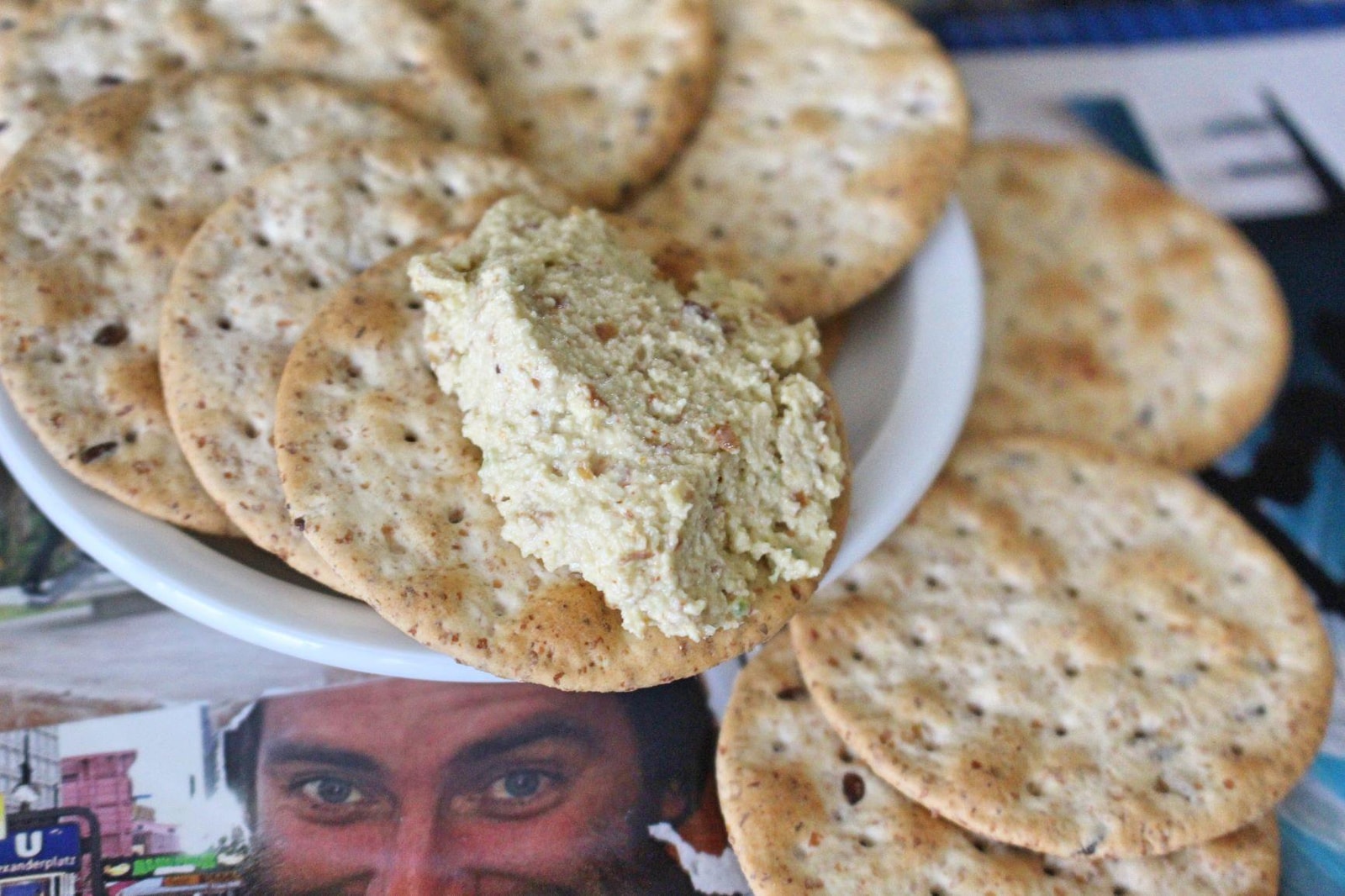 As a tribute, this week's recipe is a vegan smoked jalapeno cheese spread. I toyed with this recipe over a year ago, but finally decided to ditch the agar powder (a solidifying agent used to make non-spread vegan cheeses—my original goal was to actually carve a cheese mini-ramp) and decided to make a spread instead. Like most vegan cheeses, this spread is nut based and uses a mix of almonds and cashews so that you get a good, spreadable cheese (thanks to the fat ratios in cashews), while still getting a decent amount of protein (thanks to the protein ratio in almonds). The spices and jalapeno bring in just a bit of a kick while giving it a smoky flavor reminiscent of a holiday cheese log (which, now that I type it, is more appetizing than it sounds, I promise). This is the perfect snack for chilling and watching skate videos or for dipping at the edge of the mini.
Frankie Says Relax?  Nah, Frankie says get that cheddar.

INGREDIENTS:
½ cup raw, unsalted almonds

½ cup raw, unsalted cashews

½ cup water (for blending)

3 tbsp. nutritional yeast

2 tbsp. lemon juice

1 tbsp. olive oil

½ tsp. garlic powder

½ tsp. salt

½ tsp. liquid smoke

½ tsp. paprika

1 jalapeno (diced as small as possible)
DIRECTIONS:
This recipe takes a little foresight. First throw the almonds and cashews in an airtight container and cover them with water (at least by an inch or two). Seal it and leave it in the fridge overnight. This allows the nuts to soak and soften so that they'll blend better the next day.

Once soaked, drain the almonds and cashews and throw the them into a blender or food processor along with all the other ingredients except the jalapeno and blend until smooth (or as smooth as you want). This takes 30-60 seconds (or longer, depending on your blender/processor), so don't get too impatient. Once blended, throw in the jalapeno and pulse it again, depending on whether you want chunks of jalapeno or not.

Grab some crackers, spread that cheddar and enjoy some mini ramp footage.
Happy Shredding,
Johnny  
For more recipes, check out www.saladgrindsandbeanplants.com or find us on Instagram at @salad_grinds_and_bean_plants.