ARTIST OF THE WEEK: DEREK BRENNAN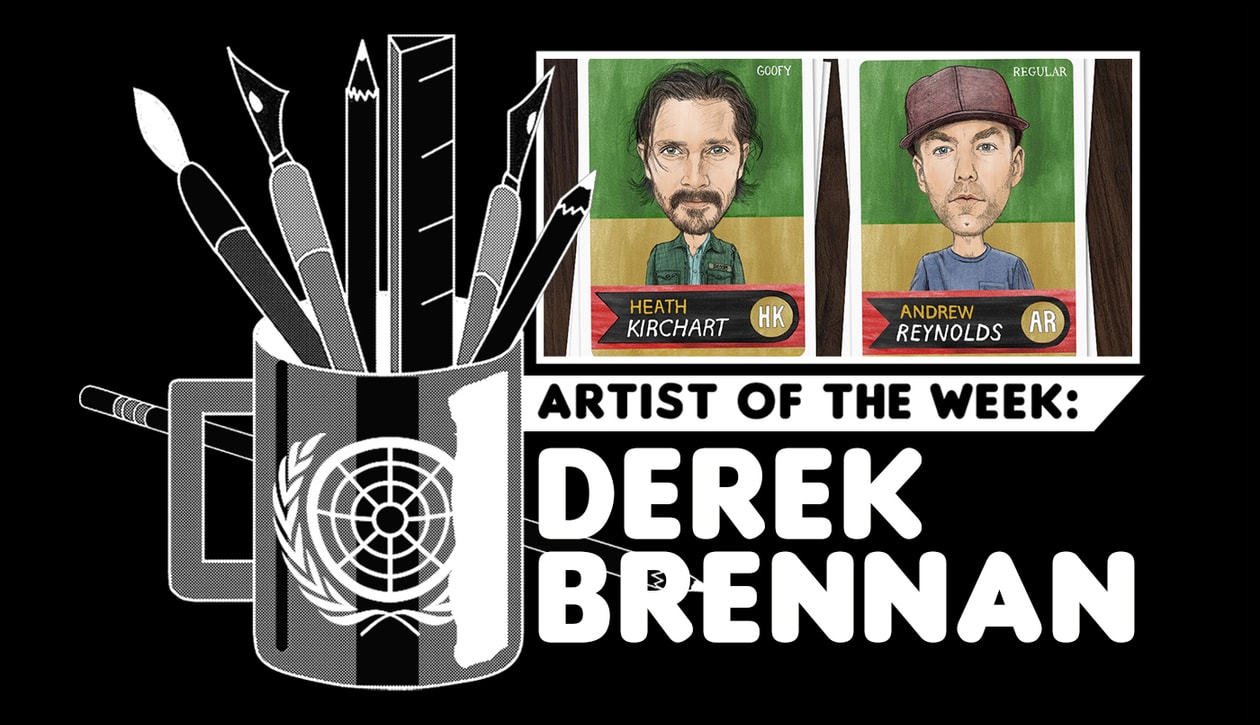 WORDS: Stu Gomez
Most of us aren't content to express our love for skateboarding by simply skateboarding. We sometimes need other avenues to channel our passion (some would say "obsession") for it. Artist Of The Week Derek Brennan pays tribute to skating, and the pros who have steered the culture's trajectory, with his series of Pro Skateboarding trading cards.
Read our interview with Brennan below to learn about his labor of love.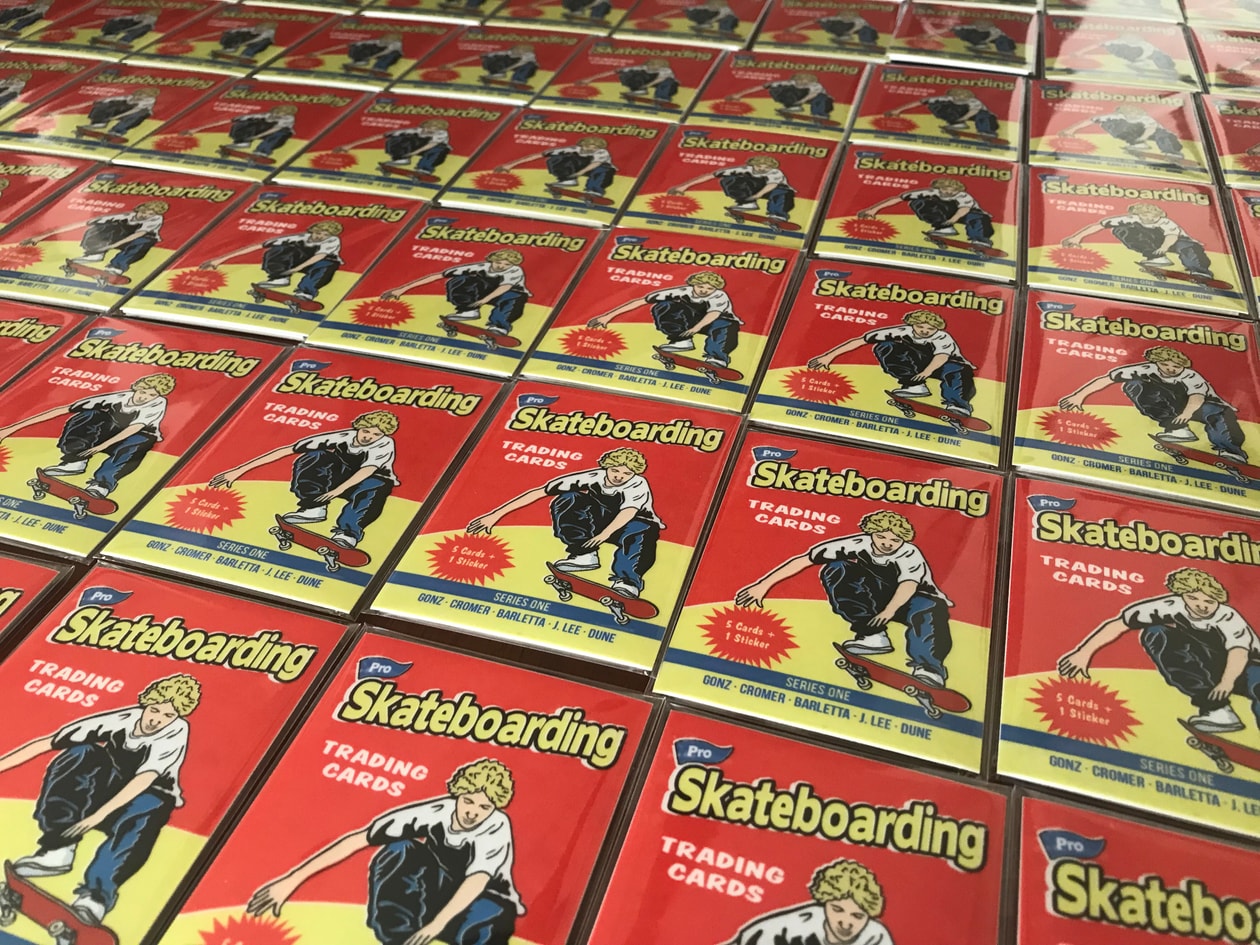 How did you become interested in art?
Art has really been a part of my whole life…I've just always been a very visual person. Growing up I didn't want to read the books in school—I just wanted to look at the pictures or find a video/movie alternative. Visuals just captured my attention.  So things like children's book illustrations and cartoons were some of my earliest artistic influences. I can remember being 4 or 5 and trying to learn to draw a lot of those characters (primarily the Teenage Mutant Ninja Turtles). I got a lot of practice in drawing… then people started to tell me I was pretty good at it, too. I think that fueled me even more, like, "Oh… this is what I'm meant to do. This is my thing." I haven't stopped since and it's really morphed into an interest in many different types of art: painting, design, photography, film, etc. There's a lot of carry-over.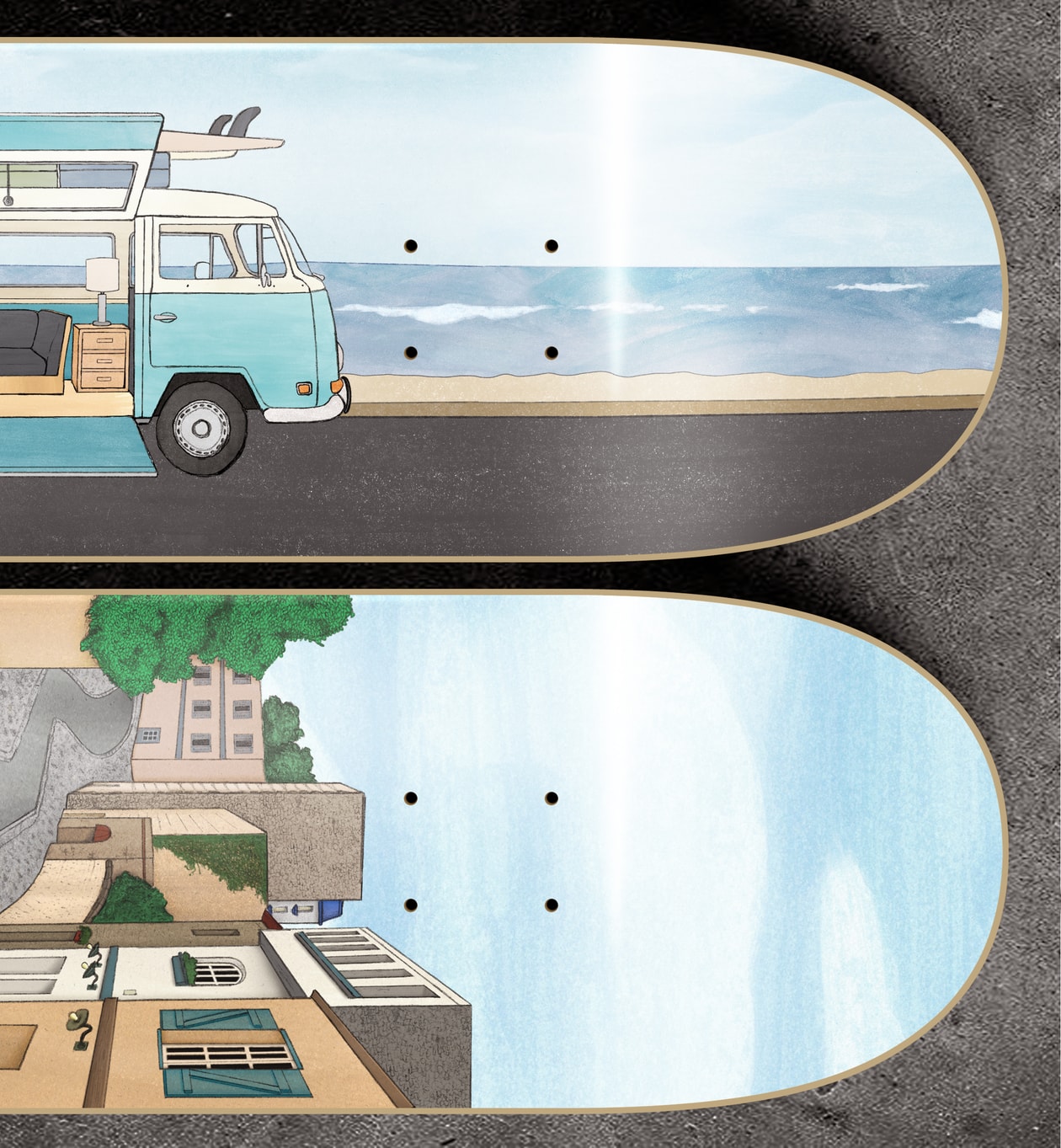 Board graphics for The SunnySide Company 2016.
Do you specialize in a specific medium?
If I had to pick any medium as one that I specialize in, I might just say regular ol' graphite pencil and paper. That has been the longest standing art form for me, and it's still how I start almost all my work (trading cards included)—even if the final will be a painting or digital. If I'm working on a little video or animated piece, I still like to sketch out a storyboard first with a pencil. And because it's the medium I'm most familiar with, it's probably also the one that brings me the most enjoyment.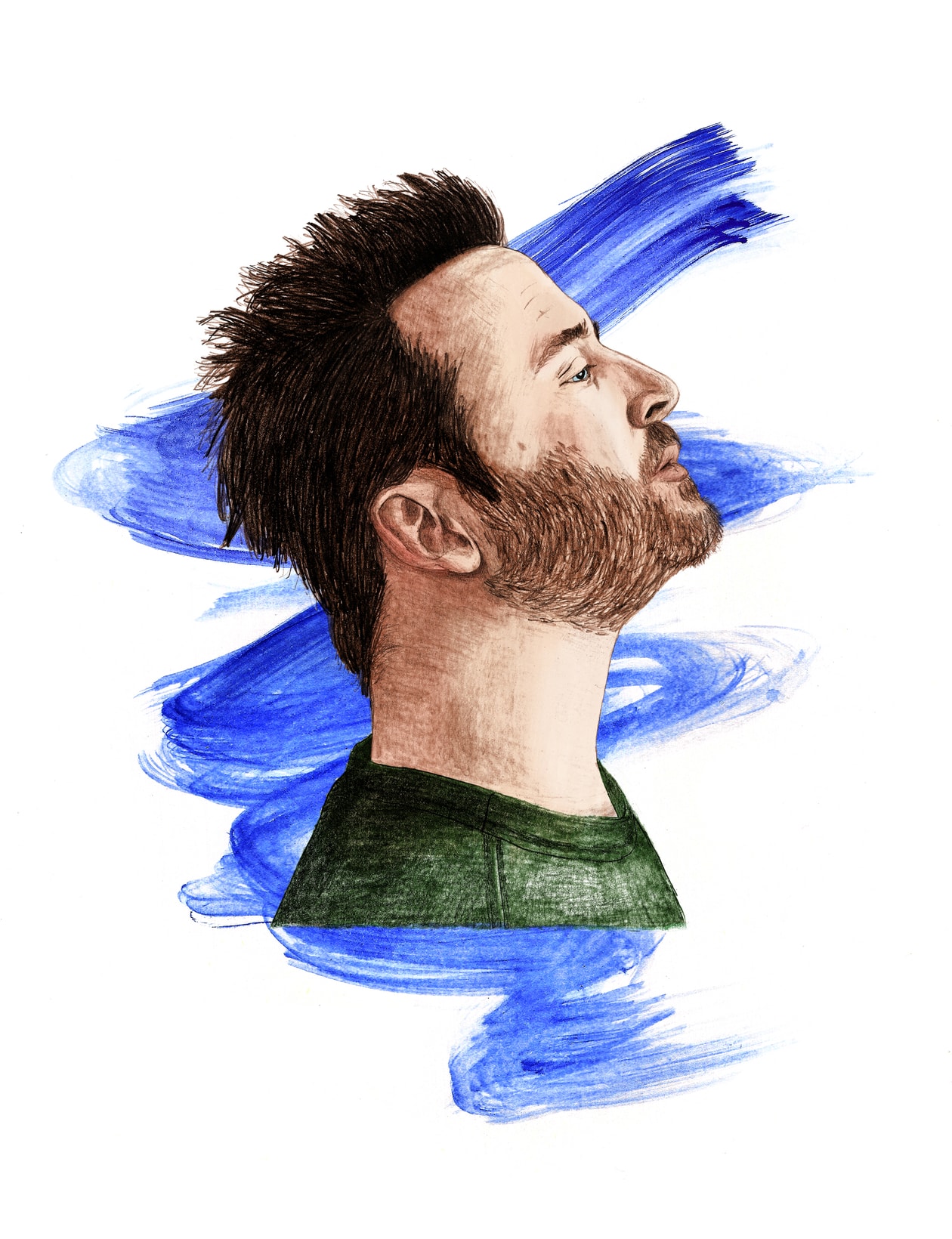 Ed Templeton portrait 2010
What's your history with skating?
I started to notice skateboarding in 5th or 6th grade (1998-99), but it took a lot longer for me to actually dive into it. At first it was just seeing kids bring CCS catalogs to school and hearing them talk about everything in there. Like, someone would mention "the new 411" and I was like, "What? That number you call for information?!" I was clueless at that point.
Then my best friend had an older brother that got heavily into skating.  So my friend would get his old setup sometimes and would try to learn tricks. I tried a few times but, really, if I was gonna be outside I wanted to be playing basketball—that was my obsession at the time. I continued to know kids that skated all throughout my school years, but it wasn't until towards the end of high school that I finally started to get really into it. It was a combination of the Tony Hawk video games and the CKY videos that finally flipped that switch for me, as funny as that might be! Then, friends introduced me to actual full-length skate videos. My first five were probably: One Step Beyond, Modus Operandi, Jump Off A Building, This Is Skateboarding, and Yeah Right. Menikmati might have been in there, too. After that, I was hooked.  Everything just looked so cool: the clothing, the tricks, the spots… and, of course, the board graphics, ads, photos, etc., really appealed to my visual art side.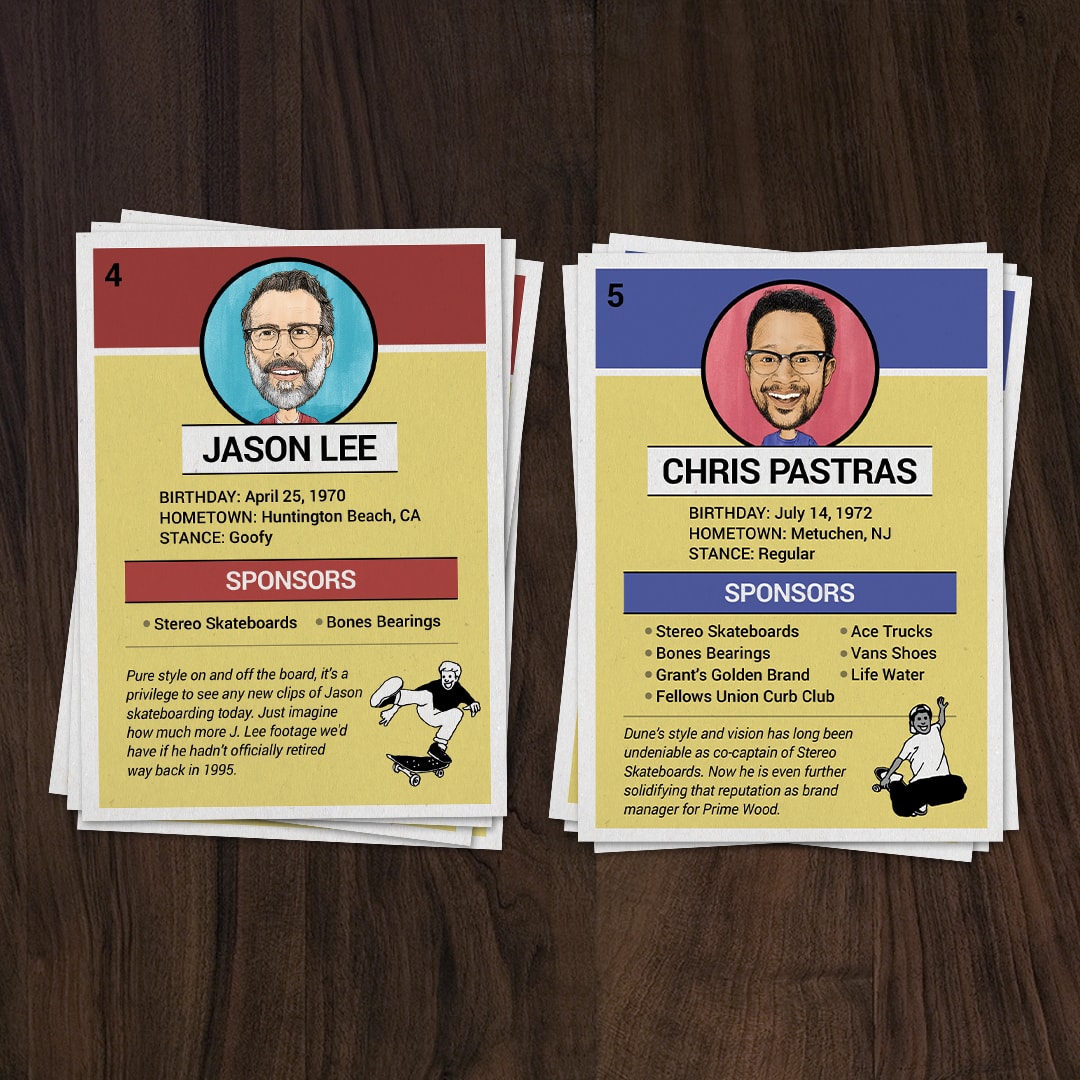 Chris Pastras and Jason Lee backs from series 1, 2018
When you look back at that early exposure to skating, is there a specific graphic or series that you feel nostalgic for?
There have been so many amazing graphics that I've admired over the years, but there are a few specific ones that always come to mind. Toy Machine was the first company I got really into—I saw that Ed was an artist himself and he would even incorporate handmade art into ads and graphics. They were also doing a fair amount of guest artist graphics at the time and did some great series with Andrew Pommier, including one called "Bird Watchers" in 2004. Stereo has likewise been highly influential for me as they had just relaunched at the time. I love so much of their stuff…but from back then I like the building illustrations that Chris Pastras did for the cover of the Way Out East video and the boards that accompanied that (also 2004).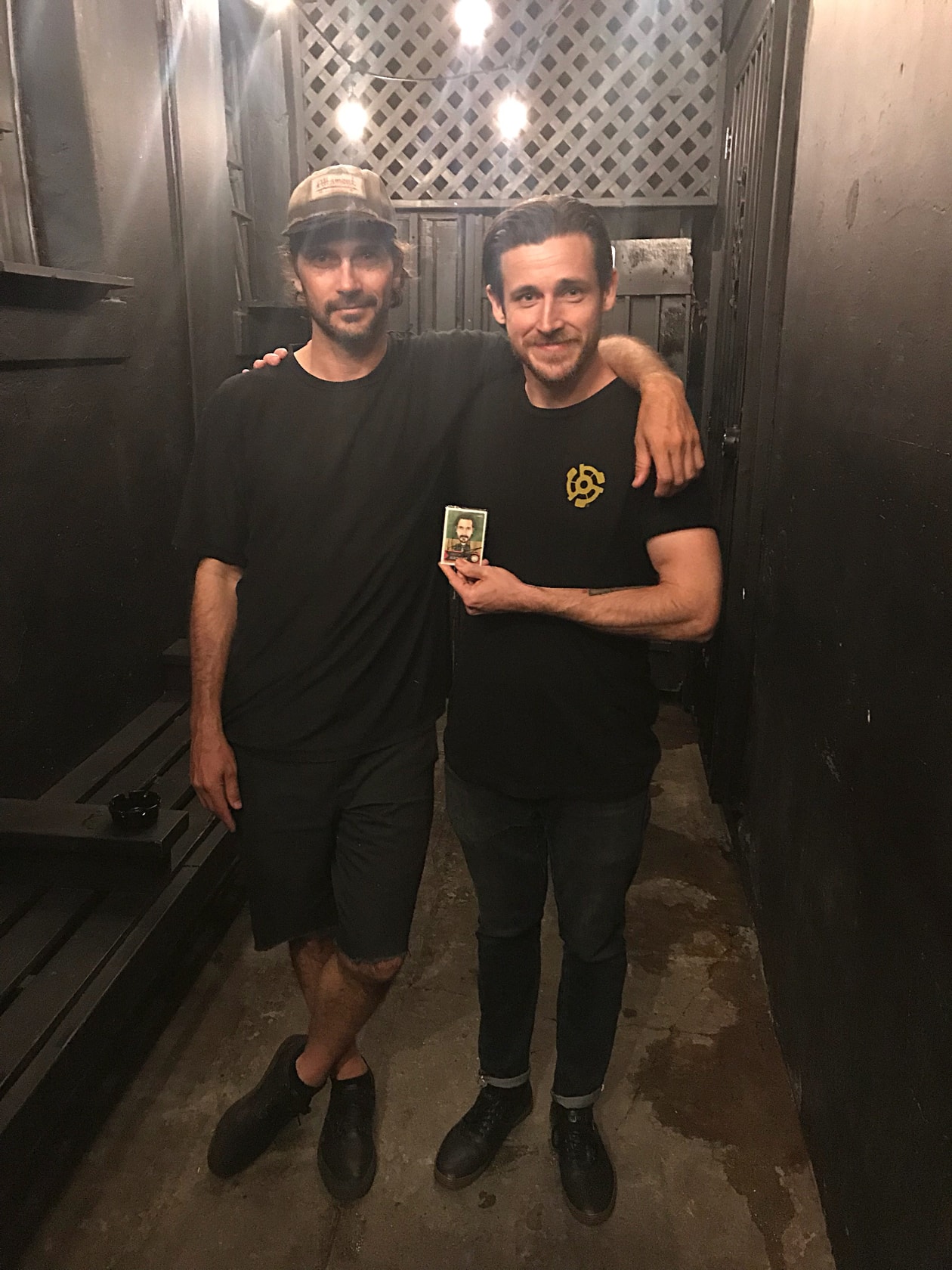 Brennan with Heath Kirchart and his card, BLACK Long Beach, July 2018
How did you eventually meet Heath Kirchart?
Heath has always been my favorite skateboarder and I try to keep up with what he's doing, even though he's "retired." I knew he was a partner/part-owner of the bar BLACK Hollywood and I saw this past summer that they were going to open a second location in Long Beach. My wife, Heather, and I were looking to do a little vacation at the time to escape the Arizona heat before our daughter was born. So I tried to sell her on going there (thinking maybe I'd get a chance to meet Heath and give him some of his trading cards, too). She's the best and knows how much of a Heath fan I am, so she agreed and even added, "And you can skate Cherry Park again!"
One of the nights of the trip we went there a little early and grabbed some food at the bar. I recognized one of the other owners, so we started talking to her. I gave her one of the Heath cards and she told me I should come back later that night when Heath would be in. So when I came back later on, one of their servers introduced me to Heath. At that point he already knew I was coming and already had that trading card displayed in their office, so that made it easier not to have to go up to him and try to introduce myself. He was super welcoming—he signed one of the cards for me, talked to me about the bar, skating, going on tour with Gonz…even offered to buy me a drink. That interaction really meant a lot. Great dude.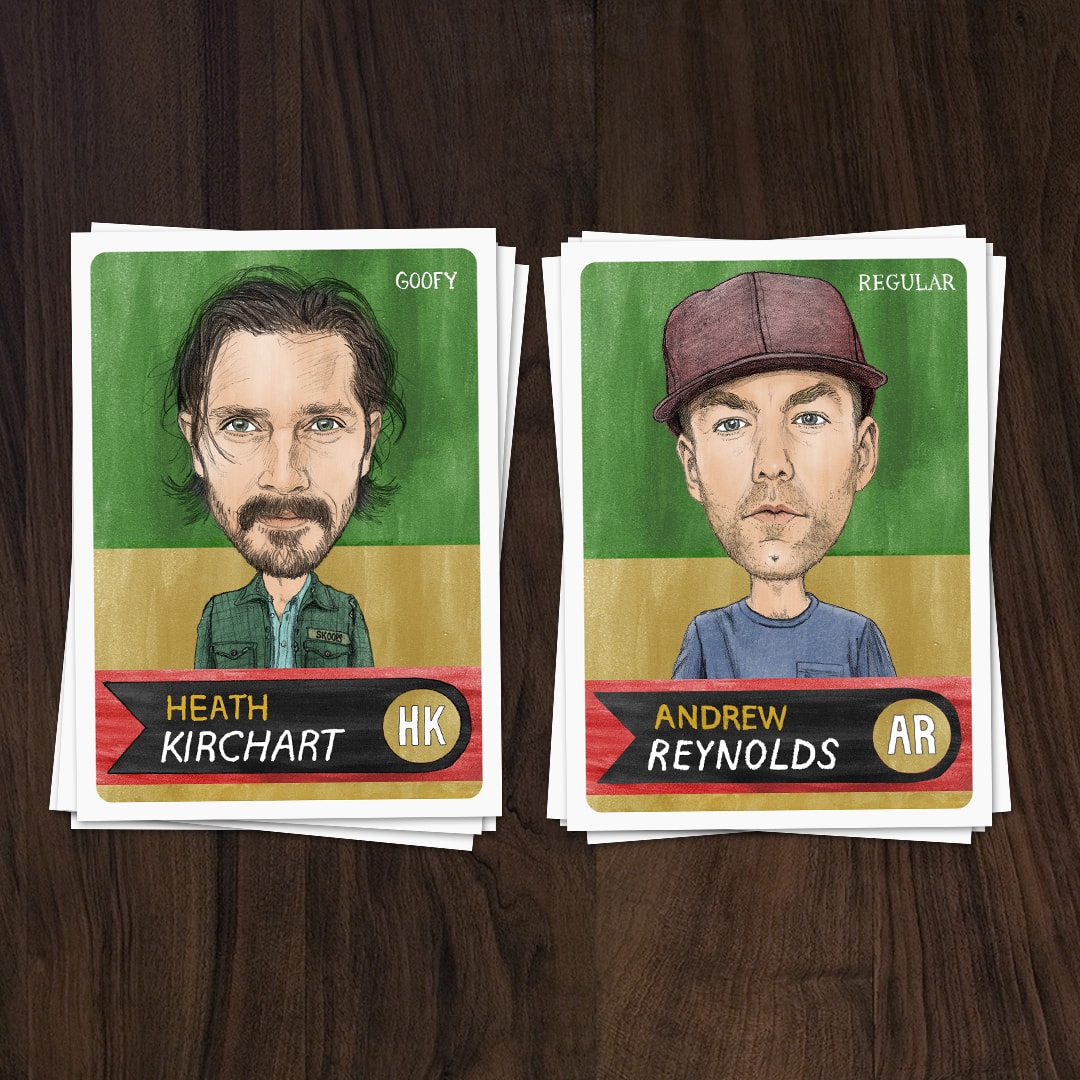 Heath Kirchart and Andrew Reynolds from series 2 [2018]
How did you hit on the idea for trading cards?
As I mentioned earlier, I was really into basketball as a kid. Growing up in the '90s, there was a big boom for sports cards. So my older brother and I had huge basketball card collections. I saved my favorite ones even after I stopped collecting. Around 2013, I found my collection and started looking up their value online. I soon discovered they weren't worth what they used to be (the sports card boom had long been over). But the plus side was that I could now buy cards that I wish I had as a kid for a fraction of the price. So that actually kind of got me into collecting again because it was so nostalgic.
I somehow got ahold of one skateboard card around then—a Josh Beagle Big Brother card. And then in 2016, I made a mockup of a Heath Kirchart card with info and photos from an old interview of his. So the idea has been in my brain to some degree since then. This whole time I had continued to make art, mainly portraits. Over my life I went from drawing my favorite cartoon characters to drawing my favorite basketball players to drawing my favorite skateboarders. I had made a few stickers of some skaters I'd drawn and would sell/trade them. I liked the tangibility of those as opposed to just sharing my work digitally. And similar to the basketball cards, I liked that I could collect stickers and they wouldn't take up much space.
Then… it finally clicked: I should turn these sticker portraits into trading cards. I made one of Gonz first and posted it on social media. Another illustrator I follow, Alex Perry, suggested I do more of the Krooked team (the LSD video had just come out), so I did one of Brad Cromer next.  People seemed to really love the idea so I began making them regularly. For me, they became the perfect blend of my hobbies past and present: skateboarding, art, design, basketball, and card collecting. Many of the layouts are inspired by old basketball cards from my collection.
Gonz watercolor [2013]
Do you have any plans to sell your trading card work or take special orders?
Yes, I've been selling the cards in series (5 per pack), in limited quantities of around 100. The first 3 series are all sold out, but the 4th series should be out in May. Going forward, they'll primarily be sold through 
The Seller Door
, with a select number going to skate shops like Cowtown in Arizona (and Pharmacy has carried some too). I'm not planning to sell the original artwork right now. And as far as special orders—I don't officially take them, but I do take into account some of the feedback I get on social media. The list of people that could be included in a pack is really endless, so I've mostly been making them as I'm inspired. And I've got some other ideas, too, to keep the project fresh.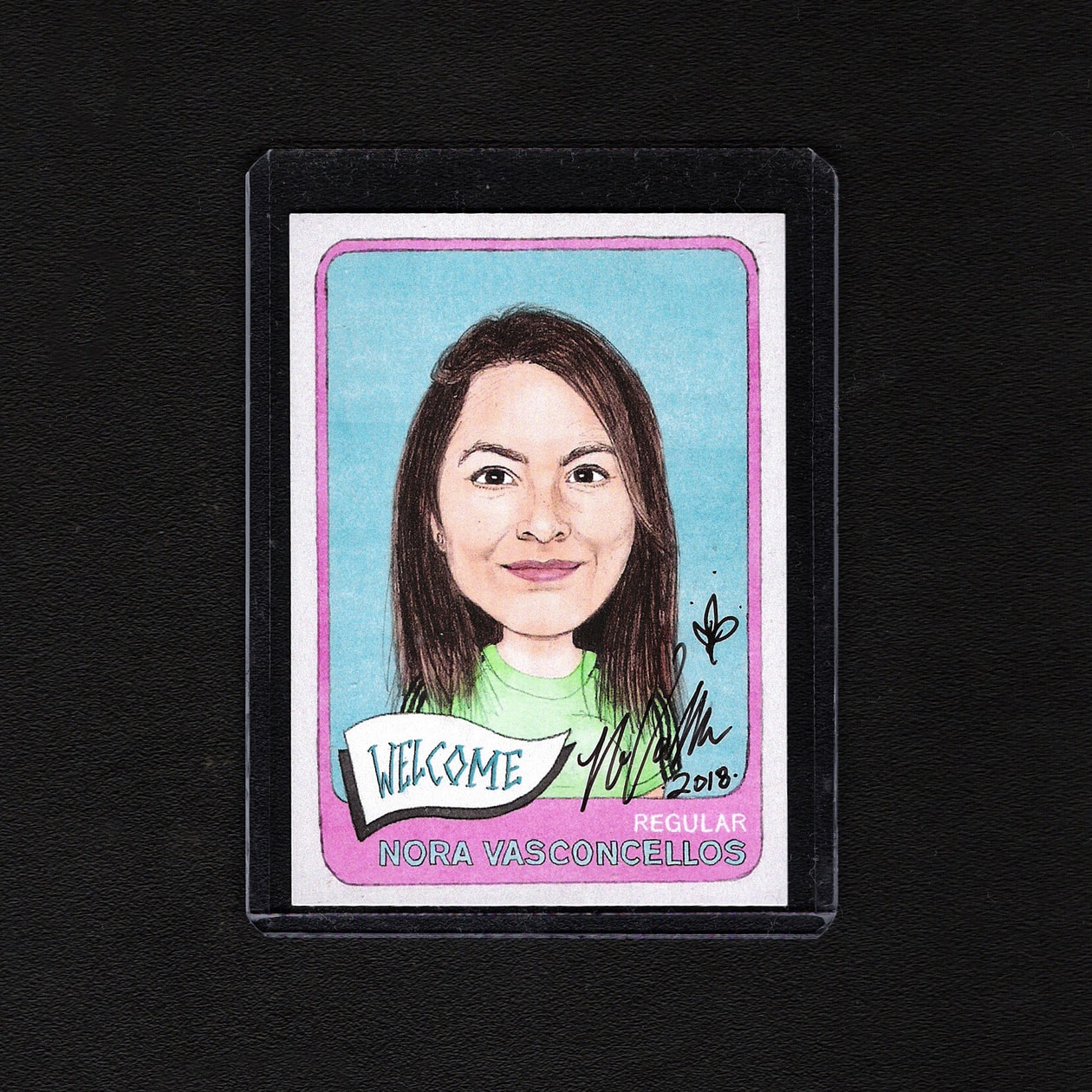 Nora Vasconcellos signed card , from series 2, 2018
The trading cards project is so dope. Do you have any advice for artists who may be having trouble finding their own niche?
Thank you, I really appreciate that! First, I would say—make what you feel you are called to create or what you feel passionate about. If you're just making things to try to fit in somewhere, I'd imagine you'll get burnt out. For me, once I found the right creative space the ideas flowed pretty freely from there. Then, once you find that space, try to put a unique twist on what you're doing. As with everything these days, art and design are oversaturated. So check out what other artists are doing and look for opportunities to do something a little differently.  Lastly, I would say—be patient. These days with technology and social media it's easy to want instant results. But not everything happens that way. Don't get discouraged, just keep doing what you're doing…keep shaping and refining that thing. Eventually you'll find the right place for it.
Check out Derek Brennan's site for more info about his Pro Skateboarding trading cards series.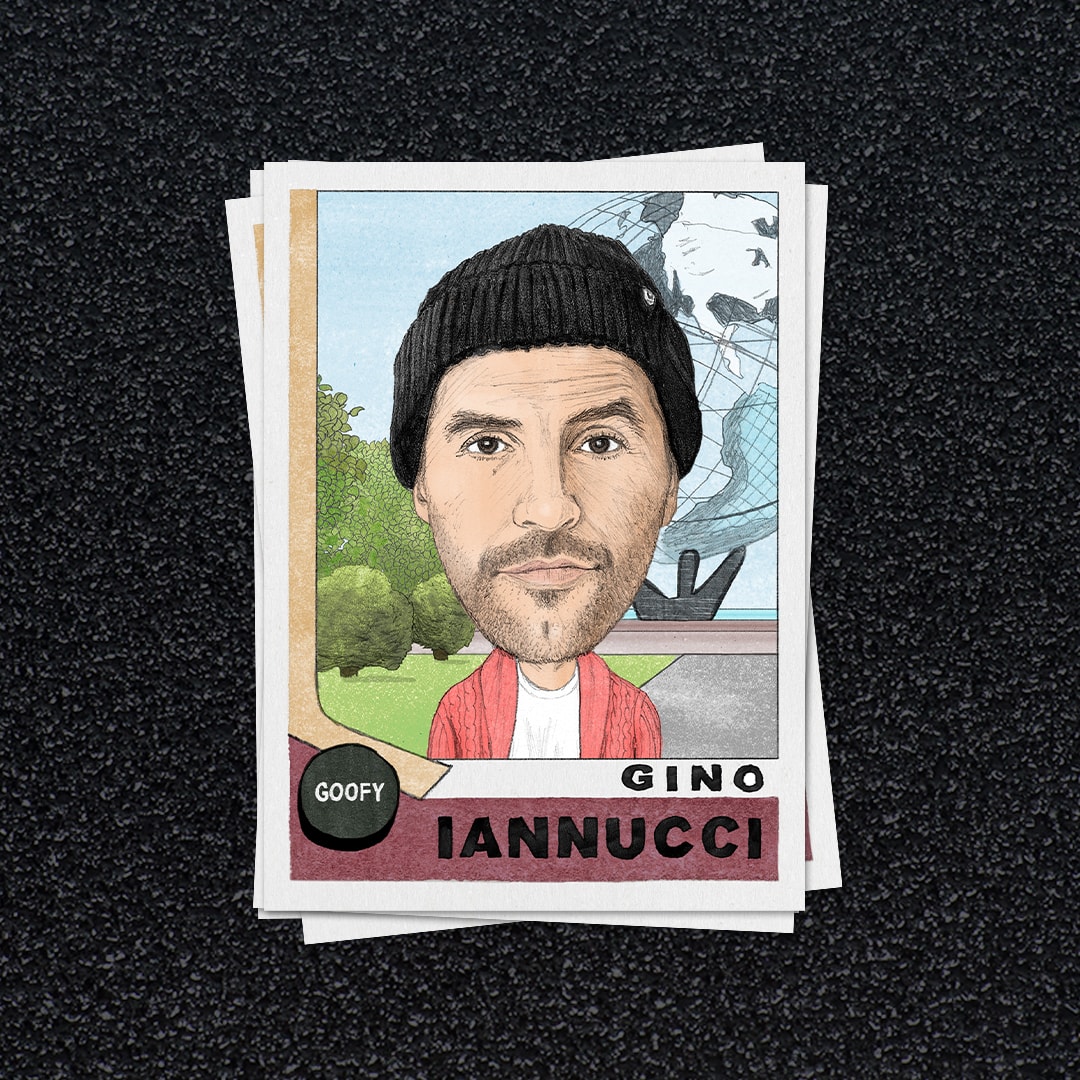 Gino Iannucci for series 4 [2019]