ARTIST OF THE WEEK: THE NATHAN RILEY INTERVIEW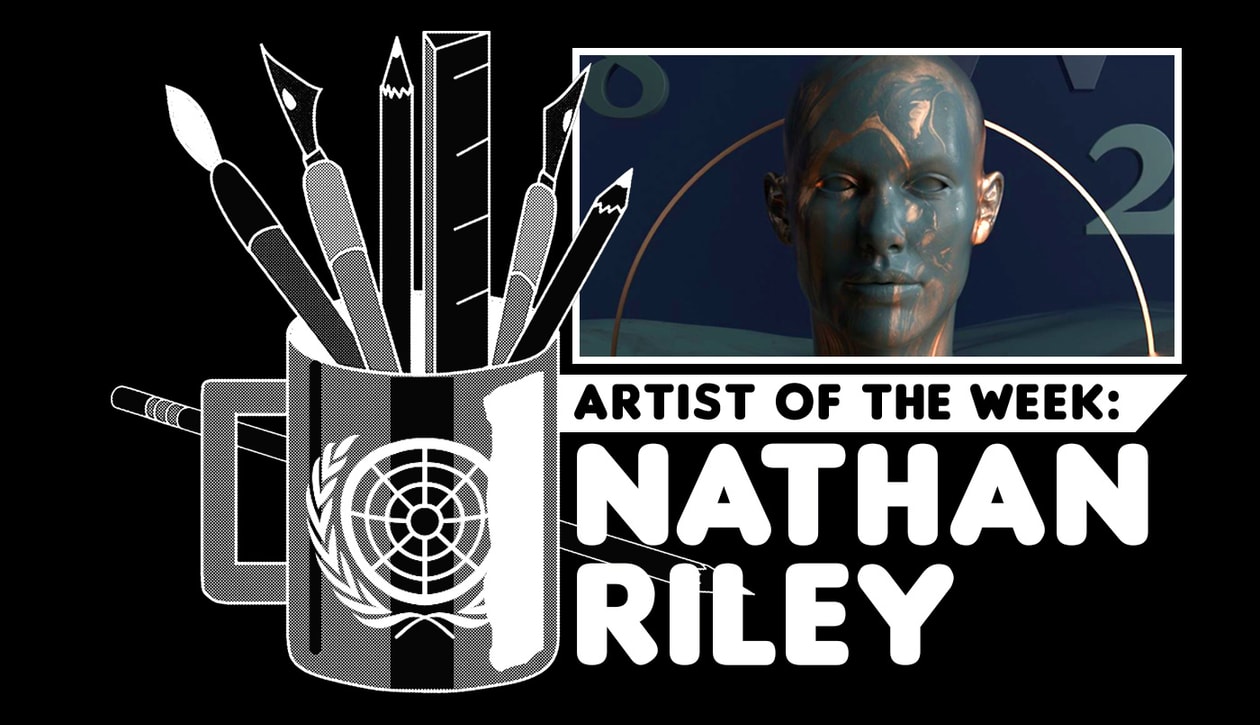 WORDS: Stu Gomez
We first heard of Nathan Riley a couple of months ago when he tagged The Berrics in a couple of very interesting Instagram posts. In one of the posts, the skateboarder and designer asked "What The Berrics had a BATB app?" with a crazy demo of his concept for said app. We were surprised that a BATB fan would put this much effort into mocking up an app; after reviewing his other work we realized that it probably didn't take Riley that long at all. The dude's a design beast.
Riley is based in Bristol, England—the home of Portishead and Banksy. (When we asked if he was in fact Banksy he cryptically replied, "My lips are sealed.") As far as local visionaries go, he's in good company. We asked Riley about his early days in design, skating, and the importance of seizing every opportunity that comes your way.
View this post on Instagram
How did you become interested in art and design? Was there a particular moment of inspiration that set you on this path?
It's an interesting question, and I think like most people in the creative industries it's hard to pinpoint any pivotal moment that led here. You just kind of end up in it! That being said, some early memories that definitely have had an impact were buying my first CDs as a teenager; I still vividly remember the excitement of seeing the artwork in the flesh and spending countless hours sketching my own versions of Offspring and Nirvana covers. Similarly, I think my interest in skateboarding contributed to a path in design, just thinking back to all the times hanging out at my local skate shops in awe of the latest deck designs to come out and the artwork created.
What's your history with skating?
Skateboarding was a huge part of my life growing up, and going back to the first question it definitely helped carve my professional career… even if I didn't realize it at the time. As a teenager, me and my mates would spend pretty much all of our free time skateboarding and making videos. We thought it would be cool to make a website to showcase our terrible skateboarding and through this I learnt some basic coding and web design along with video editing and graphic design.
Embarrassingly, you can still dig out an old version of the site, ' No-Comply Skateboarding ' on Wayback Machine. Having made the site, I managed to land some work experience at a local design agency and I guess that's where it all began. Nowadays I'm pretty rusty on a board but still love it from a spectator point of view, luckily our studio in Bristol is directly opposite a popular skate spot! This is why if I'm ever doing conceptual work just for fun, something related to skateboarding is top of my idea list—such as the app concept for BATB.
The work you do seems very modern. How would you describe your early design work? 
My early stuff was definitely a bit more rough and ready, partly due to my own tastes. But also it was at a time when heavily textured and "Photoshopped" visuals were more on trend. I'd like to think my current work has a more refined aesthetic but I still like to incorporate that gritty feel when possible.
View this post on Instagram
What's your process like when you begin work on a project? Do you sketch it out first?
As most of my work is digital, my process is all about getting ideas out of my head and onto the screen as quickly as possible. I find that too much deliberation or over-thinking gets in the way of the creative process so I rarely present anything that isn't polished. That probably sounds like I don't give my design work much thought! I just mean more so that my best work is usually the result of gut decisions, not tons of theory and iteration.
Do you have an example of a design that went horribly awry? What did you do to make it work? I think the honest answer is the life of a designer is constantly spent trying to resurrect designs that have gone awry! But none that I'd want to show here haha.
View this post on Instagram
Do you have an example of a design whose finished state is way different from what you intended? I recently had an awesome opportunity to work on the latest site for Epicurrence—a design event that combines creative talks with incredible adventures and sports such as snowboarding for this one. Working with the talented Dann Petty on the project, we initially figured the site would heavily feature stunning mountain and snow sports photography. However, we ended up collaborating a paper illustrator, Alicja, who created and photographed a series of paper illustrations that completely changed the visual of the site (in a really good way).
View this post on Instagram
Do you have any tips for budding design talents who might want to seriously pursue a design career? I think too many people are put off by the barriers into the design world, there is a bit of a catch-22 where design studios don't want to hire people without experience and junior designers are unable to gain the experience for the same reason. My advice to budding designers is to take on any and every project that comes your way. It might not be exactly what you want to work on in the long term, but you never know where that might lead. On top of this, don't ever stop creating for your own satisfaction, there might not be any commercial output but the value of spending time leveling up your skills is immeasurable and again you never know where it might take you… The fact I'm talking to you guys now is a result of me just making something for fun and it getting picked up on Instagram! The internet is a wonderful thing.
For more on Riley's work, follow his Instagram or check out his portfolio on Dribbl.