CARLOS [RIBS]EIRO: SALAD GRINDS & BEAN PLANTS #72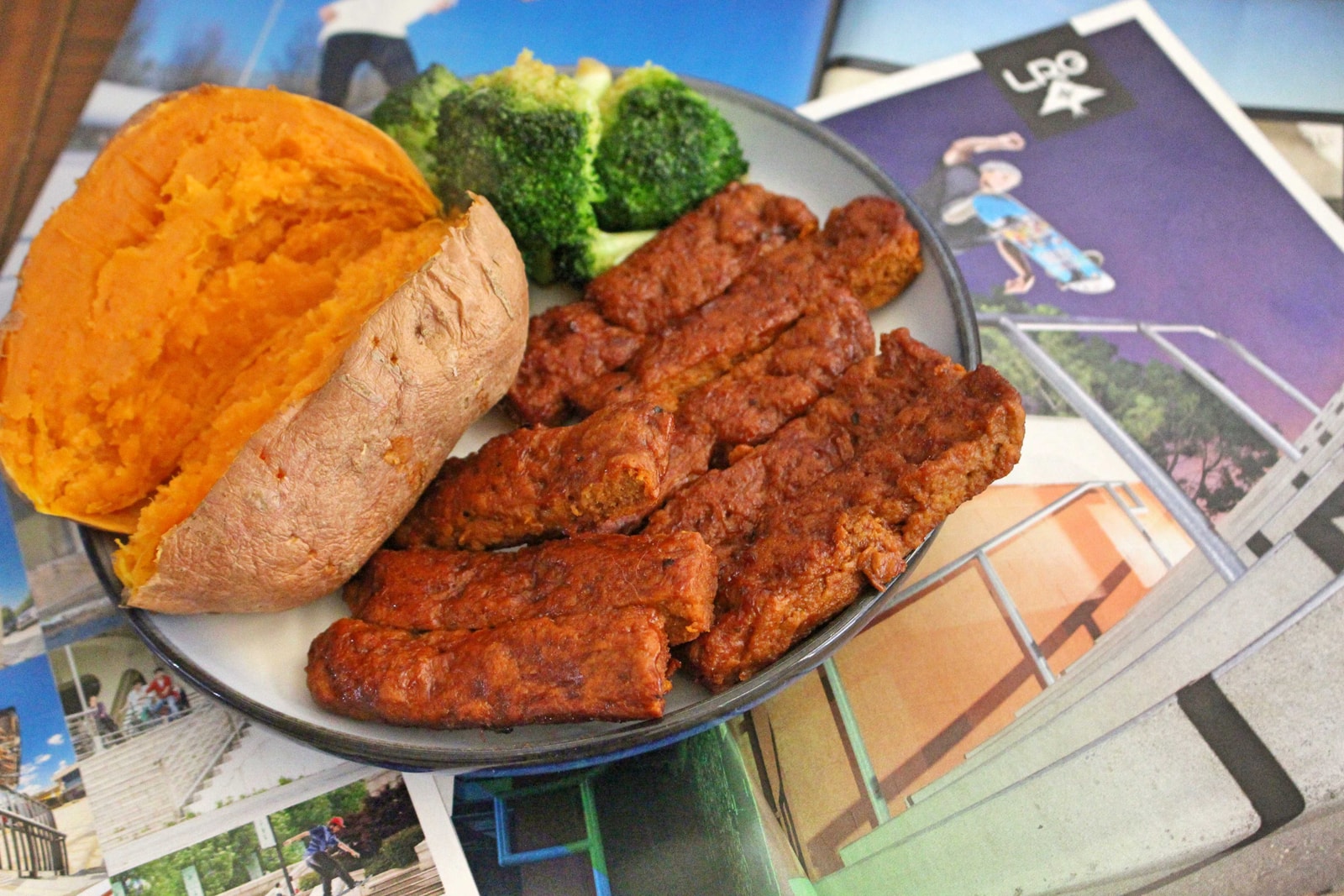 Carlos [RIBS]iero
(Seitan BBQ Ribs)
WORDS: Johnny Lozano
Let me just start off by saying that with the litany of rib injuries in skating, this recipe was a fertile land for rib puns. Add to that the fact that there's an actual skater in skateboarding known as "Ribs Man" and my choice for this week's wordplay becomes all that much more suspect. That said, with Carlos Ribeiro's win at Tampa a couple of weeks ago, I stand by my choice.
A note on Carlos: where do you get off, buddy? Seriously. Monster pop, master technician, ambidextrous, and supremely likable. Draw a Venn diagram in which all those circles intersect, and you'll find the Primitive jester at the center. Whether he's pulling out insane Run & Gun lines, sharing a sick part with Tiago Lemos, or going toe-to-toe with P-Rod in a game of SKATE so exhaustive that dinner was served, Carlos should make everybody's list of top ten favorite skaters.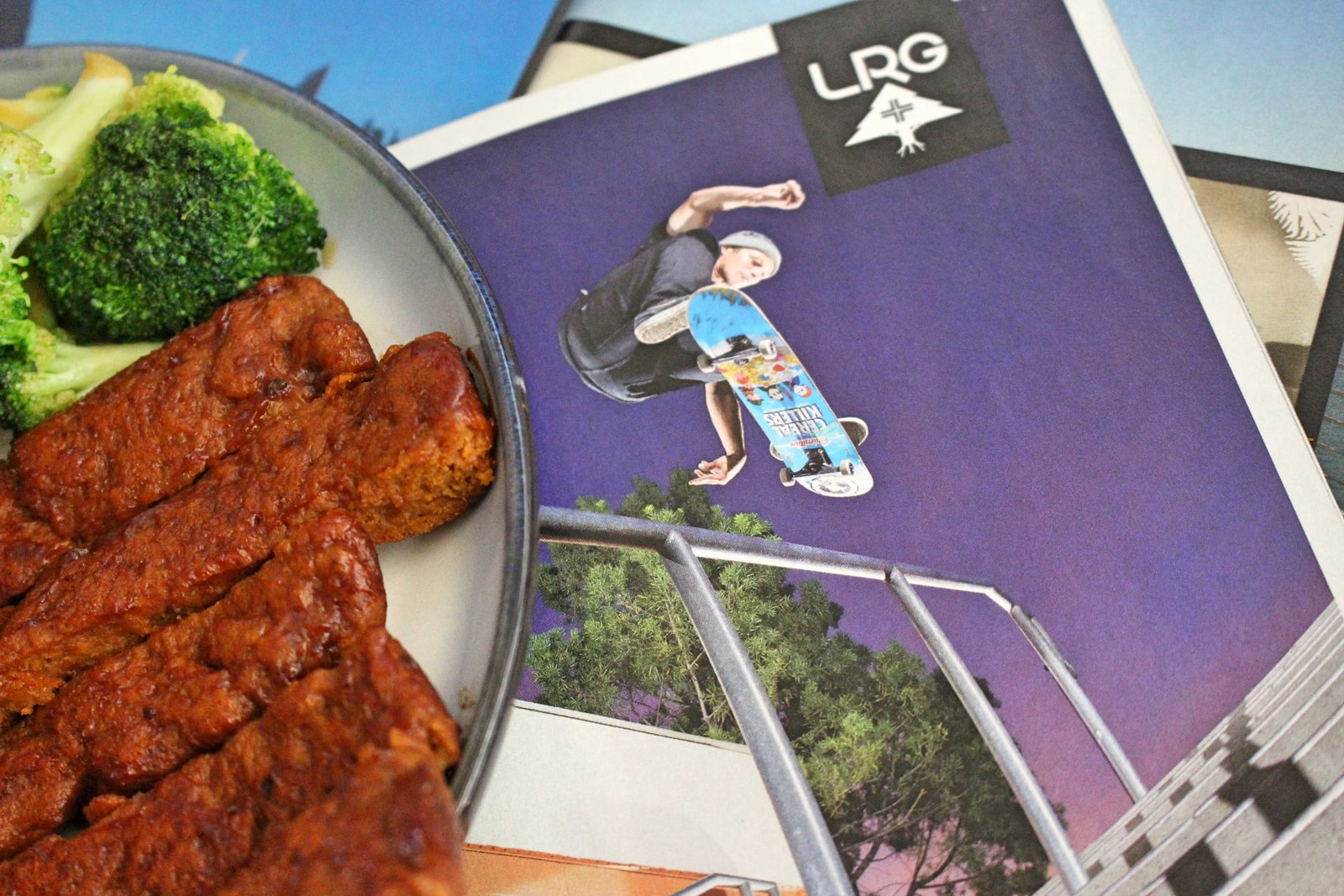 But for the sake of this recipe, let's talk about his switch game. Switch flip back tails, switch flip back Smiths, switch back 360s… you name it, Carlos has it switch. If you didn't know any better, it'd be understandable to just assume he's goofy footed (and yet, if he were, you'd have the equally perplexing problem of watching his regs game). His winning run at Tampa showcased this ability with both a solid switch flip front board and a sure-footed switch back lip down the park rails (and I'd be remiss if I didn't point out that his back overcrook across the top was controlled enough to look green-screened).  
Point being: Carlos makes switch look like regs.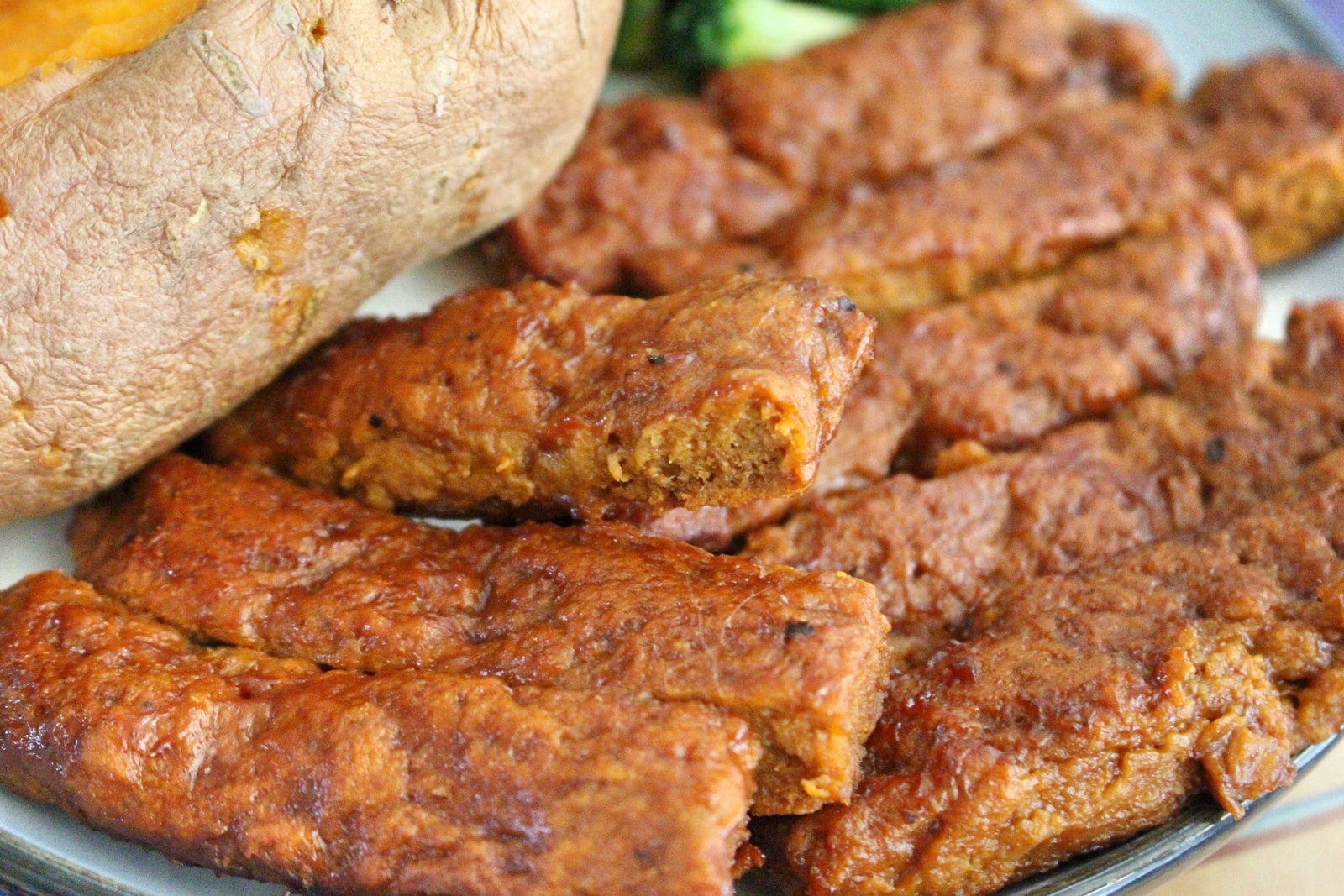 Well, while this recipe isn't Tampa-themed, it is a testament to Carlos's use of the ole' switcharoo. Just like Carlos can make you think his stance is something it's not, this recipe mimics meat with frightening accuracy. Granted, it's been a while since I've had ribs (even when I wasn't vegan, it wasn't something I had often), but this seitan substitute satisfies the craving for the Chili's baby back staple, while cutting down on saturated fat. As you may have guessed, these ribs are made from seitan, aka "wheat meat." While seitan is delicious and full of protein, I've only done one other seitan recipe in this series and that's primarily because most times it takes just shy of an eternity to cook, with many methods requiring kneading, boiling, and baking.  
Thankfully, this recipe, which I modified from Fat Free Vegan Kitchen, cuts normal seitan prep time in half. Additionally, it requires a lot less sodium than other seitan recipes and fewer ingredients in general. In addition to ease of prep, this really is one of the more uncanny recipes I've made; some seitan recipes will purport to taste like meat with less-than-impressive results. Once you apply the barbecue sauce, this gets frighteningly close to that "dripping off the bone" flavor.
And I just realized that I should have had a "boneless" pun for the title. Oh, well.
INGREDIENTS:
1 cup vital wheat gluten

2 tbsp. nutritional yeast

2 tsp. paprika

2 tsp. onion powder

1 tsp. garlic powder

1 tsp. coriander

¾ cup vegetable broth (water will work, too)

2 tbsp. tahini

2 tbsp. tomato paste

1 tbsp. soy sauce

1 tsp. liquid smoke

BBQ sauce of choice
DIRECTIONS:
Grease an 8×8 baking pan and preheat the oven to 350 F.  In a large bowl, mix the vital wheat gluten, nutritional yeast, paprika, onion powder, garlic powder and coriander.  In a separate bowl, mix the broth, tahini, tomato paste, soy sauce and liquid smoke.

In the bowl with the dry ingredients, make a small moat in the middle and then pour the wet ingredients into the dry bowl.  Mix the ingredients quickly (you'll see that the mixture thickens within seconds, so be ready to mix it fast). Knead the "dough" for about a minute.  Normally for seitan recipes you knead for up to five minutes, but to keep this as "tender" as possible, only knead for a minute or so.

Flatten the mix out onto the baking pan so that it reaches the edges and then cut into rib strips as thick or thin as you like.  Because the dough is a little clingy, it actually works best to cut these strips with a pizza cutter. Bake for 25 minutes then remove from the oven and coat the top generously with barbeque sauce.  Flip it, coat the other side, and then put back in the over for another 15 minutes.

Remove, let cool and then chow down while watching some Carlos Rib(s)iero footage!
Happy shredding,
Johnny
For more recipes, check out www.saladgrindsandbeanplants.com or find us on Instagram at @salad_grinds_and_bean_plants.