Dave Swift's End Of Decade Harddrive Dump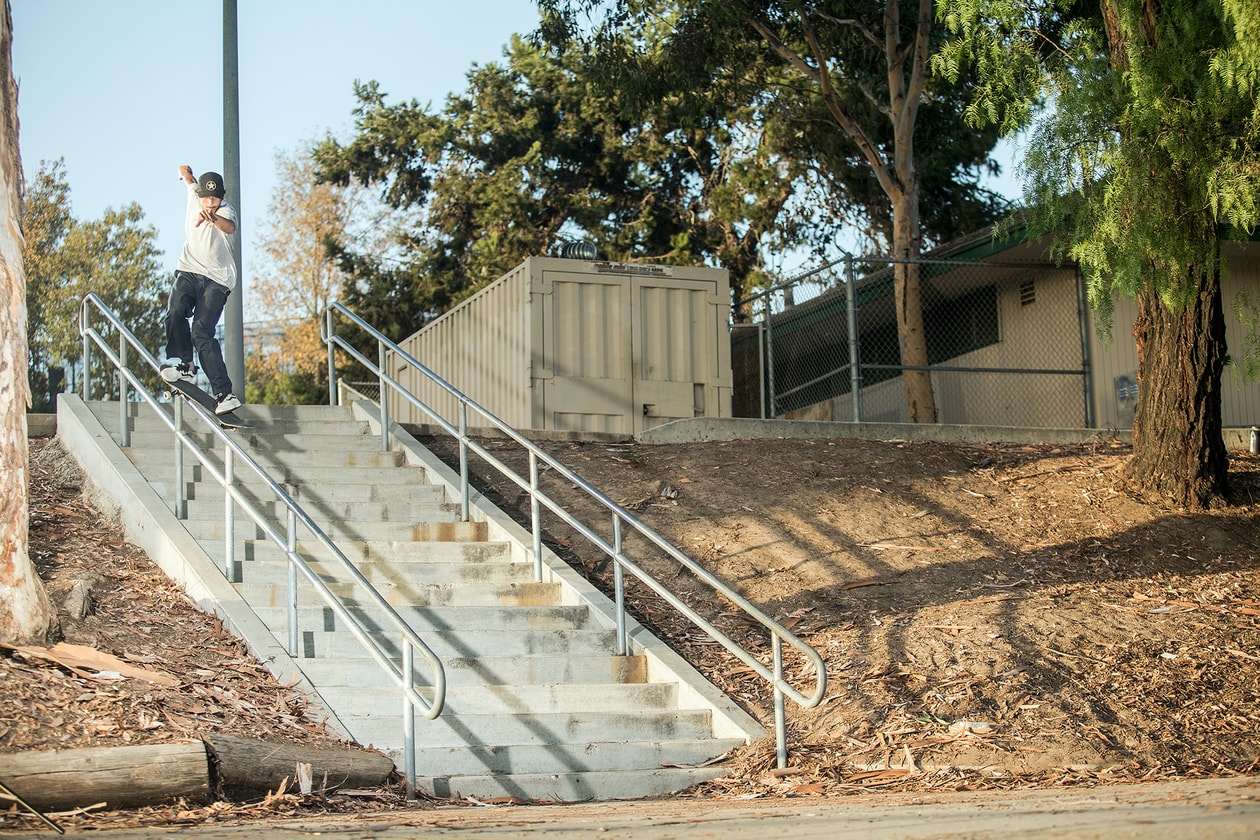 WORDS & PHOTOS: Dave Swift
The funny thing about digital photography is that a lot of unused photographs get buried in the vast space of digital storage devices. Recently while going through one of my large G-Drives I found a grip of sweet skate images from the past ten years that have never seen the light of day that I'd like to share with you in this post. Most photographers put these up on Instagram on the regular but because I lived in the print world for nearly thirty years it's always hard to show a sick photo on a platform that rarely does them justice.
Cory Juneau (above), Smith Grind, Encanto, California 2017. 
Just out sessioning different spots in San Diego on a weekday and we ended up at this rail in a park in Encanto, California. Before this day I just looked at Cory Juneau as a great park skater but this Smith grind changed my mind forever.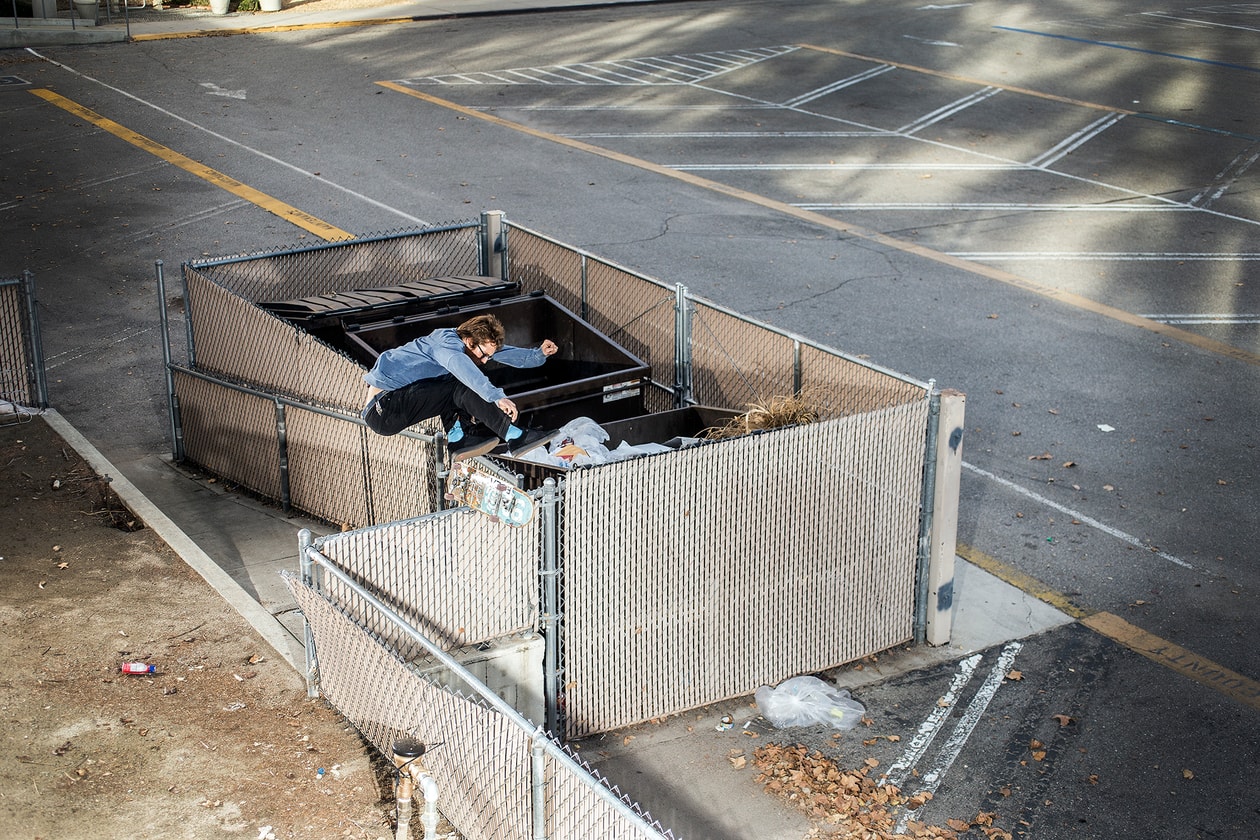 Julian Davidson, Kickflip, San Bernardino, California 2018.
I love spots in which there is a way to shoot from above the action. Julian Davidson's kickflip on the bump-over-fence looks so good from a bird's-eye view.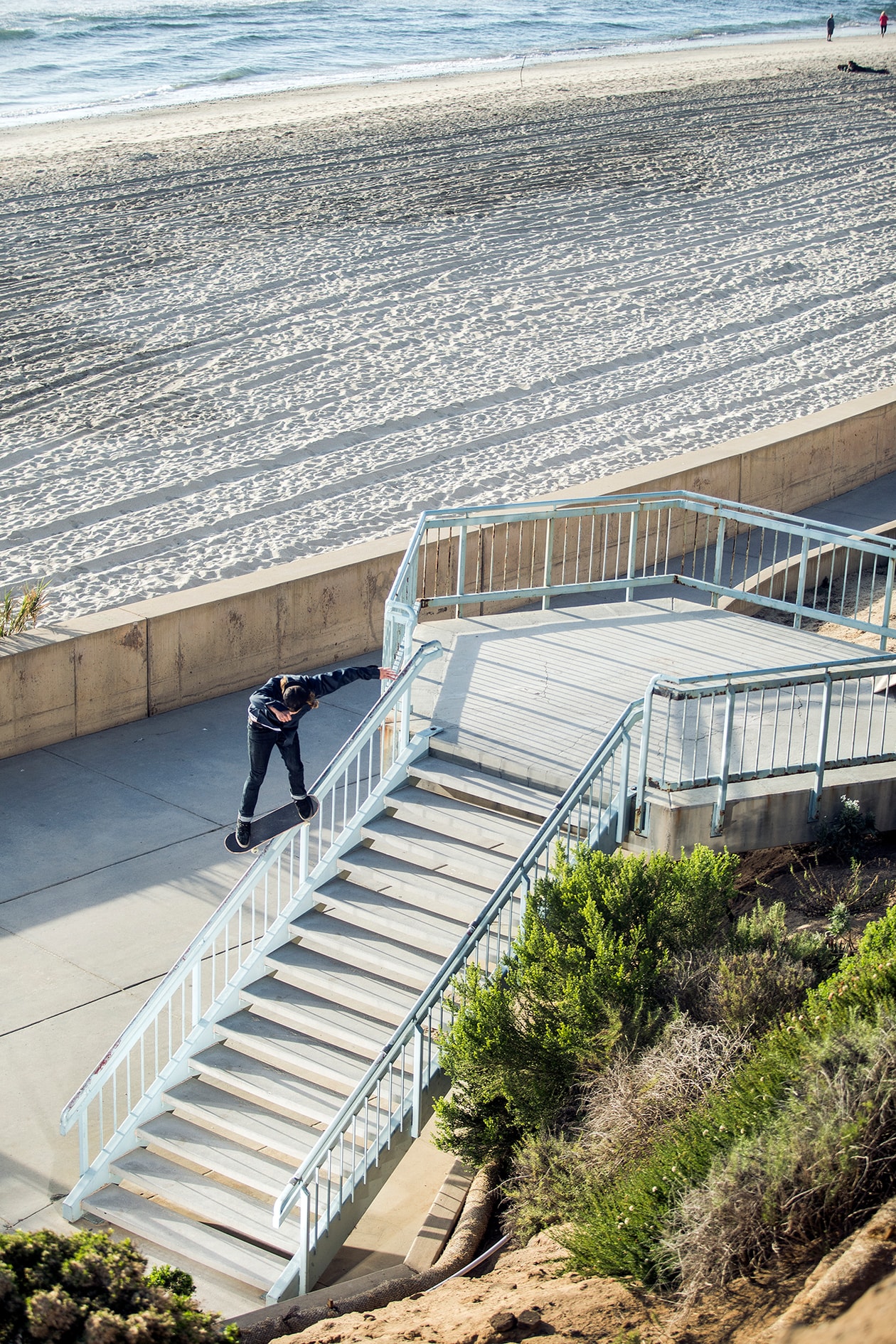 Dalton Dern, Feeble Grind, Carlsbad, California 2018.
This spot in Carlsbad looks great from any angle.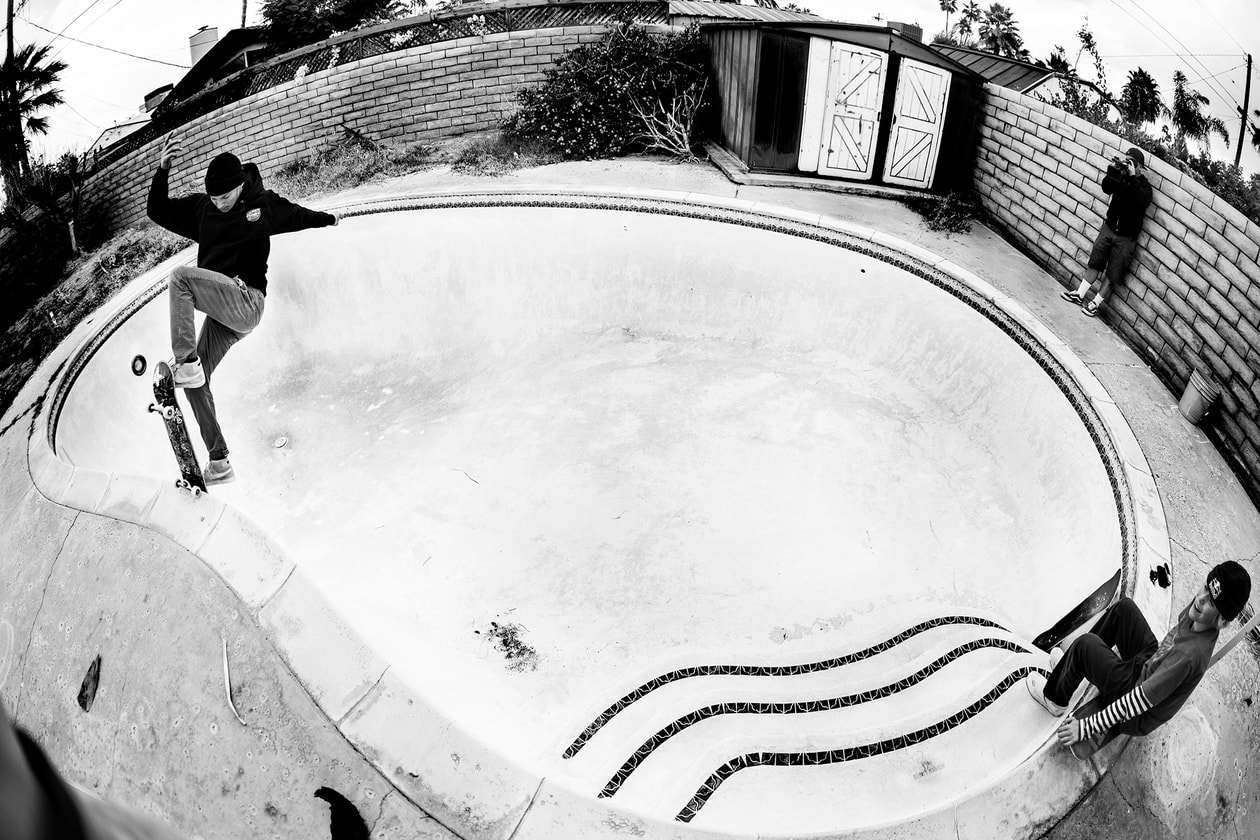 Tristan Rennie, Frontside Blunt, Palm Springs 2018.
Sometimes you just gotta barge right into the backyard, get a quick session and hoof it out of there before the cops show up. We'd already been run up on by the Po-Po at a different pool before we hit this gem but we weren't scared and it was all worth it.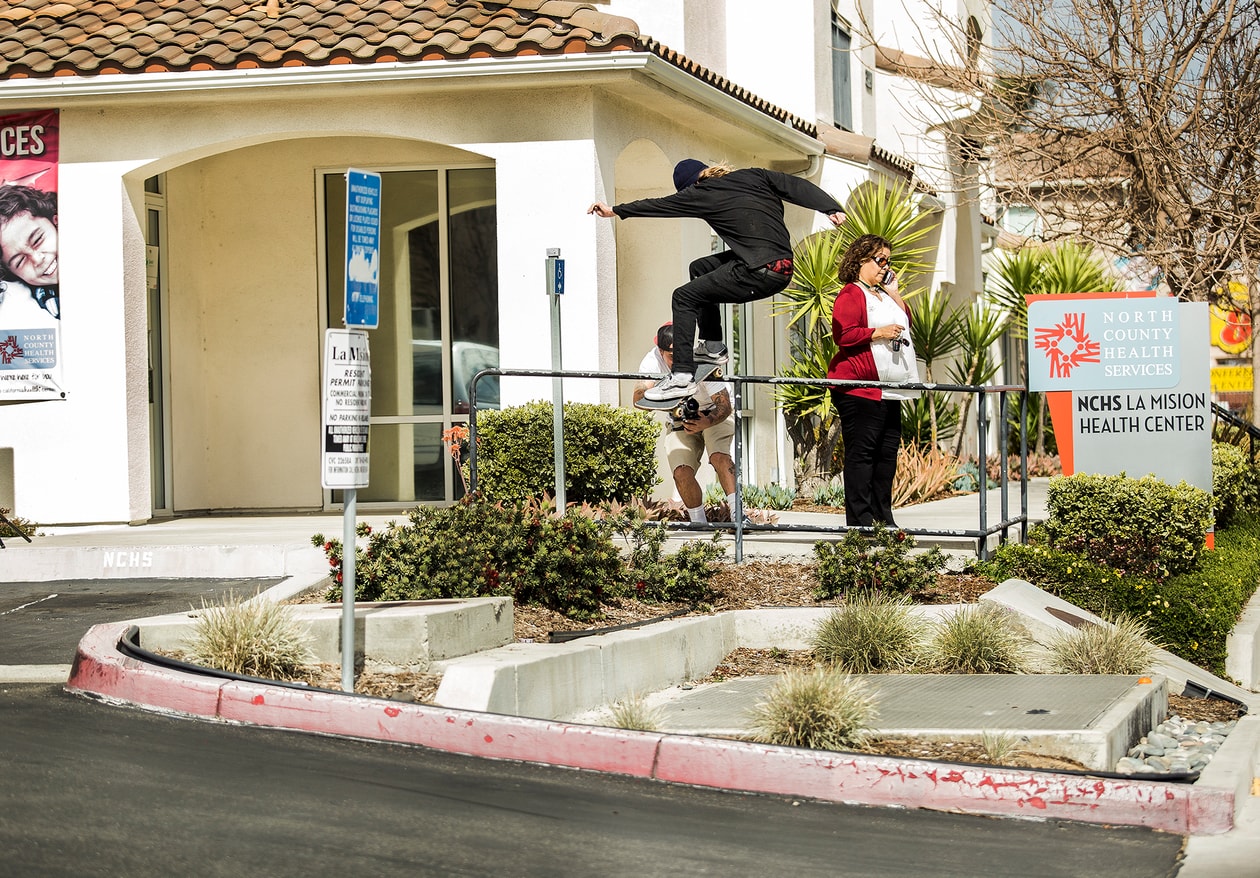 Kanaan Dern, Smith Grind, Oceanside, California 2018.
Some of the most amazing natural skate spots happen to be at the worst businesses. This bump-to-bar in Oceanside, California was one of those places—during lunch, after hours, at night, it didn't matter as we got kicked out each time. Kanaan had it every time and this lady wasn't having it at all; she even tried to block him as he gapped onto the rail. What was the point of that?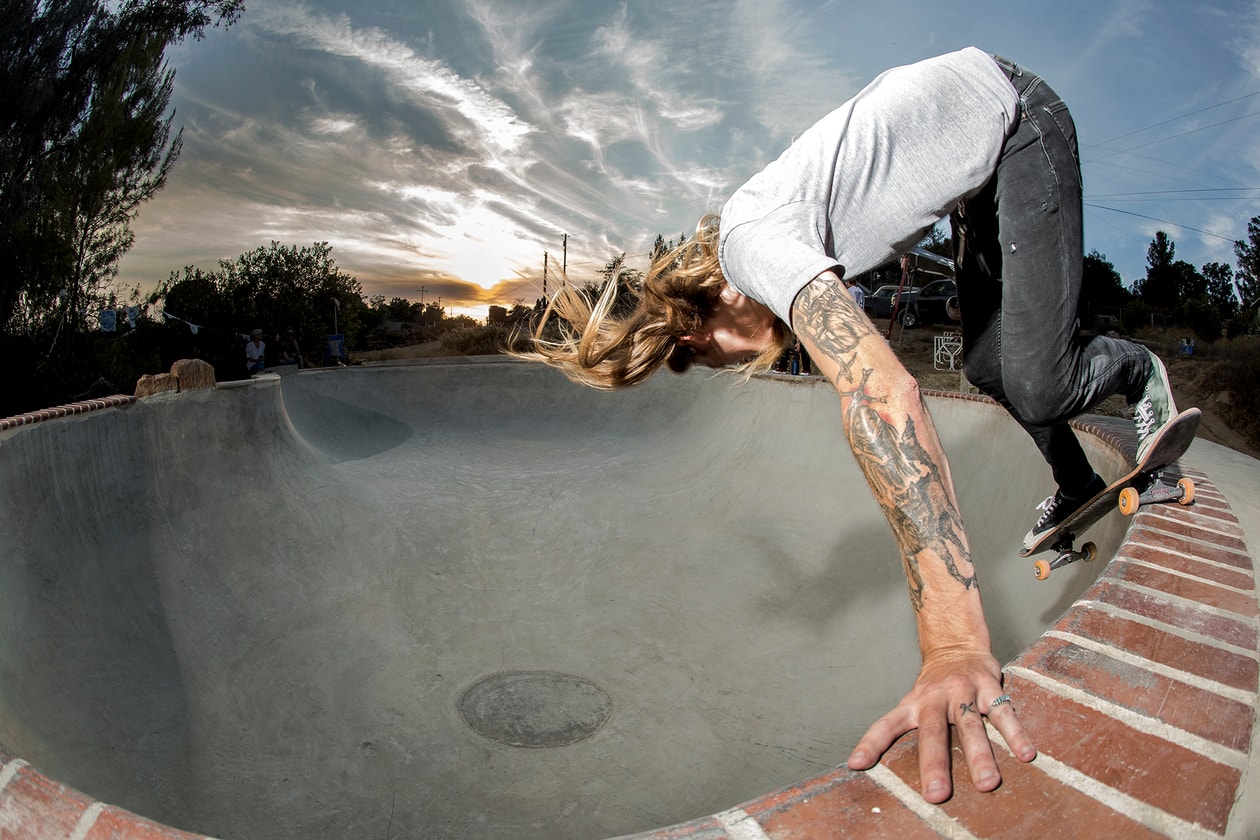 Chris Gregson, Layback Backside Smith Grind, Valley Center, California 2018.
The Terra Bowl is one of those DIYs that's always worth the drive. You just can't beat the sunsets when you're up in the hills looking toward the ocean.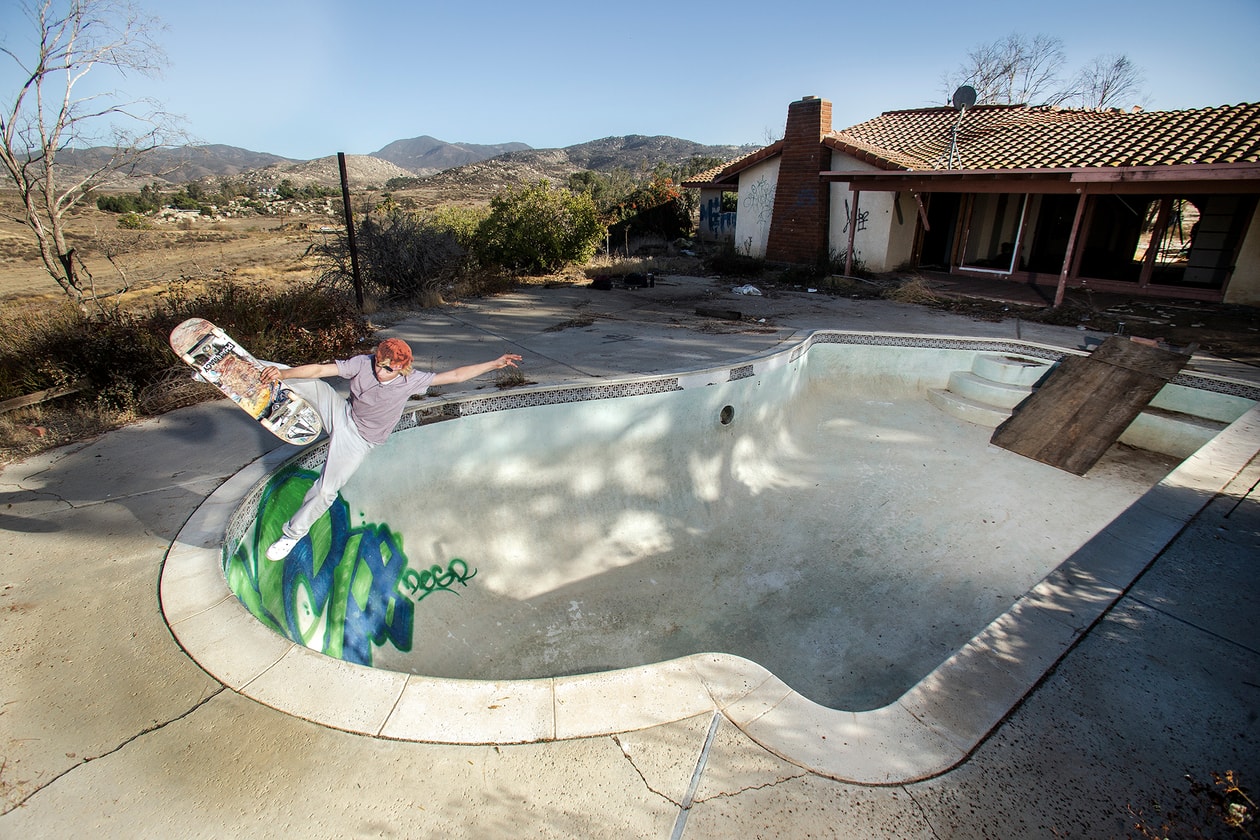 CJ Collins, Frontside Boneless, Hemet, California 2018.
I have so many unused photos from this pool near Hemet, California that it was hard to pick which one to use. CJ's boosted boneless with the whole pool in view is one of my favorites that I've shot there in the last three years.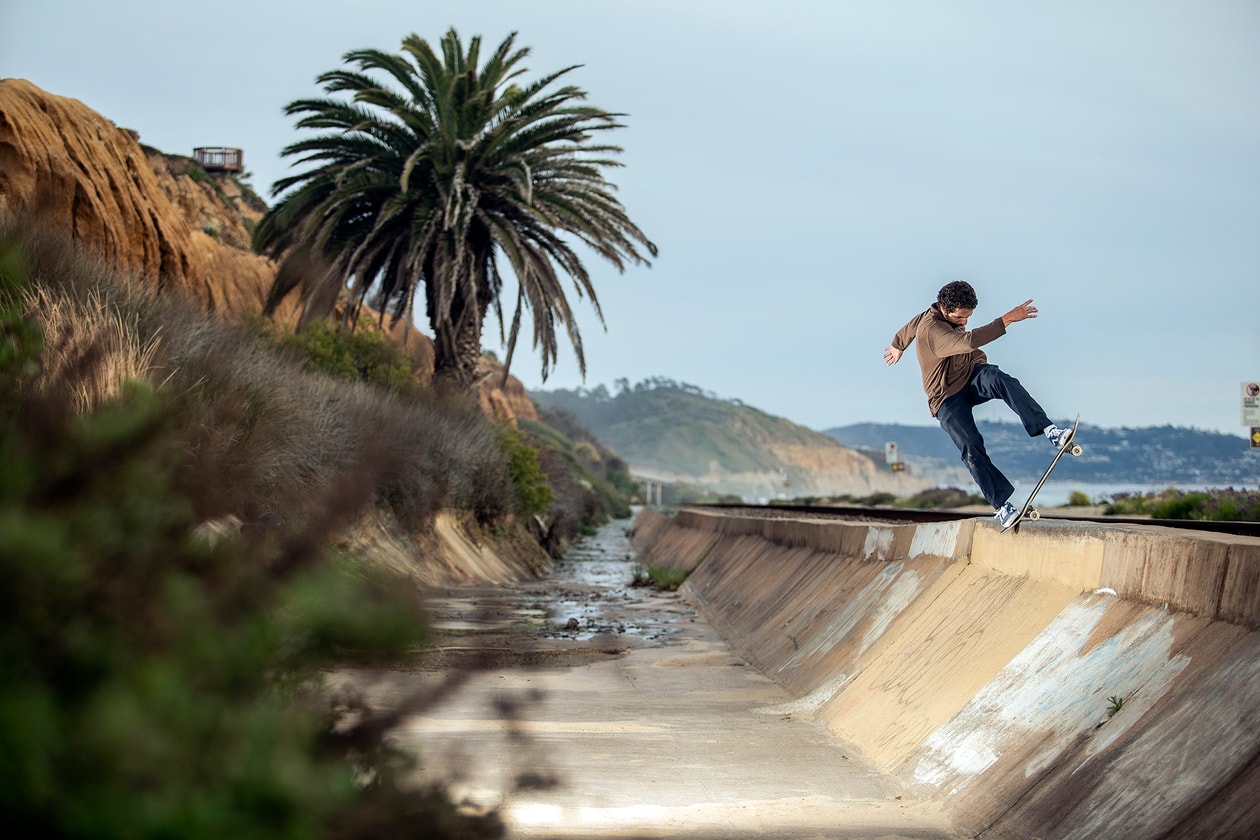 AJ Zavala, Frontside Noseblunt Backside Revert, Del Mar, California 2019.
It's crazy just how close the trains get to this ditch on the cliffs of Del Mar, California. AJ was not down to skate when the trains came by and I couldn't blame him. Train or no train, all is looking good in this photo.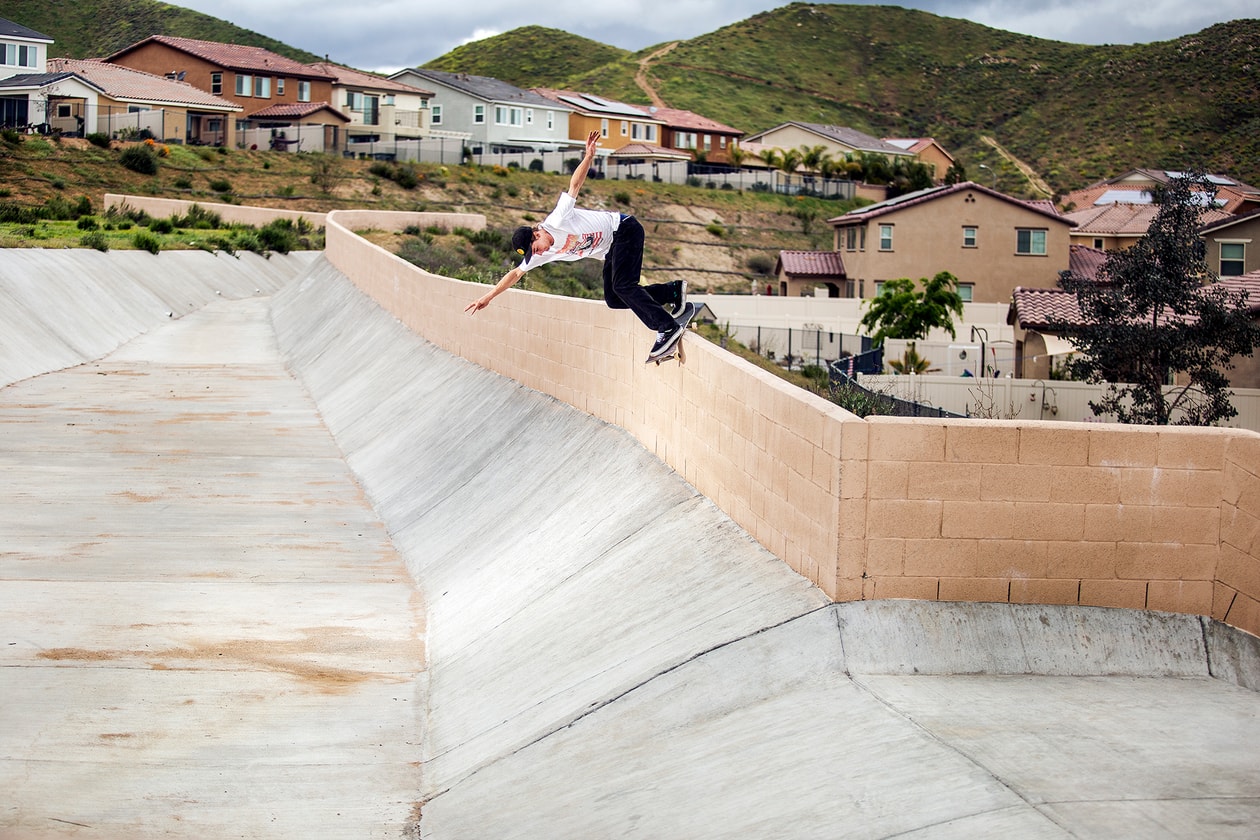 John Worthington, Backside Smith Grind, Lake Elsinore, California 2019.
Perfect spot and perfect trick—enough said.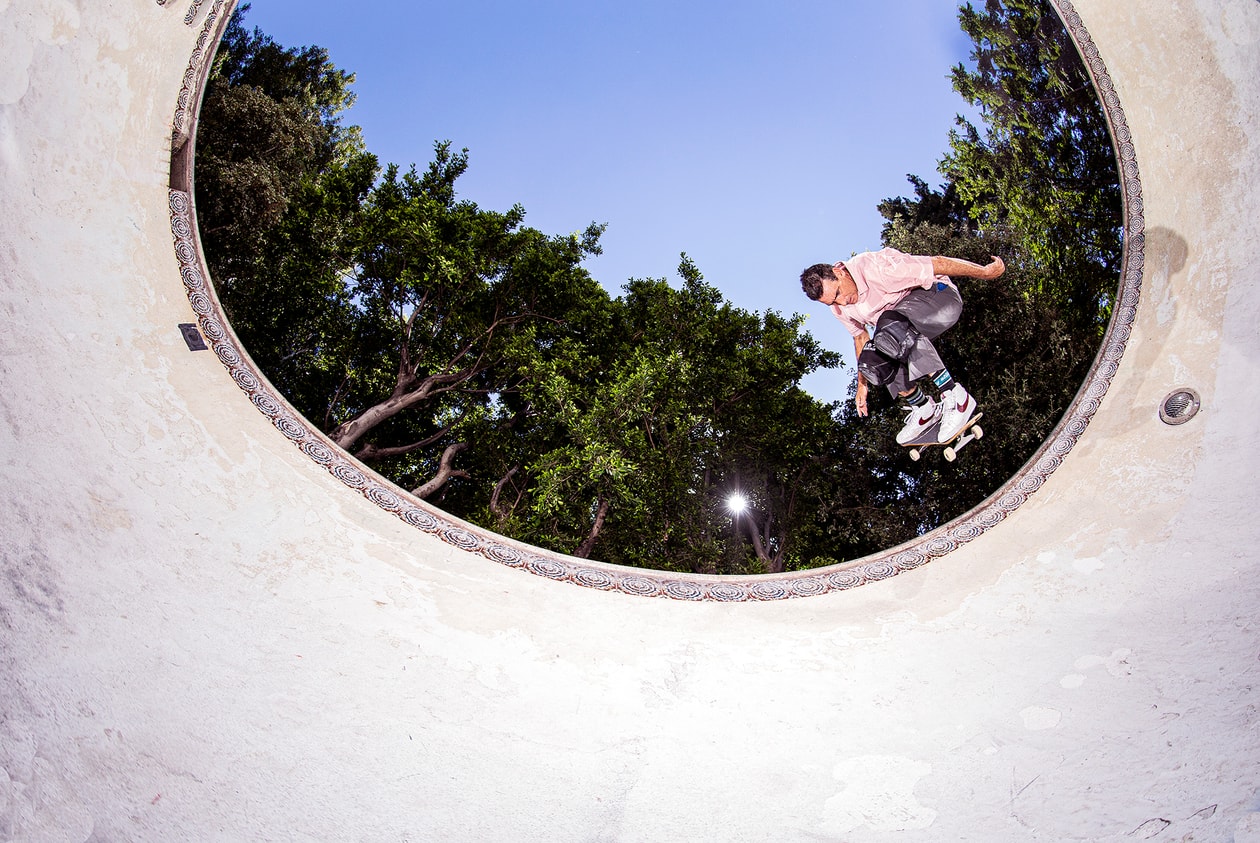 Lance Mountain, Fakie Ollie, San Fernando Valley, California 2019.
You just can't go wrong with a Lance Mountain photo; forever a legend.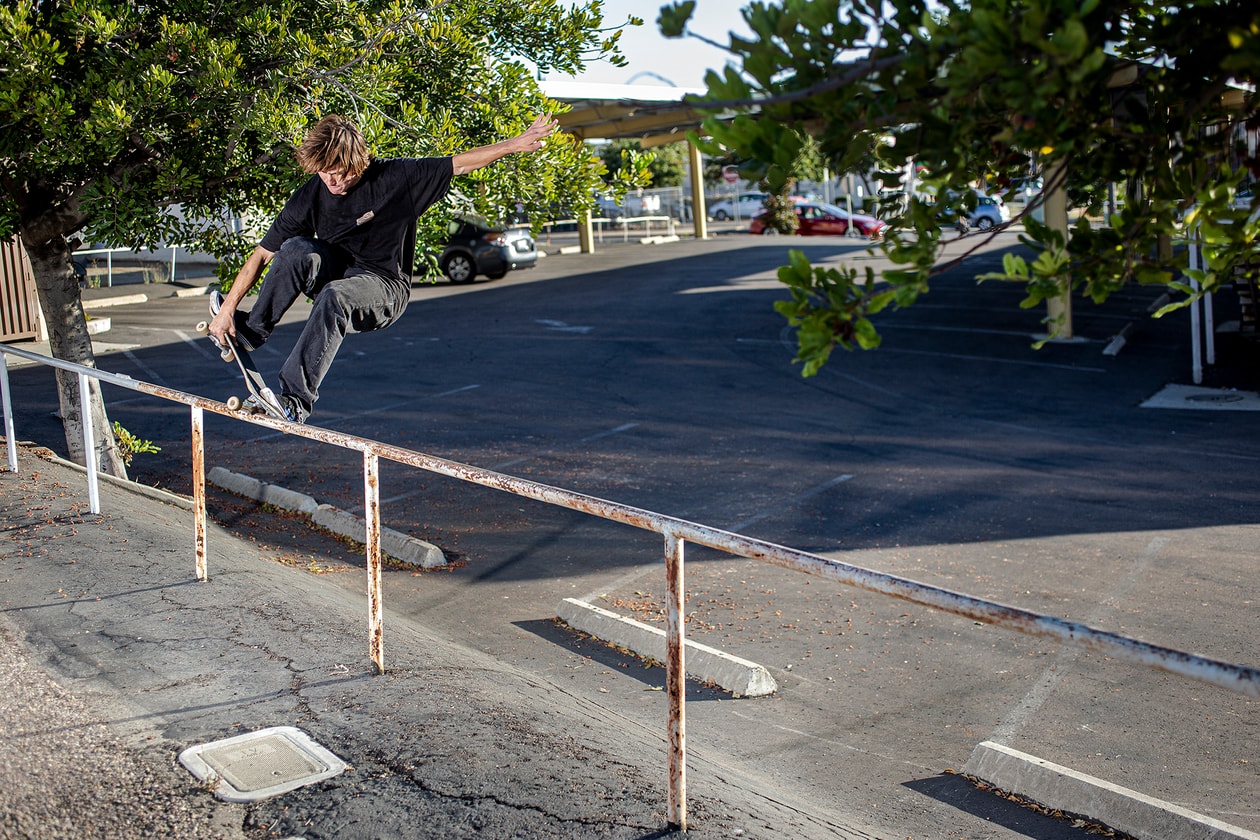 Alex Willms, Nosepick Grind, Escondido, California 2019.
It took a while for this kid to finally get his just desserts, and 2019 was his breakout year. I'm just glad he's on a solid team and getting the opportunities he deserves. This nosepick grind on one of North County's longtime spots didn't get used in his interview but sees the light of day now.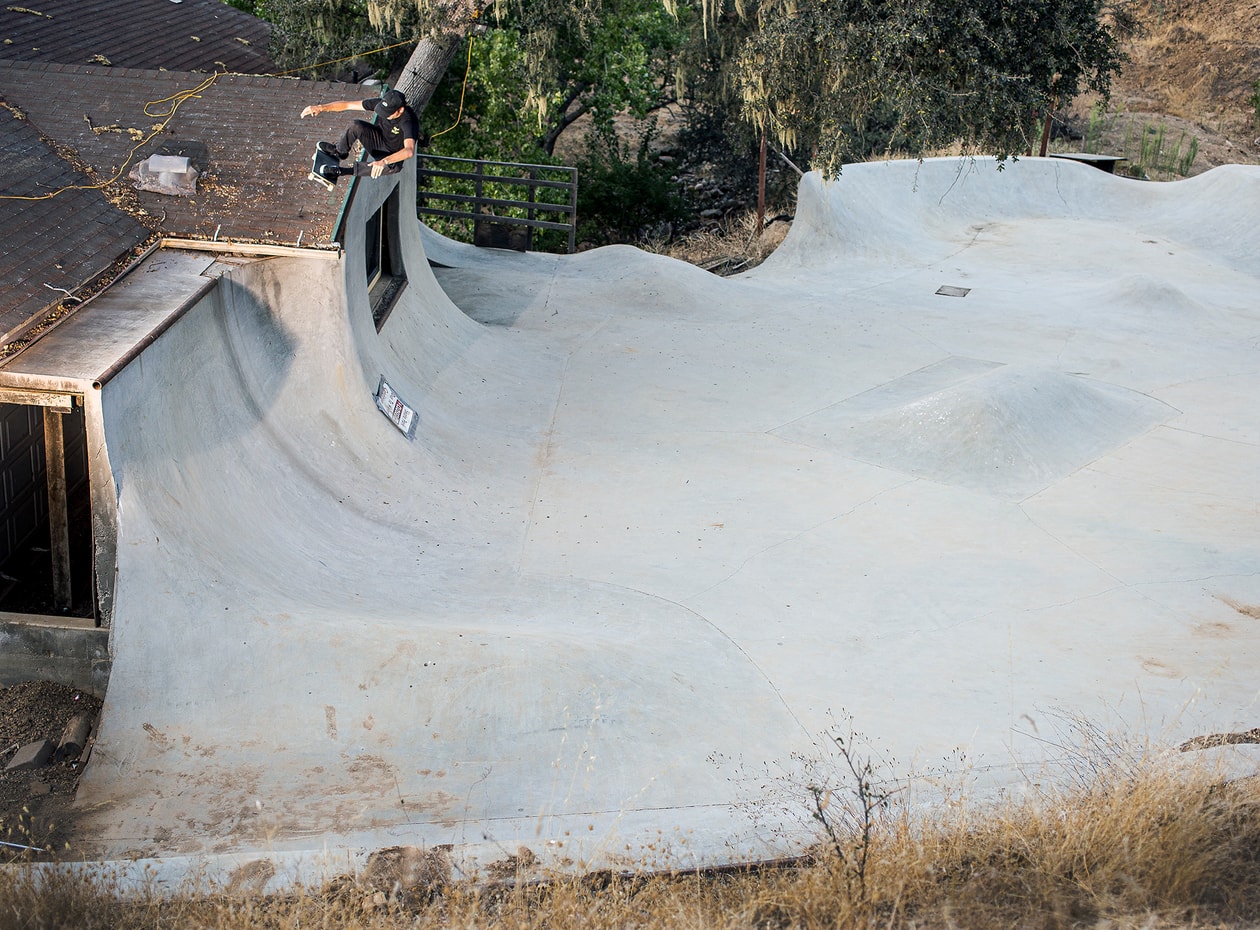 Jimmy Wilkins, Ollie, Paso Robles, California 2019.
I never get tired of shooting flicks of Jimmy Wilkins's ollies.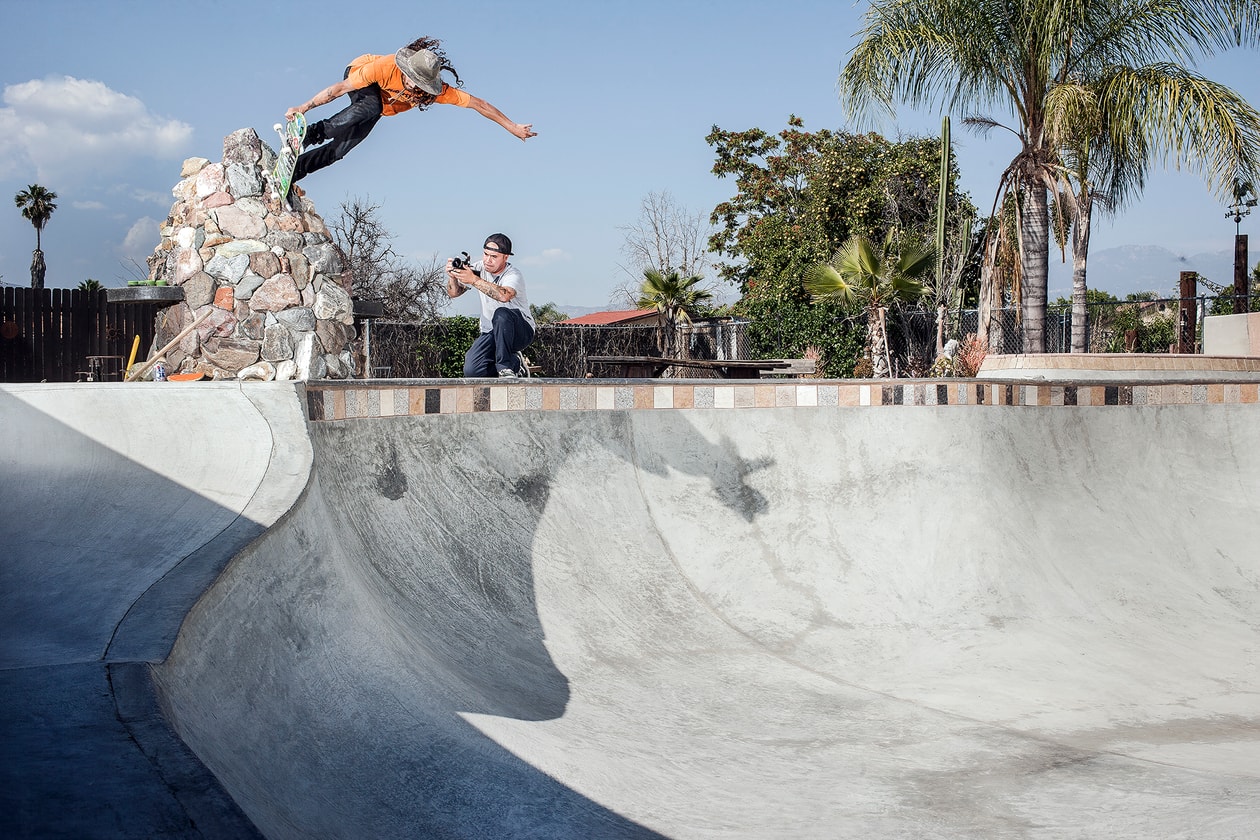 Cody Lockwood, Barbecue Tail Tap, Hemet, California 2016.
A few years back Cody Lockwood spent a lot of time in Southern California and we shot a lot of photos together. No matter where we found ourselves it seemed that Cody could come up with a unique move on any terrain. This tail tap on the stones of a homemade barbecue pit was pretty fucking sick.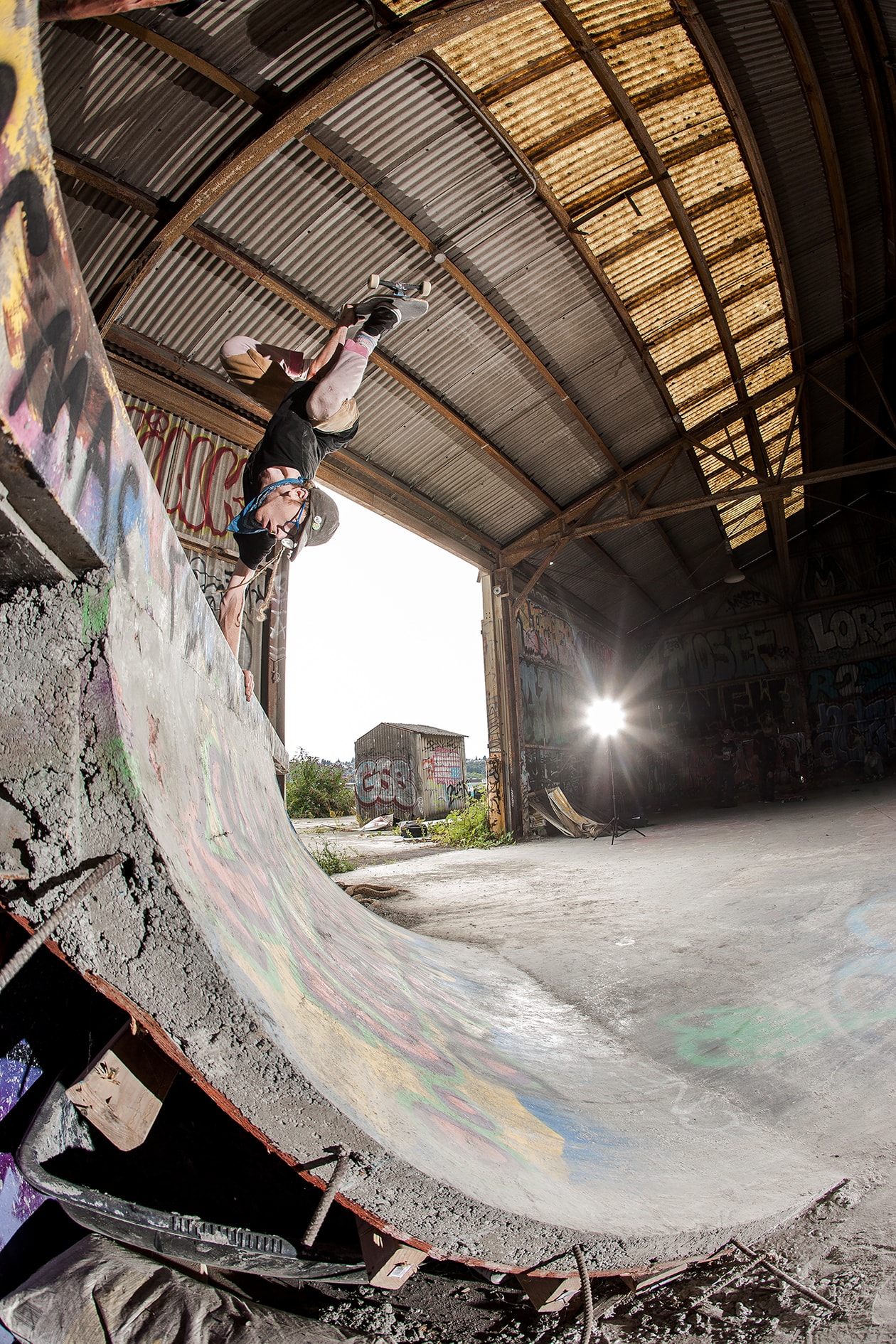 Nolan Johnson, Sadplant, Seattle, Washington 2016.
After spending a few days camping with a heavy crew on Orcas Island we got to spend a couple days in Seattle before flying back to Southern California. While there I met up with Nolan Johnson and skated some local spots including this DIY in an abandoned building, all in all it was a great day in one of my favorite cities.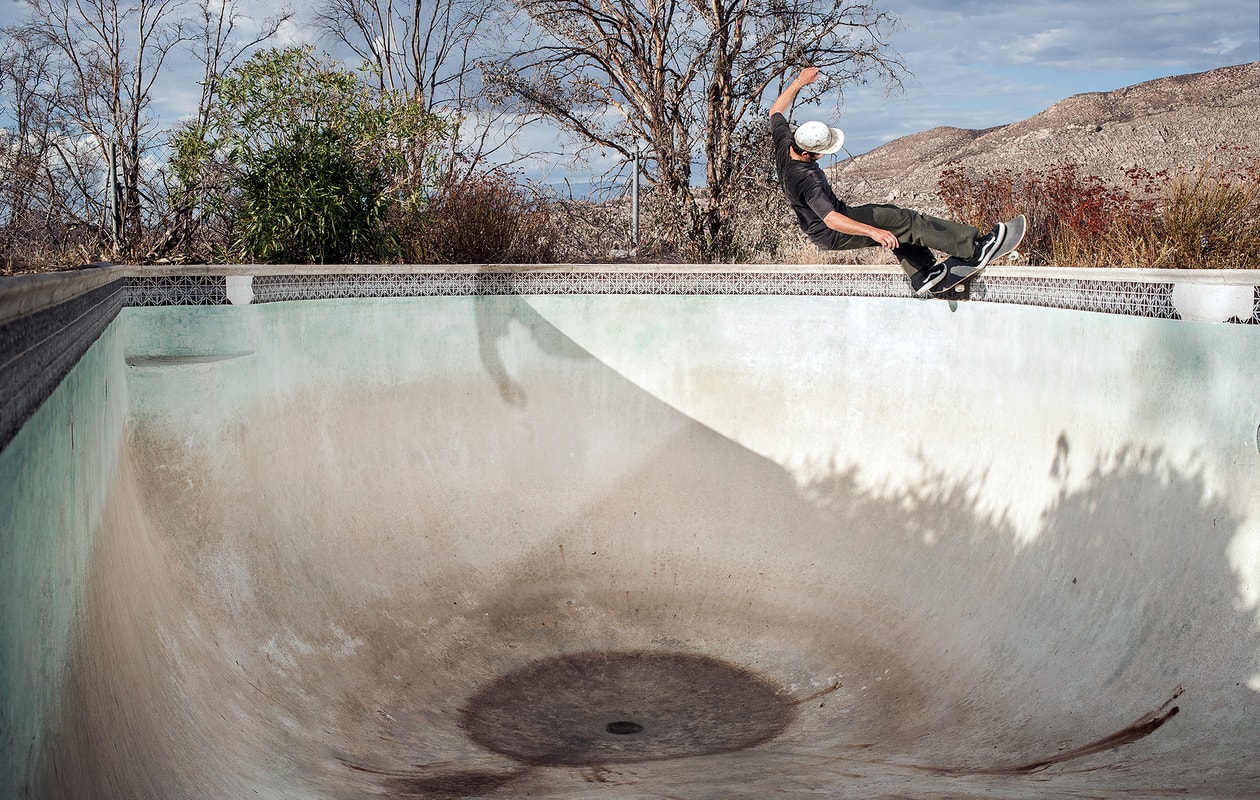 Sam Beckett, Frontside Feeble, Hemet, California 2016.
I wouldn't be exaggerating if I said I shot at least 50 photographs at this pool near Hemet, California and so many of them would be fit for print. That being said, this photo of Sam Beckett was one of two images I shot on this day and the other was just a smidge better and was actually used.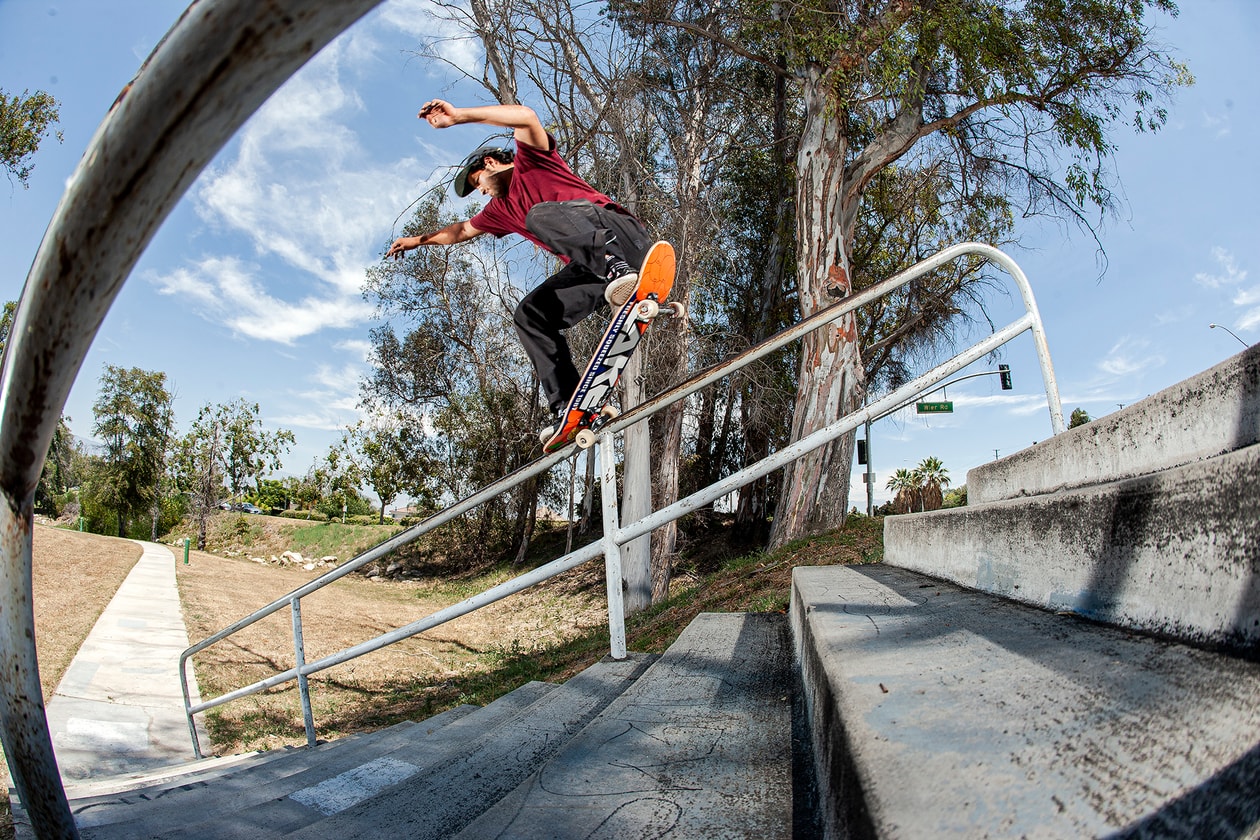 Pedro Delfino, Crooked Grind, Loma Linda, California 2016.
Before Pedro Delfino blew up, he was hanging around the Oceanside, California, zone couch surfing at the Derns' house. Before I got to shoot this photo of him doing a crooked grind I saw several clips of him taking some insane slams on other handrails. Needless to say, I was excited to get the chance to shoot with him as it was obvious to me that he was all in when it came to skating.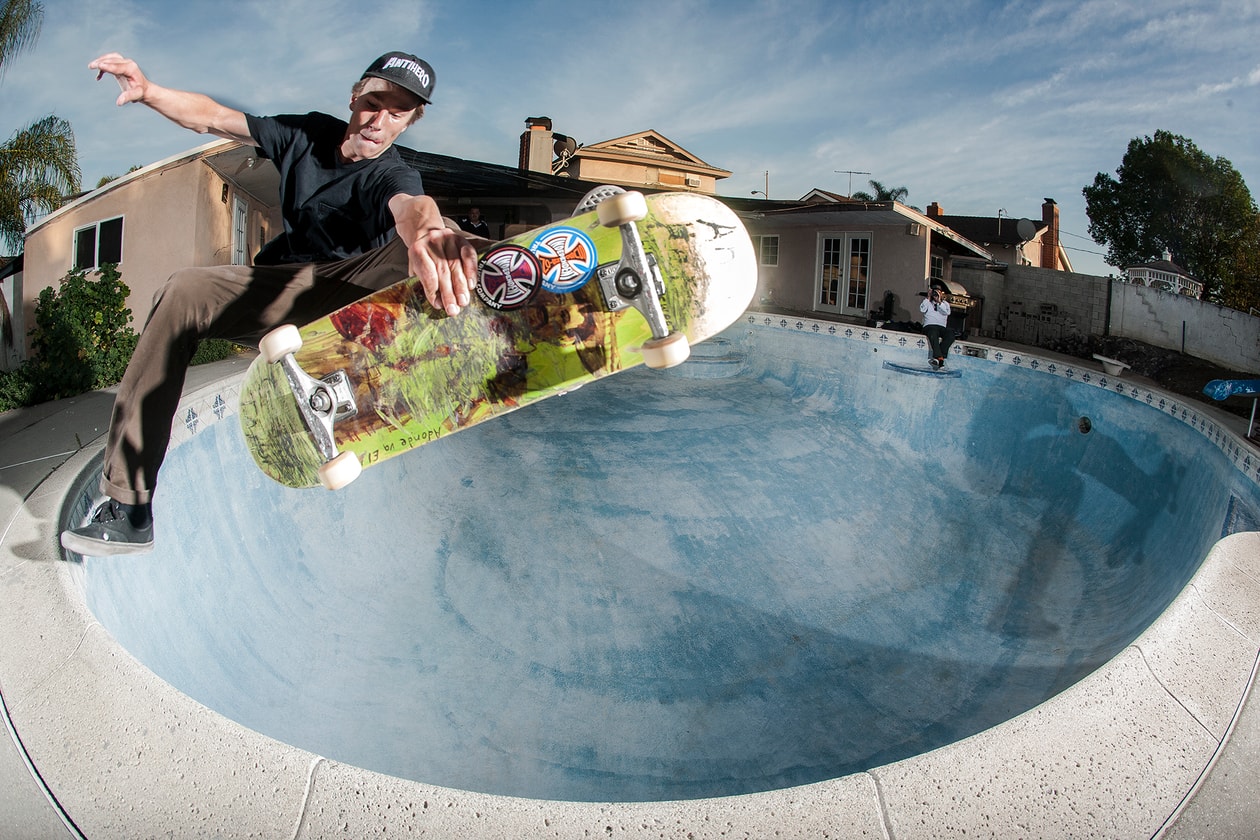 Cedric Pabich, Slob Fastplant, Orange, California 2015.
I've seen fiberglass surfaced pools before but never seen anyone skate them as the general rule is that stuff gets ripped out before shredding. Not the case on this Orange County pool that had a bunch of bubbles of water between the concrete and fiberglass, but that didn't stop Cedric and his brother Roman from shredding.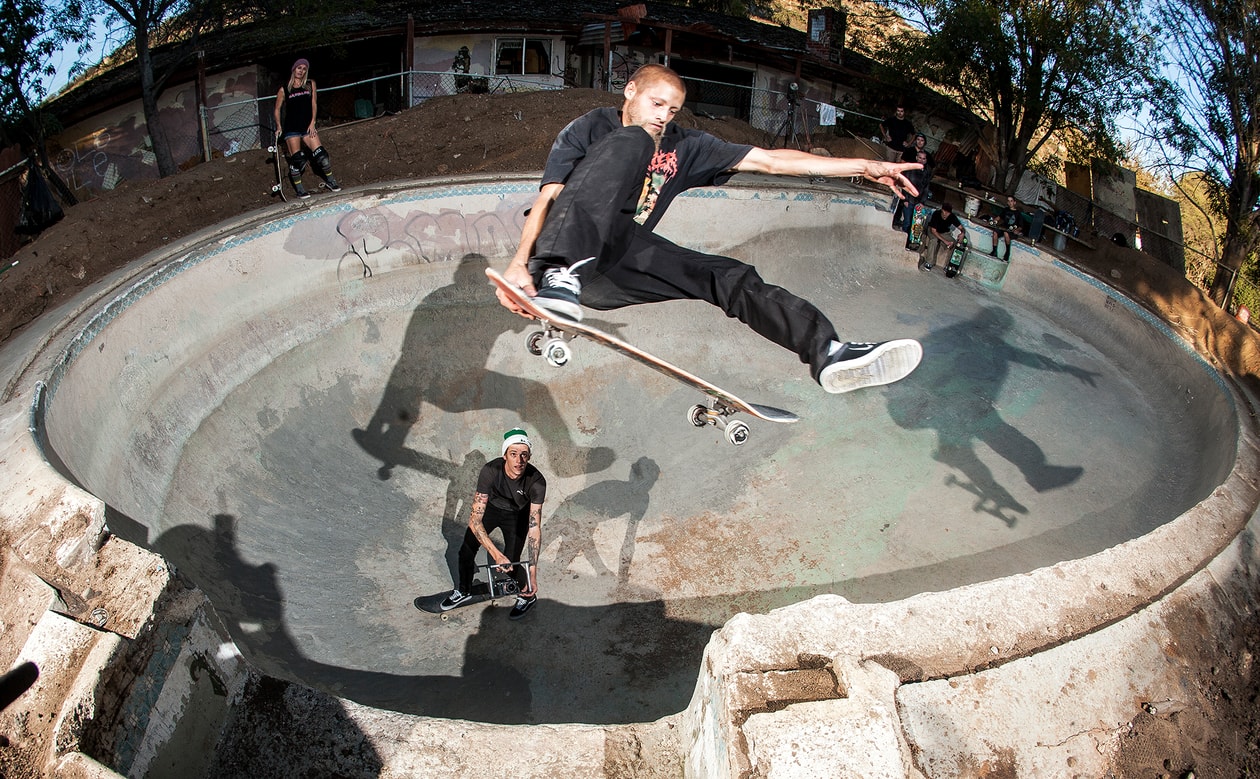 Greyson Fletcher, One-Footed Tailgrab, Pala, California 2015.
Only time will tell if the Pala pool will ever be ridden again but damn if it didn't get the shit beat out of it each and every time it was unearthed. In 2015, it saw so many great sessions in the few weeks it was skateable, and I was so hyped to get out there and shoot.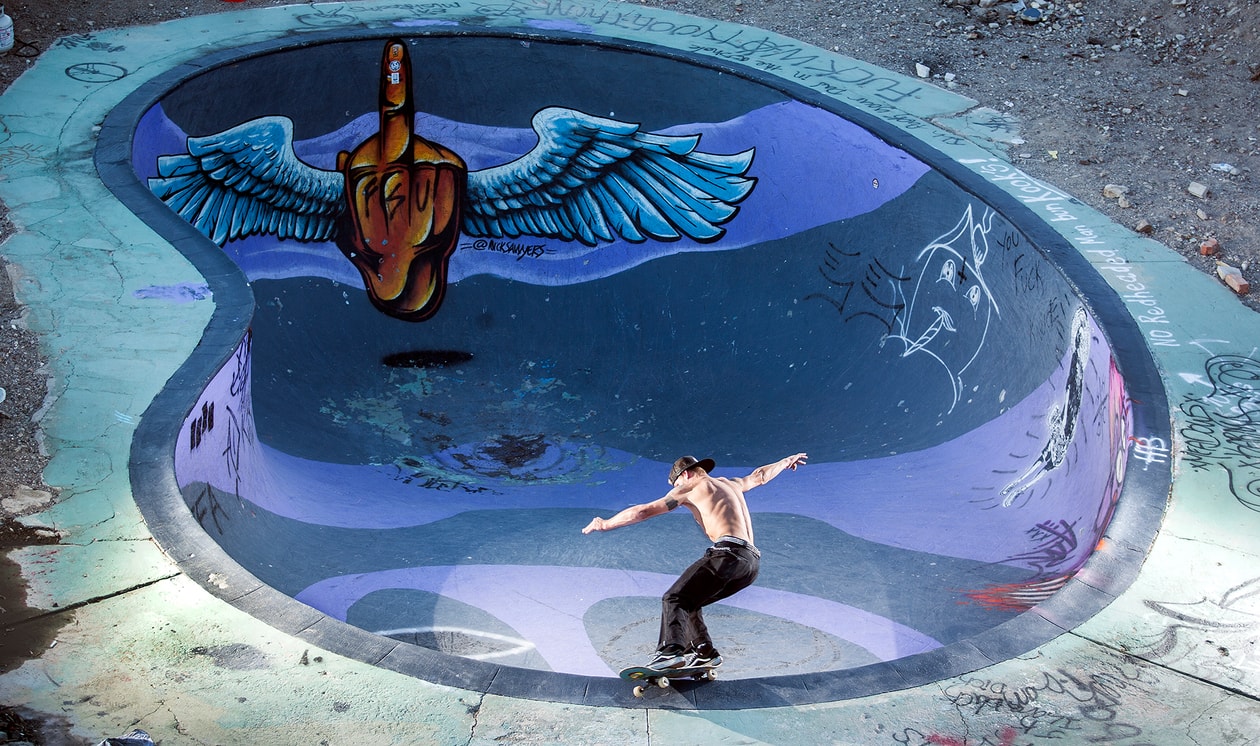 Shaun Ross, Feeble Grind Over Stairs, Palm Springs, California 2015.
Another pool that has seen decades of skateboarding from the early eighties all the way up to present day. It spent nearly 20 years buried but in 2015 it got dug out and has been sessioned ever since. I've been told that its days are numbered because the land it is on is set for a new housing development and could be dozed for good. Will another legendary spot bite the dust?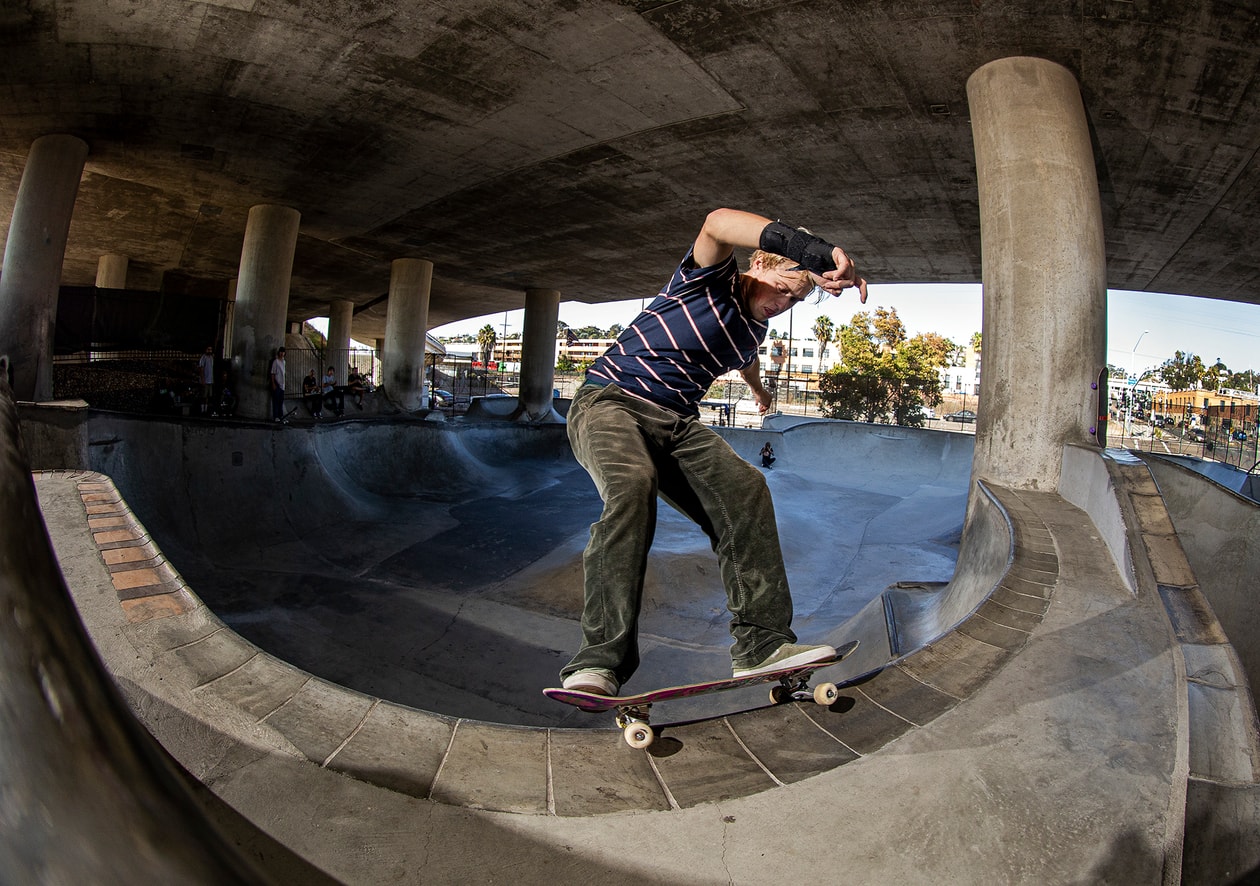 Jake Wooten, Frontside 180 Fakie 50-50, San Diego, California 2019.
Kids are so lucky these days in that everywhere you go there is something awesome to skate; hopefully they don't take it for granted. Washington Street DIY has been around since the early 2000s when a grew of hungry for concrete skaters took a cue from the DIY OGs that built Burnside and decided to take it upon themselves and create their own spot in San Diego, California. In the first few years it didn't seem like it would last but the crew just wouldn't give in and it remains a proving ground for gnar concrete skating today. Jake Wooten adds to the long list of moves done in this pocket after escaping some near-death attempts. Heavy commitment on this one.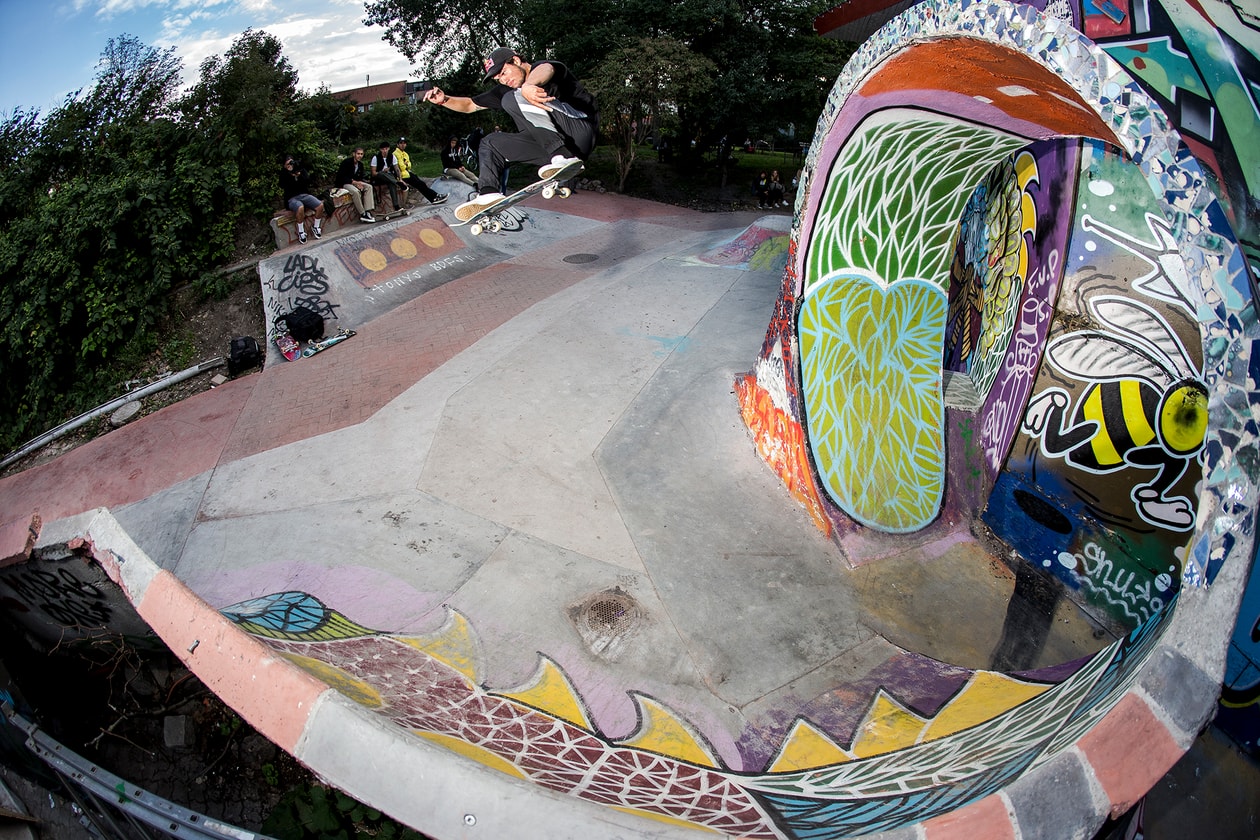 Alex Sorgente, Frontside 270, Copenhagen, Denmark 2018.
It was great to get back to Europe after more than a decade even though it was only for a couple days to attend the Park Series contest in Malmo, Sweden. After the event was over I had the opportunity to shoot with Alex Sorgente and a few others in nearby Copenhagen, where the skate scene is thriving. This section of concrete in the midst of the famous Christiania free zone got its ass kicked by Alex.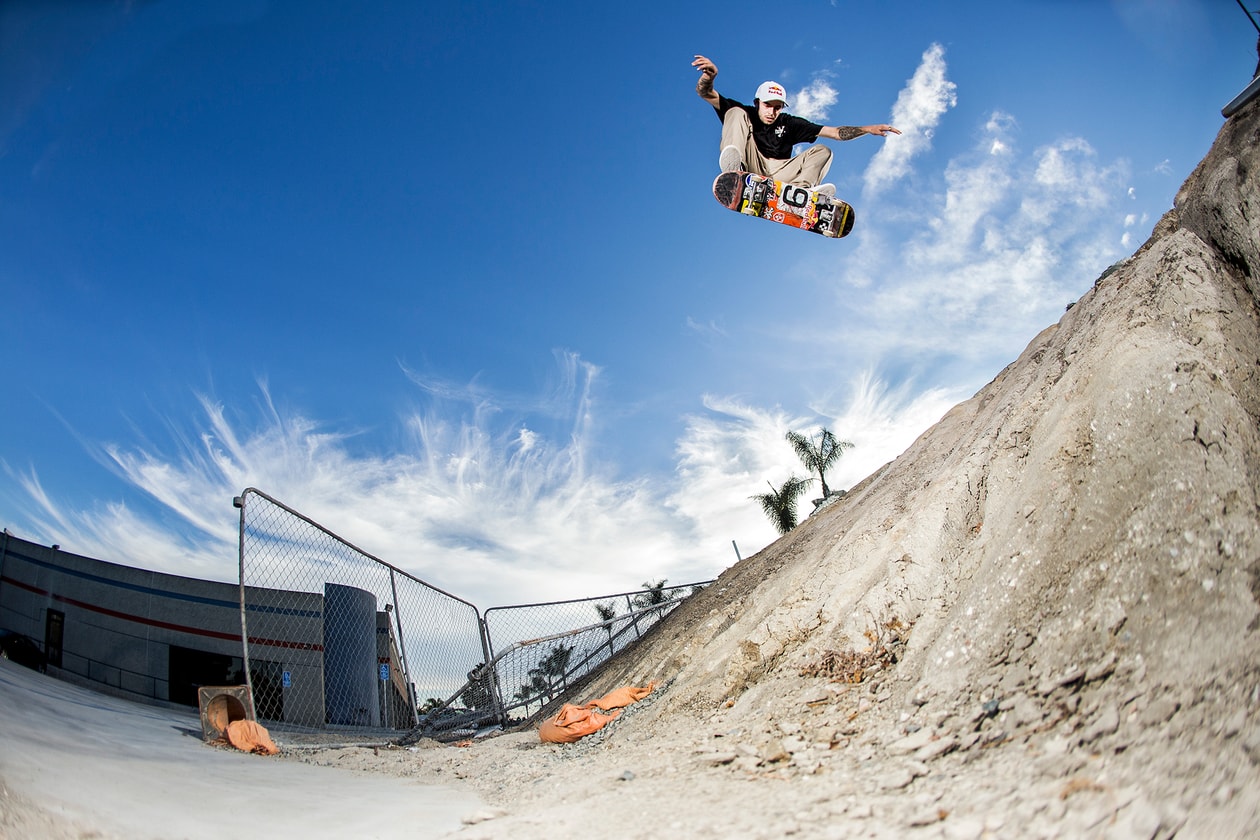 TJ Rogers, Switch Heelflip, Vista, California 2017.
Short-lived hot spot in Vista gets handled by Canadian ripper TJ Rogers.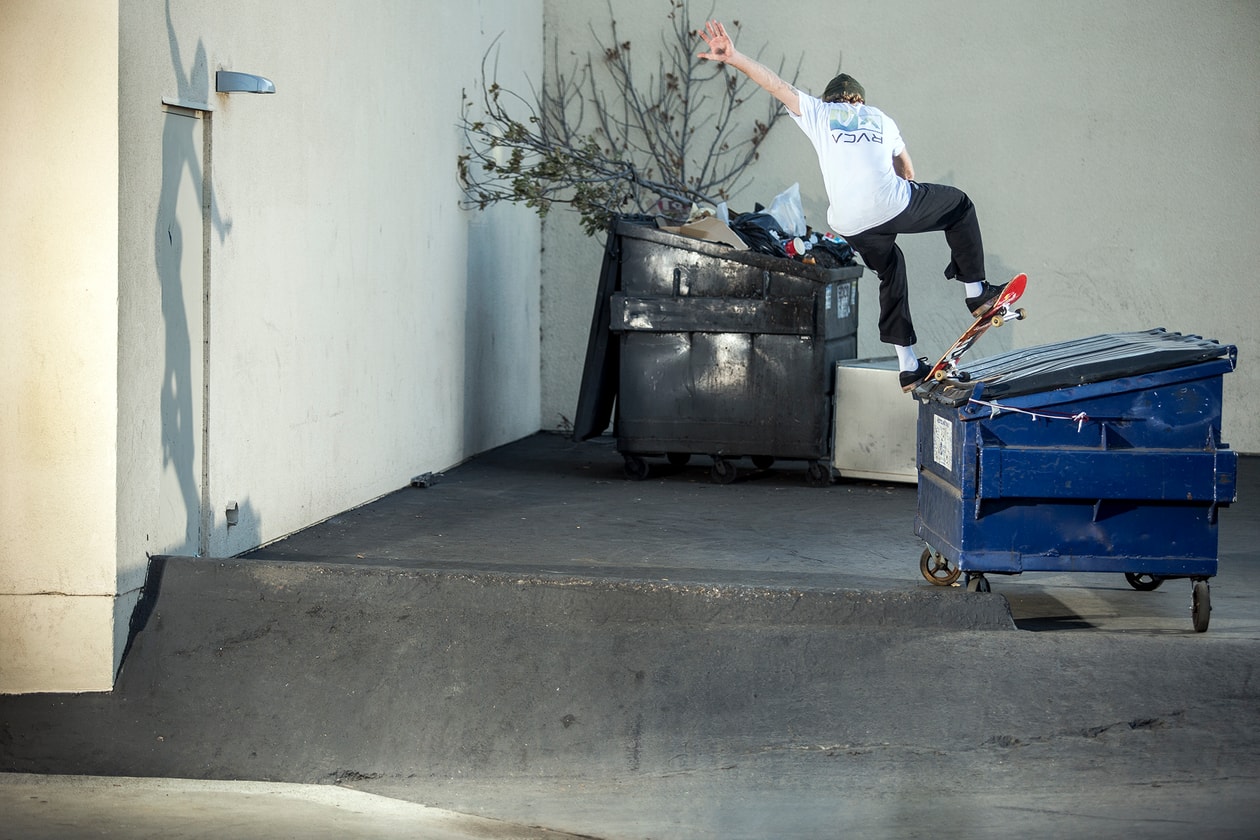 Barney Page, Frontside 180 Fakie Five-0 Come Out Forward, San Marcos, California 2017.
While the boys were filming for the Etnies video Album I got to go on a few missions to get shots for an article in an issue of The Berrics Magazine that never came out. The article may have come out on the website but this photo of Barney Page was never used. I like it because it's a trick you rarely see photographed.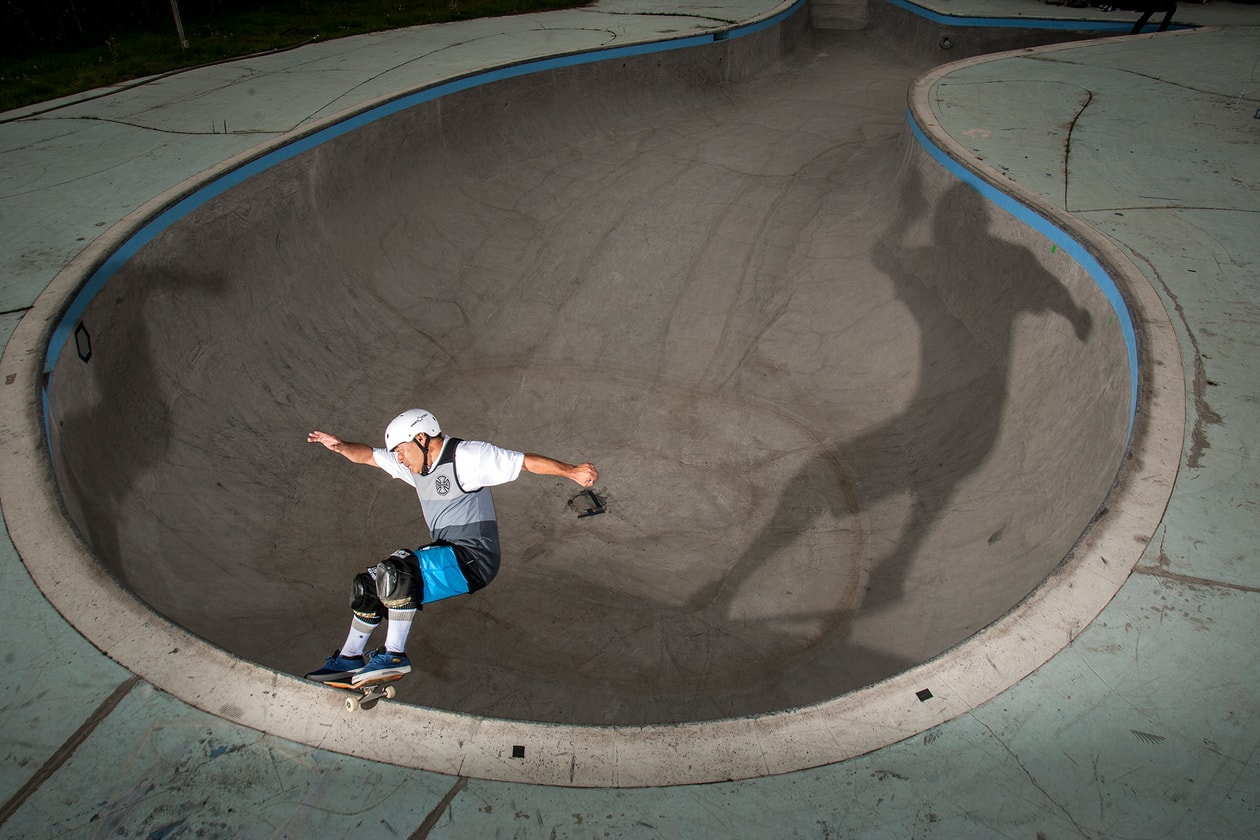 Steve Caballero, Frontside Smith Grind, San Fernando Valley, California 2010.
This was a day spent at the infamous Pink Motel in LA's San Fernando Valley that Powell-Peralta set up with me and a few of their team riders. Chad Bartie, Steve Reeves, Shane Borland, Nolan Munroe, and Steve Caballero all got to skate/film in the newly re-surfaced (thanks Lance Mountain) bowl and to say it was a good day would be an understatement. Cab really killed it and I got about a half-dozen sick images of him for his upcoming interview in The Skateboard Mag. This Smith grind was never used anywhere and I'm happy to finally share it with the world.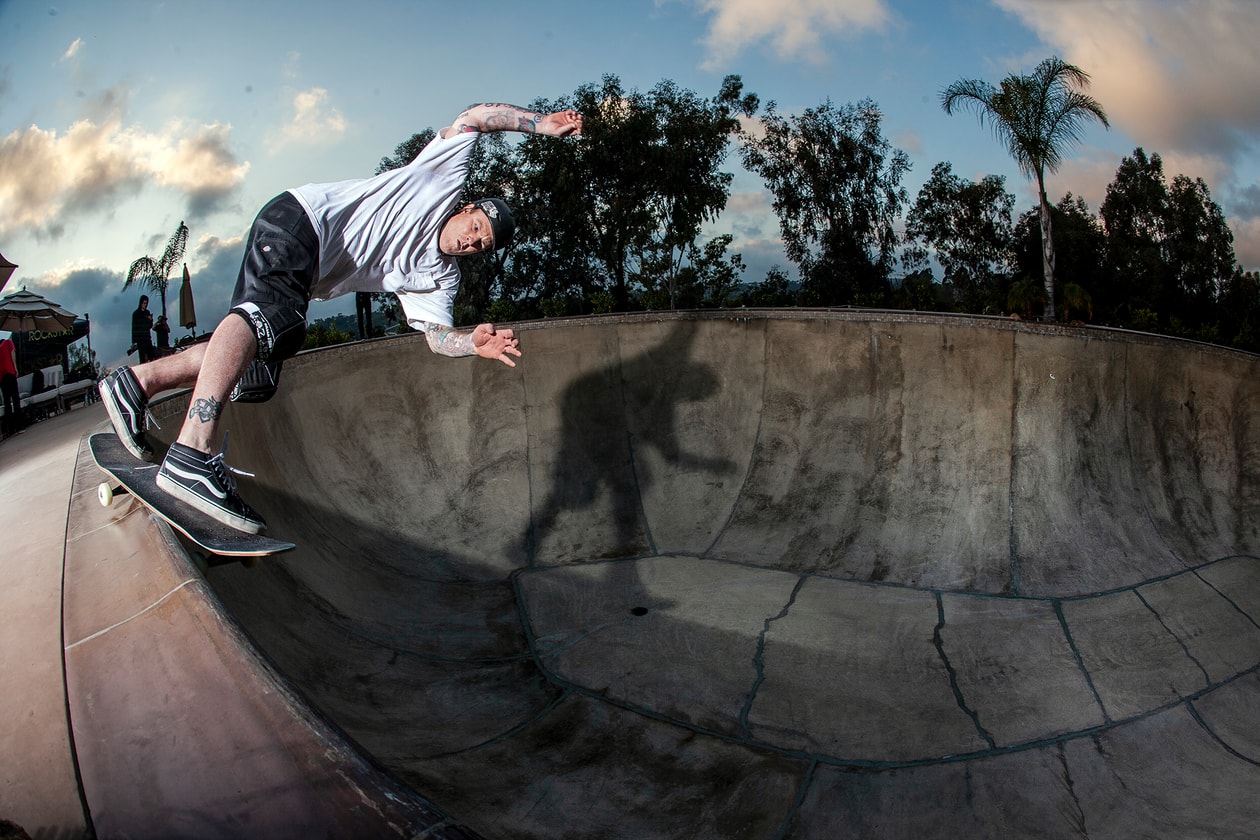 Jeff Grosso, Backside Smith Grind, Encinitas, California 2011.
How does a photo of Jeff Grosso doing a backside Smith fall through the cracks? I blame my bad organizational skills for the longtime disappearance of this gem. No big; looks as good now as it did then.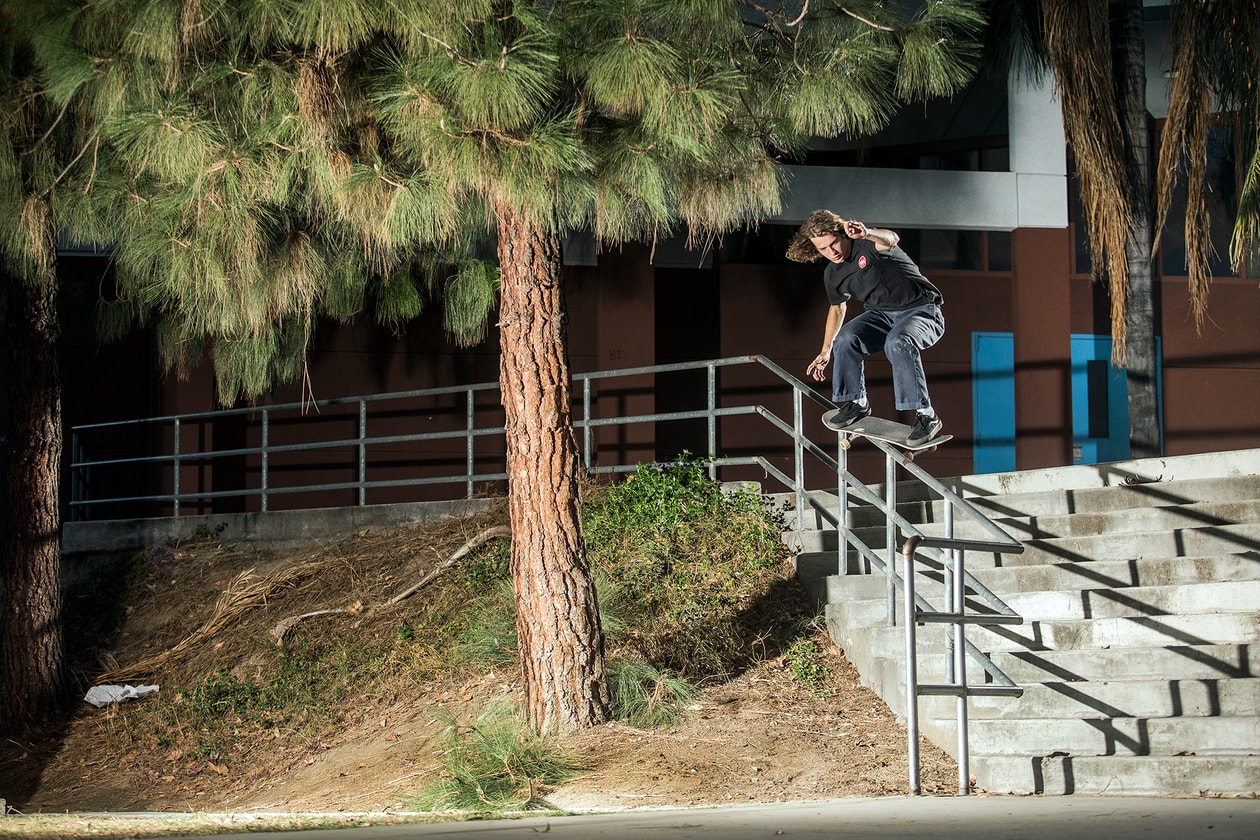 Axel Cruysberghs, Smith Grind, San Bernardino, California 2018.
Got up early and met up with the Tum Yeto guys in San Bernardino for a day of street skating. I'd only seen Axel a few times prior to this day so I wasn't sure what to expect. Well, he non-stop killed all the spots we hit and this Smith grind on a tall and weird-angled handrail was the ender of a very productive day.
Check out more of Dave Swift's portfolio at DaveSwiftPhotography.com!