DAVE SWIFT'S HEAVY ACTION IN VEGAS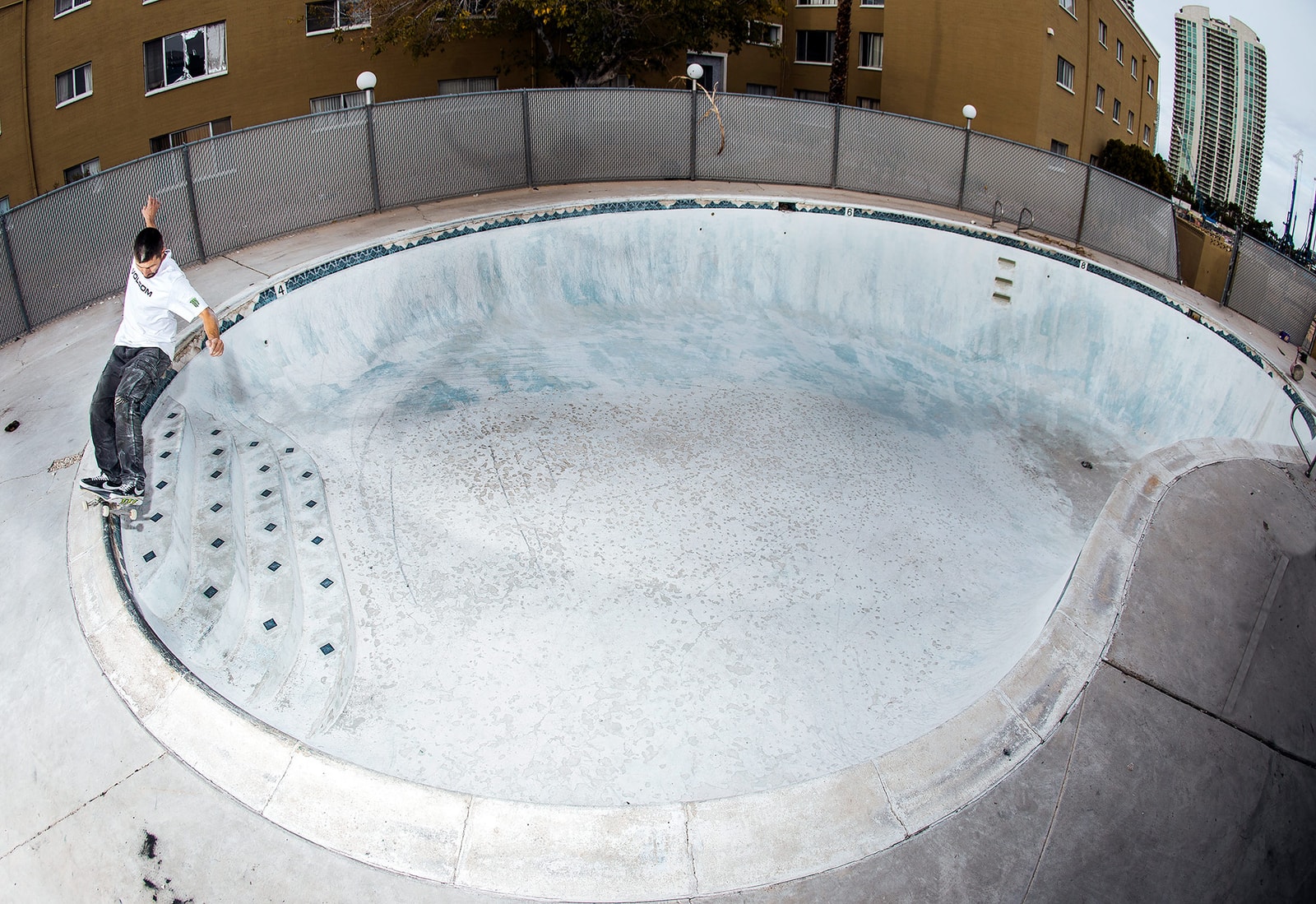 Rune Glifberg, Oversized Cake Five-0, Las Vegas, Nevada.
Words and Photos: Dave Swift
If you happen to live in a climate where it gets cold, wet, and dreary between the months of November through March each year, getting out to warmer climates if possible is warranted. If you're a professional skateboarder, then breaking away from the foul weather is a must if you want to get things done—as in skate and film. Sure, you could attempt skating in subzero wet conditions but If you have the means to get out of the winter and enjoy some warmth and sunshine, do it.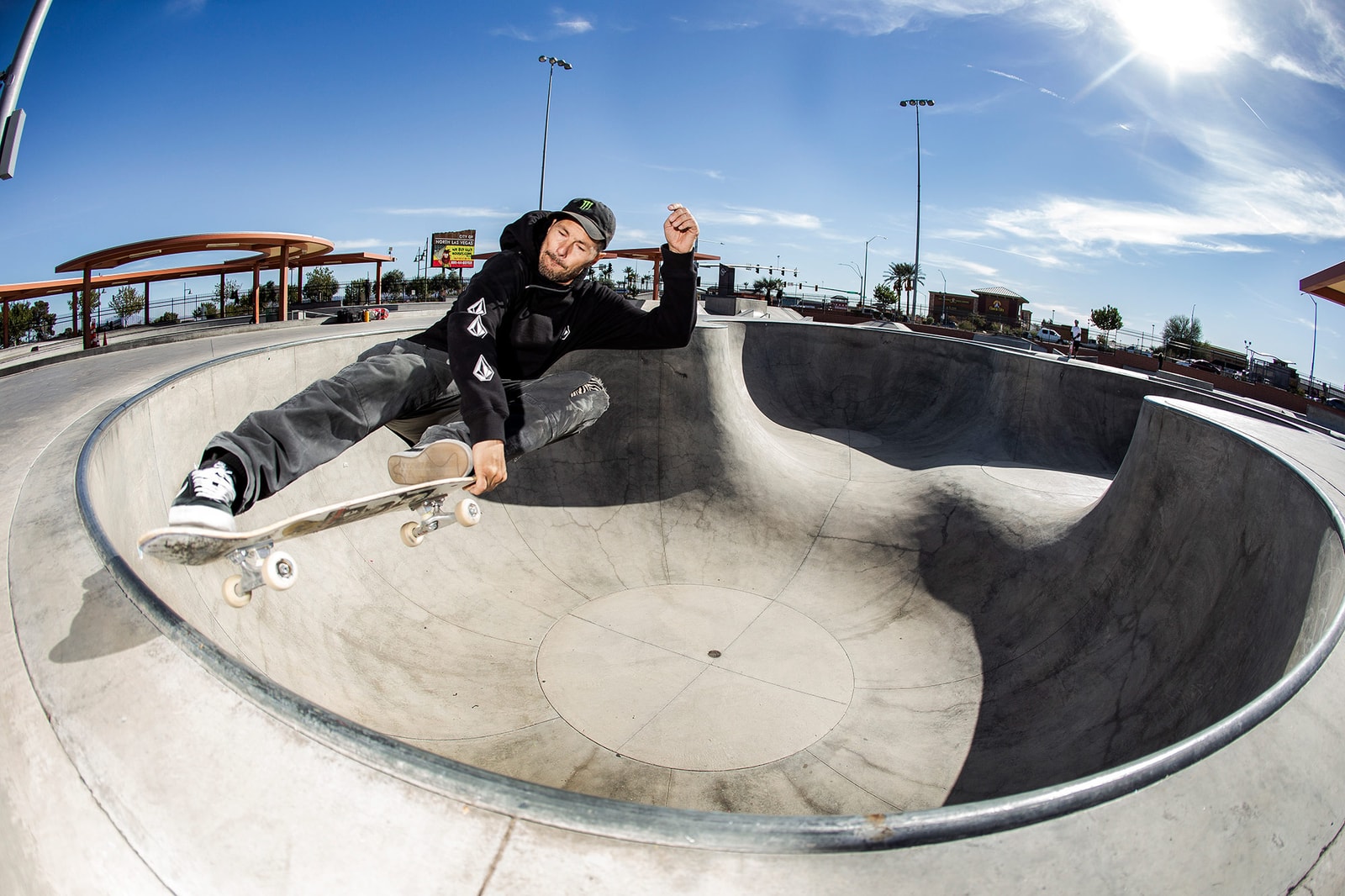 Rune Glifberg, Crailslide, Craig Ranch Skatepark, Las Vegas, Nevada.
Two European professional skaters who do just that are Rune Glifberg (Denmark) and Sam Beckett (England) who regularly visit California and other non-wintry climates during the times of cold snap. On a recent stay on the West Coast, Rune—who is trying to accumulate footage for an upcoming part—enlisted Sam, filmer Josh "Peacock" Henderson, fellow skater Shea Donovan, and myself for a quick trip to Las Vegas, Nevada, for a few days of terrain shredding just after Thanksgiving.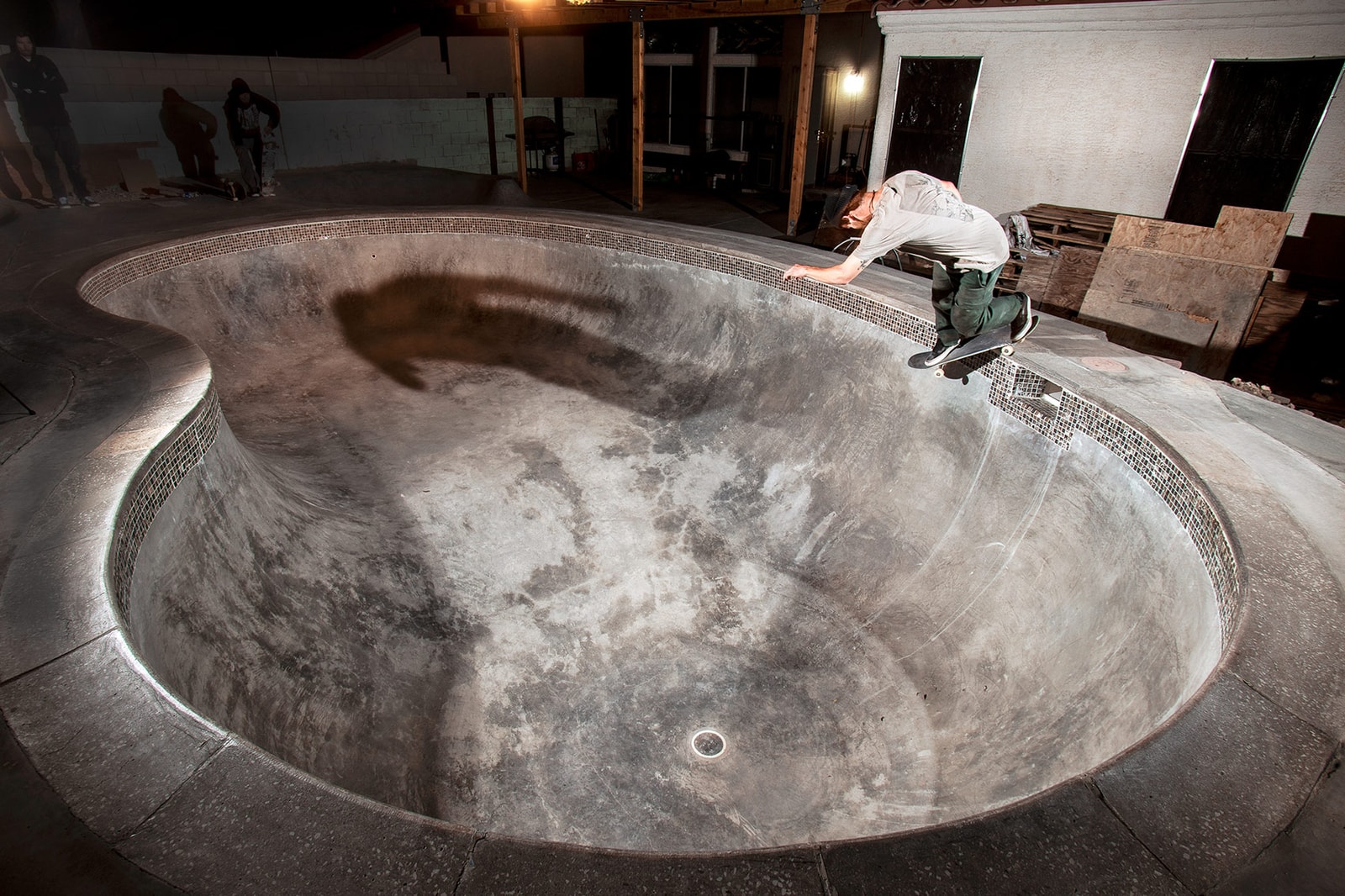 Sam Beckett, Backside Smith Grind, Las Vegas, Nevada.
The drive from Oceanside to Vegas was relatively easy, as most of the traffic was heading back to So Cal after turkey and gambling, and we got to Sin City in no time at all. Upon arrival, we immediately headed to an empty pool just off the strip in an apartment complex that is set for demolition ASAP to make room for yet another huge casino, I'm sure. Pulling up we noticed some wayward humans pushing shopping carts full of whatever treasures those previously living in the apartment building had left behind. We didn't bother them and they didn't bother us—all good.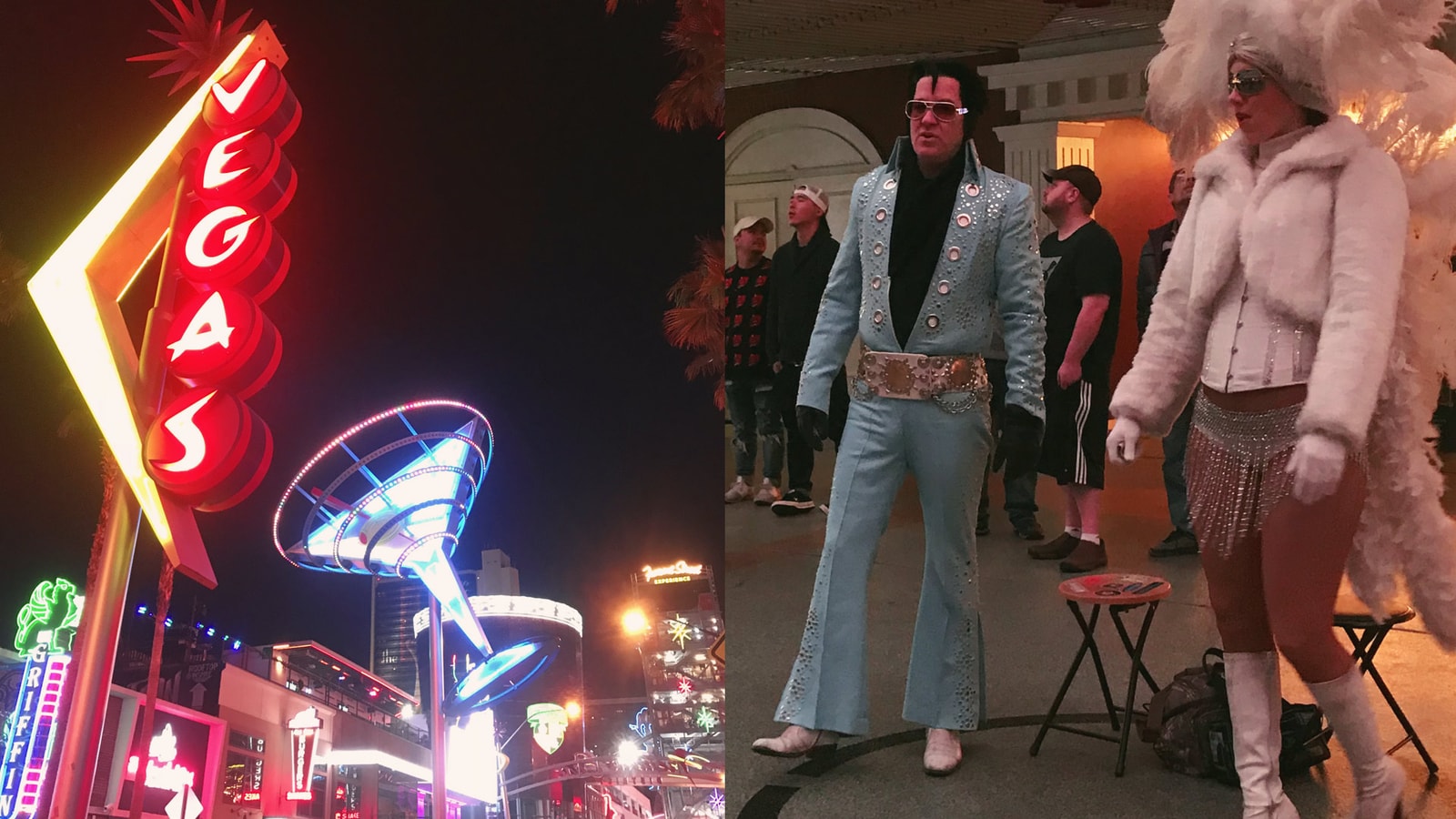 The pool was pretty sweet, a large right-hand kidney with a rather wide cake (shallow end stairs, for those of you not familiar with pool skating vernacular), a decent deep end, and really nice bullnose coping, the style you might find at a skatepark. We skated it for about an hour before darkness and hunger took over, knowing that we'd be back tomorrow for some daylight shredding.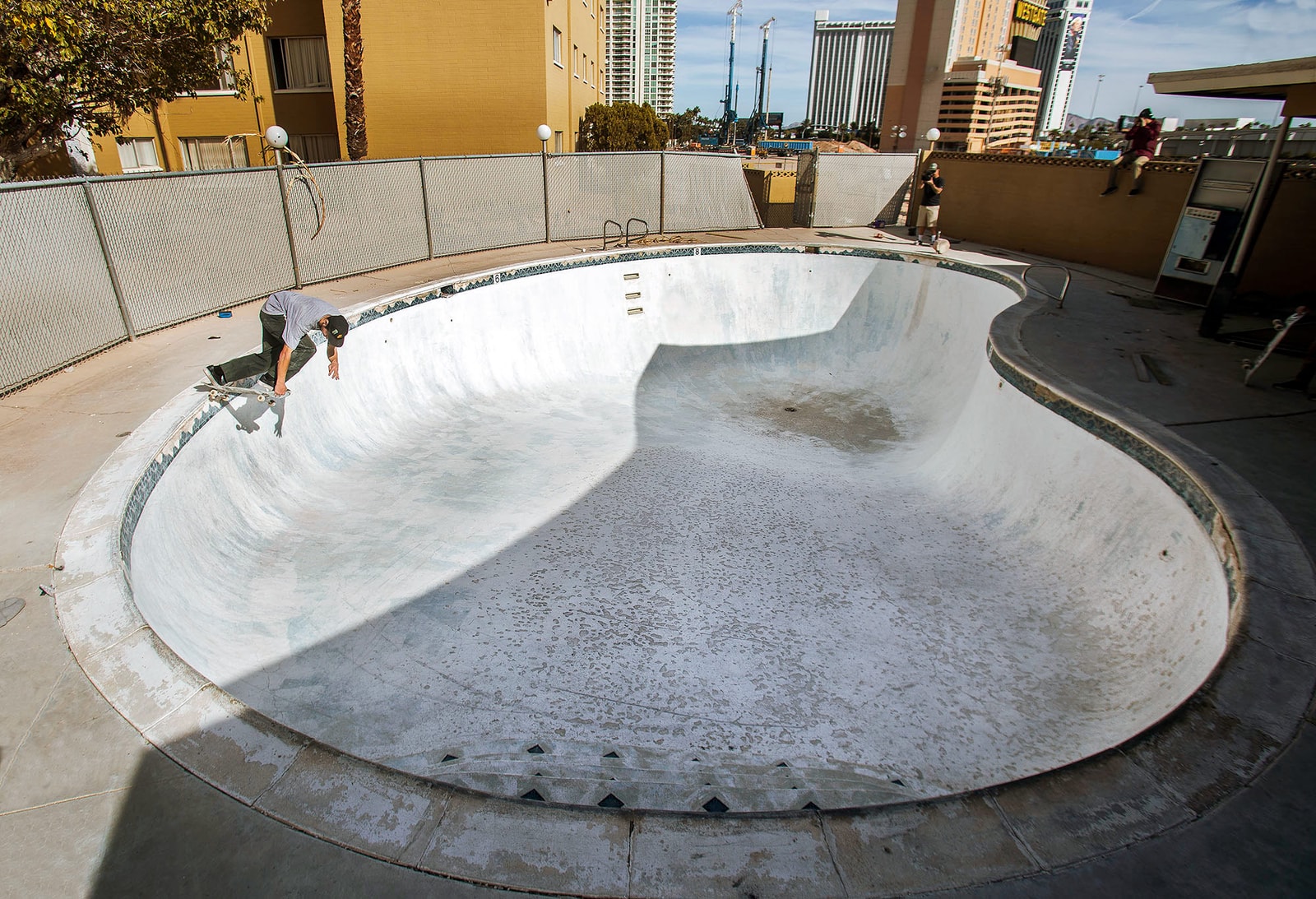 Sam Beckett, Nosegrab Back Tail, Las Vegas, Nevada.
After eats we headed over to Dave Daluna's backyard made-to-skate kidney (again, right hand) which was surrounded by small skatepark trannies filling the rest of the backyard. This bowl was tiny, like maybe six-and-half-foot in the deep-end, and Sam was the only one of us that had enough energy to really give it a proper shred. Dave was awesome enough to offer us beer and good music, thus fueling Sam's solo rip ride under the lights. After that, back to the hotel for some much-needed sleep.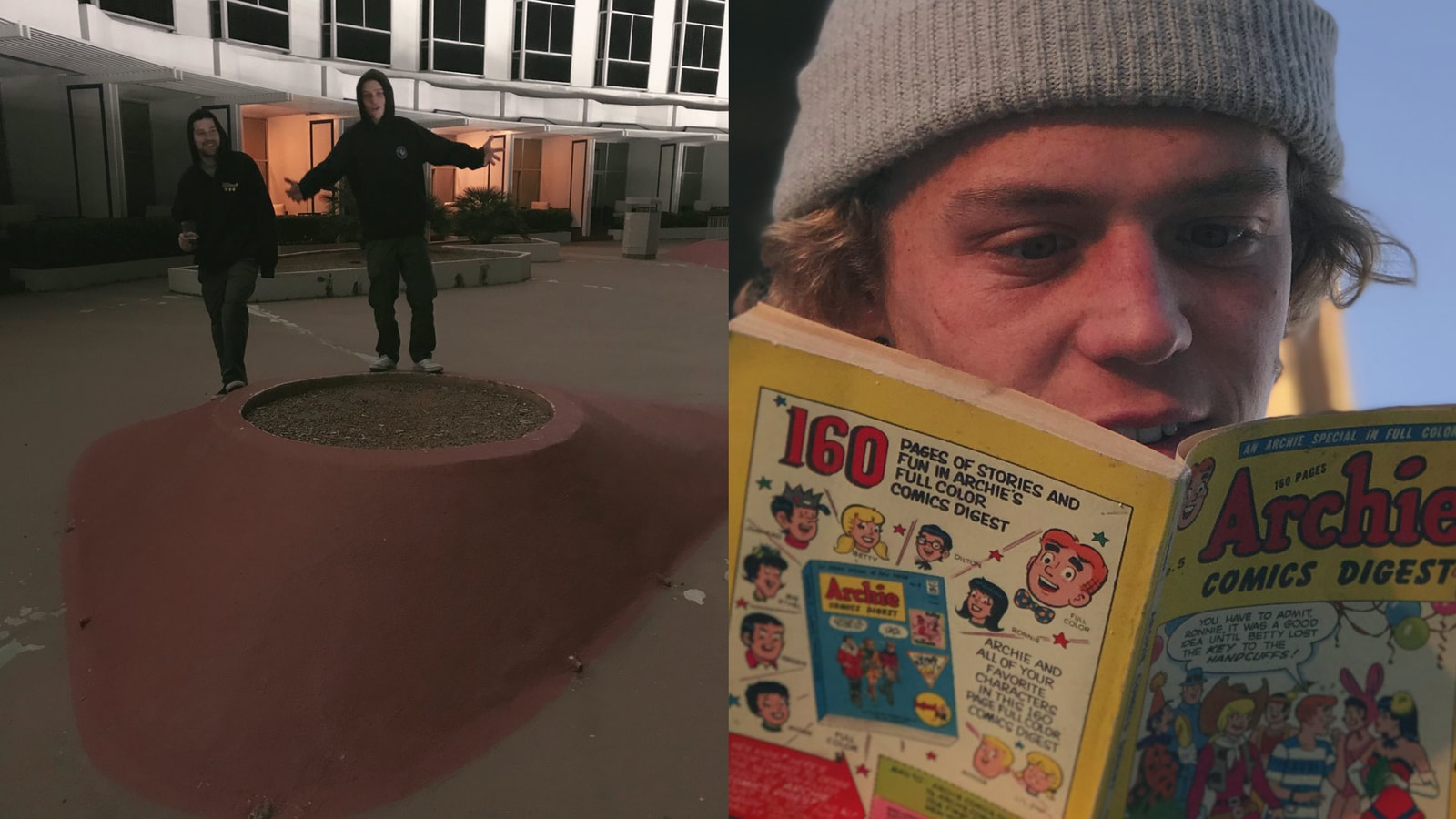 The next day, after food we hit the apartment pool first, hoping to get a few moves and head out to other spots on the list. Well, that was wishful thinking as we ended up staying for a good three hours to get the lines and tricks both Sam and Rune had in mind. No big, it was fun and no one bothered us. After that we checked out a few other pools that were either not up to standard or had neighbors out and about ready to call the cops on us. We didn't need any trouble so we headed over to the Barrio Bowl, another made-to-skate and gave it a good shredding. Rune's legs were feeling the burn from his previous battle at the apartment so he took it easy while Sam and Shea figured out some lines in this uniquely shaped bowl. Darkness fell upon us but this bowl also had lights and we got to shred even longer before calling it a day.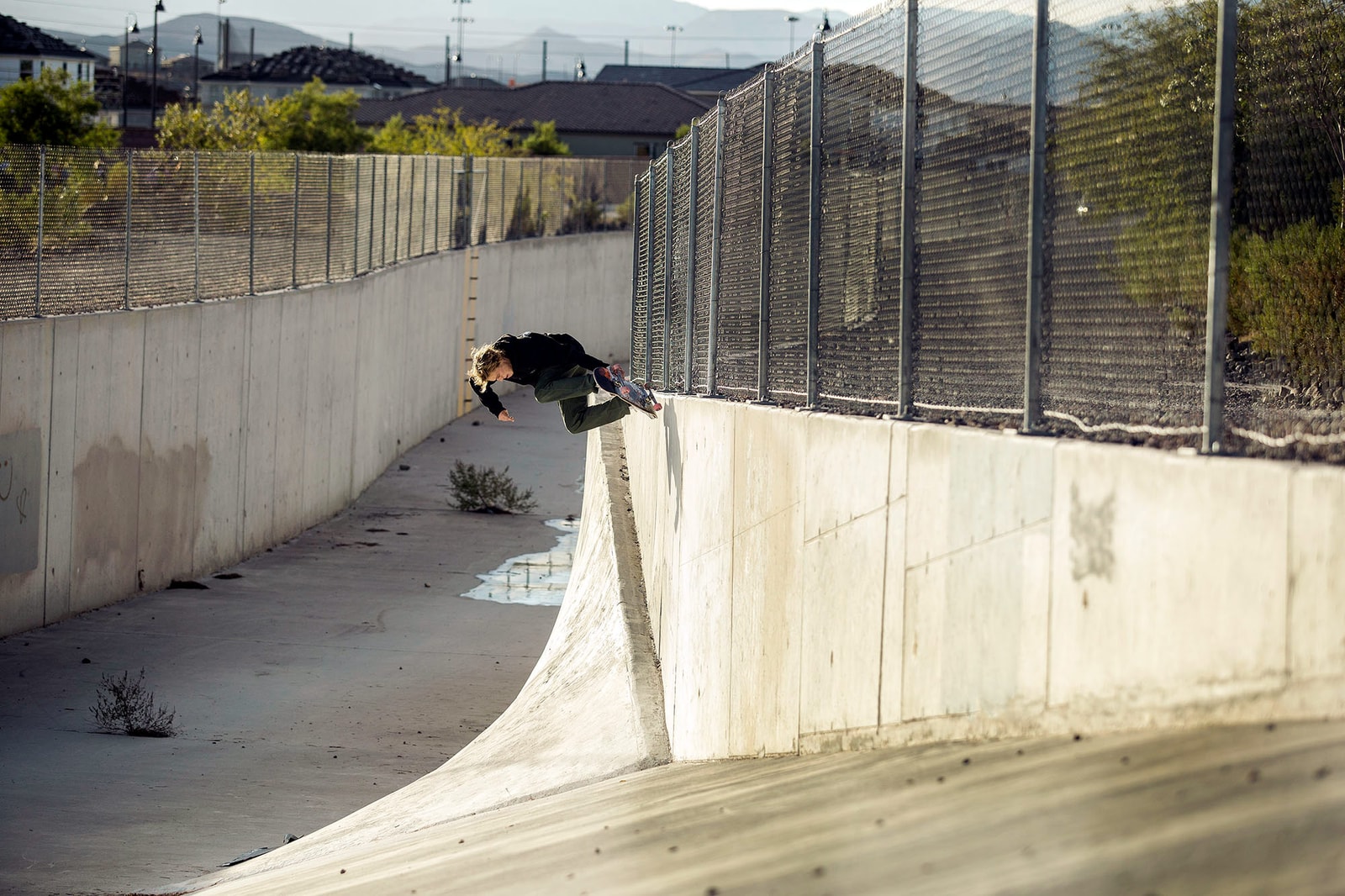 Shea Donovan, Backside Wallride Air In, Las Vegas, Nevada.
That night we headed to Fremont Street, the old part of Vegas where all the hipsters lurk, ate some food and checked out the freak shows that were in abundance. Such a weird place where people stand in circles, utilizing some sort of gimmick to catch your attention with hopes of getting some cash in return for the entertainment. That being said, we hung around for a couple hours, walking the length of the street before heading back to the vehicle and calling it a night.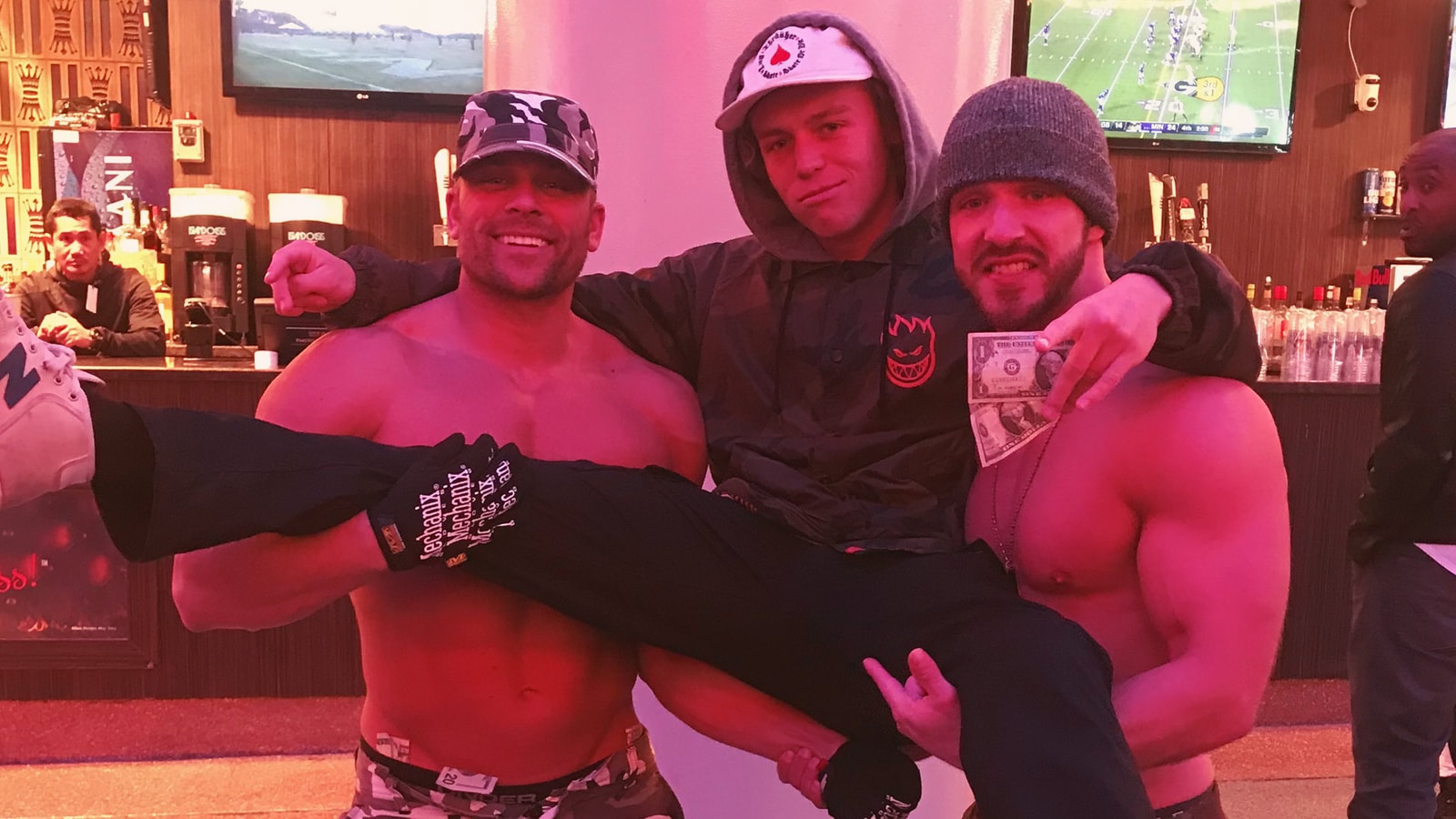 In the morning, we packed all our shit, checked out of the hotel, ate breakfast and headed over to the Craig Ranch skatepark for some warm-ups. Damn, this park is overwhelmingly huge with tons of random shaped bowls and street essentials that give one the perception that it's a great skatepark. It is fun but sometimes less is more, and I say that because as a bowl skater I didn't find any of the pools/bowls at Craig Ranch to be all that good. If there was just one that was of the caliber of one of the great So Cal skatepark pools this place would be a destination for anyone. As it is, I think it's worth checking out on your way through town but not someplace you'd spend a lot of hours skating.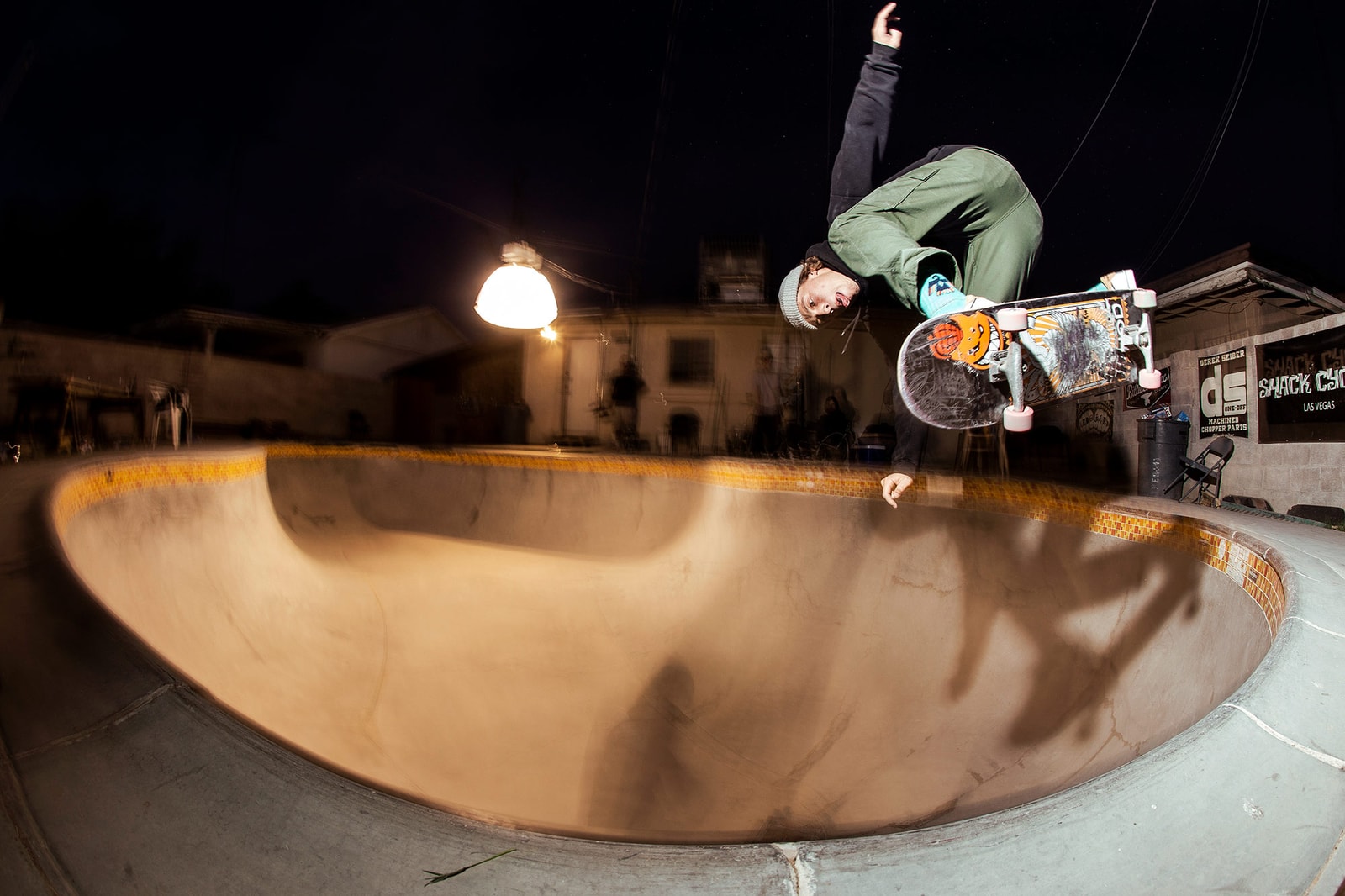 Shea Donovan, Backside Ollie, Barrio Bowl, Las Vegas, Nevada.
From there we said our goodbyes to Dave and headed toward home, stopping by a pretty sweet ditch on the way out of Vegas. Rune, Sam, and Shea had some ideas for stuff they wanted to try but not before sweeping rocks and taping a sign to the bottom of the tranny to make the ditch skateable. This probably only took a half hour before the boys were tossing their boards down and hitting the wall. Moves were made in good time and we were on the road to home in no time. Thanks boys for the fun times.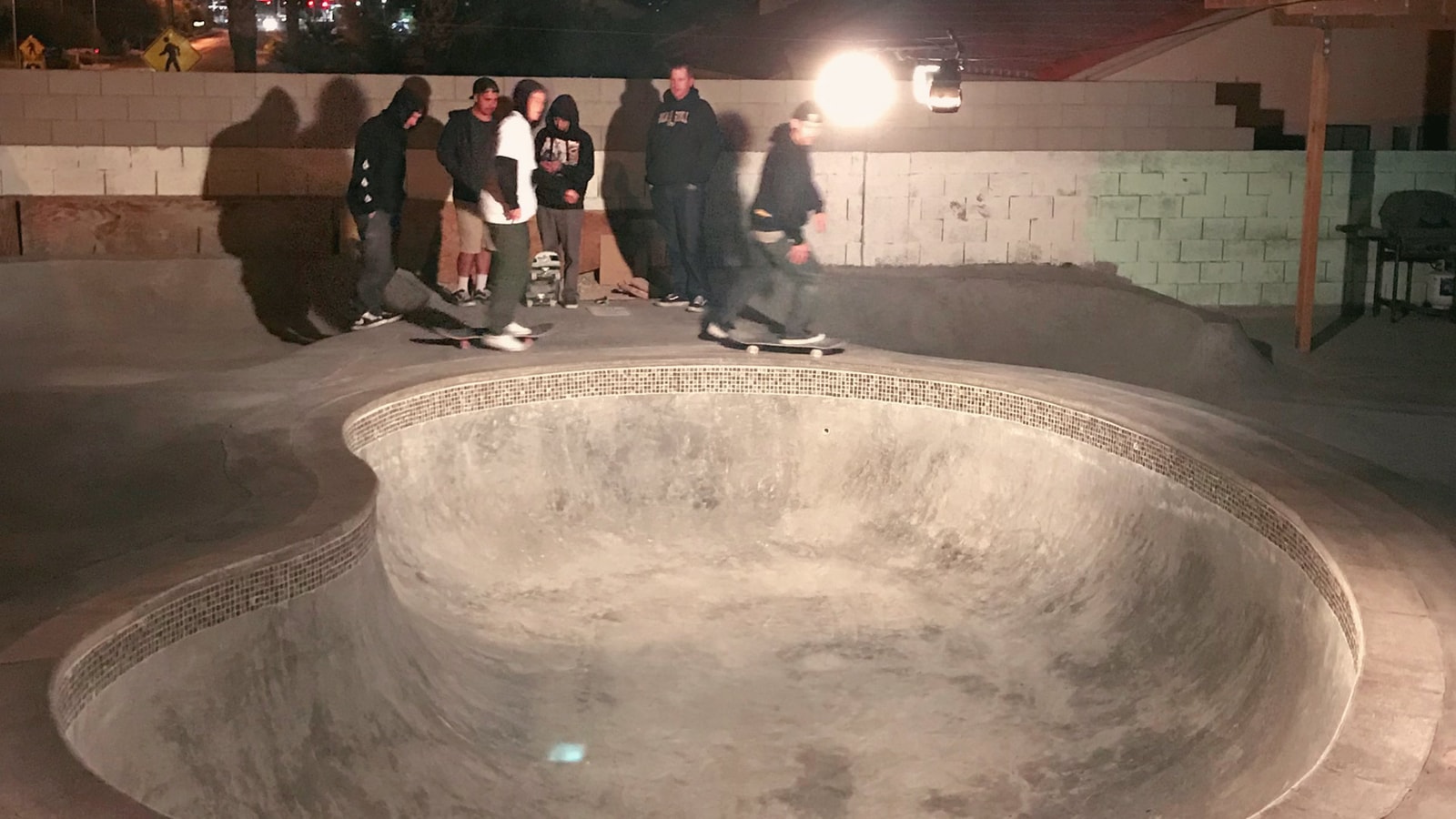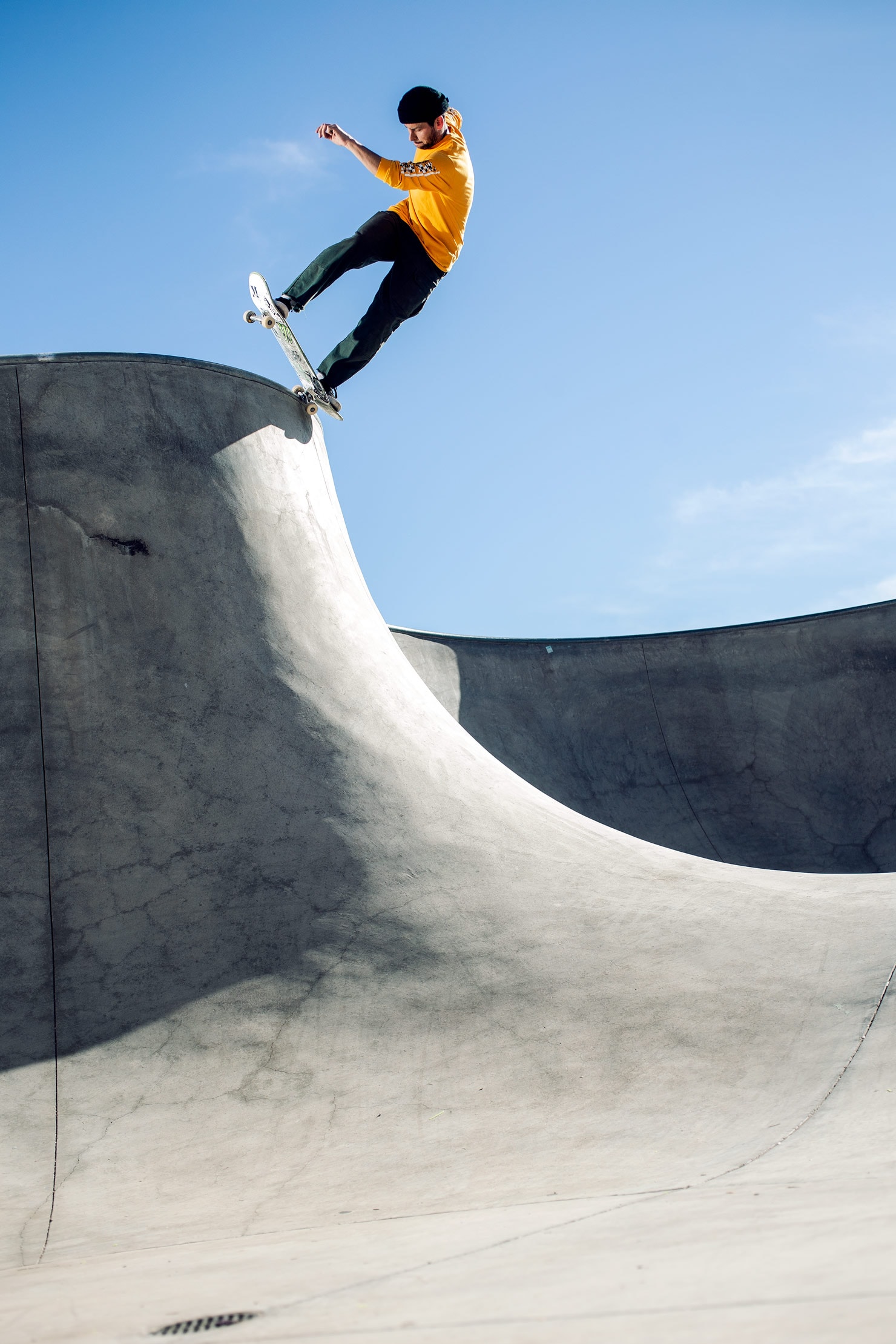 Sam Beckett, Pivot-To-Fakie, Craig Ranch Skatepark, Las Vegas, Nevada.