DOUGH-COMPLY: SALAD GRINDS & BEAN PLANTS #77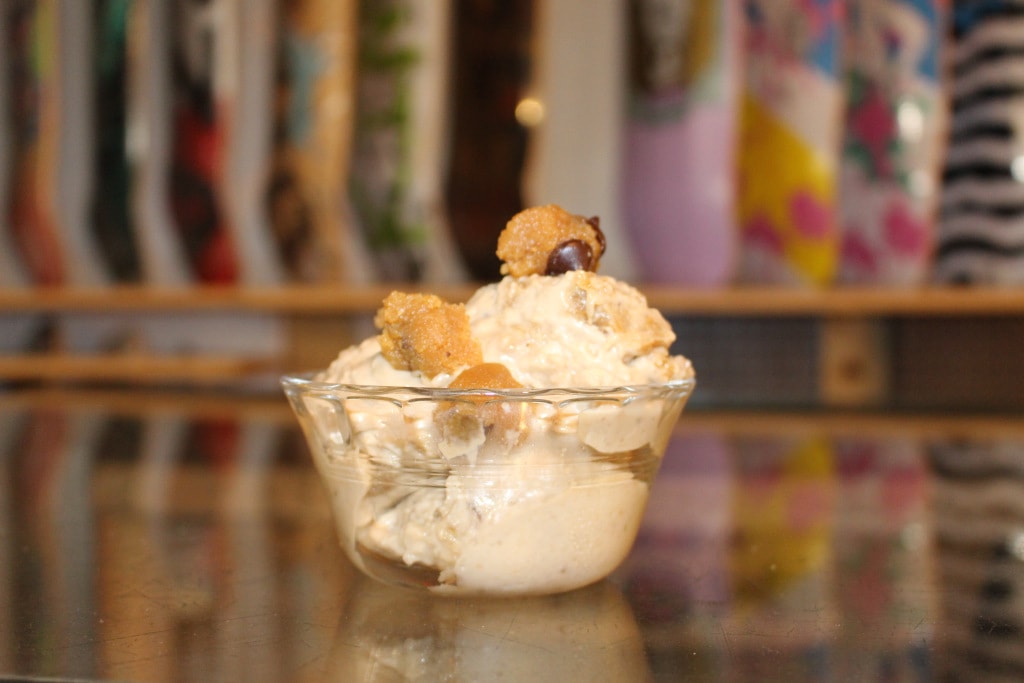 DOUGH COMPLY (Dairy Free Cookie Dough Ice Cream)
WORDS: Johnny Lozano
Despite all of the roles that skate shops fill—safe havens for skateboarders, suppliers of fresh product, organizers of local events, hubs of progression for skaters in a given scene—only a select few of them enjoy any kind of notable longevity. With the exception of a few perennial institutions, it seems that they are as quick to close their doors as they are to open them. 
One has to marvel at how a skate shop must both adapt and remain unchanged to stay alive. On the one hand, those shops that have stood the test of time do so by maintaining a core image, an unwavering basis on which the locals pride themselves (and with good reason). On the other hand, the shop has to shift and adapt to changing trends. With that in mind, this week's recipe is a tribute to my hometown's local shop: No-Comply (now in its twelfth year).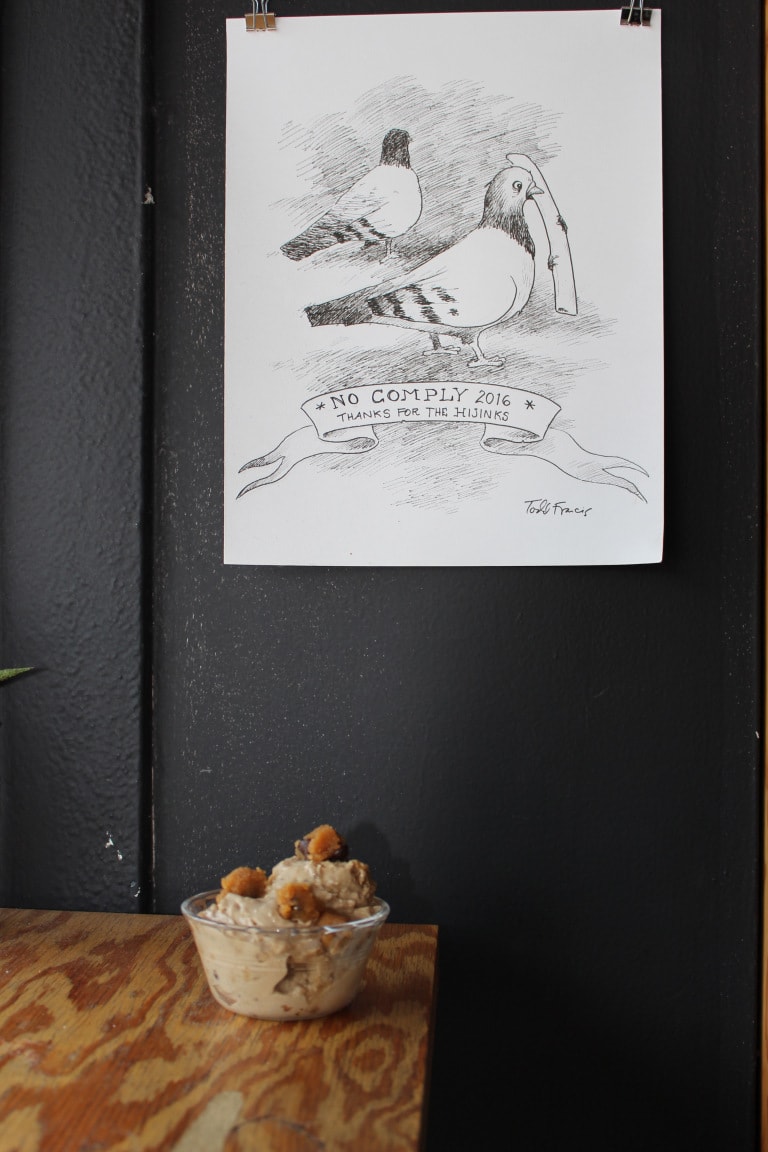 No-Comply has fully invested all of its resources in stoking and giving back to the Austin, Texas, skate community. Any event or product No-Comply produces inherently involves efforts from a variety of local artists, musicians, coordinators, and skaters. In its dozen years, it's had no shortage of stunningly creative decks and sick events (ranging from art to music to video premieres and everything in between), not to mention a team that just keeps growing both in number and in jaw-dropping skill.
If you're ever in Austin, whether skating or not, you'd be doing yourself a disservice by not stopping by No-Comply and saying what's up. With 12 years under its belt, it's not hard to imagine that it will continue to be a Texas institution for many more decades.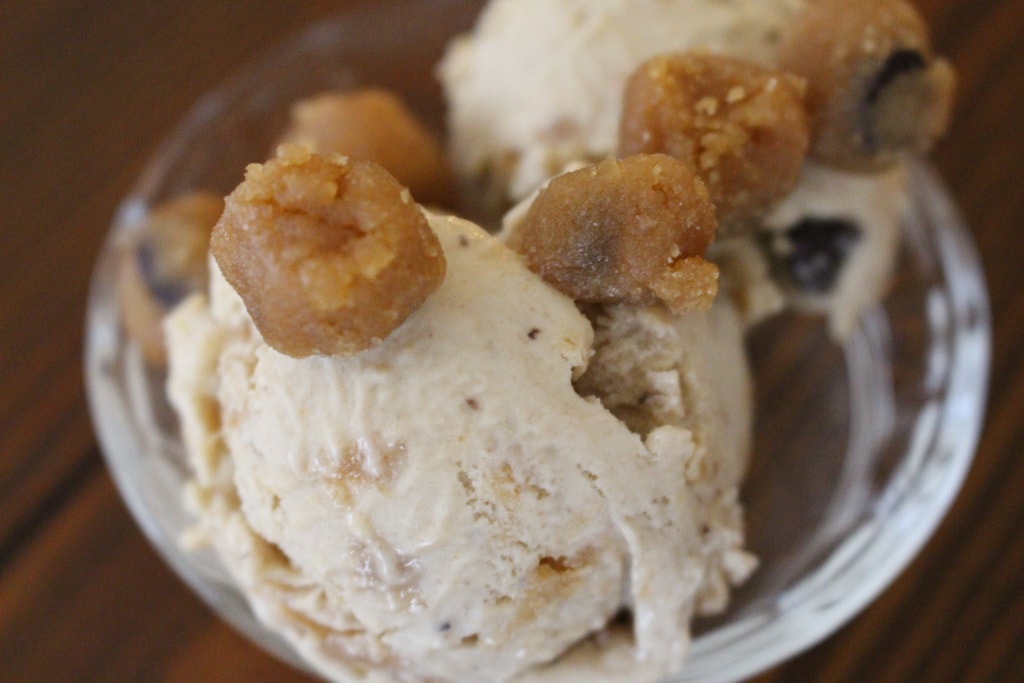 Now, you may be asking, "What does this have to do with ice cream?" No-Comply is literally a 1-minute walk from Austin's world-renowned skatepark: House Park. While the park is packed with pristine ledges for days, a super fun bowl, and welcoming locals, it is not immune to the deathly summer heat. That Texas sun doesn't mess around, and if you're like me, 30 minutes into the session, you're downing water desperately and looking around for something to cool you off.
Here's the rub: while ice cream is a great treat on a hot day, dairy during intense exercise is not always a great idea (given the complexity in the body's digestion of dairy, it can cause cramps and stomach problems if you're skating while downing ice cream). Thankfully, however, there's an easy non-dairy treat that tastes just like ice cream and will cool you off without the unfortunate side effects of an ice cream bar. Much like skate shops that have endured the test of time, bananas are a great food that retain their core identity, while also being malleable enough to take on a number of flavors. I'm certainly not the first person to discover the magic of frozen bananas (indeed, there are tons of similar recipes out there in the ether), but if you didn't already know, when frozen and blended, bananas take on a very similar taste and consistency to freshly churned ice cream. Mix it in with a little bit of peanut butter and some homemade vegan cookie dough and there you have it: a perfect treat for a hot day of skating at House Park (and then, once you've cooled off, go say what's up to the folks at No-Comply).
Here's how it's done:
ICE CREAM INGREDIENTS
4-6 bananas (peeled and frozen)

4-8 tbsp peanut butter (depending on taste)
COOKIE DOUGH INGREDIENTS
¾ cup coconut flour

½ cup peanut butter

1 tsp vanilla

½ cup brown sugar

3 tsp vegan butter substitute (can also use soft—but not melted—coconut oil)

¼ cup dark chocolate vegan chocolate chips

almond or cashew milk (for moisture)
DIRECTIONS
Peel those bananas and throw them into the freezer for an hour (if you leave them in there longer, let them thaw for about half an hour before throwing them into a blender or food processor). Once they're frozen, break them up into a few pieces each, throw them into a blender or a food processor and blend them until they are smooth and creamy.  Once they take on the consistency of ice cream, add in the peanut butter and blend until it is mixed in completely.  Set that aside in the fridge or anywhere you can keep it cool, but not completely frozen yet.

In a large bowl, mix the peanut butter (for the cookie dough), vanilla, brown sugar and vegan butter (if you're using vegan butter, melt it first; if coconut oil, leave it unmelted, but still soft). Once that's mixed, start adding in the coconut flour about ¼ cup at a time until it is completely folded in.

Once that's mixed up, add 1-2 tbsp of any non-dairy milk to give the dough just a little bit of moisture. Then mix in the chocolate chips and throw it in the fridge for about 10 minutes to firm it up.

Once that's firm, crumble it into the ice cream and fold it over a few times so that you have layers of cookie dough. Save a little of the dough to sprinkle on top when serving.  Freeze the cookie dough/ice cream combo for another hour than take out, scoop, sprinkle with some cookie dough and serve.

Pack it up in a cooler, go skate in the Texas heat, and then stop by the shop to feel the pulse behind the Austin skate community.
Note: This will stay good in the freezer for about a week; when using for later servings, take it out about 10-15 minutes before serving to let it thaw.
Happy shredding,
Johnny
For more recipes, check out www.saladgrindsandbeanplants.com or find us on Instagram at @salad_grinds_and_bean_plants.