Geoff Rowley A-Pro-Ciation Day!
Today is Geoff Rowley's birthday so we're celebrating with Geoff Rowley A-Pro-Ciation Day!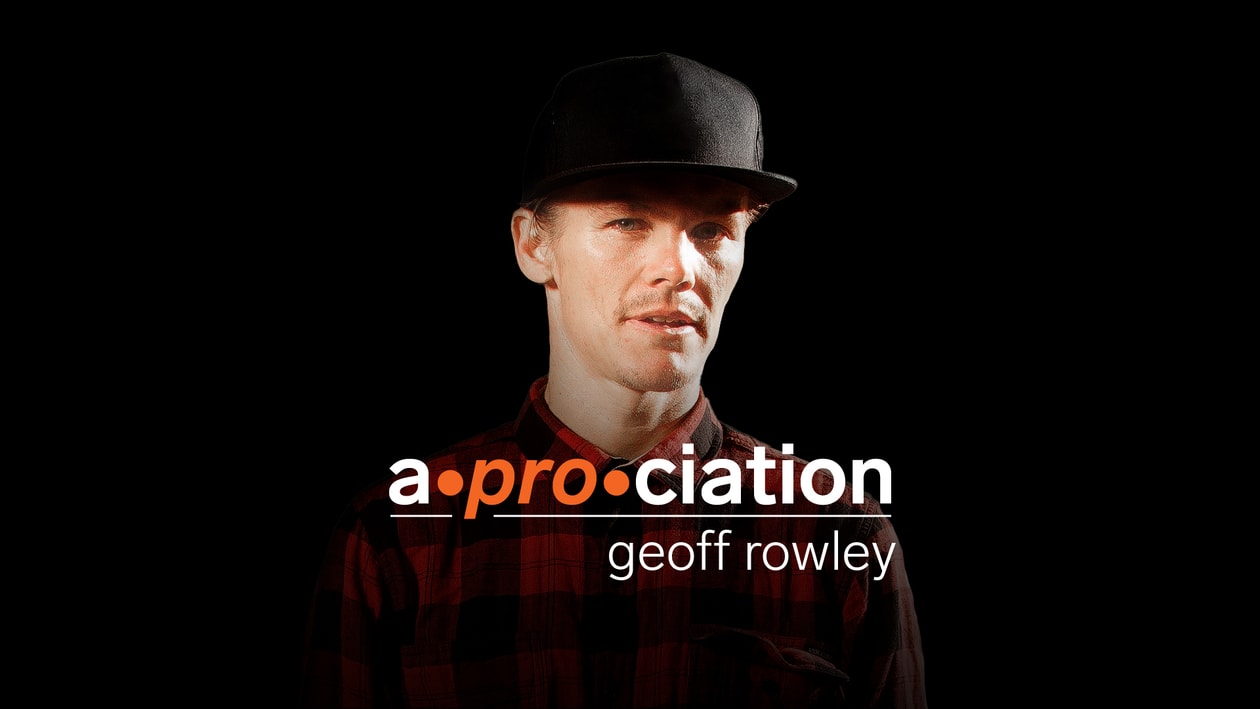 Geoff Rowley was born on June 6, 1976, in Liverpool, and he began skateboarding in 1989. During his early years, Rowley faced challenges as skateboarding was not widely accepted in Liverpool. Skateboarding products were difficult to find, and the only shop selling skateboards was a record store called Probe Records. Rowley persevered and rode his first complete skateboard without grip tape until it became available at Probe Records.
Rowley developed his talent and eventually caught the attention of the skateboarding community, and he earned his first sponsorships from Gullwing, Siesta, and Airwalk. His skills and unique style led to his first major sponsor, Deathbox Skateboards, which later transformed into Flip Skateboards. Rowley's technical and aggressive skating style, combined with his punk-inspired image, garnered him recognition and praise within the skateboarding industry.
Check out Rowley's ad for Airwalk, along with the 1996 Airwalk promo video, below!
In 1994, Rowley made a life-changing decision and moved to Huntington Beach, California, along with other Flip team riders. This move marked a new chapter in his career and allowed him to pursue his dream of skateboarding in the birthplace of the sport. Rowley's relocation paid off quickly when he landed the cover of TransWorld Skateboarding magazine just two weeks after arriving in the United States. After realizing the success he could have in a place that nurtured skateboarders, Rowley quickly got to work filming for various video projects include Transworld Skateboarding's 1996 'UNO' (shared part with Tom Penny) and 1999 'Feedback' (shared part with Arto Saari.
A massive breakout year for Rowley was the inclusion of his likeness in the groundbreaking video game 'Tony Hawk's Pro Skater' in 1999. After the release of the most popular skateboarding video game on the market, and the release of his Vans Rowley 1 pro model shoe, Geoff quickly became a household name. Check out some of the skateboarding highlights that ended up in every skateboarders house in America in the early 2000's.
Rowley blew away the skateboarding world in 2002 with the release of his groundbreaking video part in "Sorry," a seminal skateboarding film by Flip Skateboards. The video showcased his fearless and innovative style, pushing the boundaries of what was thought possible on a skateboard. Rowley's ability to tackle massive gaps and stair sets with seemingly effortless grace captivated the skateboarding world. His casual frontside 5050 down the Staples Center hubba unlocked a new level of skateboarding and solidified his status as a skateboarding legend.
Rowley continued to push the envelope, constantly seeking new challenges and pioneering new tricks. His fearless approach earned him a reputation as a risk-taker, known for taking on the biggest and most daunting obstacles. Rowley's commitment to pushing himself inspired countless skateboarders around the globe and produced some of the greats video parts known to man. Check out his video parts with Flip Skateboards, below:
Throughout his career, Rowley has been affiliated with renowned skateboarding brands, most notably Vans. Since 1999, he has collaborated with Vans to create a signature line of shoes and is credited as a pioneer of skating thin vulcanized skate shoes. The ability to feel the board combined with his unique style inspired a new generation of skaters with the Vans Rowley 1. Check out some of Rowley's video parts for Vans, below:
In addition to his remarkable skills on a skateboard, Rowley's impact extends beyond the realm of professional skateboarding. He has played an instrumental role in the growth and development of skateboarding culture, bridging the gap between skateboarding and mainstream recognition. Rowley's influential contributions include collaborations with renowned brands, such as Vans, and his involvement in the creation of skateparks and skateboarding events. 
In addition to his skateboarding career, Rowley has ventured into entrepreneurship. He co-owned Flip Skateboards and later launched his own business, Civilware Service Corporation, in 2013. Civilware started as a creative outlet for Rowley's interests, producing coffee, axes, and various other products. Rowley's entrepreneurial spirit and commitment to quality are reflected in the philosophy of his brand.
As of 2021, Rowley continues to skate professionally and represents his own company, Free Dome Skateboards. He remains sponsored by skateboarding companies Vans, Independent, and Mob Grip, along with Yeti, Protekt, KUIU, and Field Ethos for his hunting career. Throughout his journey, Rowley has pushed creative boundaries and embraced the ever-evolving nature of street skateboarding. Despite the passage of time, Rowley's passion for skateboarding remains unwavering. He continues to skate, innovate, and inspire future generations of skateboarders. His dedication serves as a testament to the transformative power of skateboarding, demonstrating that with perseverance and determination, one can overcome any obstacle. In fact, Rowley released his latest video part today to celebrate his birthday and 34 year on the board. Watch Rowley's "FREE DOME TO SKATE" part, below:
Geoff Rowley's impact on skateboarding is immeasurable. His pioneering spirit, technical prowess, and fearless attitude have solidified his place in skateboarding history. From his humble beginnings in Liverpool to becoming a global skateboarding icon, Rowley's legacy will continue to inspire generations of skateboarders. As we celebrate his achievements, let us recognize the lasting legacy of this remarkable individual who has left an indelible mark on the world of skateboarding. Happy Birthday, Geoff Rowley!
Check out some of our favorite projects we've worked on with Geoff Rowley, below!