Hypebeast Car Club x Purist Group to Hold 'Cars & Charity' Event At The Berrics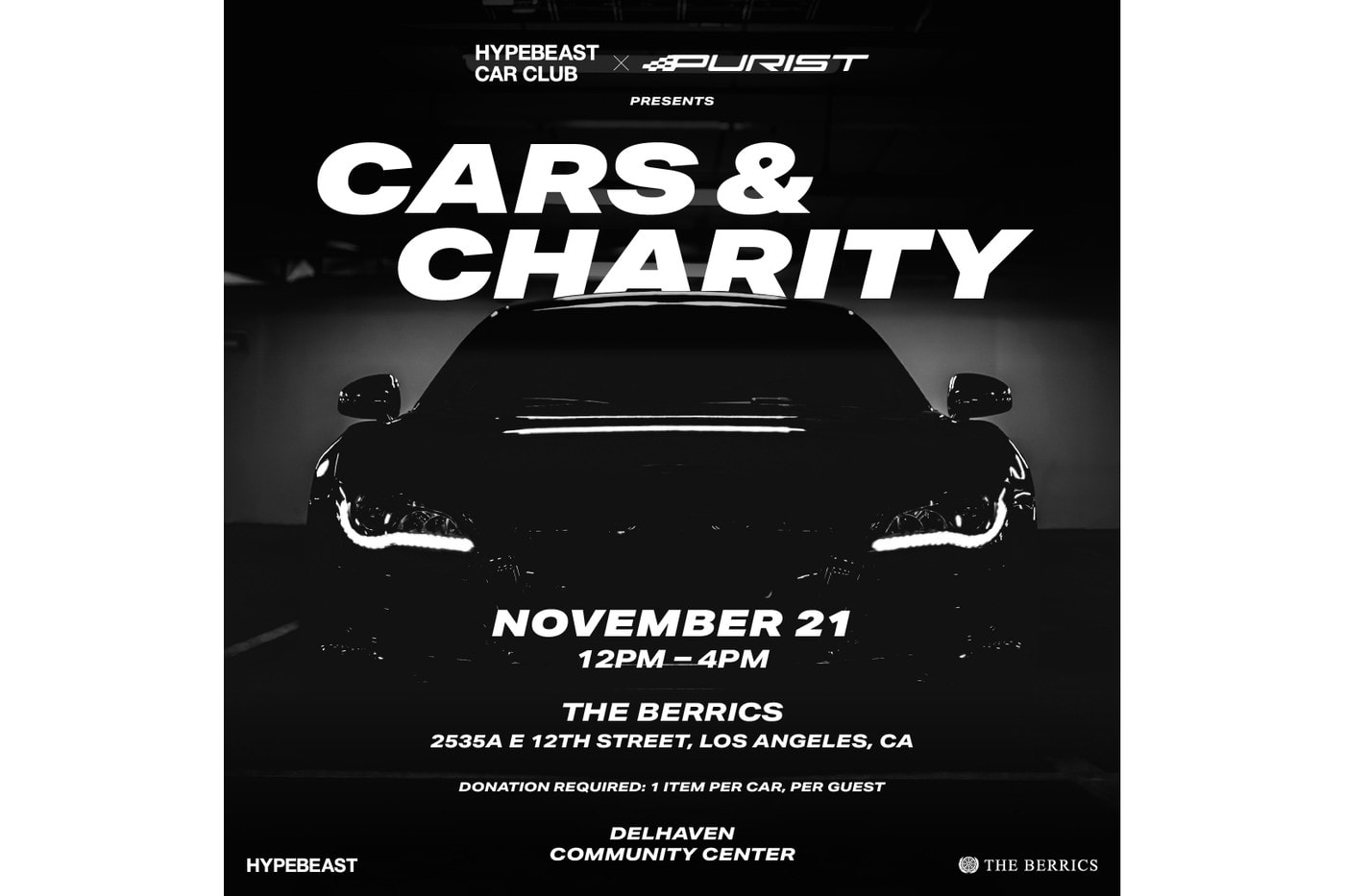 Hypebeast Car Club is teaming up with automotive lifestyle organization Purist Group to hold its first ever Charity Car Meet, this November 21 in Los Angeles.⁠
Purist Group, moderated by founder Sean Lee, is an automotive community entity in the greater Los Angeles area that focuses on building the networks of automotive enthusiasts. Its members consists of a wide range of journalists, tuners, car collectors and drivers alike, all with the sole purpose of meeting and congregating in the spirit of all things cars.
The event will be held at The Berrics from 12 p.m. thru 4 p.m., and it's open to the public. Admission to park your car at the event will require one (1) donated item per car, per guest.⁠
In partnership with the Delhaven Community Center, donated items will be collected upon entry to benefit the local homeless. ⁠
Recommended items are: ⁠
- packaged toiletries (toothbrushes, skin care/wellness products, self-care items)⁠
- first aid products (dry bandages, gauze, no alcohol-based items) ⁠
- one-sized clothing accessories (socks, hats, gloves) ⁠
- No food, please⁠
All cars are welcomed; all guests are welcomed. ⁠Donation parking spots allotted to the public are first come, first served. ⁠No burnouts, donuts, two-steps, ghost-riding the whip, whistle tips, or overly loud music will be allowed on the premises. Local law enforcement will be on site. Please observe social distancing rules; masks are strongly encouraged. Even though this event will be held at The Berrics, there will be no skateboarding. See you here!
Hypebeast Car Club x Purist Group Cars & Charity Event
The Berrics
2535A E 12st Street
Los Angeles, CA 90021
12 p.m. – 4 p.m.