Liquid Death Will Pay Your Rent For 6 Months—Just 'Murder Your House'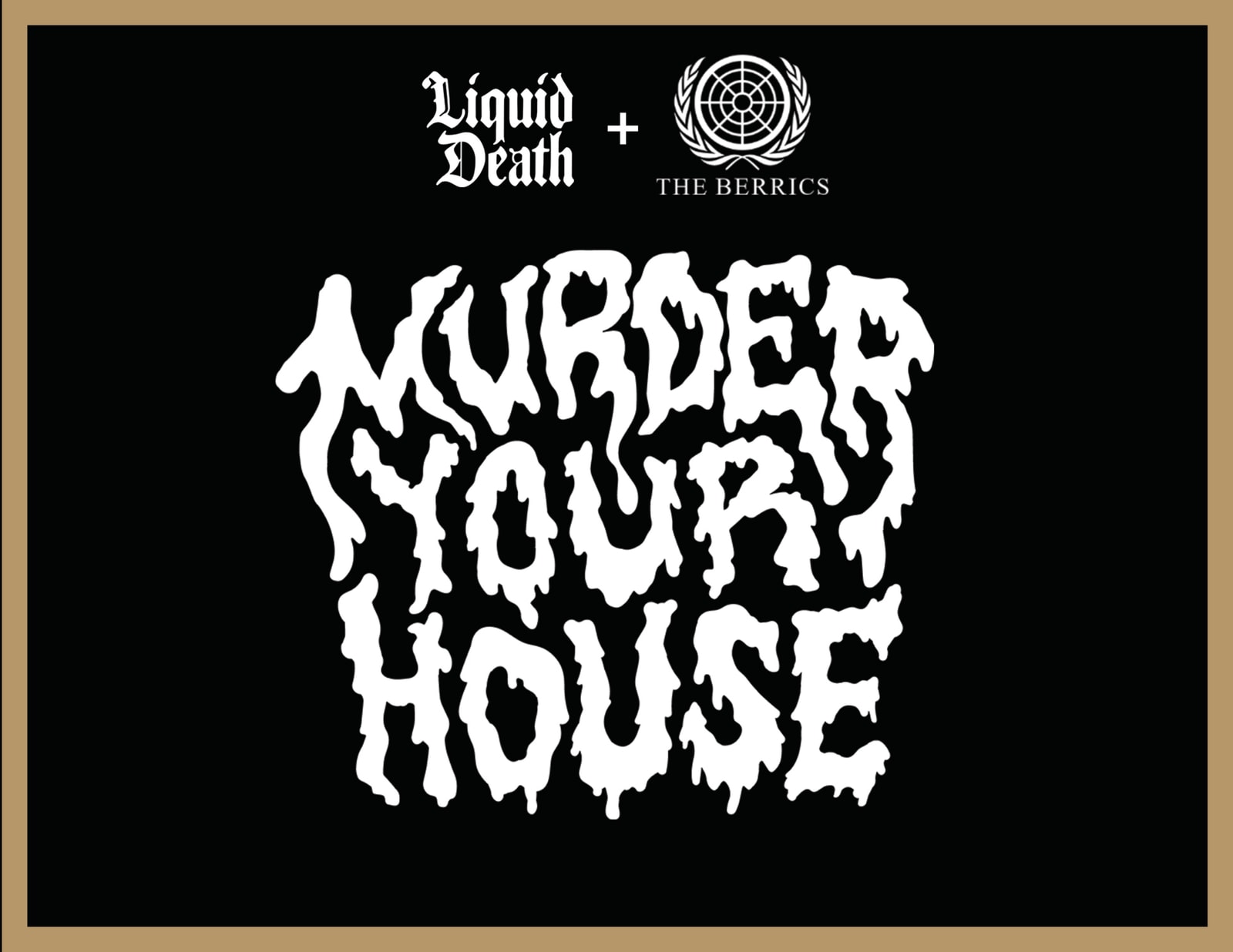 Liquid Death & The Berrics have launched a new contest which will give you something to do during this quarantine, and all you have to do is murder your house. That's right: Wipe that smug look off your house's facade once and for all… and Liquid Death will pay your housing for 6 months! Between now and May 15 (the scheduled end of the quarantine), just upload your best clips of you skating in your humble abode to Instagram, hashtag #LiquidDeath and #Contest, and follow @LiquidDeath and @Berrics to be entered in the contest. Get it, homeboy.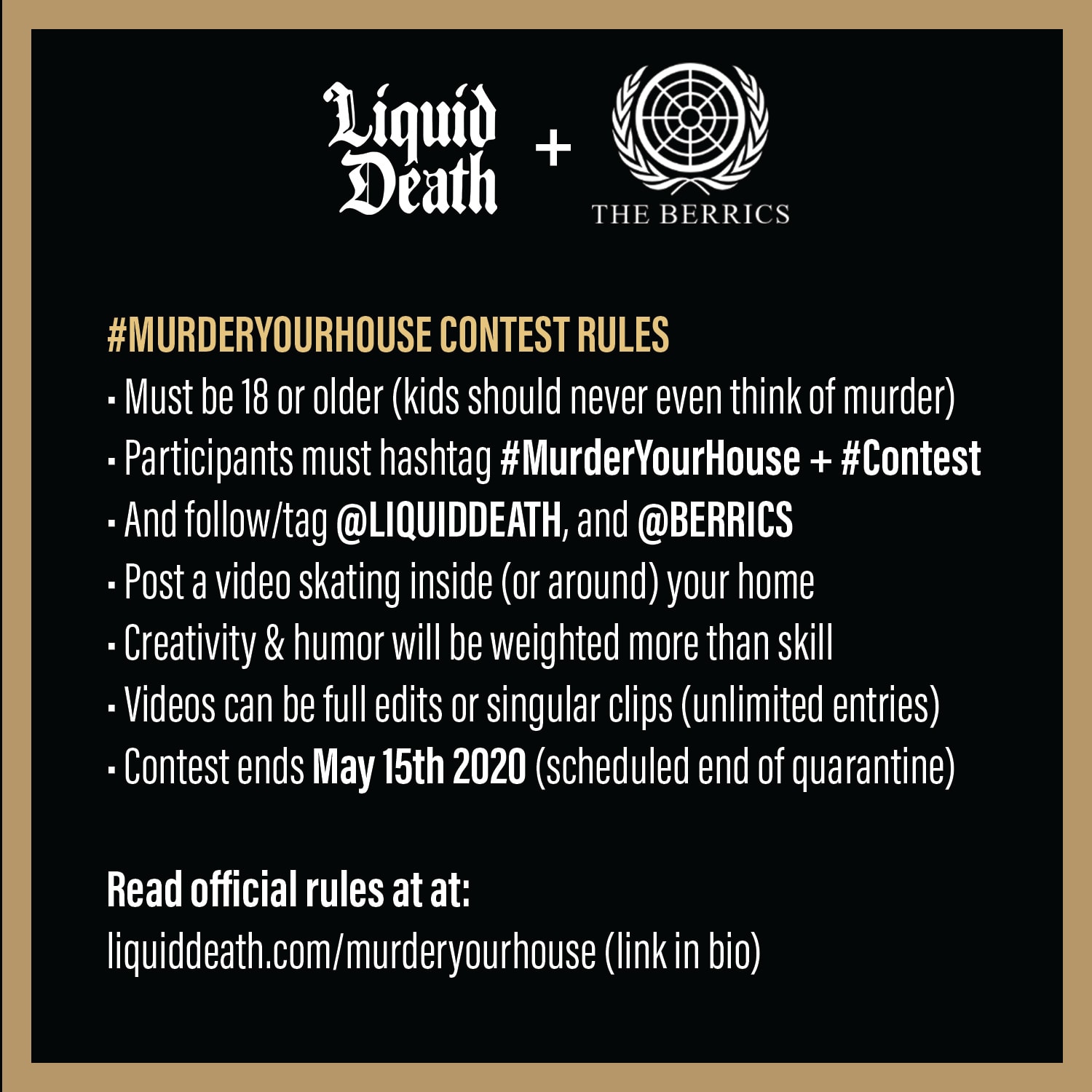 Grand Prize is 6 months paid rent/mortgage and 20 cases of Liquid Death
4 Runners up will each win $250, 4 cases of Liquid Death, deck, shoes, and a hoodie.
Clips will be judged by Dane Burman, Adam Arunski, Corey Duffel, Jake Hayes, Richie Jackson, and The Berrics (hey that's us!)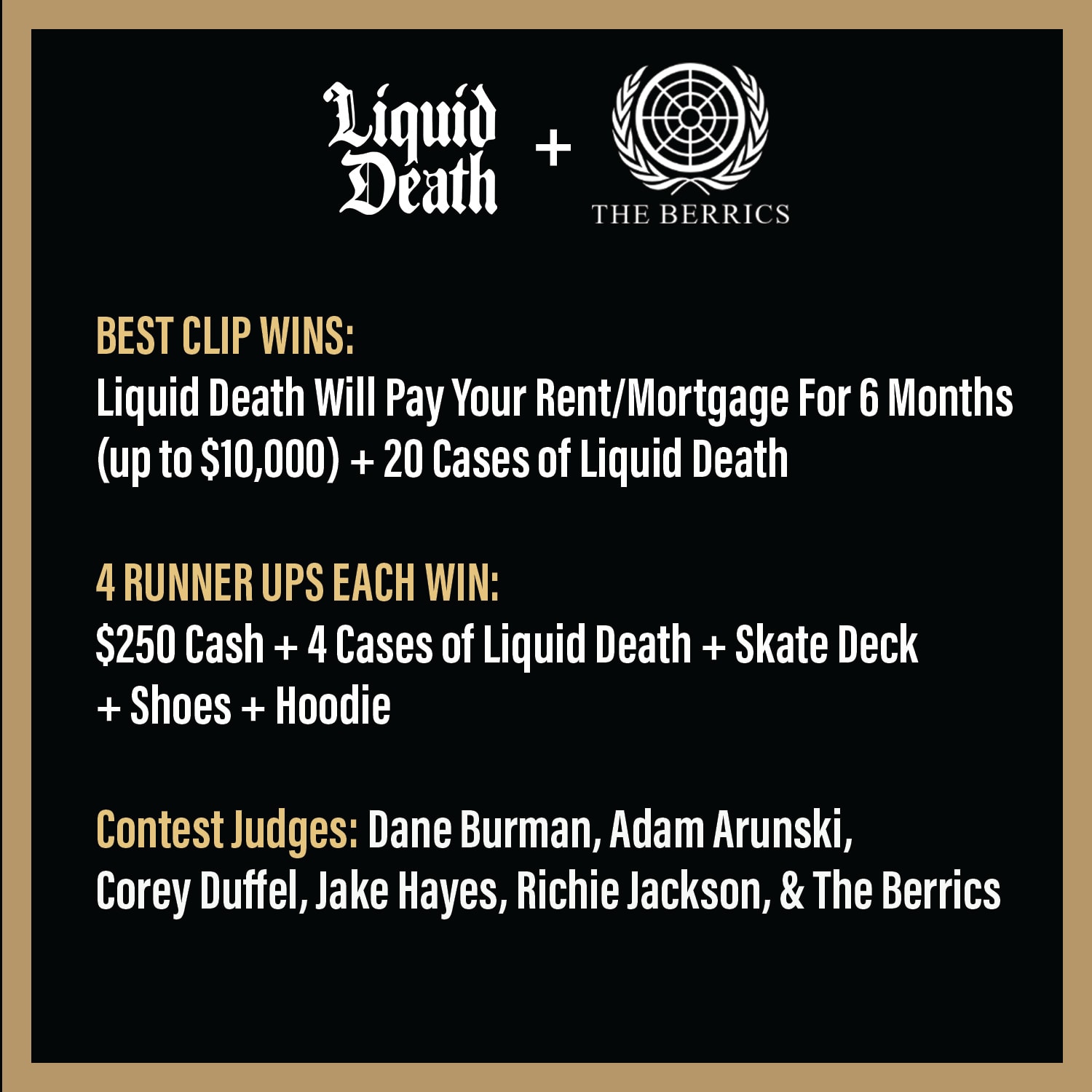 Read the official rules below or visit LiquidDeath.com!
#MurderYourHouse
CONTEST OFFICIAL RULES
Sponsored by Supplying Demand, Inc. dba Liquid Death ("Sponsor").
NO ENTRY FEE. NO PURCHASE NECESSARY TO ENTER OR WIN. VOID WHERE PROHIBITED. THIS CONTEST IS IN
NO WAY SPONSORED, ENDORSED OR ADMINISTERED BY, OR ASSOCIATED WITH, INSTAGRAM.
The #MurderYourHouse (the "Contest") begins on April 18, 2020 at 12:00 AM PT and ends on June 15, 2020 at
5:00 PM PT (the "Promotion Period").
1. Agreement to Official Rules. By entering or participating in the Contest, you accept and agree to be
bound by these "Official Rules."
2. Eligibility. The Contest is open to legal residents of the U.S. (excluding Arizona and Rhode Island),
eighteen (18) or older as of the date of entry, who have an active Instagram account and Internet access
during the Promotion Period. Employees of Sponsor and its parent company, affiliates, subsidiaries,
advertising, promotion, fulfillment or other coordinating agencies, individuals providing services to Sponsor
through an outsourcer or temporary employment agency during the Promotion Period, and their respective
immediate family members and persons living in their same household, are not eligible to participate in the
Contest.
3. How to Enter. Entry deadline is June 15, 2020 at 5:00 PM PT You may enter the Contest by posting a
clip of yourself perform a skateboarding trick inside your home (the "Activity") on Instagram with the hashtags
#MurderYourHouse and #Contest (a "Submission").
There is no limit on the number of online entries per entrant during the entry period. Entrants submitting
violating any of these Official Rules may be disqualified. By entering the Contest, you agree that your
Submission is subject to the Instagram Terms of Use, such terms located at
https://help.instagram.com/581066165581870.
4. Submission Requirements.
(a) By entering a Submission, you represent and warrant that each Submission: (i) is your original
creation and does not infringe, misappropriate or violate a third party's patent, copyright, trademark,
trade secret, moral rights or other proprietary or intellectual property rights, or rights of publicity or
privacy ("Intellectual Property Rights"), or violate any applicable law or regulation; (ii) has not been
previously awarded a prize, or award during any other contest or promotion sponsored by Sponsor or
any third party; and (iii) is not obscene, lewd, profane, pornographic, disparaging, indecent and does
not describe illegal behavior.
(b) If a Submission does not meet the criteria described in these Official Rules, Sponsor may
disqualify and discard the Submission either immediately or at any time. By entering a Submission, you
acknowledge that Sponsor may obtain other Submissions that are similar or identical in theme, format
or other respects to that submitted by you. You acknowledge that Sponsor does not waive any rights
to use ideas, themes, or concepts previously known to Sponsor, or developed by its employees, or
obtained from sources other than the entrant, which may be similar to your Submission. You also
agree that Submissions may or may not be posted on the Contest Website or on the Sponsor's
website, in Sponsor's sole discretion. By entering a Submission, you agree that Sponsor is not
responsible for any unauthorized use of Submissions by third parties.
2
5. Rights in Submissions Granted by You. By entering the Contest, you hereby grant to Sponsor a non-
exclusive, royalty-free, worldwide, perpetual, fully transferable, sub-licensable right and license to use, copy,
modify, create derivative works based upon, distribute, publicly display, and publicly perform your Submission
for any purpose, in whole or in part, in edited, altered or modified form, and in all media now known or
hereinafter invented. You hereby agree not to instigate, support, maintain or authorize any action, claim or
lawsuit against Sponsor, or any other person, on the grounds that use of your Submission as provided herein,
infringes your rights as a creator of the Submission.
6. Judgement of Submissions and Selection of the Winner. All qualified Submissions will be judged by
Sponsor's team of between 5-7 professional and former professional skaters from the Liquid Death skate team
and the Berrics. Submissions will be judged according to the following: (i) originality/creativity (50%); (ii)
emotional appeal (humor) (30%); and (iii) technical skill (20%). The Entrant whose Submission earns the
highest overall score across all criteria will win. The decisions of the judges will be final.
7. Prizes and Odds. The Prizes to be awarded from the Contest are as follows:
(a) One (1) Grand Prize: $10,000 cash that may be used to pay the grand prize winner's rent or
mortgage expenses, 10 cases of Liquid Death, a Berrics skate deck, Berrics skate shoes, and a Berrics
hooded sweatshirt, retail value of approximately $10,270 (US) per winner.
(a) Four (4) Second Place Prizes: $250 cash, 4 cases of Liquid Death Water, a Berrics skate deck,
Berrics skate shoes, and a Berrics hooded sweatshirt retail value of approximately $430 (US) per
winner.
No cash or other substitution of prizes is permitted, except at the sole option of Sponsor for a prize of equal or
greater value. Sponsor will not replace any lost or stolen prizes. Winners are solely responsible for any and all
federal, state, provincial and local taxes, if any, that apply to prizes. Allow six (6) to eight (8) weeks for delivery
of prizes.
8. Notification of Winners. Winners will be notified by email within five (5) business days of the winner's
selection, and may be required to sign and return an affidavit of eligibility and publicity/liability release within
seven (7) days of notification. If a selected winner cannot be contacted, is ineligible, fails to claim a prize
and/or where applicable an affidavit of eligibility and publicity/liability release is not timely received, is
incomplete or modified, the prize may be forfeited and an alternate winner will be selected from remaining
valid, eligible Submissions timely submitted. In the event of a dispute regarding who submitted a Submission,
the Submission will be deemed submitted by the authorized account holder of the email account specified in
the Submission. "Authorized account holder" is defined as the natural person who is assigned to an email
address by an Internet access provider, online service provider, or other organization (e.g., business,
educational institution, etc.) that is responsible for assigning email addresses for the domain associated with
the submitted email address.
9. Activity Release.
(a) You warrant and represent that you are familiar with the Activity described in this Contest but
may or may not have performed it prior to this time. YOU UNDERSTAND AND ACKNOWLEDGE
COMPLETELY THAT THERE ARE SIGNIFICANT RISKS INVOLVED IN PERFORMING THE ACTIVITY,
INCLUDING THE RISK OF SERIOUS PHYSICAL INJURY OR DEATH, ESPECIALLY GIVEN THE FACT THAT YOU
MAY NOT HAVE PERFORMED THE ACTIVITY PRIOR TO THE CONTEST. You make this representation
and acknowledgement to Sponsor with the full understanding that Sponsor is relying on this
representation.
3
(b) By participating in the Contest, in view of your knowledge of the risks inherent in the Activity
and in view of the foregoing, you hereby accept all risks attendant thereto. You agree to release and
hold the Sponsor, co-promotion partners, prize suppliers, and each of their respective affiliates,
licensees, assignees and parent, subsidiary and affiliated companies, and the officers, directors,
shareholders, employees and agents of all such entities, from and against any and all costs, losses,
liabilities, damages and expenses, including reasonable attorneys' fees and costs, arising out of any
claim, suit, complaint, challenge, proceeding or other action resulting from or arising out of your
performance of the Activity or participation in the Contest.
10. Disclaimers.
(a) Sponsor is not responsible for (i) late, lost, delayed, damaged, postage-due, incomplete,
illegible, misdirected or undeliverable entries or Submissions, responses, or other correspondence,
whether by email or postal mail or otherwise; (ii) theft, destruction, unauthorized access to or
alterations of entry materials; or (iii) phone, electrical, network, computer, hardware, software
program or transmission malfunctions, failures or difficulties.
(b) IN NO EVENT WILL SPONSOR BE LIABLE TO YOU FOR ANY SPECIAL, INCIDENTAL, EXEMPLARY,
PUNITIVE OR CONSEQUENTIAL DAMAGES (INCLUDING LOSS OF USE, DATA, BUSINESS OR PROFITS)
ARISING OUT OF OR IN CONNECTION WITH YOUR PARTICIPATION IN THE CONTEST, WHETHER SUCH
LIABILITY ARISES FROM ANY CLAIM BASED UPON CONTRACT, WARRANTY, TORT (INCLUDING
NEGLIGENCE), STRICT LIABILITY OR OTHERWISE, AND WHETHER OR NOT SPONSOR HAS BEEN ADVISED
OF THE POSSIBILITY OF SUCH LOSS OR DAMAGE. Some jurisdictions do not allow the limitation or
exclusion of liability for incidental or consequential damages, so the above limitation or exclusion may
not apply to you.
11. Indemnification. You agree to indemnify, defend and hold Sponsor and its parent, affiliates,
subsidiaries, directors, officers, employees, sponsors and agents, including advertising and promotion
agencies, and assigns, and any other organizations related to the Contest, harmless, from any and all claims,
injuries, damages, expenses or losses to person or property and/or liabilities of any nature that in any way
arise from participation in this Contest or acceptance or use of a prize or parts thereof, including without
limitation (i) any third party claims made in connection with your Submissions, or any representations and
warranties made by you in connection with your Submissions; and (ii) any injuries, losses, or damages
(compensatory, direct, incidental, consequential or otherwise) of any kind arising in connection with or as a
result of the prize, or acceptance, possession, or use of the prize, or from participation in the Contest,
including without limitation your performance of the Activity for the Submission.
12. Publicity. Except where prohibited, by participating in the Contest, you consent to the use of your
name, photo and/or likeness, biographical information, and statements attributed to you as an entrant (if true)
for advertising and promotional purposes, including without limitation, inclusion in Sponsor's newsletters,
Instagram and Sponsor's homepages at https://liquiddeath.com/, without additional compensation.
13. Additional Conditions. Sponsor reserves the right, in its sole discretion, to terminate, modify or
suspend the Contest in whole or in part, if in Sponsor's opinion (a) the Contest is not capable of running as
planned by reason of the occurrence of any event beyond its control including, but not limited to, fire,
flood, epidemic, earthquake, explosion, labor dispute or strike, act of God or public enemy,
communications,  equipment failure, utility or service interruptions, riot or civil disturbance, terrorist threat or
activity, war (declared or undeclared), interference with the Promotion by any party, or any federal, state,
local or provincial government law, order, or regulation, order of any court or jurisdiction, or other cause not
reasonably within Sponsors' control, or (b) any other factors beyond Sponsor's reasonable control corrupt or
affect the administration, security, fairness, integrity, or proper conduct of the Contest, in all instances without
4
liability to the entrants. Sponsor also reserves the right to disqualify any entrant or winner, as determined by
Sponsor, in its sole discretion.
14. Governing Law and Choice of Forum. These Official Rules are governed by the law of the State of
California, without reference to rules governing choice of laws. Any action, suit or case arising out of, or in
connection with, this Contest or these Official Rules must be brought in the federal or state courts located in
Los Angeles, California.
15. Personal Information. Sponsor may collect personal data about entrants online, in accordance with its
privacy policy and as may be more specifically set forth in these Official Rules. Please review these Official
Rules and Sponsor's privacy policy at https://liquiddeath.com/pages/privacy-policy.
16. Winner's List, Official Rules. For a list of prize winners, send an email message to
[email protected] with "Winner's list" as the email subject and the Contest name specified in the body of
the email. Requests must be received within four (4) weeks of the end of the Contest Period.
17. Sponsor's Address: Supplying Demand Inc, 1447 2nd St, Suite 200, Santa Monica, CA 90401.
18. Entire Agreement. These Official Rules constitute the entire and exclusive understanding and
agreement between Sponsor and you regarding the Contest, and these Official Rules supersede and replace all
prior oral or written understandings or agreements between Sponsor and you regarding the Contest. If any
provision of these Official Rules is held invalid or unenforceable by an arbitrator or a court of competent
jurisdiction, that provision will be enforced to the maximum extent permissible and the other provisions of
these Official Rules will remain in full force and effect.