LUAN OLIVEIRA: 2018 POPULIST NOMINEE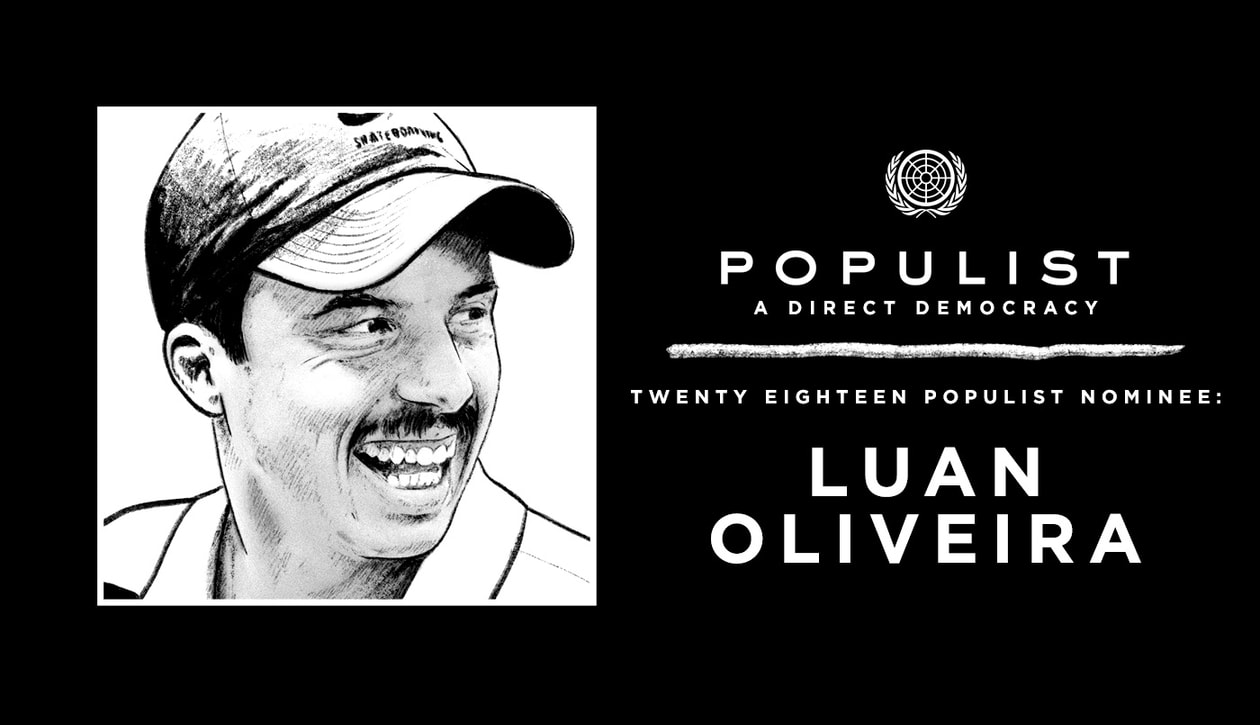 WORDS: Stu Gomez / ART: Eric McHenry
Luan Oliveira, two-time Populist winner, has become a regular nominee in the annual series. Can you blame us? The guy's fancy footwork, completely unnecessary speed, and spontaneity represent everything we love about skating. Seeing him skate inspires us to skate every time.
And millions of people agree: On BATB 11 Finals Night, the Brazilian made an entire country bust a nut.
This was the general sentiment—in Portuguese—after Oliveira won:
"Nos perdemos a copa do mundo mas ganhamos o BATB porra vai Brasil!" 
(Essentially: "We may have lost the World Cup, but we won BATB. Go Brazil!")
The concept of "patriotism" in skateboarding can sometimes be an awkward fit—separation of skate and state and all that—but Oliveira will never not be skating for Brazil. Some skaters misinterpret this sense of pride, saying that we're all skateboarders, regardless of what our government-issued identification cards say. But where we're from may be the most important aspect of who we are, individually, and as skaters on the whole; our upbringing has more to do with shaping how we skate than perhaps any other factor.
There's no way to separate Oliveira in the public mind from his Brazilian heritage—he has arguably been the most influential skater to emerge from the country. The church of "Brazilian Style," which spreads the good word about bionic pop, an extra three pushes when one push will do, precision, and, above all, beautiful style, has its god in Oliveira.
There's a reason why he's been voted Populist more times than any other skater: the Brazilian speaks our language.
Vai Luan!
Vote for Luan Oliveira as your Populist on January 15.