MARC MCKEE-NOA: SALAD GRINDS & BEAN PLANTS #81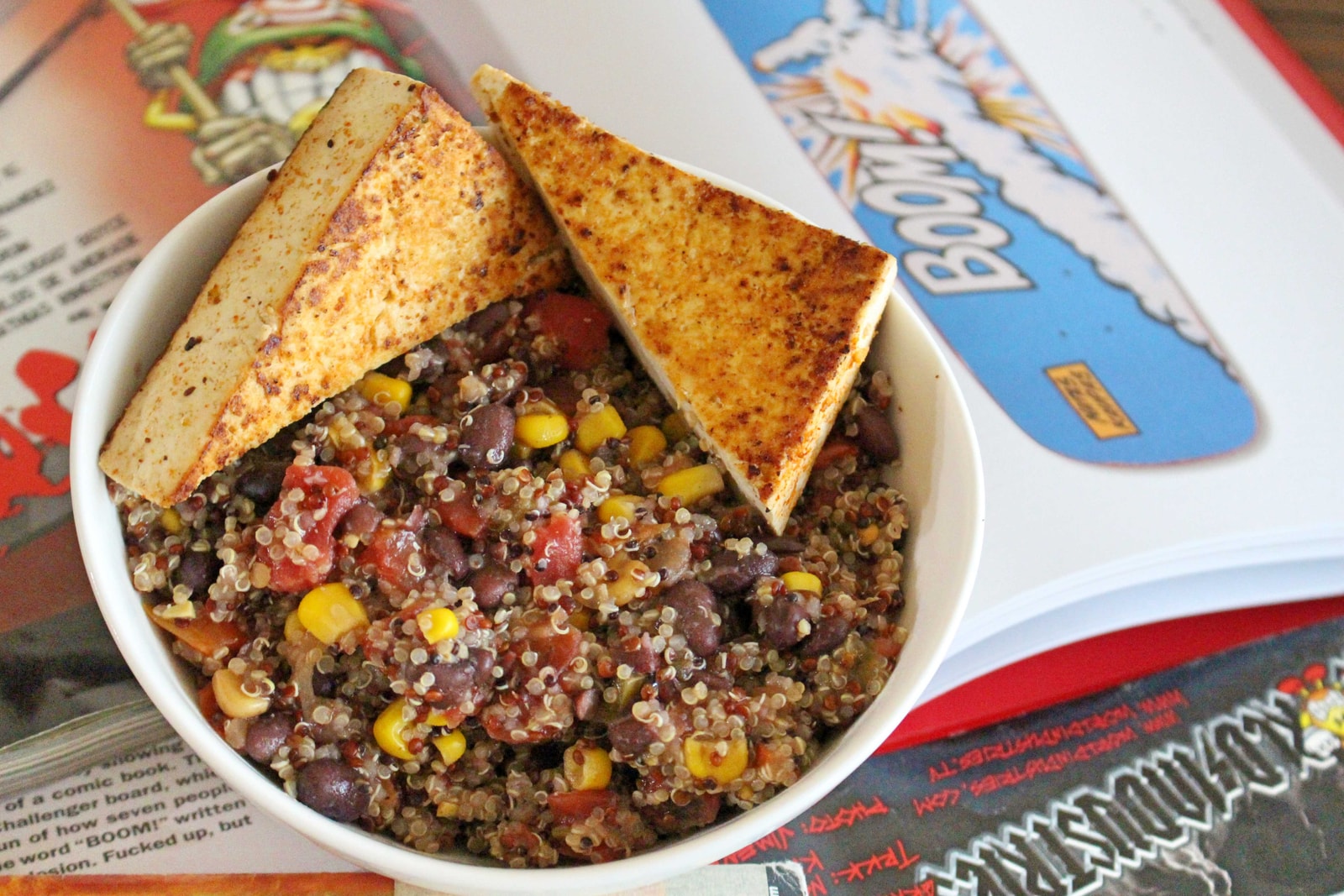 Marc McKee-noa 
(Flameboy Hot Quinoa with Chili Lime Tofu)
WORDS: Johnny Lozano
The hardest part of composing an article about Marc McKee is finding the right photos.
By this, I don't mean that McKee isn't as prolific as any other artist entrenched in skateboarding. What I'm trying to say is that Marc's art—art that truly defines some of the edgiest times in skateboarding—isn't exactly family-friendly. In fact, it's about as far from family friendly as art can get. The Oops board (as seen in the photos here) is no doubt controversial, but then again this pales in comparison to his Blind graphics (Jordan Richter's Safety Gear, Guy Mariano's Accidental Gun Death, team model Security Guard), any of his Jovontae Turner World Industries graphics, and—of course—that infamous Natas 101 graphic.
Whether these graphics make you run for the hills or hardly bat an eye, they're undeniable proof that shock value has been embedded in skating for a long time (and indeed will be for the foreseeable future).  But for every step in a more taboo direction, skateboarding has to water things down for a larger audience. So, while McKee was causing proverbial stiffs to faint on the one hand, he balanced this out on the other hand with skateboarding's answer to Tom & Jerry: Flameboy and Wet Willy.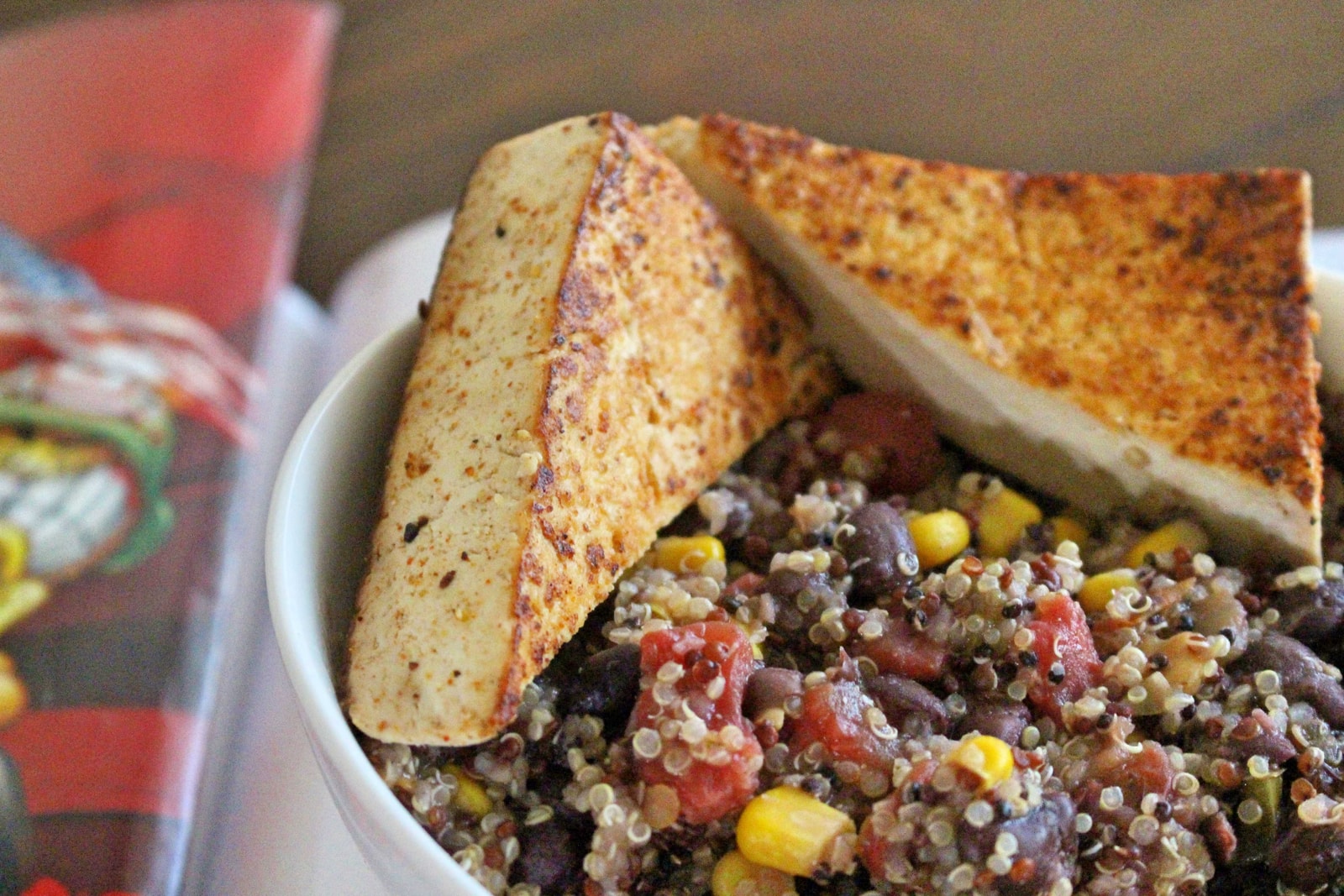 I'm not going to suggest that these icons were the peak of World Industries' graphics. Frankly, it seems odd to me that deck companies had mascots at all (Blind's Reaper, Toy Machine's orange monster, etc.). But if it allowed a kid to feel just a little edgy (as edgy as a gun-toting anthropomorphized flame can be) while passing the smell test with parents, then these graphics did skateboarding a service in the long run. And while I'd love to compose a recipe as an homage to some of his more, um, visual works of art, nutrition "for all" includes those who just aren't ready to view the world through McKee's glasses. 
With that in mind, today's recipe is a tribute to the counterculture DMZ that is Flameboy. And by that, I mean that today's recipe is sizzling hot. I've crafted plenty of quinoa and/or tofu dishes here, but this might be my favorite to date. It consists of extra firm tofu marinated in a chili lime garlic sauce on top of a bed of quinoa, black beans, corn, diced tomatoes, green chiles and pico de gallo, resulting in a spicy and savory meal that'll make smoke come out of your ears. It won't quite shock the senses like McKee's American Icon board, but it'll have you reaching for a glass of water in between hurried bites (seriously, once you take your first bite of this one, it's hard to stop). On top of that, it cooks quickly, packs a full meal's worth of healthy carbs and protein, and stores well in the fridge.  
I don't even know what the Wet Willy analogue of this would be, but it's fair to say Flameboy wins this round.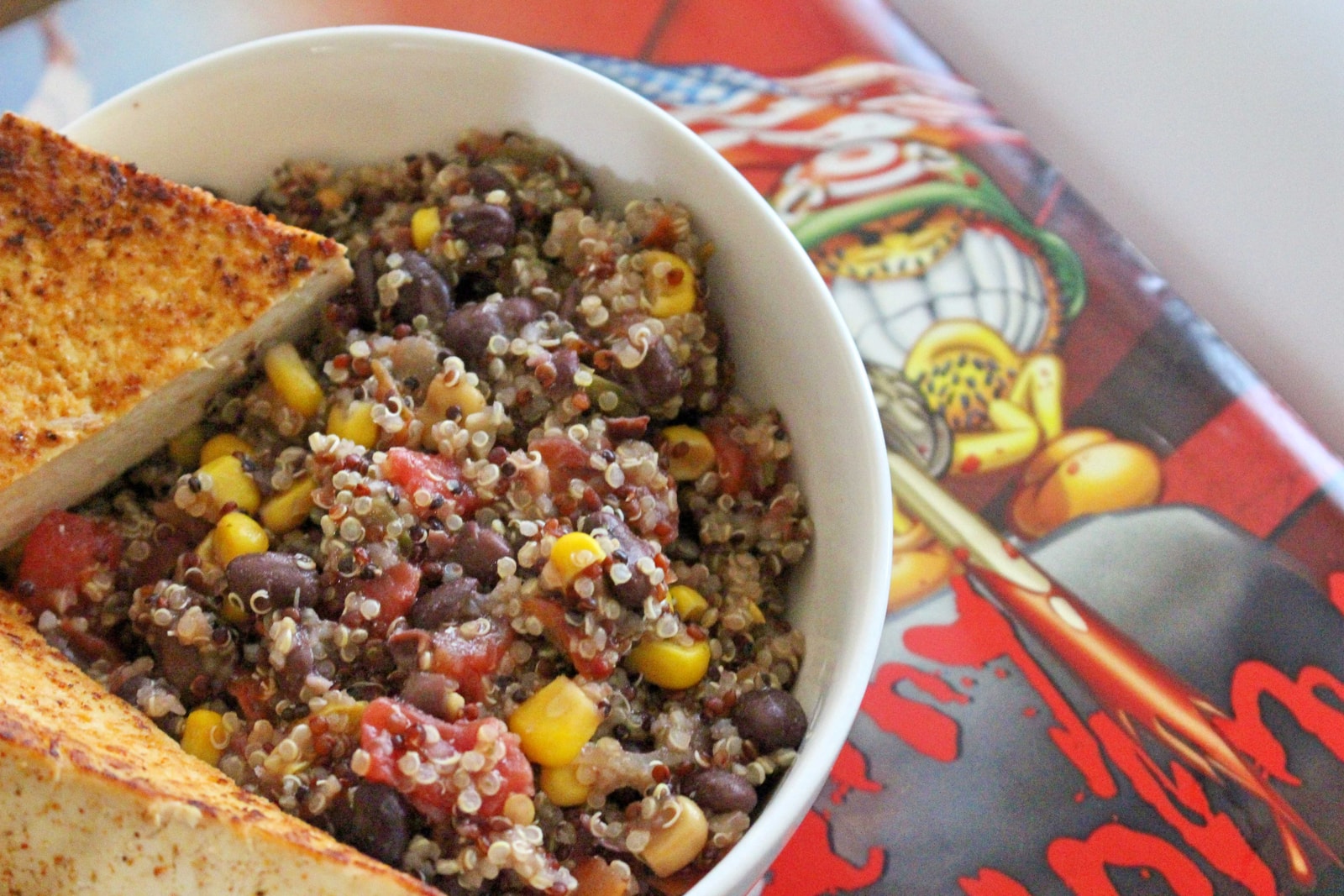 TOFU INGREDIENTS:
1 block extra firm tofu (pressed)

1 tbsp. olive oil

1 tbsp. water

Squeeze of 1 lime

2 tsp. soy sauce

2 cloves minced garlic

2 tsp. chili powder

1 tsp. cumin

1 tsp. cayenne powder

½ tsp. chipotle powder
QUINOA INGREDIENTS:
1 cup (180g) dry quinoa (rinsed)

1 ½ cups water

1 can (12 oz) diced tomatoes

1 can (8 oz) diced green chiles

1 can (12 oz) whole kernel corn

1 can (15 oz) black beans (drained and rinsed)

Salsa of choice (to taste)

Hottest pico de gallo you can find (to taste)

Lime and cilantro (optional garnish)
DIRECTIONS:
I find it's easiest to prep the tofu the night before, but it really only has to marinate for about 30 minutes for this to be effective. Start by

pressing your tofu

so that it'll soak up as much marinade as possible. While it's pressing, add the lime juice, olive oil, garlic, water, soy sauce, chili powder, cayenne, cumin and chipotle powder together and mix with a fork until more or less even.  Once the tofu is pressed, cut it into 4-8 slices and then place it in a container. Pour the marinade over it, close the container and let it marinate in the refrigerator for 30 minutes (or overnight).

While that's marinating, prep your quinoa.  Rinse the quinoa thoroughly using a colander, then bring a large pot to medium heat on the stove. Add the quinoa and toast for about 5 minutes until the quinoa starts to develop that nutty smell. Once toasted, add the water. Bring to a boil, then reduce to a simmer and cover the pot for 15 minutes or until the water has been absorbed.

Once the quinoa is cooked, add in the diced tomatoes, green chiles, corn, black beans, salsa, pico, and lime/cilantro and mix it all up into one spicy bed of goodness. 

Take the tofu out of the fridge and heat up a non-stick pan to medium heat on the stove. Place the tofu onto the pan and cook for 3-4 minutes on each side or until the tofu has browned. Once cooked, add it to the quinoa and enjoy the heat!
Happy shredding,
Johnny 
For more recipes, check out www.saladgrindsandbeanplants.com or find us on Instagram at @salad_grinds_and_bean_plants.