MUFFINS OPERANDI: SALAD GRINDS & BEAN PLANTS #64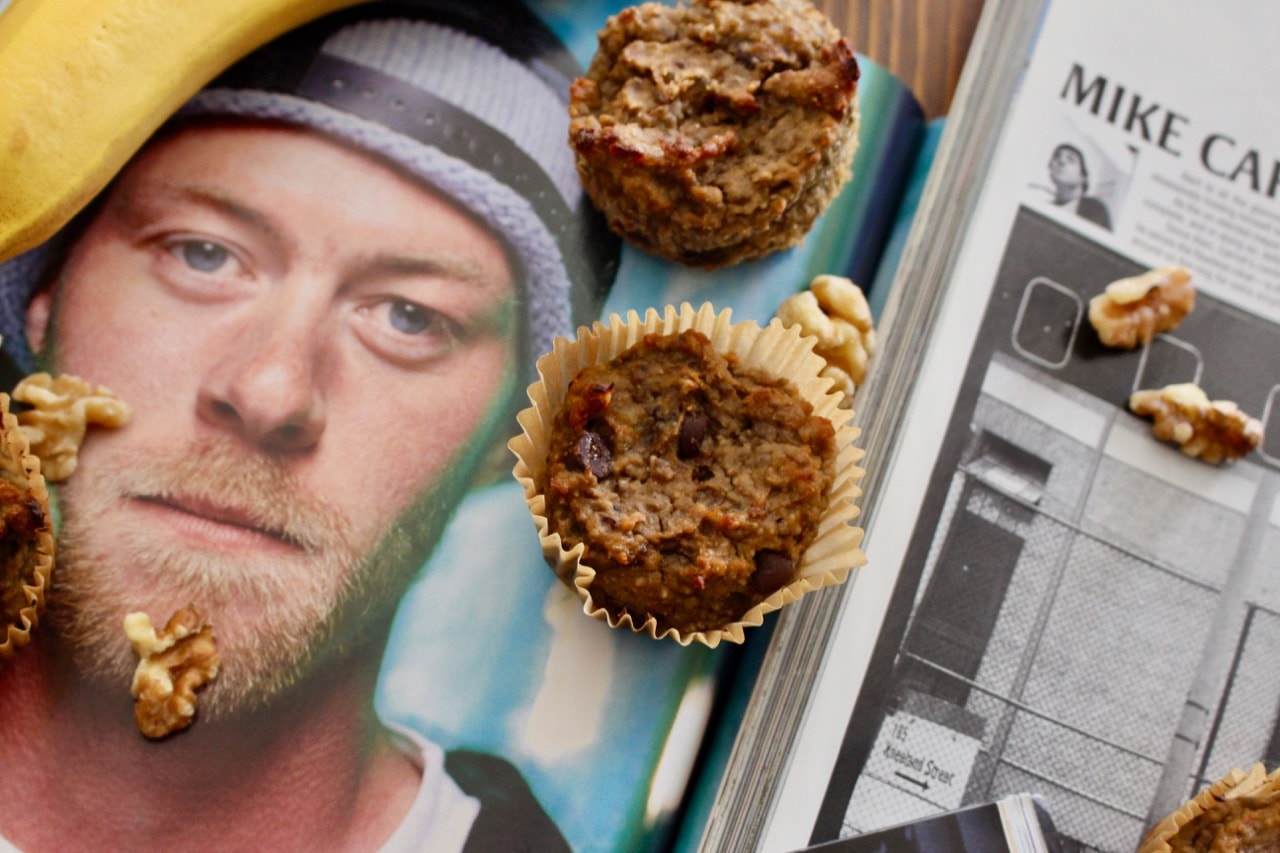 MUFFINS OPERANDI
(Protein-packed Banana Nut Muffins)
WORDS: Johnny Lozano
Last week I gushed over Brian Anderson, which naturally sent me down the click hole to the TWS golden years.  As I often do, I found myself re-watching Modus Operandi, quite possibly Transworld's best video (and therefore, potentially the best skate video of all time—although Menikmati is a worthy contender). For a second I wanted to write a sentence along the lines of "if you only get to watch one part, watch ______'s part," but then I realized that this is stupid because you'd be doing yourself a huge disservice if you didn't watch it from start to finish (and then hit repeat).  
Where do I start?  MJ's masterful skating to Built to Spill's "The Plan?" BA's rail assault to one of the few permissible techno-ish songs in skating? Chany's all-terrain (seriously, he's the OG ATV) destruction in the cloak of night? All highlights for sure, but it's almost beyond argument that the best part of the video (and perhaps skateboarding history) is Mike Carroll's opening line. Seriously, that line is perfection—a fact that TWS acknowledged by replaying it in full in the opening montage of their newest video, Duets.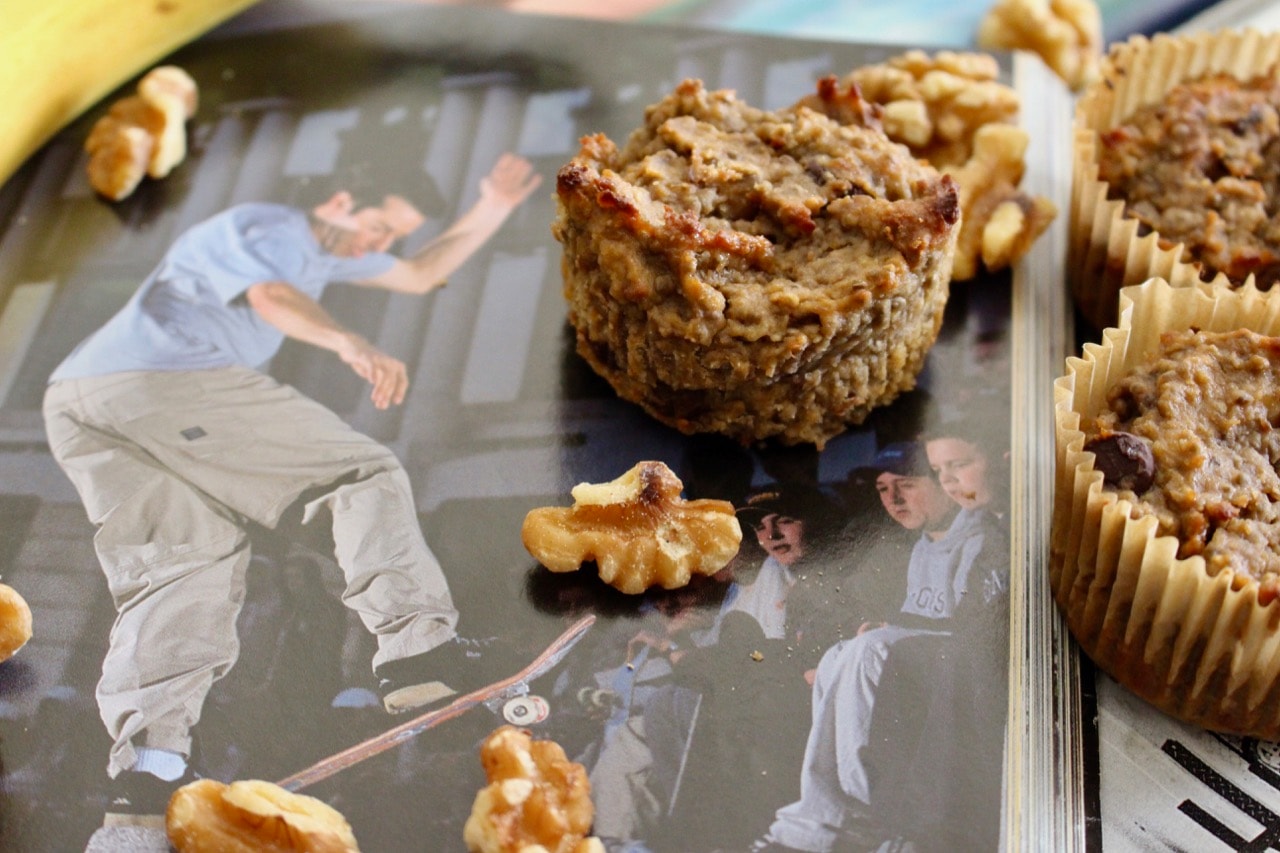 Before I get to this week's recipe, it's worth noting that Duets was an amazing video, not just for the super sick lineup, but because it channeled the magic of the late '90s/early '00s. The opening montage replays TWS' greatest hits and Tiago Lemos and Carlos Ribeiro warm us up with a throwback Gang Starr track. From there, it's nonstop greatness that channels old school vibe with new school progression.
This week's recipe attempts to mirror Duets in that it brings a new school twist to a classic staple. No doubt you've had a banana nut muffin at some point in your life. Delicious, moist and savory with a bit of chocolate. Sadly, there's little nutrition to be had in a muffin, breakfast staple though it may be. High in calories from fat and sugar, the muffin leaves a lot of room for improvement and this recipe, modified from Bites of Wellness, aims to do just that by taking out added sugars (other than some chocolate chips) and packing in some pea protein.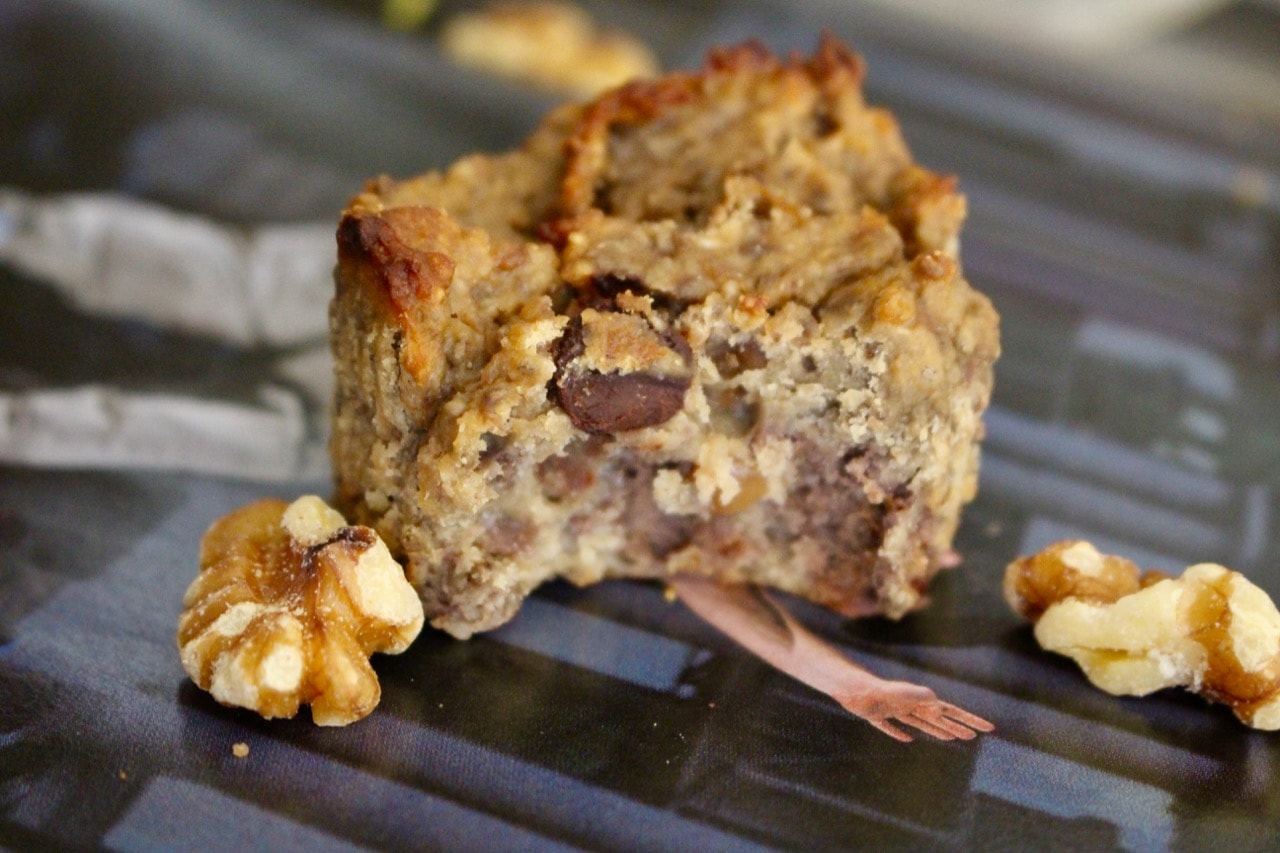 These muffins are moist and savory, and—best of all—they're easy as hell to make. We swap traditional flour, butter, and eggs for coconut flour, unsweetened applesauce, and chia seeds. If that sounds weird to you, consider that both chia seeds and applesauce can easily mimic eggs in baking—applesauce provides the moisture you'd get from eggs and butter while chia seeds provide the binding effect (as well as added omega 3 fatty acids and protein). While this recipe uses baking powder, be aware that it's not going to rise like a regular muffin (as you can see in the photos). Have no fear though because the taste is out of this world.
I know I usually kick the ingredients off with a pun, but I've got nothing. Seriously, just go watch Carroll's opening line and then bake these.
INGREDIENTS:
2 bananas (mashed)

3 tbsp. chia seeds

½ cup water

1/3 cup applesauce (unsweetened)

¼ cup peanut butter (preferably creamy)

2 tbsp. coconut flour

1 tsp. baking powder

1/3 cup (or 60g) vanilla pea protein (or hemp protein)

1/3 cup dark chocolate chips

1/3 cup crushed walnuts
DIRECTIONS:
Preheat the oven to 350°F. Mash the hell out of those bananas until they're creamy with as few lumps as possible. Then toss in the chia seeds and water and stir it all up for a few minutes until it starts to gel.

Throw in the applesauce, PB, coconut flour, baking powder, and protein powder, and mix it up some more until it's a homogenous mix. Fold in the chocolate chips and walnuts and then grab a cupcake/muffin tray and liners. Put ¼ cup of batter in each liner and bake for 25-30 minutes or until you can stick a toothpick in the middle and pull it out clean.  

Let them cool for 10 minutes and then dig in!
Happy Shredding,
Johnny  
For more recipes, check out www.saladgrindsandbeanplants.com or find us on Instagram at @salad_grinds_and_bean_plants.