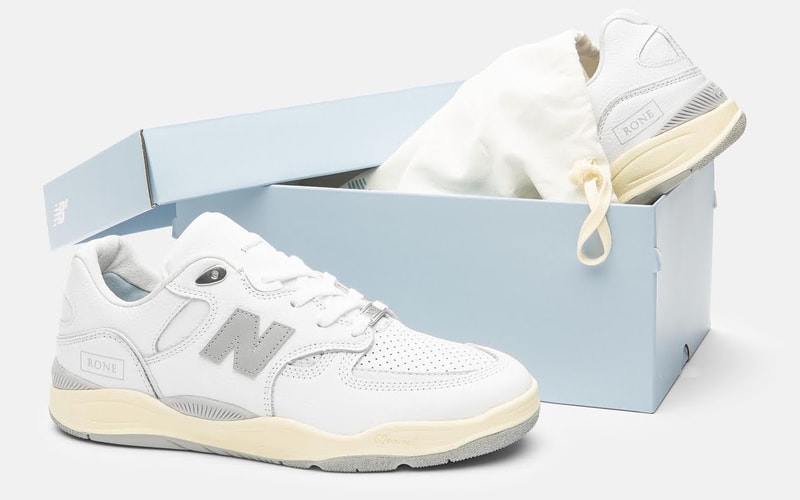 New Balance Numeric Releases the Tiago Lemos 1010 x Rone
New Balance Numeric brings sophistication to skateboarding with their latest collab of Tiago Lemos's first shoe model, the 1010, with Rone Footwear.
Hear from legendary skater, and Rone Footwear founder, Tony Ferguson talk about the design of the 1010 x Rone, as well as Tiago Lemos talking about Tony Ferguson's inspiration on his skateboarding, while Tiago, Jeron Wilson, Wilton Souza, Lucas Marques, Tallis Junior, and Leonardo Bodelazzi skate the new shoe in the brands latest video. Watch the full edit, shot by Kyle Camarillo and Tylre Wilcox, above!
The Rone Footwear x New Balance Tiago Lemos 1010 is a unique collaboration that celebrates the passion and creativity of skateboarders that features white leather uppers with perforated toe boxes, grey New Balance branding, and Rone's logo debossed on the heel counters and metal lace dubraes. The limited edition pair will be available on April 27th via Rone Footwear and globally via New Balance on May 1st for $180 USD. Skateboard enthusiasts can take a closer look at this exceptional pair of shoes and add it to their collection.
NB# has been a Berrics partner since its inception in 2013. Check out some of our extensive work with the brand, including PJ Ladd's "Footnotes," below: