NYJAH FADE TO BLACK BEAN SHAKE: SALAD GRINDS & BEAN PLANTS #62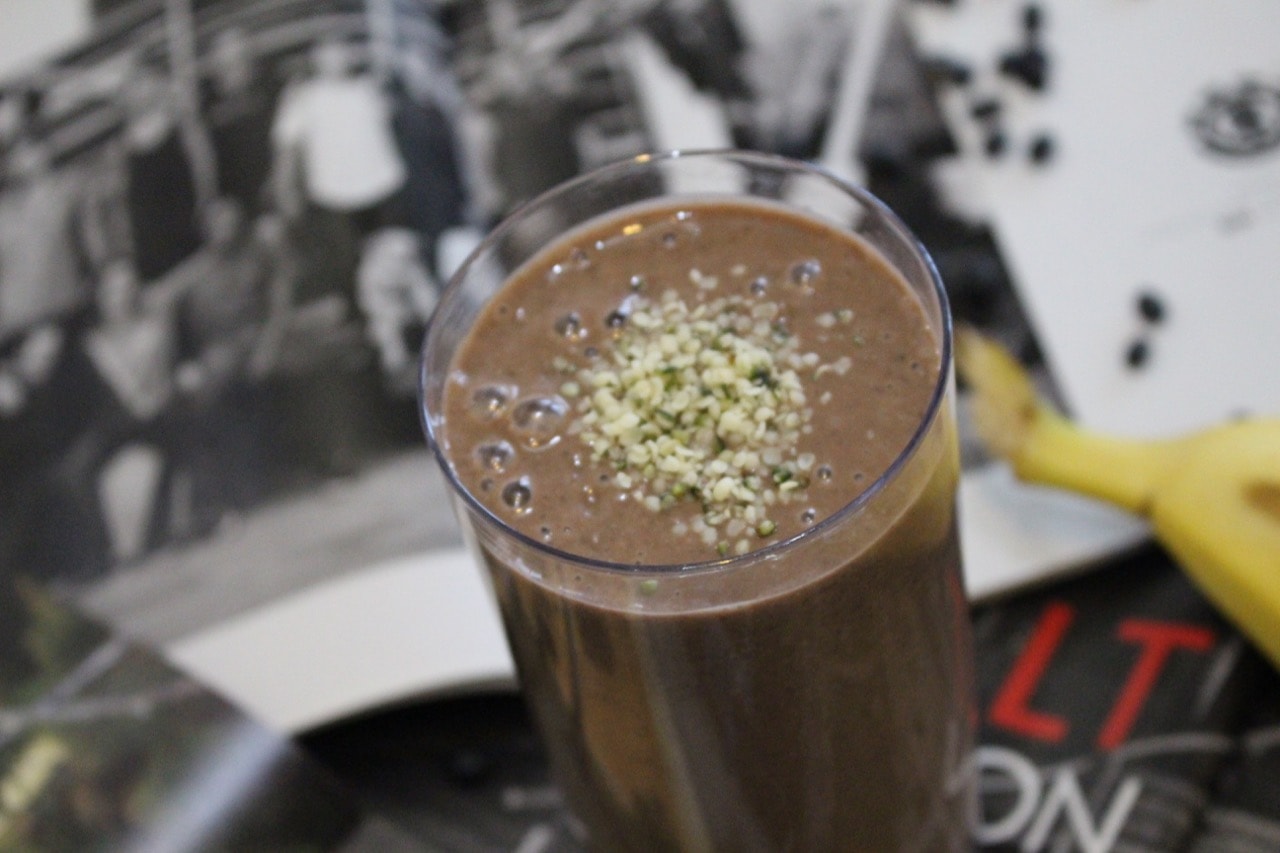 Nyjah Fade to Black Bean Shake
(Black Bean and Banana Shake)
WORDS: Johnny Lozano
I think I've ripped on Nyjah Huston a couple of times in this recipe series, but just know that it's from a place of love.  If there's even a twinge bitterness in my rhetoric, it's only because he is better at skating than I am at anything (even puns).  I may have written in my Jerry Hstew recipe that watching Jerry bail was more palatable than watching Nyjah go 13 for 14, but the only reason I can say that (even in jest) is because you know Nyjah's gonna put down hammers in record-setting time.  The odds of him landing amazing hammers back to back are as good as the uncanny coin toss in Rosencrantz and Guildenstern are Dead.
If you haven't already watched his 11-minute 'Til Death part (yes, that's 11 minutes of truck-to-rail contact), go witness the madness.  However, if you're looking for an equally gnarly, but slightly more diverse piece of destruction, you can harken back to his DC days and give Fade to Black another viewing.   
Why am I fixating on this one (other than the pun)?  While every one of Nyjah's parts defies logic and physics, this one couples a sick song choice (sorry, let's chill on the rap for a second) with a more inclusive range of skating.  That's not to say it doesn't feature a laundry list of rails, but rather that it breaks them up with lines here and then, giving the average Joe just a little bit more to relate to.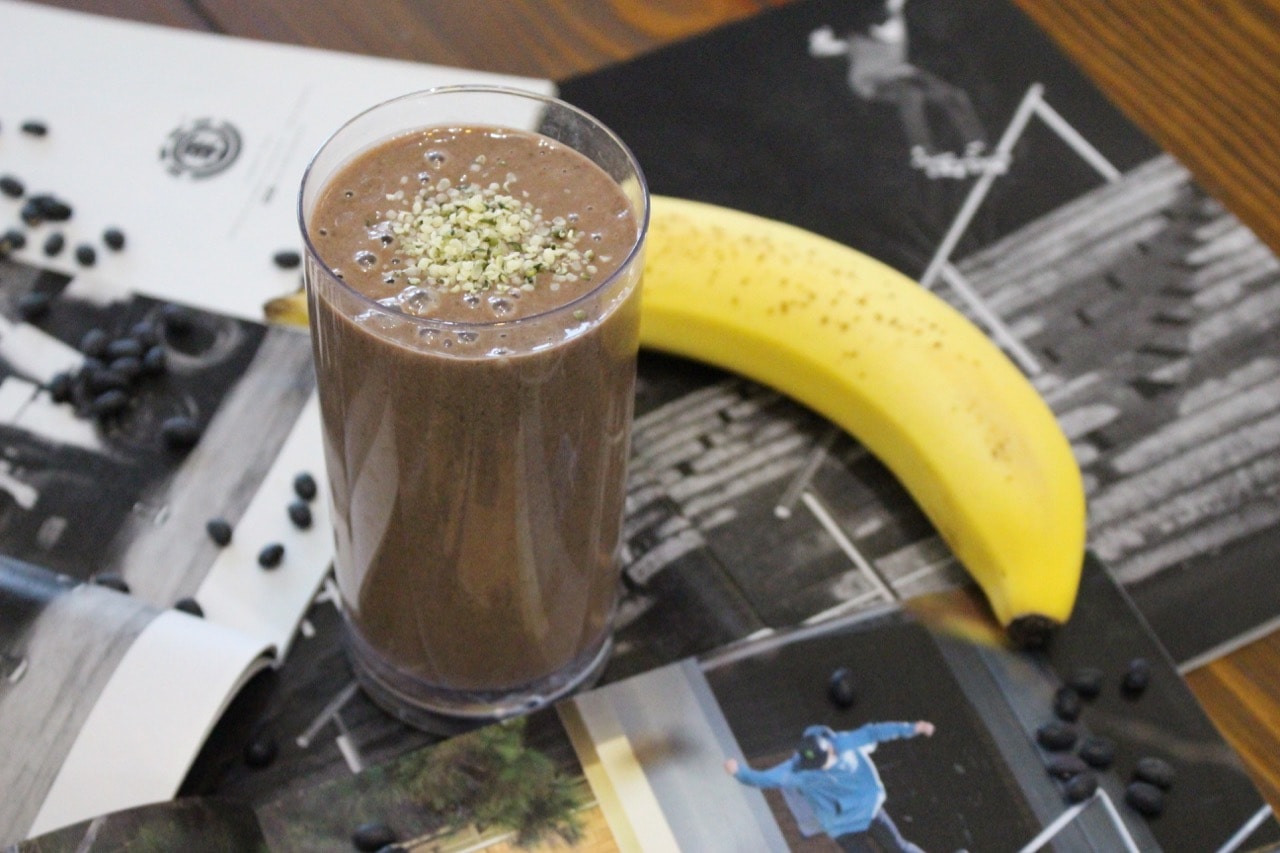 While I can't help you skate like Nyjah, I can help you fuel up on foods that will at least keep you skating every day.  Enter the Fade to Black Bean Shake. Now, I know you're probably reeling at the thought of drinking black beans in a shake, but hear me out. Black beans are a magical, heart-healthy food.  They're high in protein, fiber, potassium, and vitamin B6, while extremely low in cholesterol (in fact, the high fiber content of black beans can help lower your cholesterol).  On top of that, if they're unsalted, they can be cooked into sweet recipes innocuously, adding all of the above nutrients without tasting like a burrito.  
This shake is going to be a bit higher carb than some of the other shakes/smoothies I've put out here (about 90g carbs), but it's also higher in protein and undeniably delicious. Given the carb content, this is an ideal pre- or post-skating shake.  The banana and dates give it a very sweet flavor, grounded and thickened by the black beans, and then made just a touch creamier and chocolatey with the cocoa powder.  Throw in the hemp seeds for some added protein and healthy fats and you can fade to deliciousness.
INGREDIENTS:
1 cup black beans (cooked, unsalted)

2 medjool dates (pitted)

1 ripe banana

15g hemp seeds

1 cup almond milk (unsweetened)

1 tbsp. cocoa powder
DIRECTIONS:
Unlike Nyjah's obstacle of choice (deadly rails), this recipe is easy.  Just toss all of the ingredients into a blender and let it blend for a minute or two.  Let this one blend a little bit longer than normal so that the dates fully break down. There's nothing wrong with getting a chunk of date in your sip, but if it breaks down fully, the whole drink will be a bit sweeter.

Go buy some compression pants.
Happy shredding,
Johnny  
For more recipes, check out www.saladgrindsandbeanplants.com or find us on Instagram at @salad_grinds_and_bean_plants.