Oskar Rozenberg Profiled In 'The New York Times'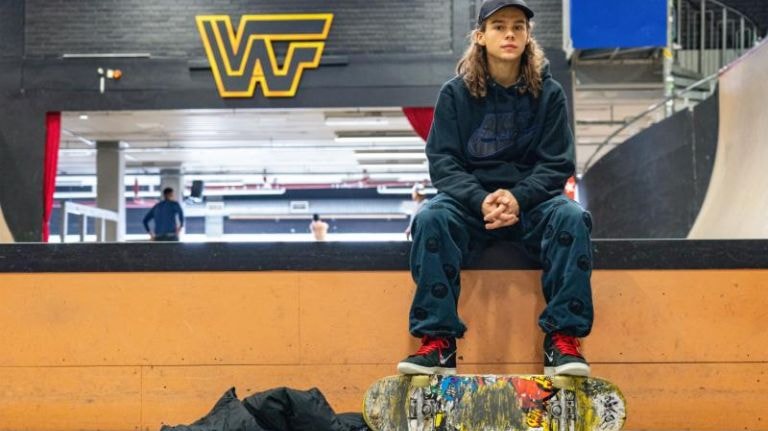 Rozenberg at Malmö's Bryggeriet. Photo: AP Photo/David Keyton.
Yesterday, The New York Times published an Associated Press profile (also picked up by Newsday and several other outlets) of Malmö, Sweden's Oskar 'Oski' Rozenberg, proclaiming that he is 'fronting skateboarding's move to the mainstream.' Aside from the questionable use of the word 'fronting,' the article is an enlightening piece about one of the world's most exciting skaters. With the Olympics including skateboarding for the first time this year, the smart money is on reigning two-time Vans Park Series world champion Oski to be the breakout star.
In the syndicated Associated Press article, Oski seems stoked about the prospect of skating in the Tokyo Summer Games this year. "A lot of other sports are about jumping a centimeter longer or a centimeter higher than what you did last year," Oski says. "But skateboarding is the opposite of that. There is so much you can do. I think it will actually bring a new aspect to sports."
Oski's winning 2019 Vans Park Series run.
We included Oski in our 2018 Populist, and we touched on this sentiment as well—focusing on his spontaneous style: "This approach is a blessing for skateboarding as it moves ever closer to Olympics D-Day (or V-Day, whatever). Generally, contests are a little on the dry side, so it's always fun to hear commentators perk up as Rozenberg drops in for his runs. They breathlessly try to describe what they're seeing, as if we couldn't figure it out, trying to keep up with Rozenberg's absurd artistry. Blender left his commentators tongue-tied, as well, and they just let his skating do the talking. Tokyo 2020 will need magic like this."
Read Oski's AP profile in The New York Times here!