PIG WHEELS SLAUGHTERHOUSE-FREE SANDWICH: SALAD GRINDS & BEAN PLANTS #76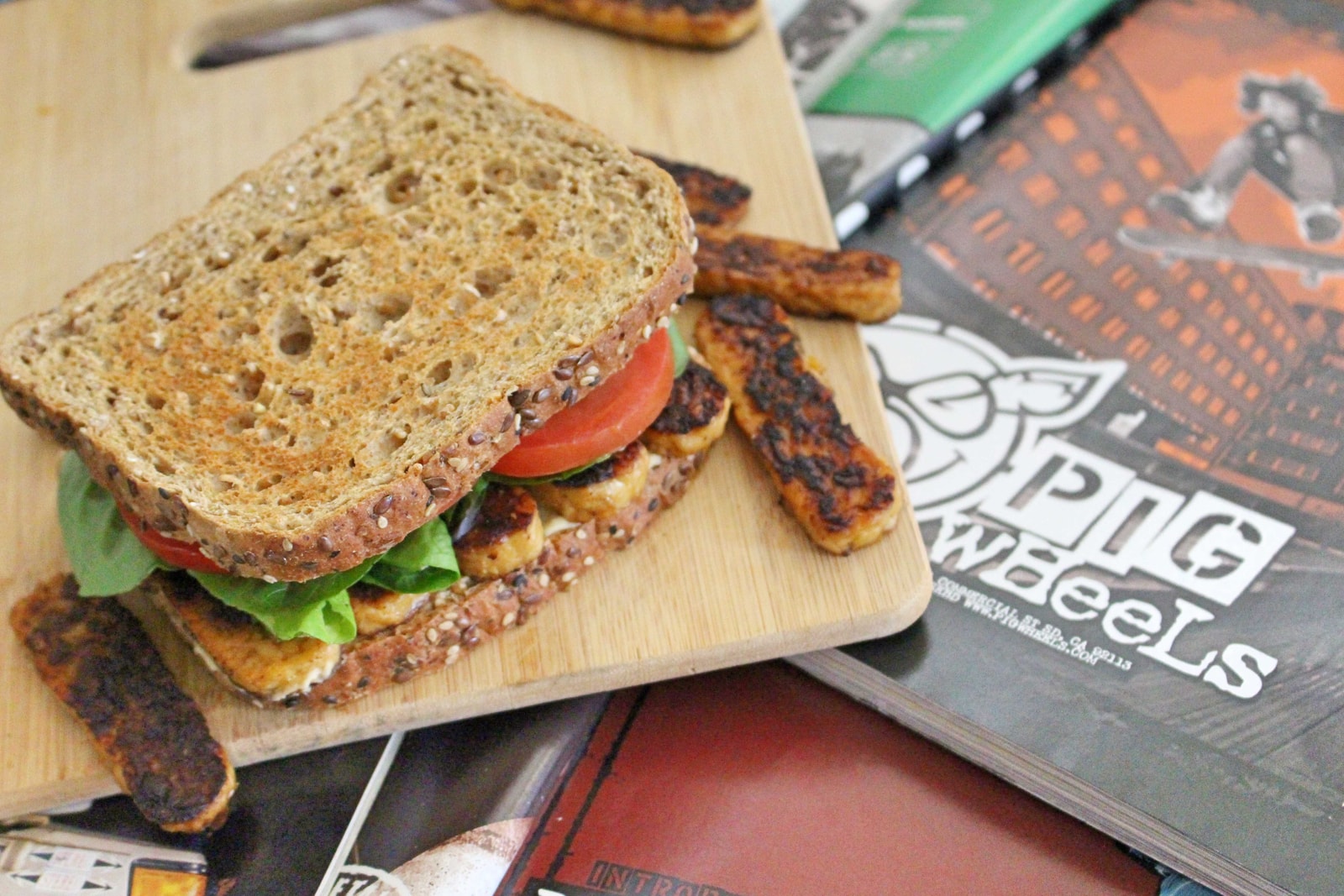 PIG WHEELS SLAUGHTERHOUSE-FREE SANDWICH
(Tempeh BLT)
WORDS: Johnny Lozano
I've rapped a bit about wheels on here before, primarily with my OJ Wheels Smoothie recipe; perhaps the most influential development in skateboarding—the urethane wheel—is now subject to arguably the least ingenuity. Sure, you can hollow them out, put in speed bands, double the durometer, and make them crystal clear, but at the end of the day, there're only so many times you can reinvent the wheel.
And perhaps that's what makes loyalty to any given wheel company so damn impressive. It's not that there are no variations whatsoever (candidly, I'll always be loyal to the early '00s Darkstar urethane, and if anybody can track down a posting of their Round 2 montage with Zeppelin's Immigrant Song still intact, you win a gold star), but rather that it's hard to imagine a scenario where one would turn away free wheels, even if they're not your preferred brand. So what's the difference in many cases? Attitude.
And Pig Wheels had that in spades. The aesthetic was simple: distill the more raucous team members from turn-of-the-century Foundation, Hollywood, and Black Label and put all those sets of nut-hugging jeans and leather jackets on a wheel company in the hopes that vibrant-colors will make a comeback. And, sure enough, that bet paid off—enough to spawn a video (Slaughterhouse, with a part from Ragdoll that still stands the test of time) and even Pig Wood for a short time. While the wood may no longer be around, the rockstar aesthetic of Pig Wheels had lasting benefits, since the urethane is still around. For a product with extremely limited white space for innovation, this is no small feat.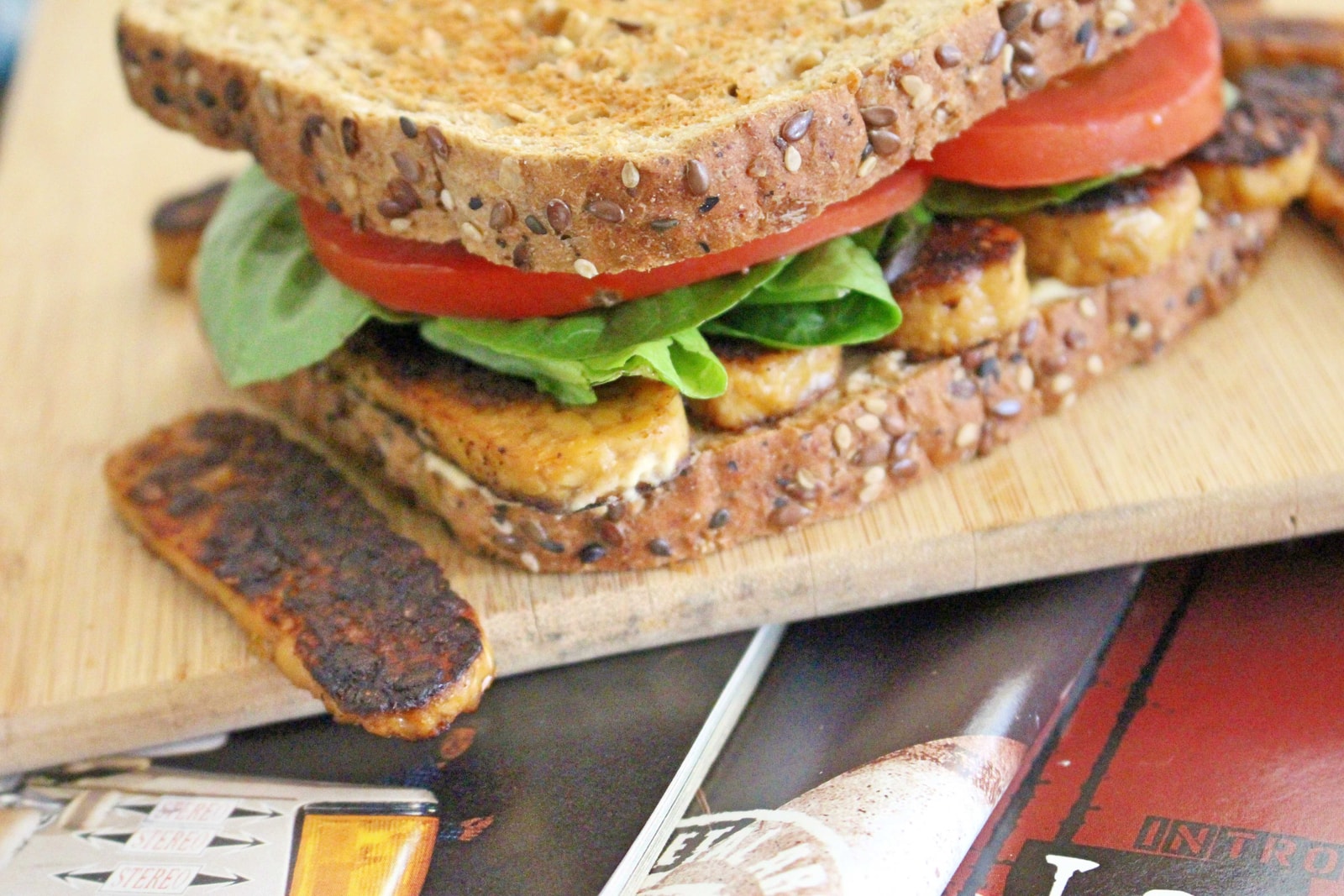 Speaking of little space for innovation, this week's recipe tries to scour the few remaining corners for faux bacon.  There are a few subs for bacon already out there – Morning Star's veggie bacon, Sweet Earth's "benevolent bacon" or even just plain turkey bacon (if you're not a vegetarian) – but all in all, it's pretty hard to replace something as inimitable as bacon (though, Dyrdek's capital machine seems to have backed a winner with PigOut Chips). Well, today's recipe throws its hat in the ring with a tempeh BLT. While tempeh will never be the perfect doppelgänger for bacon, this recipe comes close enough to make a pretty delicious cruelty-free BLT. And by swapping thinly sliced tempeh, you're actually getting more protein than if you were using bacon, plus the added benefit of fiber and manganese (and unlike bacon, tempeh has not been classified as a group 1 carcinogen by the WHO). In addition to sizzling faux bacon, this BLT throws some mixed greens (none of that iceberg lettuce), fresh-sliced tomatoes and a slather of hummus on top of some toasted bread (as seed-packed as you can find in the store) for a savory slaughter-free meal.  
Here's how it's done:
BACON INGREDIENTS (makes enough for 3-4 sandwiches):
1 block (8 oz) tempeh

1 tbsp. olive oil + a drizzle extra for frying

1 tbsp. soy sauce

1 tbsp. pure maple syrup or molasses (agave will work, too, but the other two will give it a darker look)

1 tbsp. water

2 tsp. liquid smoke

1 tsp. cumin

1 tsp. paprika

1 tsp. garlic powder

¼ tsp. salt

¼ tsp. pepper
SANDWICH INGREDIENTS:
Two slices of the seediest bread you can find (I used Dave's Killer Bread: Good Seed), toasted

100 g hummus of choice

Dark leafy greens (as much as you want)

Fresh sliced roma tomatoes
DIRECTIONS:
First, soften up that tempeh.  In a large pot, bring a quart of water to a boil, then toss in the block of tempeh (do not slice it yet).  Bring the pot down to medium heat and leave the tempeh in there for about 10 minutes. This will "open" it up some and allow it to soak in the rest of the flavors.

Once boiled, remove the block of tempeh and slice it up into thin bacon-esque slices.  Next, mix together the olive oil, soy sauce, syrup, water, liquid smoke, cumin, paprika, garlic powder, salt and pepper.  Put the tempeh slices in a small container and pour in the flavor mix to let it marinate for about 15 minutes. Flip it over to ensure even coating and marinate for another 15 minutes.

Bring a small amount of olive oil to medium heat in a pan on the stove top and then toss in the marinated tempeh.  Let it cook for 3-4 minutes or until the tempeh has browned and becomes a tad crispy; then flip and cook for another 3 minutes.

Remove the tempeh, let it cool, then pile it onto a sandwich with the remaining sandwich ingredients (toast that bread, it's worth the extra two minutes) and chow down!
Happy shredding,
Johnny
For more recipes, check out www.saladgrindsandbeanplants.com or find us on Instagram at @salad_grinds_and_bean_plants.