Poseiden Foundation 13th Annual Ladies Day At The Berrics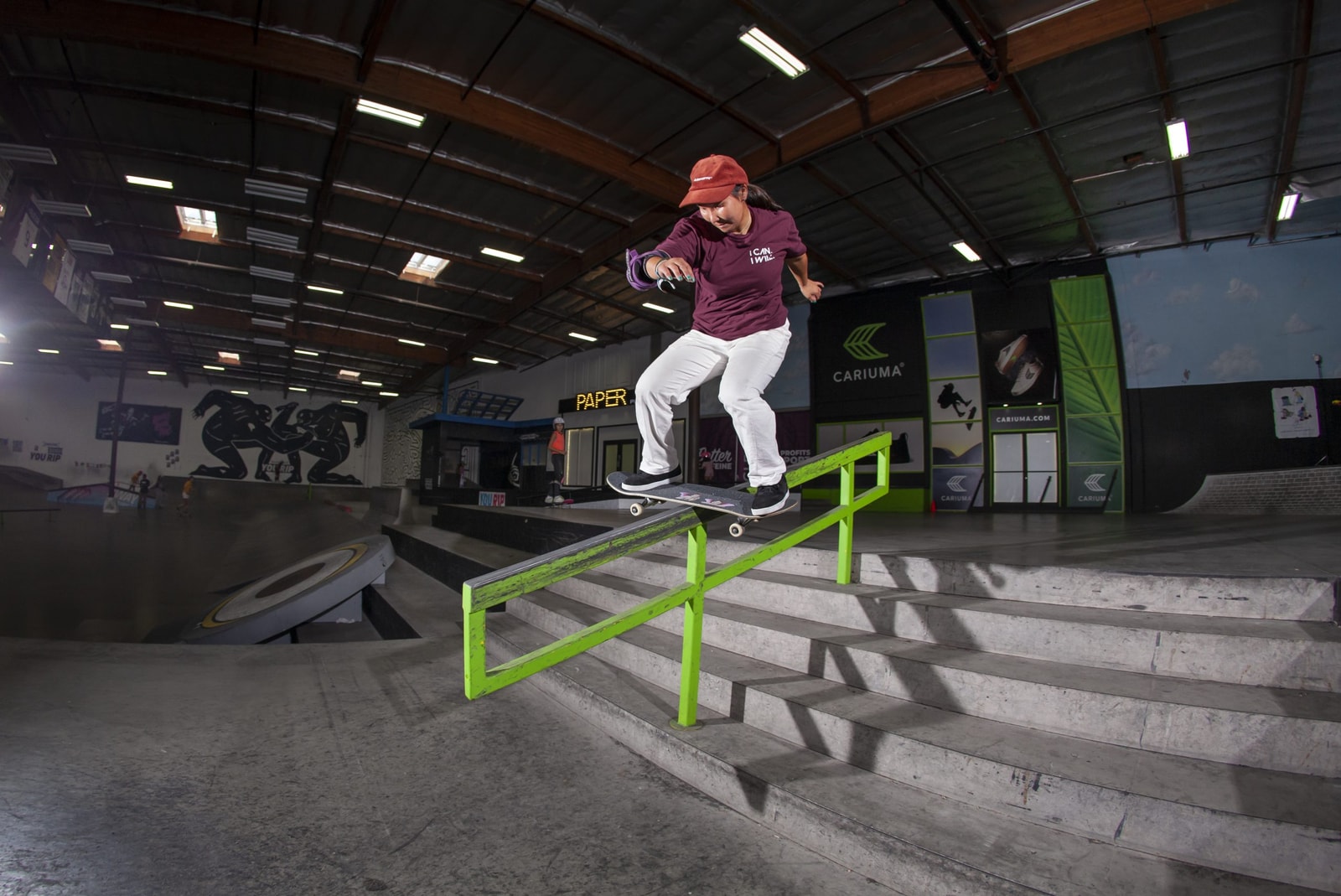 The
Poseiden Foundation
have been putting on women's skate events at The Berrics for years, and their annual Ladies Nights are some of the most eagerly anticipated. On November 7, Poseiden held its most recent event; see below for the official recap from the organization:
13th Ladies Day x The Berrics
Presented by YOURIP
All Ladies, All Ages, and All Abilities
November 7, 2021
Livestreamed by Poseiden Foundation and The Berrics Channel
Featuring Unity Amongst Female Skateboarders, and their love for the board!
We are so excited to wrap-up Poseiden Foundation's Ladies Day at The Berrics presented by YOURIP app!! Thanks to all the ladies and The Berrics team for making this special event happen year after year!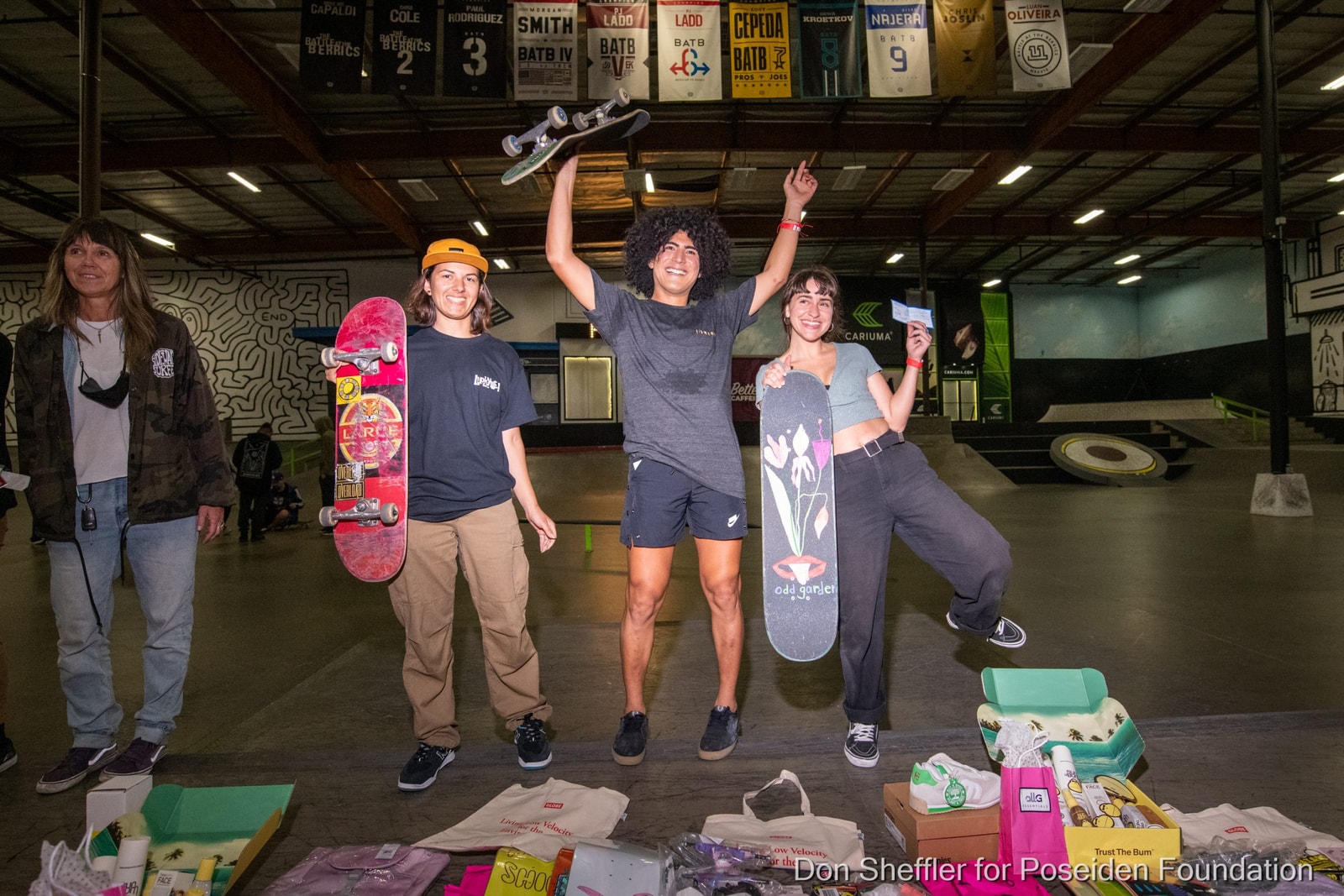 2021 Acknowledgments
Poseiden Foundation acknowledges and appreciates the important work and generous contributions made by all of our volunteers. They've helped make Ladies Day a magical tradition for the past 13 years! We honor Maya Porter's eighth year serving as the backbone for Ladies Day. We thank John Di'Pierro for providing security to ensure a safe event, and we express our gratitude to BamBam for serving up Wicked Wahine tacos again this year, and Anthony for opening up the Berrics doors to us that morning. We applaud Skiter, Sista, and Mati from Argentina for making the YOURIPapp Global Social Challenge x Ladies Day at The Berrics a success! (All below photos were shot by Don Sheffler, Ken Hada, and Ryan Hulub.)
We give a special thank you to our Title Sponsor YOURIP app and this year's Gold and Silver event sponsors: Surfboard Broker, Thrash n' Raid, Dwindle Distribution, Etnies, and Bones Bearings, Biomed. See the flyer for all our wonderful sponsors.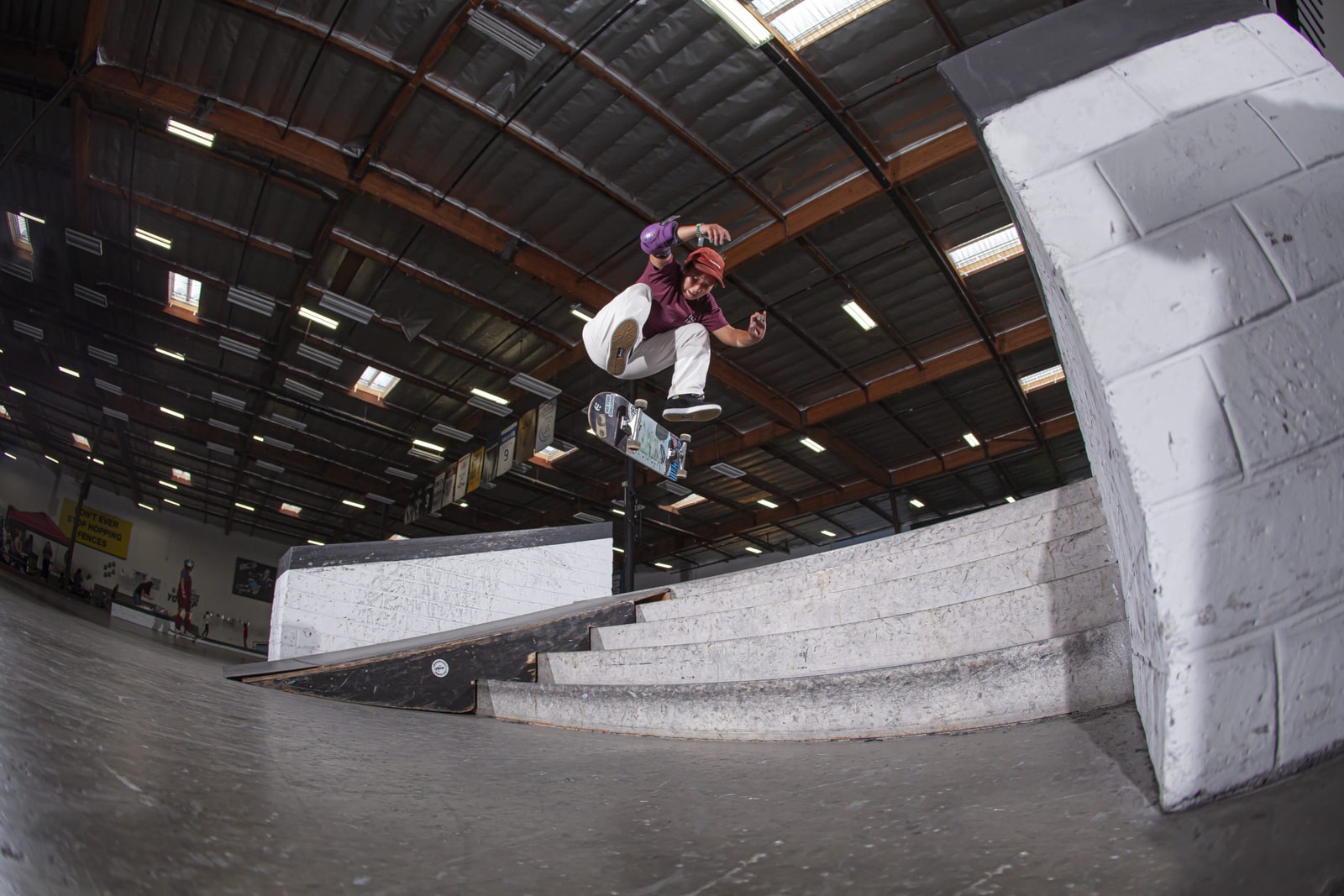 We also want to thank and congratulate all the participants this year! It was amazing seeing over 200+ skaters from over 25 countries come out for the YOURIPapp Global Social Challenge x Ladies Day at The Berrics!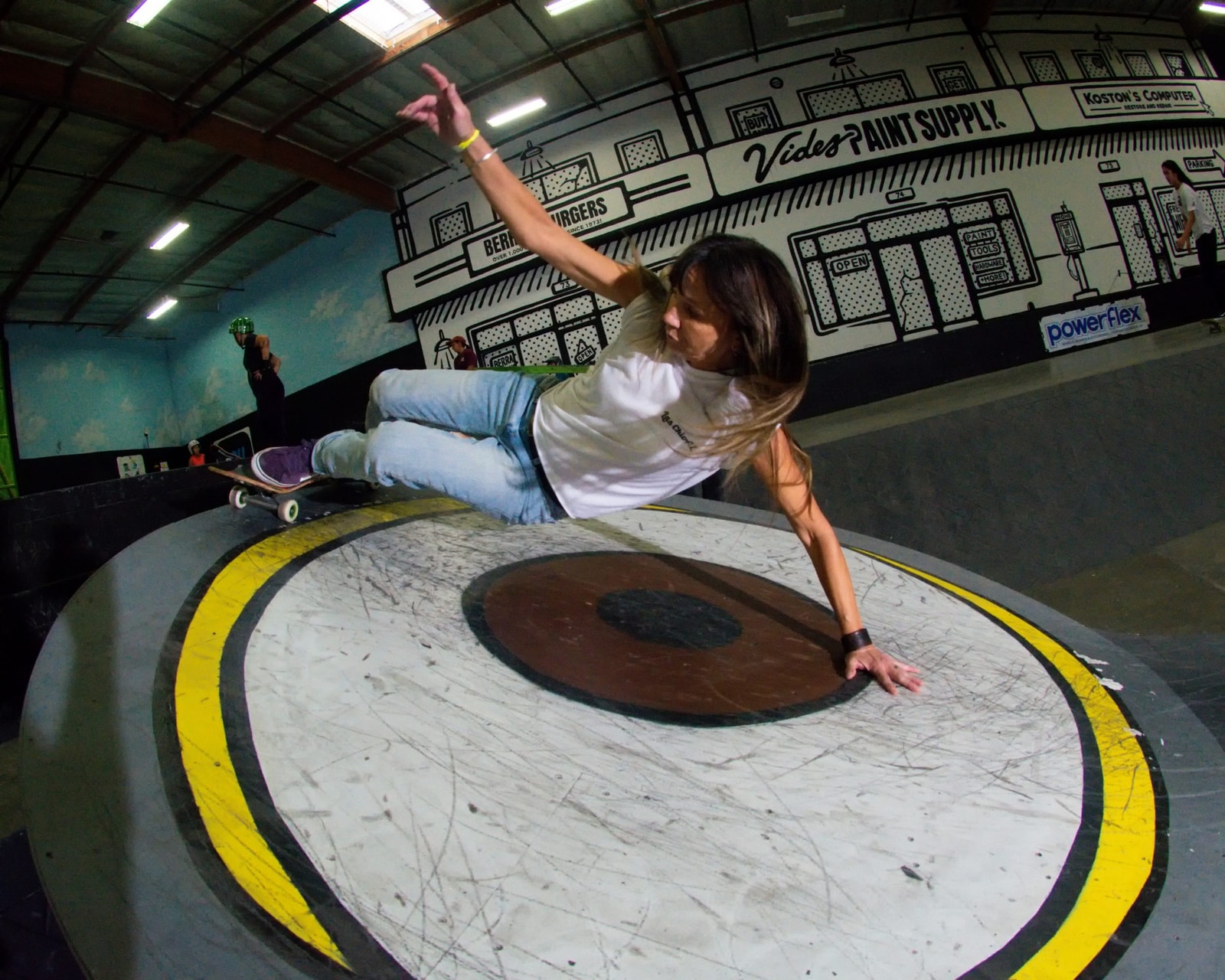 Lastly, we want to thank our Poseiden Foundation Ambassadors team for all the hard work they put in to make this event possible!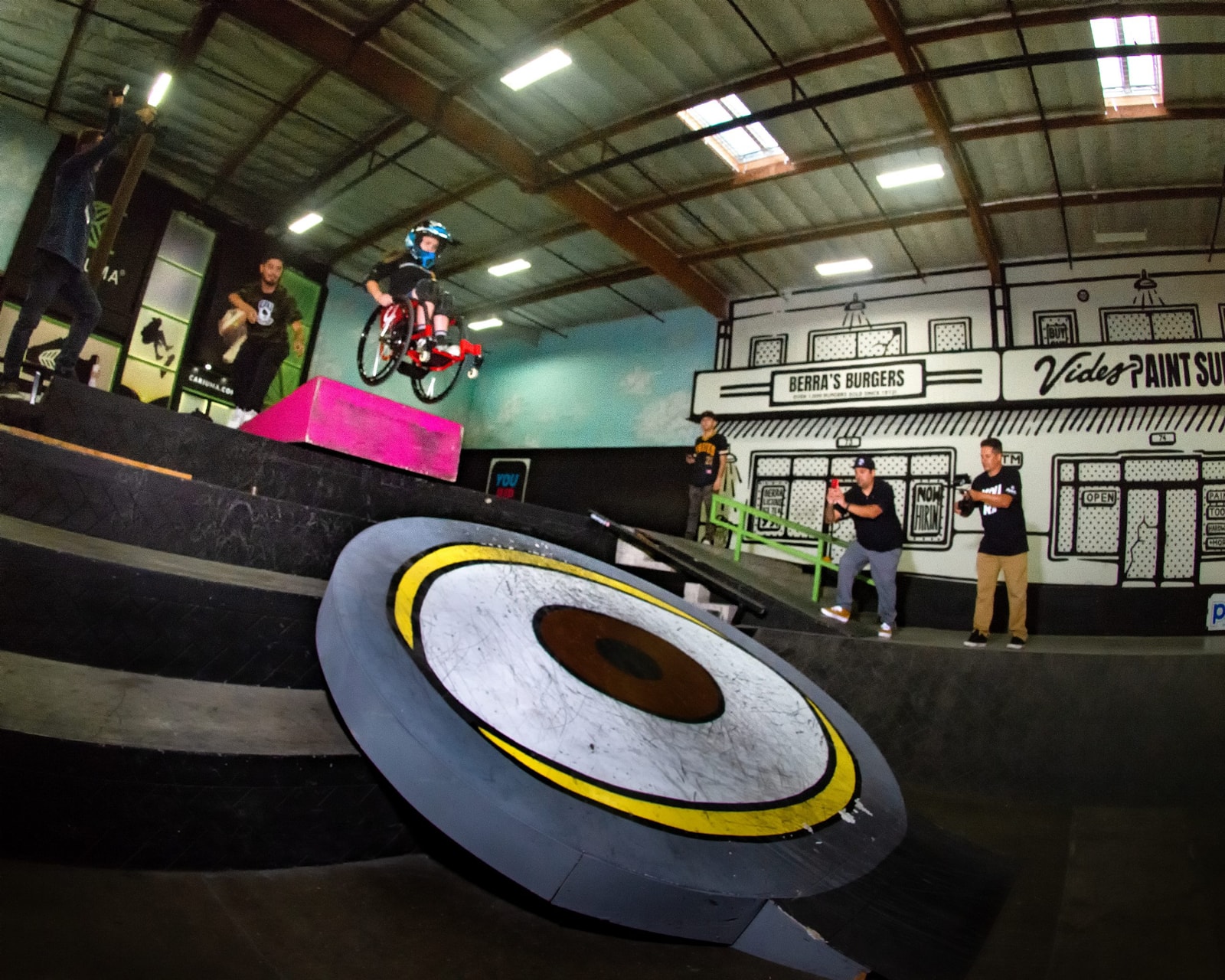 Humanitarian Outreach Fundraiser
Our humanitarian outreach program helps remind youth that someone cares about them. Every year we give back to our community most in need. We believe that giving skateboards to hundreds of youths, rather than a large one-time check to a few youths, results in a much wider impact. This year's Ladies Day, we used the money generated from the entry fee to give 600 skateboards to foster, orphaned, homeless and at-risk youth.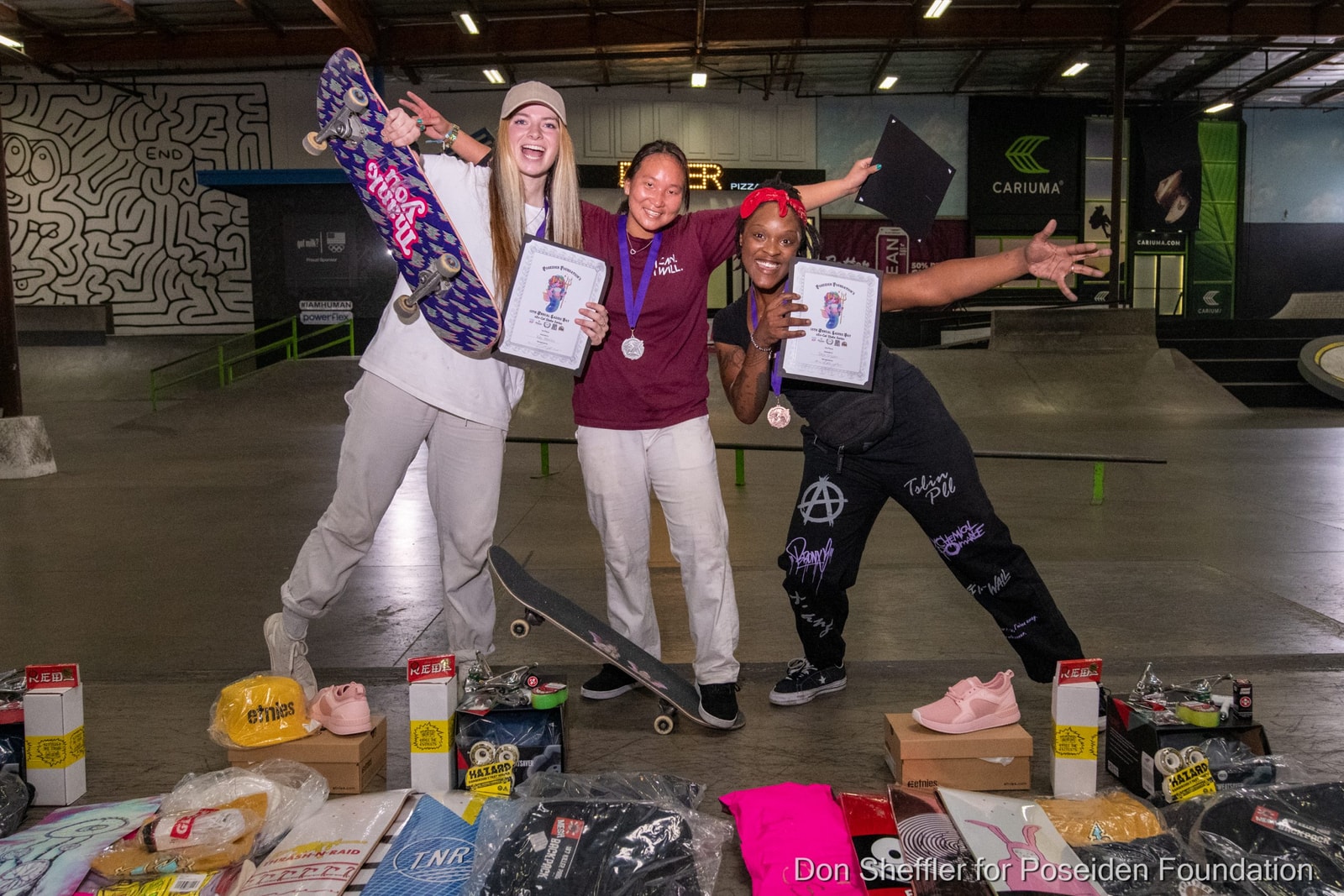 300 boards, supplied by the industry, were donated to youth locally. The other 300 skateboards were donated internationally, as a part of the Global Social Challenge by YOURIP and Poseiden Foundation. For every participant that uploaded skate videos on the YOURIP app, a skateboard was donated. The skateboards were then donated to the countries with the most uploaded videos. This year's winners were Argentina, the United States, and the Dominican Republic!  Poseiden Foundation ambassadors from these three countries will get to choose which organizations and youth-in-need to donate the skateboards to.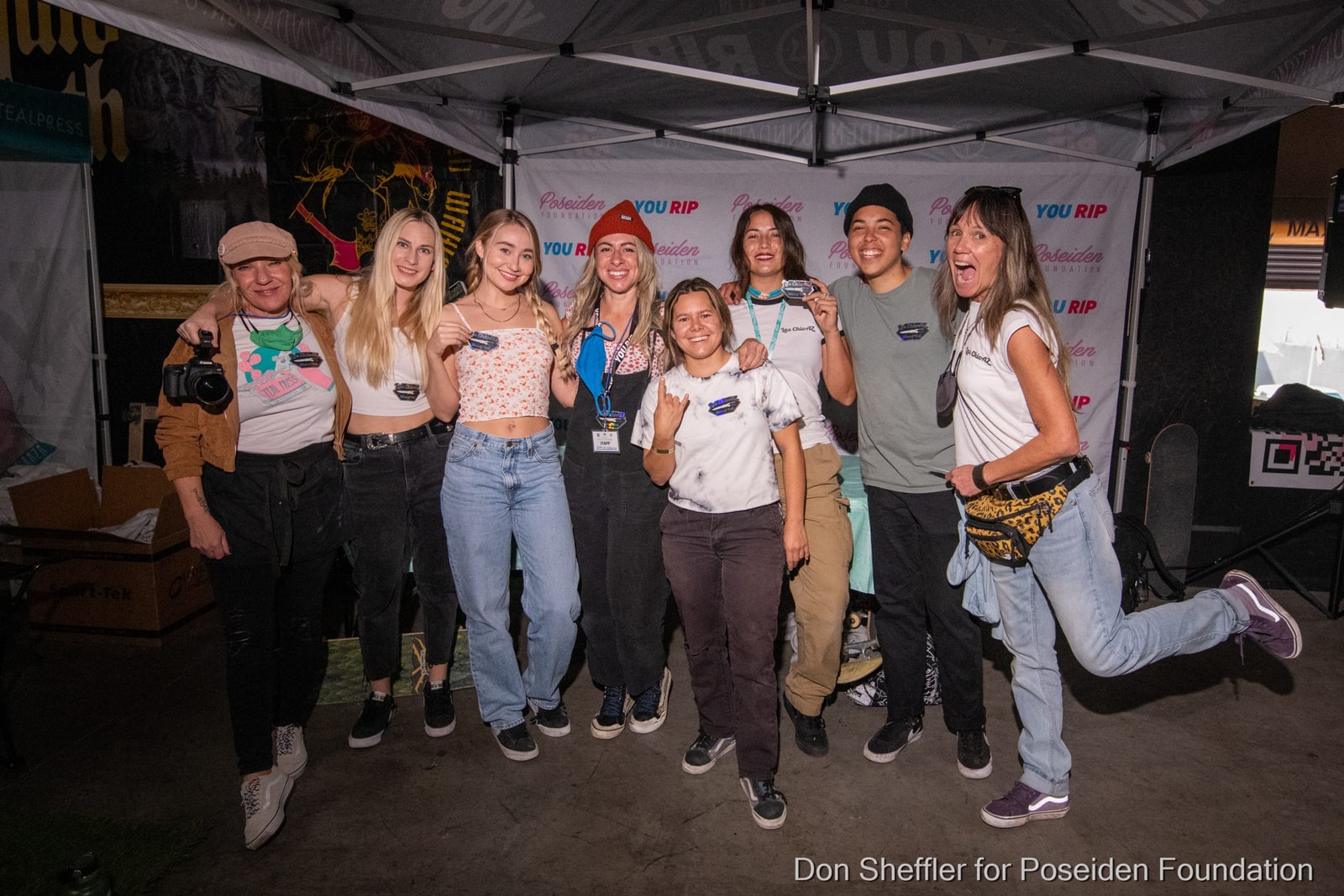 Additionally, since the start of the pandemic, Poseiden Foundation has helped serve meals to 14,000 families. This wouldn't have been possible without our volunteers, as well as Poseiden's Ambassador and Humanitarian advocate, Eliana Sosco. Contributions from Poseiden Foundation Board members and private donors also greatly help us give back to our community.
Through teaching girls how to skate, The SkateSide clinic encouraged girls to follow their dreams and do anything they put their mind to. The clinic raised funds to donate 20 skateboards to youth in-need. We are grateful to have The Skateside participate year after year and look forward to more and more girls picking up a skateboard and having fun!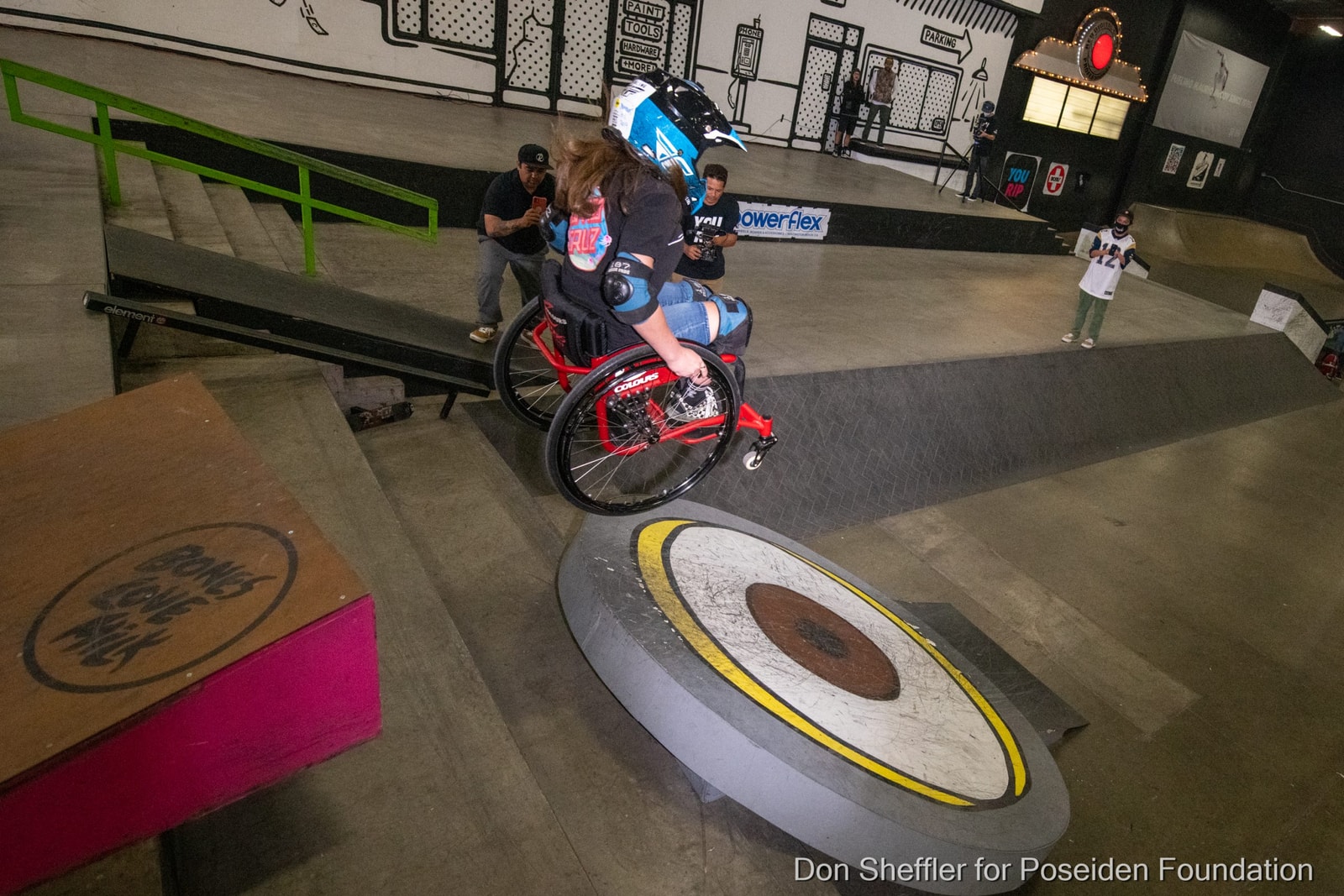 All Ages Skate Session 
w/Las ChicAZ, ChrissySparkleM4ker & Di'orr Greenwood
The All-Ages Skate session this year sparkled, amazed and inspired our youth participants. Di'orr Greenwood taught girls to skate tic-tak and do ollies. Chrissy SparkleM4ker, a transgender female, encouraged girls to go beyond their limits. Natalie from Las ChicAZ showed the girls they are amazing, regardless of age. DJ DAD backed the session with awesome music!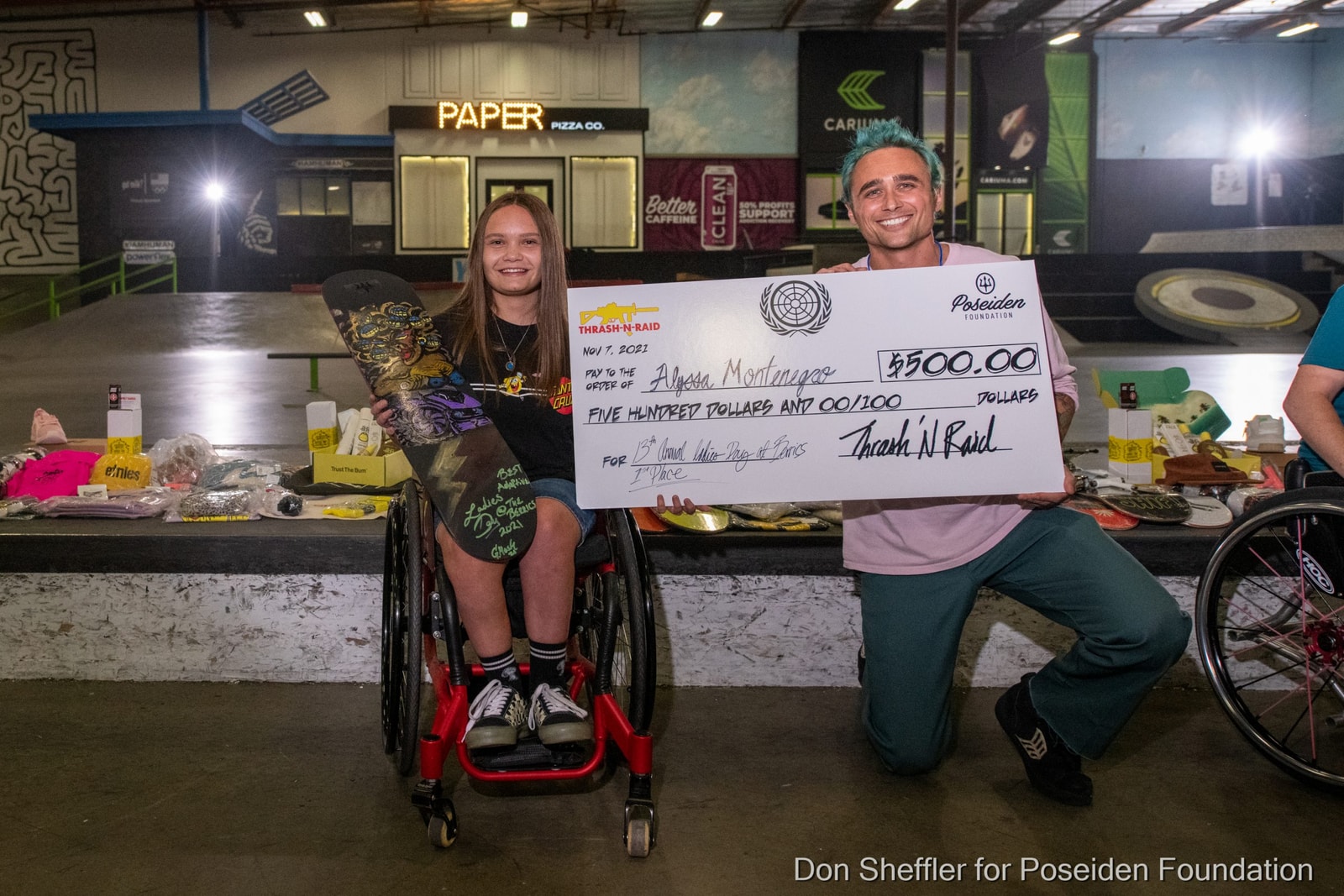 This year Poseiden invited SoCal Skate Series co-founder and organizer Jazmin Hardin to host the contest––and it was a great success! "Poseiden Foundation's Annual Ladies Day is all about female empowerment, and that is exactly what we experienced on November 7th at the Berrics … The experience of our competitors was vast, and each of them embodied a unique style, redefining 'Girl Power' with every push of their board," Hardin said. 
The diverse crowd of parents, guardians, and friends during the event encouraged and supported competitors as they skated full reign at The Berrics. The competition was judged by talented skateboarders Jim Gray, Eliana Sosco, and Vincent Luevanos.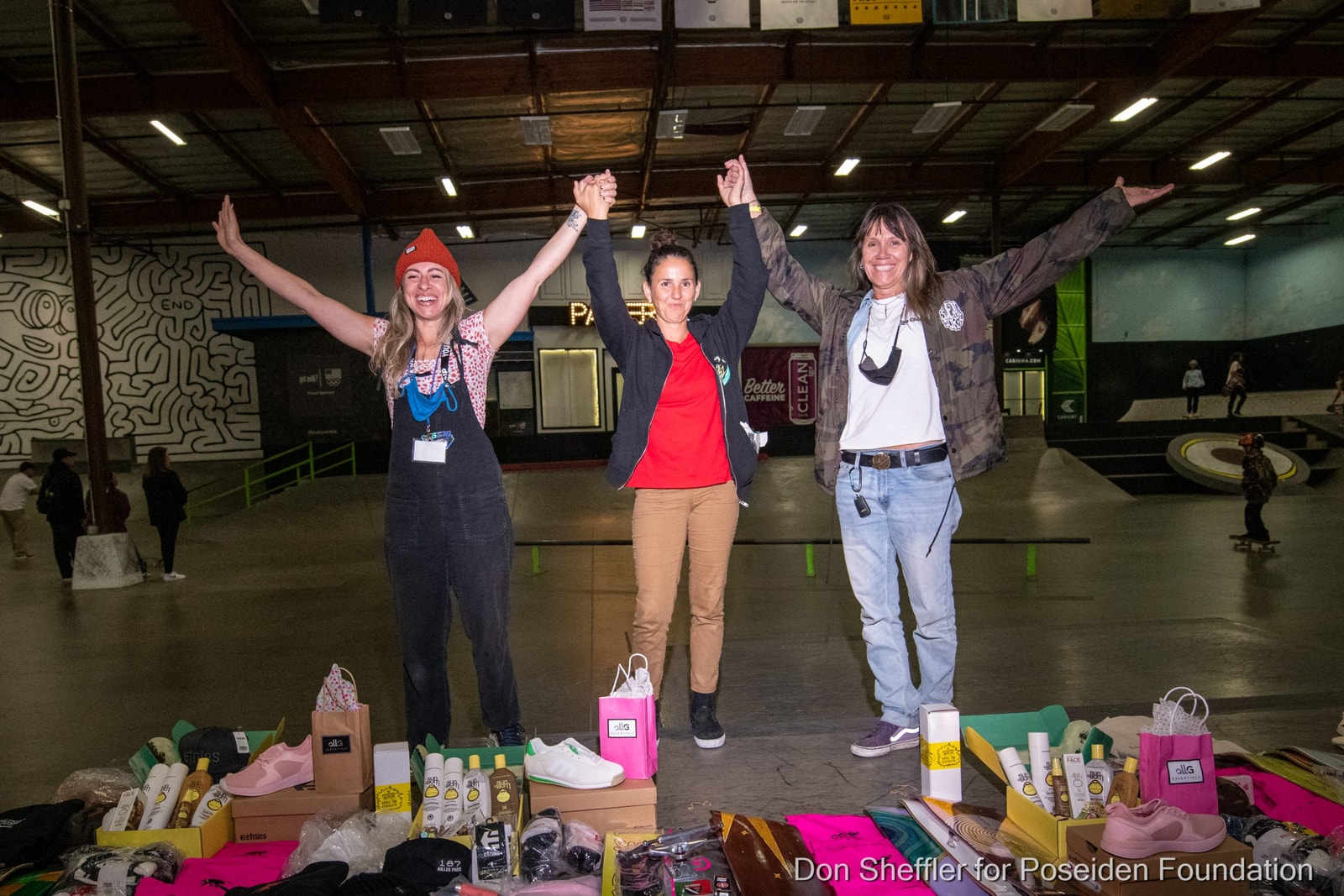 The winners received prizes valued at over $1,000 and a stay at the @BearXRentals Resort. Overall, So-Cal Skate Series was hyped to be a part of female empowerment at Ladies Day.
17 & UNDER Prizes: 1st Funa Nakayama, 2nd Cona Suganami, 3rd Kylie Frank
18 & OVER Prizes: 1st Kay Hensley, 2nd Courtney Akita, 3rd Daja Crippen 
World Cup Skateboarding Contest
It was super exciting seeing all the women compete in the World Cup Skateboarding Contest. As Don Bostick, founder of World Cup Skateboarding, said, "The energy and the pure love of skateboarding at this event is so evident in all the girls."
A big thank you to MC's Dave Duncan, from World Cup Skateboarding, and Amy Caron, Pro-Skater, both of whom did an amazing job announcing. The contest itself was divided into three parts: Adaptive, Masters, and 21+. The 21+ portion of the event started with a fun Las ChicAZ xYOURIP skate session which then led into the Masters and 21+ skate competition! It was a reunion for some and a first time for others. Winners of all three categories (Adaptive, Masters, and 21+) received more than $4,500 in cash and over $5,000 in prizes from the skate industry, CBD companies, and private donors. Thank you also to our 21 and over CBD sponsors: ALL G, SEABD Elevar Wellness, SpacyCloud, Heart of V for hooking up all the ladies with CBD. 
Through the support of everyone participating, we helped provide youth with food and the hardware to skate and fulfill dreams. #thankyouskateboarding
The ADAPTIVE SKATE portion of Ladies Day was explosive! World Cup Skateboarding, along with the help of Oscar Loretto Jr., made history by putting on the second ever female-only Adaptive Skate/WCMX contest at The Berrics. Filled with gnarly tricks from the adaptive skateboarders, the event was certainly one for the books. The format mimicked the Olympics & SLS with two 45 second runs and five best trick attempts––the top three scores counting.  
All five competitors brought so much energy, skill, and passion. Cheyenne Mesa won the crowd over with her massive heart, determination, and ability to bounce back up after some wicked slams. Tia Pearl, who won the Women's Adaptive Skate/WCMX contest at this year's Dew Tour, was smiling ear to ear the entire day, even though she fell short of her goal and placed fourth with a steezy varial kickflip on flatground. All around positive vibes came from Tracie Garacochea. Garacochea, who was in the LA Marathon, gracefully carved and acid dropped to rail grind her way to third place. Coming off a first place in the WCMX division at the Inaugural Jon Comer Memorial Jam in Dallas this past October was Katherine Beattie. Beattie secured a second-place finish with her stylish acid drops to rail grind off big obstacles. The "collective gasp" moment came courtesy of Alyssa Montenegro who finished first with her Evil Knievel ramp jump over her friend and mom and death-defying ramp launch off the 4 block into the eyeball ramp. The crowd went crazy when she rolled away. Congratulations to the Adaptive Skate & WCMX Ladies and thanks to YOURIPapp and Thrash 'N Raid for putting up the prize purse and @BearXrentals for picking Cheyenne as skater pick of the day! 
Adaptive Prizes: 1st Alyssa Montenegro, 2nd Katherine Beattie, 3rd Tracie Garacochea, 4th Tia Pearl, 5th Cheyanne Mesa. 
Thrash n' Raid Best Trick Pick: Alyssa Montenegro won the Thrash n' Raid Skater Pick of the day. 
BearXRentals Adaptive Pick: Cheyenne Mesa won the BearXrentals Skater Pick of the day. 
The MASTERS category showed that the love for skateboarding is ageless. The skating demonstrated by the participants was nothing short of inspirational, the epitome of what female empowerment looks like. Younger generations were able to see legends compete, showing them that if you're truly passionate about something, you can do it your entire life. We want to thank our Masters competitors for participating in this event and congratulate all the well-deserved winners.
Masters Prizes: Best Trick – Quarter pipe: Natalie Krishna Das, Best Trick – Pyramid: Patiane Frietas, Over-All Winners: 1st Natalie Krishna Das, 2nd Patiane Frietas, 3rd Jean Calamity
The 21 & OVER was an extremely exciting competition. With back-to-back tricks on the course, competitors showed us their skills. From the rails to the stairs, every part of The Berrics was utilized to show who truly was the best skater at this year's Ladies Day! Thank you to all the participants and winners, your passion and skill for the sport is exhilarating. 
 21 & Over Prizes: 1st Ricci Tres, 2nd Amanda Castillo, 3rd Annette Reinosa
<iframe src="https://www.youtube.com/embed/YTHmVkboQ9o" width="560" height="315" frameborder="0" allowfullscreen="allowfullscreen">&lt;/if</iframe>
Once again, thank you to everyone who made this year's Ladies Day possible! As Karina Sodre, video producer for the event said, "We need to encourage all women and do more sports, contests, and conventions because together we are strong."
Poseiden Foundation's next venture will be the Global Game of S.K.A.T.E. The winner will win a wild card to the finals of the 2022 Women's Battle at The Berrics. We are also thrilled to share that next year's Ladies Day will be hosted again at The Berrics! 
We hope to see you for the 14th Annual Ladies Day in October 2022! Love supports empowerment. Skate con Gusto!
THANKS TO OUR POWERFUL 2021 LADIES DAY EVENT TEAM
VOLUNTEERS:  Maya, BamBam, John, Gabriel, Natalie, Jimmy, Chris, Anastaysia, Eloise Luke, Jennifer, Matt, and Raj
SESSSION HOSTS:  Oscar Delarento, SoCal Skate Series, The SkateSide, Las ChicAZ, ChrissySparkleM4ker, Di'orr Greenwood.
FOOD VENDORS: Wicked Wahine and Tacos Callejeros.
DJ's:  DJ DAD
ANNOUNCERS: Amy Caron and Dave Duncan
JUDGES:  Rena Acceta, Eliana Sosco, Jim Gray, Isaiah Johnson, VincentL Urkluevanos, Di'orr Greenwood, Dei Gionji.
PHOTOGRAPHERS:  Don Sheffler, Ken Hada, Michelle Storm, Fellipe Francisco, Ryan Hulub, Olga Aguliar
FILMERS: Berrics: Tyler, Geo: Following Bryce W., Charlie Cosser, Raz Azraai, Adam Quinn, Poseiden:  Jana Santos, Jorge Hernandez, YouRip:  Karina Sodre and Wagner Profeta
INTERVIEWERS: Berrics: Natalie Krishna Das, Micaela Ramirez, Di'orr Greenwood, Bryce Wettstein, Rayssa Leal
BIG SHOUT-OUT TO OUR SPONSORS LISTED IN LADIES' DAY FLYER BELOW!