POSEIDEN FOUNDATION'S NEXT LADIES NIGHT AT THE BERRICS WILL BE ON NOVEMBER 1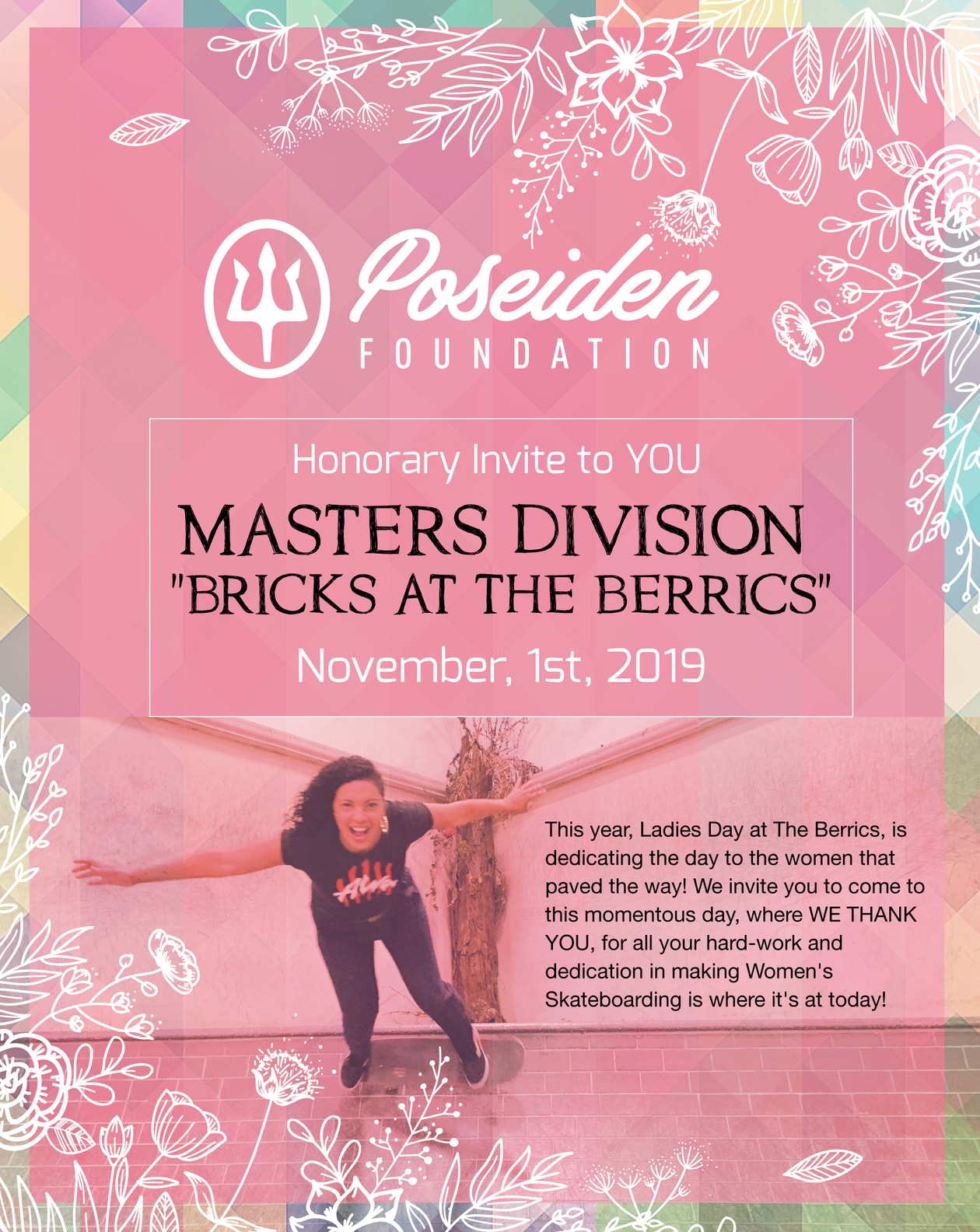 The
Poseiden Foundation
have been putting on women's skate events at The Berrics for years, and their annual Ladies Nights are the most eagerly anticipated. On November 1, Poseiden is holding a very special Ladies Night which will feature a lot of extra stuff, including a Masters Division "Bricks At The Berrics" contest.
Poseiden Foundation believes that through the physical and social interaction of skateboarding—boys and girls hearts, souls and minds are changed forever. By inspiring youth around the world to actualize their dreams and create life changing experiences through empowerment, love, and support, the Poseiden Foundation is teaching our youth how to achieve their short term and longer term life goals.  (Find more information about Poseiden at
www.poseidenfoundation.org
.) Here are some of the events planned for the Ladies Night on November 1:
1.      Skate Clinics, Skate Sessions, and Filming.
2.     Best Trick Competition (Open to all ages, and skill levels)
3.     Humanitarian Outreach Fundraiser: Canned Food Drive, Skate Equipment Drive, and an Opportunity for the Skate community to Build Homes for the Homeless.
4.     Events this year are: 7-Stair Pro/Expert, Hip Best Trick, Adaptive Skate, Master's Division, GRL SWRL #IAMHUMAN cruise, Flatground  /Game of S.K.A.T.E, Hippie Jump, Pinata, Music, Live Performance, Windwalker Dorn (First Nations)…and more!
Everyone who attends
MUST RSVP HERE
first. All Ladies who attend Poseiden Foundation's 11th Annual Ladies Day at The Berrics, will be greeted with a smile and a chance to win a prize! (To honor the request of ladies from last year's event, The Poseiden Foundation are asking that ANY MALE that attends MUST email 
ladiesday@poseiden.org
 directly to receive approval.)
Check out a couple of our past Ladies Nights events below: