A Quick One In The Southwest With Dave Swift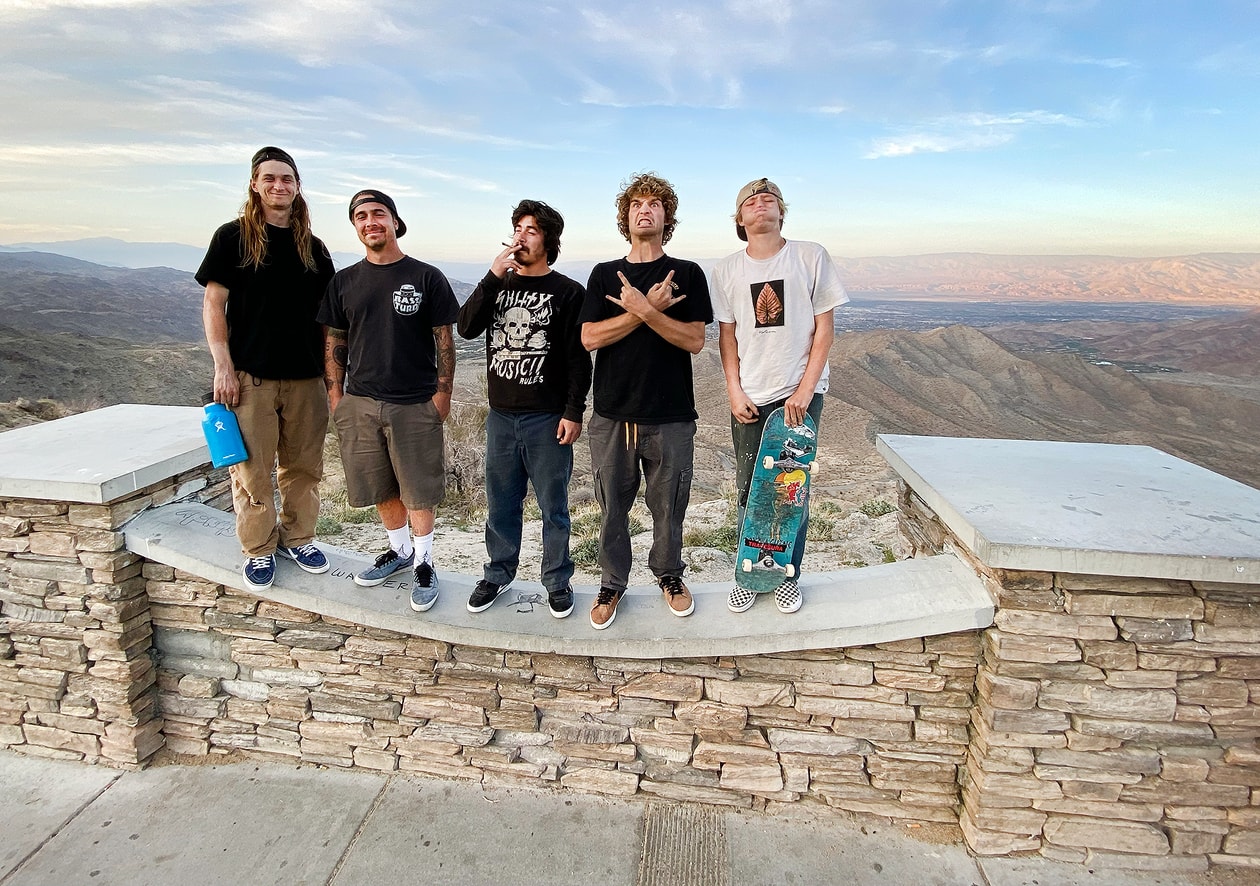 A Quick One in The Southwest
WORDS & PHOTOS: Dave Swift
A couple weeks ago I headed out on the road with a good crew of skaters to hit spots in Palm Springs, Indio, Phoenix, Tucson and El Paso (originally, we were supposed to go to Albuquerque but in climate weather made that impossible). I hadn't been to the Southwest to shoot skating in quite some time, so I was hyped to check the spots and see what the boys had for them—especially El Paso because I'd heard so much about its abundance of unique terrain. Well, when the van rolled back into San Diego seven days later my tummy was full of junk food and my memory card was full of mind blowing skate—I was happier with the latter. 
Marcel Martinez, Snake to Big Bowl Transfer, Palm Springs, California
Because we got a late start it was unlikely we'd get to skate today if we drove all the way to Tucson. It was decided to hit up Yard owner Jeremiah Risk in Palm Springs to see if we could get a session in at his backyard fun land. The answer was yes and the session was good. Everyone ripped but Marcelle put the finishing touches on the session when he became the first person to gap from the mini zone over the deck into the deep end of the main bowl. Shit, he did it so good and within only a few tries. This trip had gotten off to a great start.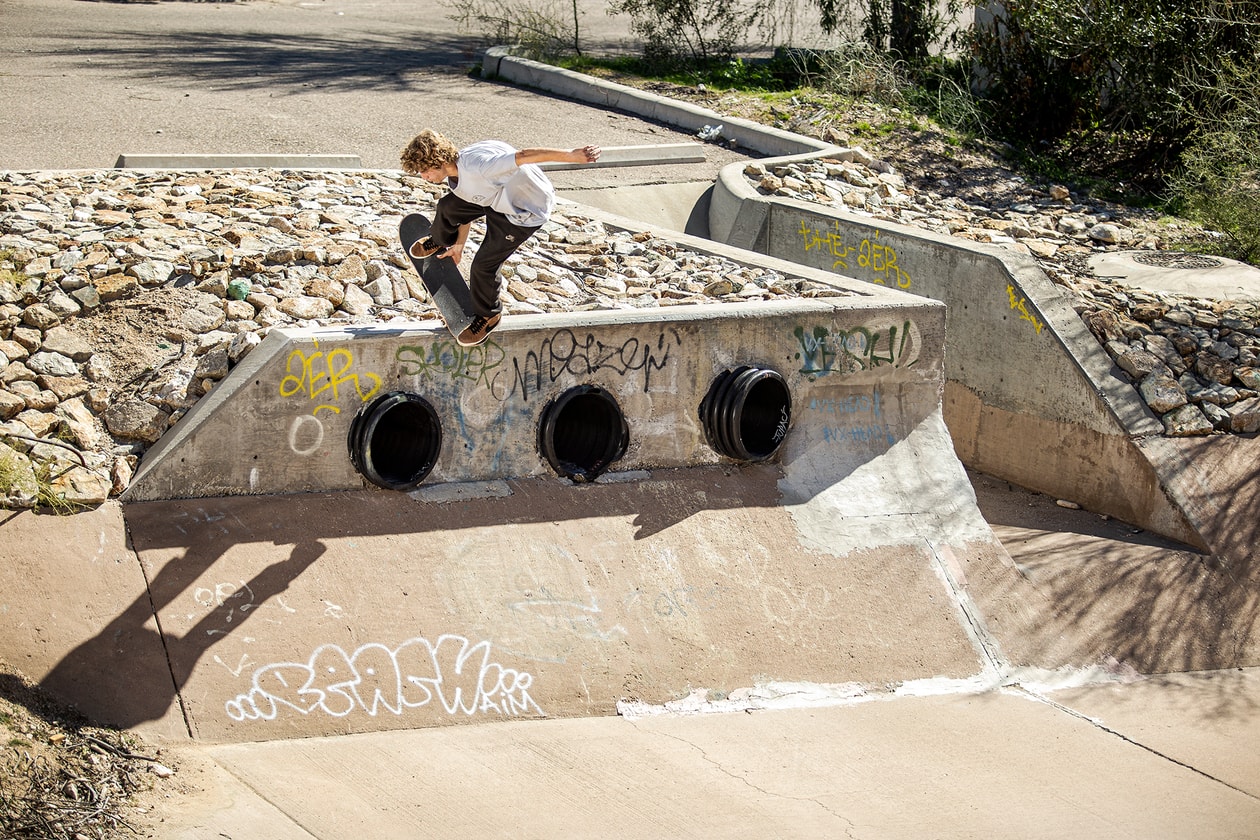 Jesse Lindloff, Bluntslide, Tucson, Arizona
The first spot we hit in Tucson was this ditch that had a DIY vert wall situation that had three pipes as obstacles to clear. First in was Jesse and he didn't disappoint and finished his session with a bluntslide to pull in fakie over all three pipes—so sick.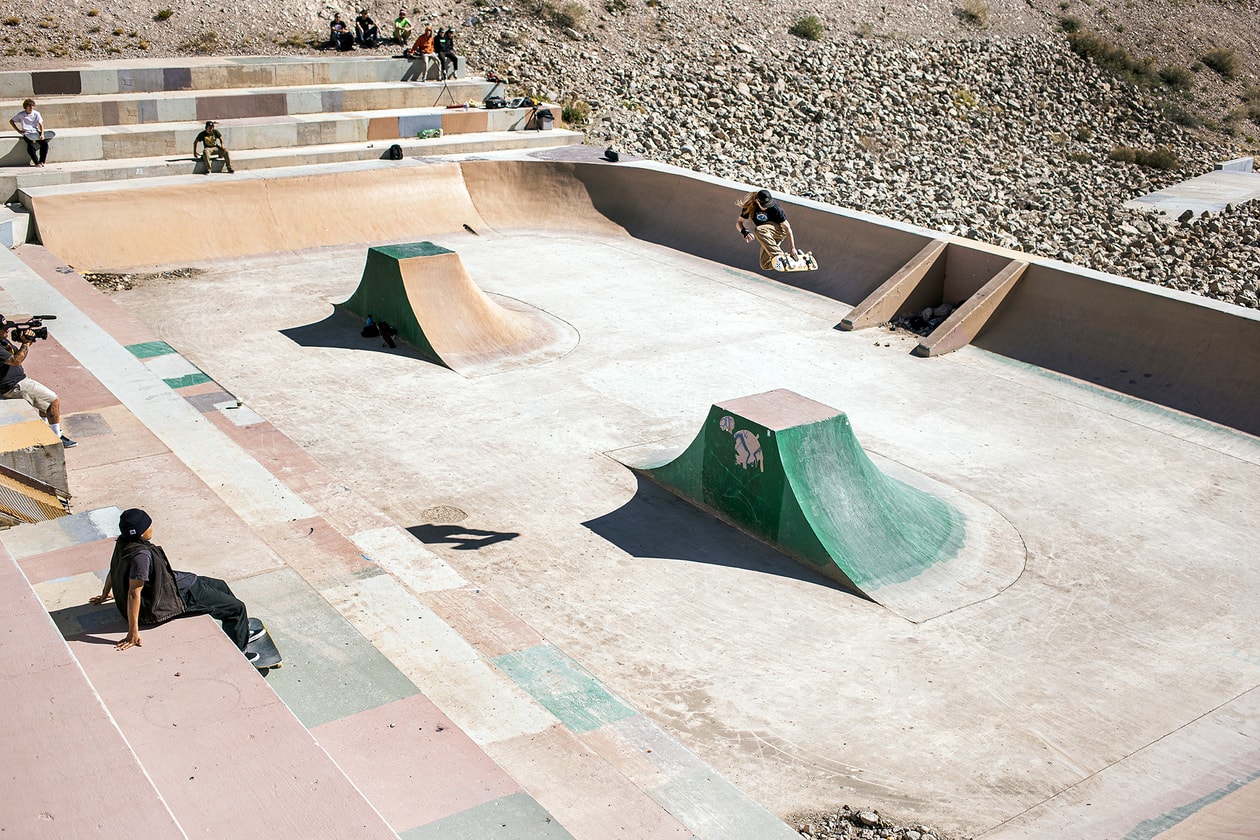 John Worthington, Backside Grasser, El Paso, Texas
The list of El Paso spots was long and that's why we decided to stay there for three days so we could hit as many as we could. Most people have seen this ditch spot before but it is so much sicker in person. Watching J. Worth launch over the pyramids through my 40mm pancake lens was pretty damn hot.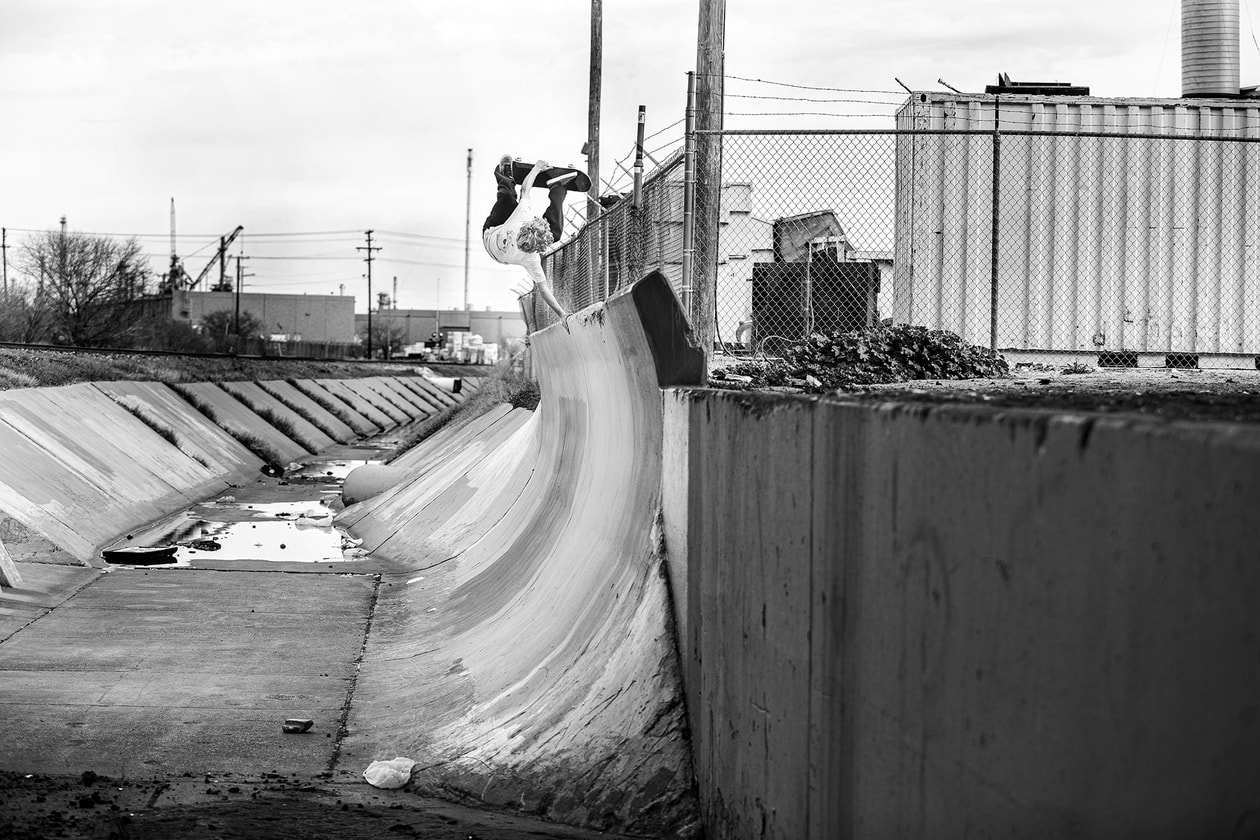 Jesse Lindloff, Frontside Invert, El Paso, Texas
Another El Paso spot that has to be seen with your own eyes in order to realize just how fucked up this frontside invert actually was. Ducking under a bridge, avoiding concrete pillars and riding over a huge crack on approach and landing was what Jesse had to do to make this. In my head, I thought there was no way it was going down but he did it twice.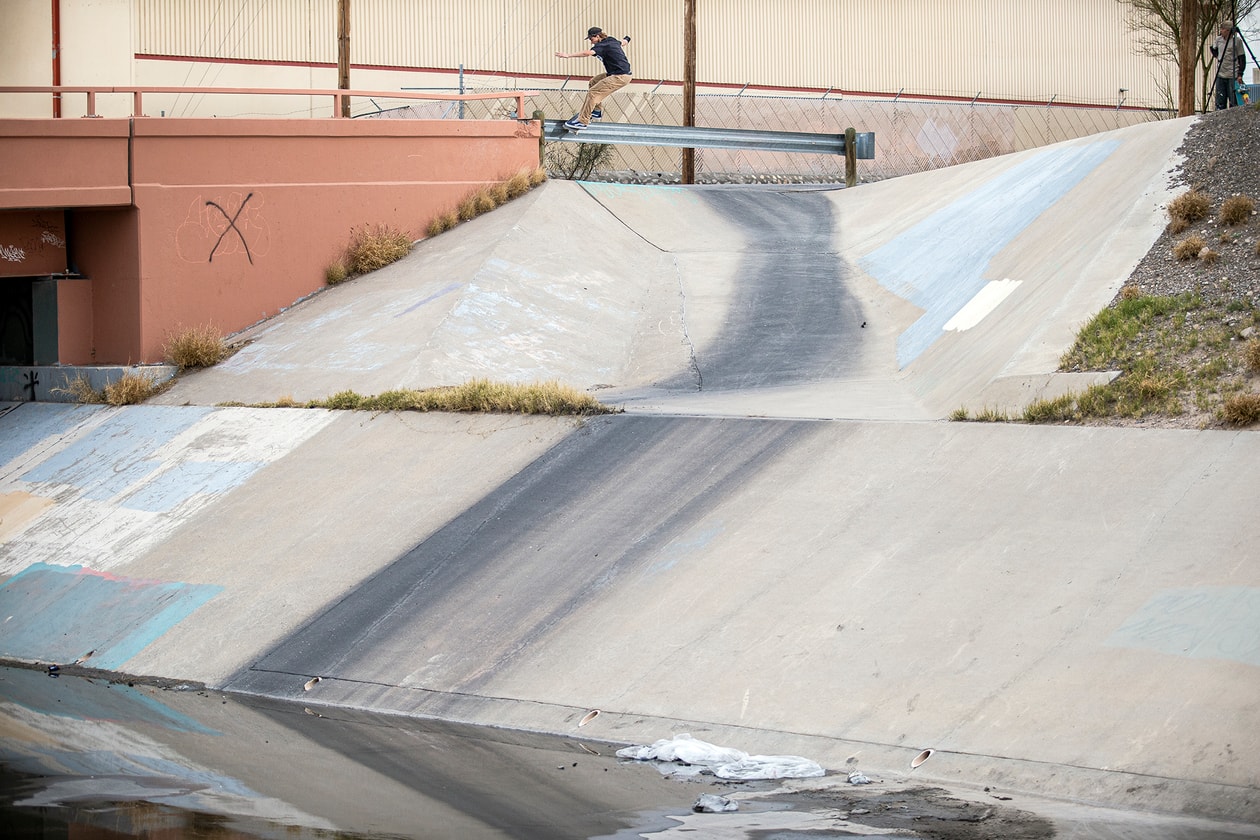 John Worthington, Smith Grind, El Paso, Texas
Very cool El Paso ditch spot. JWorth Smith grind to double ditch bomb before the rain came down.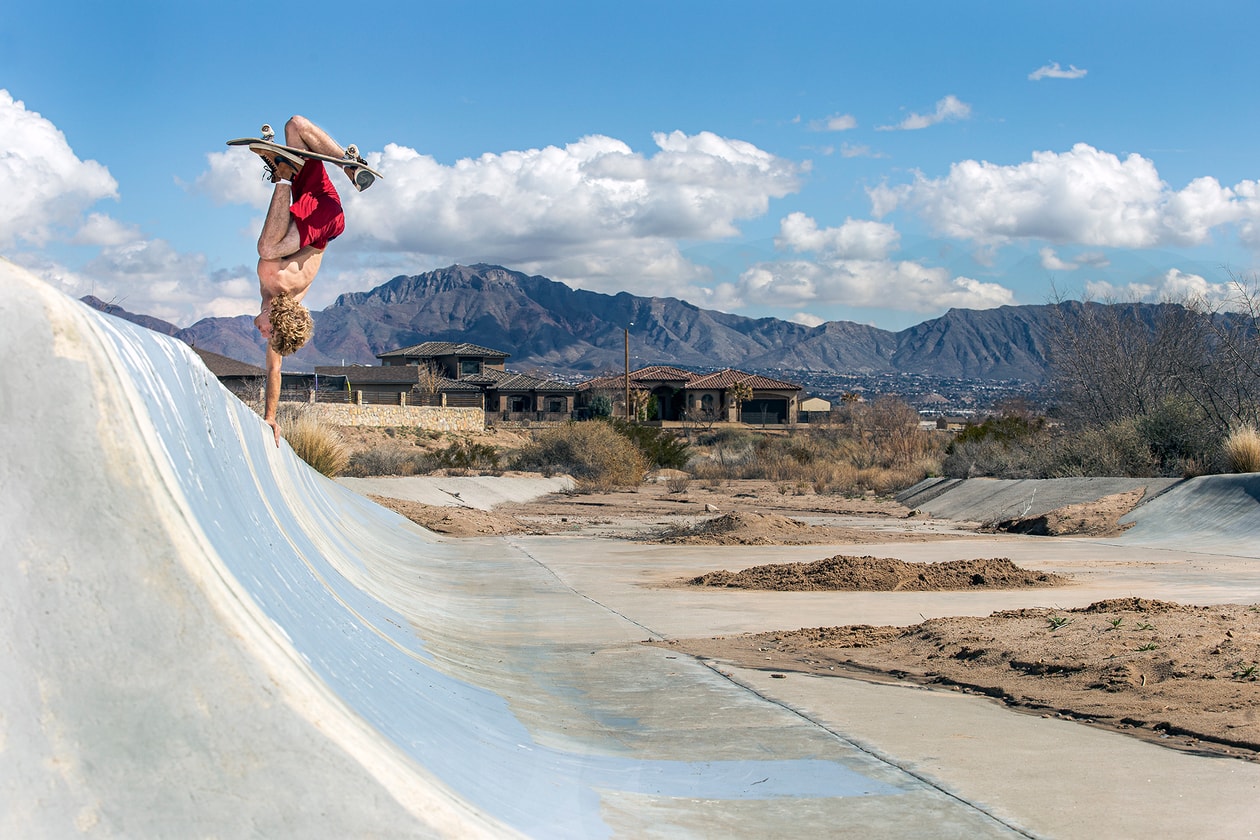 Jesse Lindloff, Smith Invert, El Paso, Texas
A dream spot made for skating and also water runoff killing two birds with one stone. We had so much fun riding this spot that it was hard to leave. Jesse somehow cranked out a few Smith verts on the three-foot zone.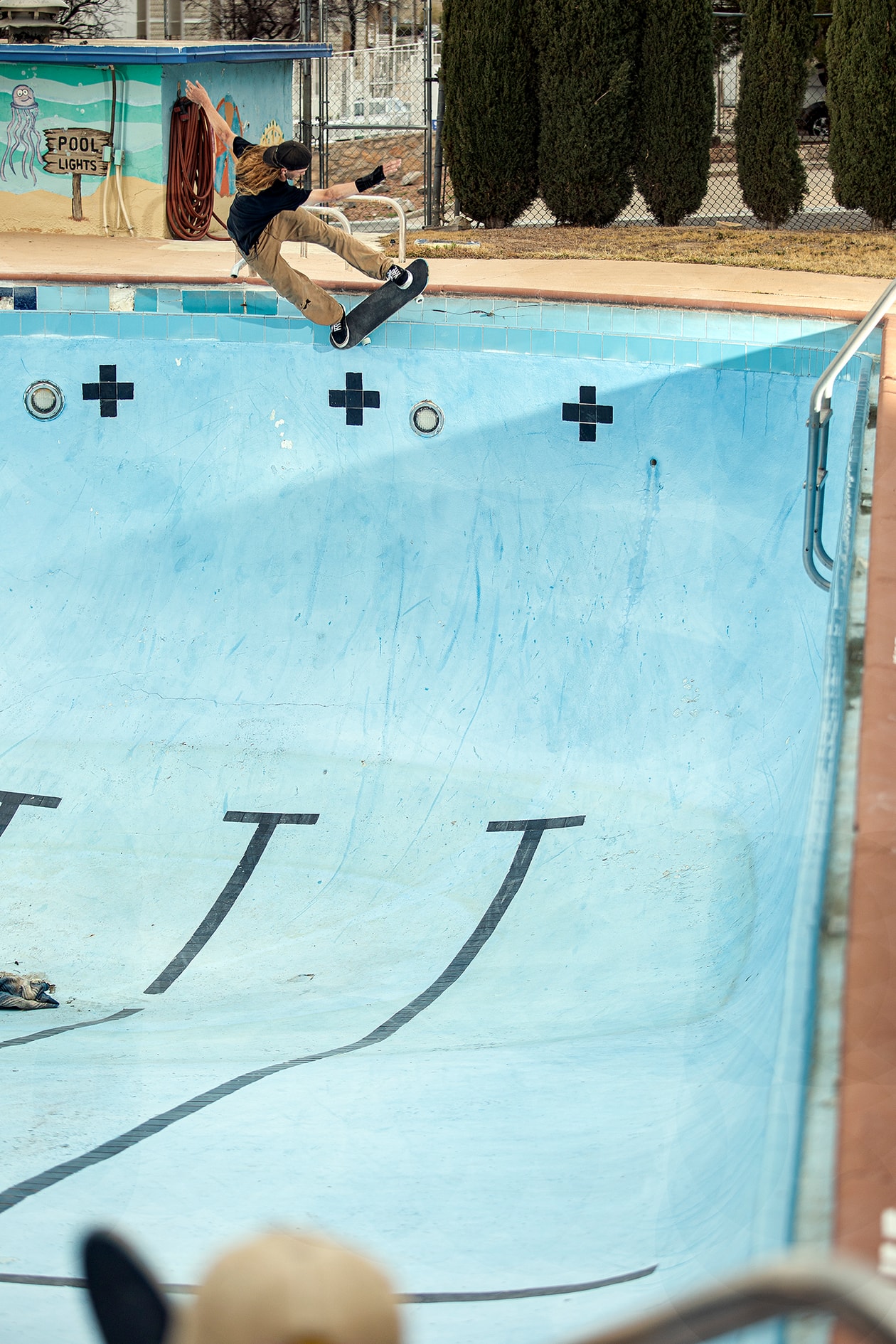 John Worthington, Five-0-To-Fakie Over Two Lights, El Paso, Texas
In all my years of watching people skate pools, John is one of the best I've ever seen. Right up there with Ben Raybourn, Chris Miller and Brad McClain. The way he adapts to any wall is amazing to see in person and he looks great even in situations where there is little to no transition. I was blown away to hear that he'd never done a Five-0 to fakie in a pool and that this community pool with a spit gutter was going to be the one that changed all that. Cross that off the bucket list.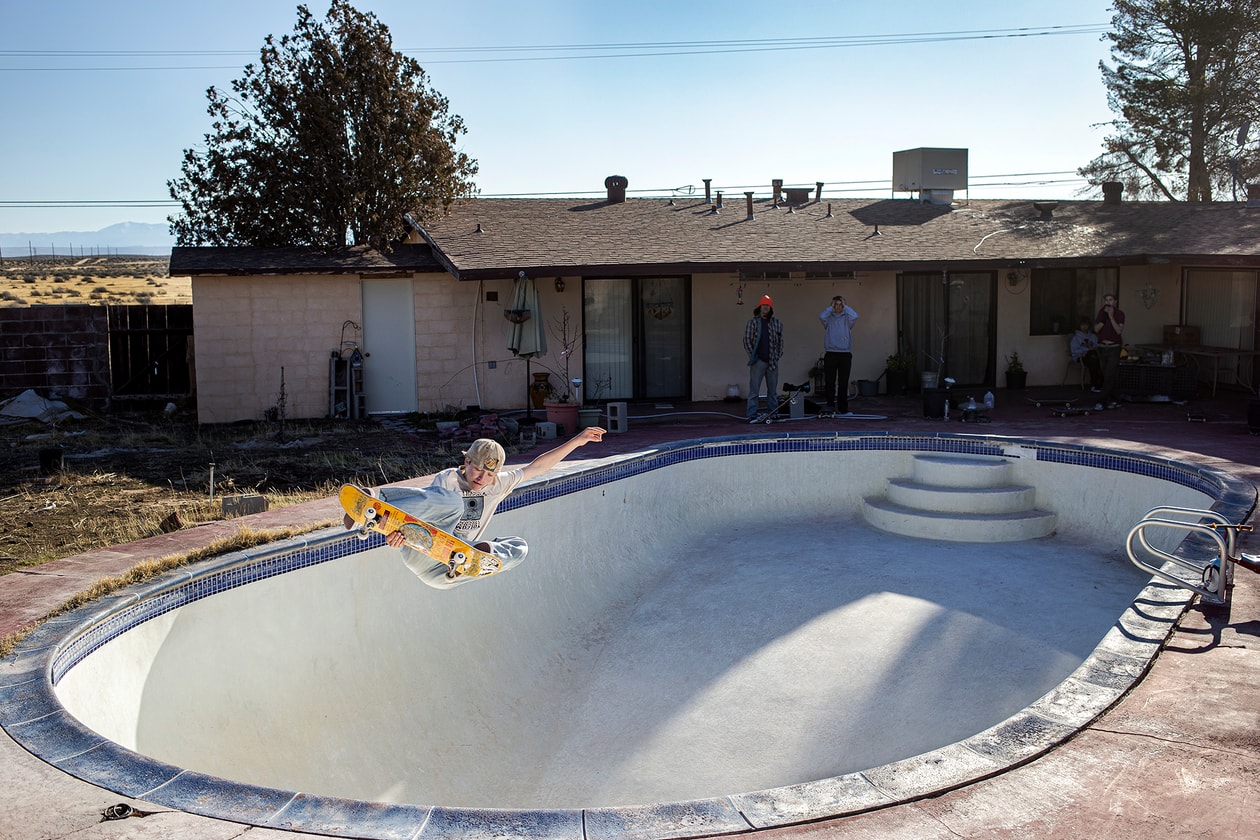 CJ Collins, Stalefish, Edwards, California
Seeing CJ run across the yard and jump into the waterfall before launching into this face high stalefish was an approach I'd never seen before. And because this was the start of a mind-blowing line he had to do it at least a dozen times before he nailed it just the way he wanted. Try that in a backyard pool.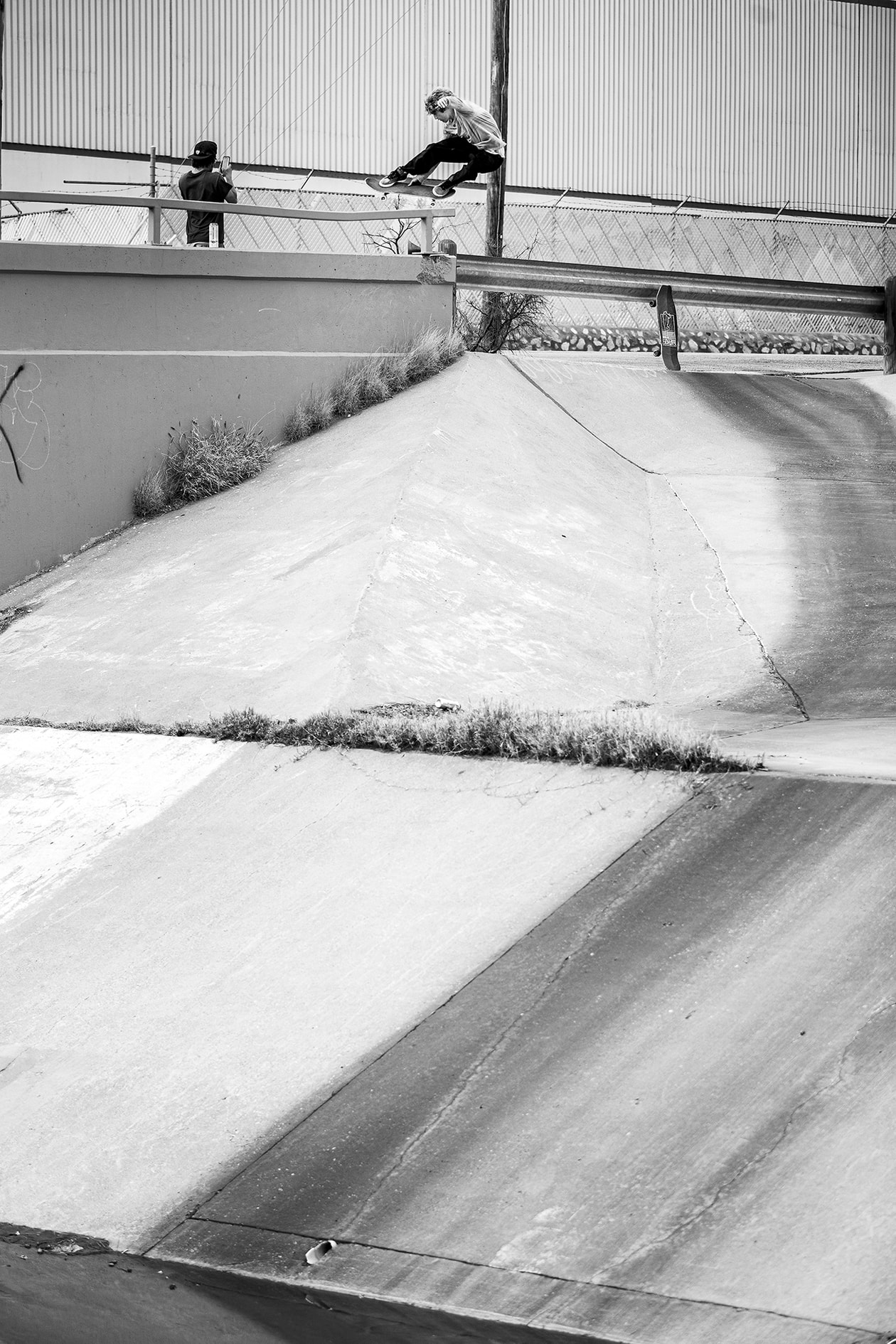 Jesse Lindloff, Backside Grab Over Guard Rail, El Paso, Texas
After getting punctured by a thorn tree after an earlier attempt and launching over the guard rail, Jesse made it clean for the gram. Jesse loves to have fun while riding his skateboard.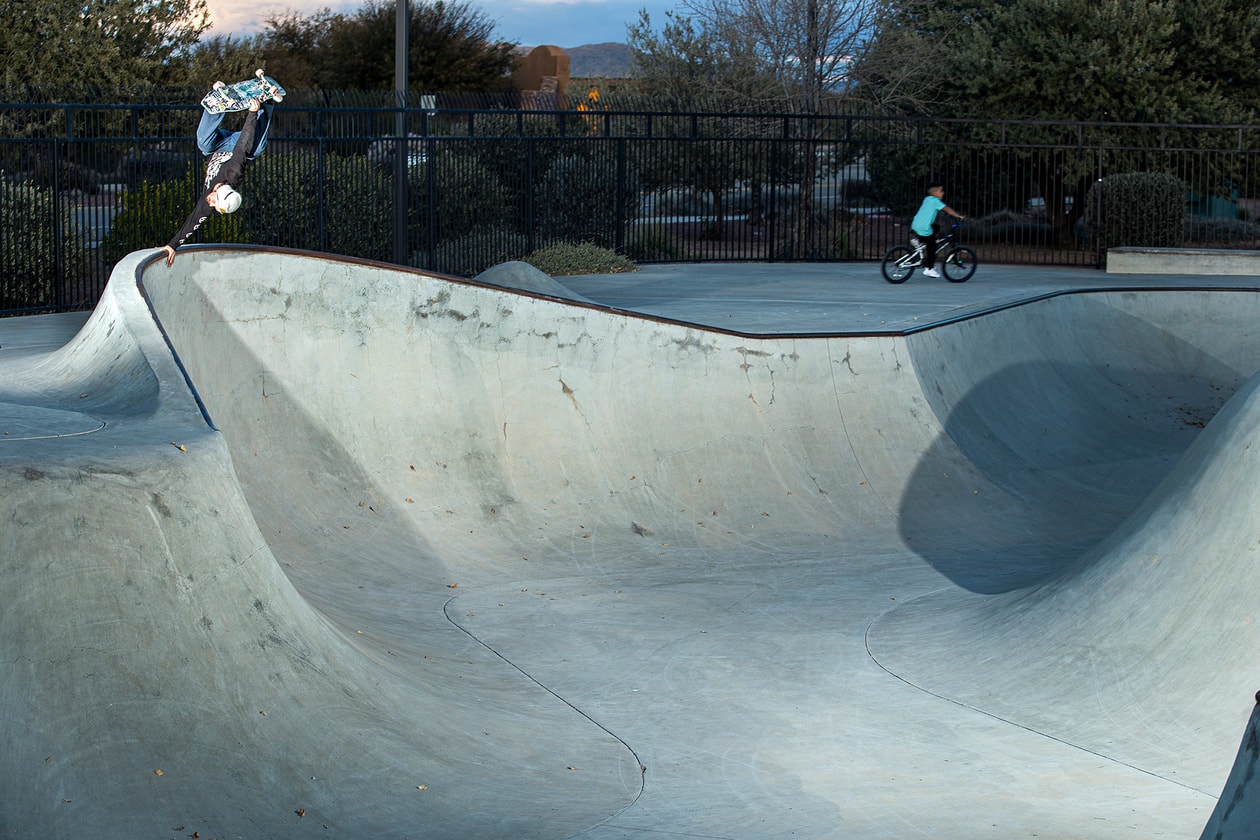 Marcel Martinez, Frontside Invert, Red Rock, Arizona
When driving long distances, it is a good idea to make skate stops along the way. On this day, we started out in El Paso, Texas and drove through a pretty heavy snowstorm throughout most of New Mexico. Once we got into Arizona the weather improved and before getting to Phoenix we checked out a skatepark in Redrock, Arizona. Marcelle has a pretty proper frontside invert in his back of tricks.
John Worthington, Backside Ollie, Goodyear, Arizona
After looking at several spots without anything being produced we decided to head back to California but hit the Goodyear, Arizona skatepark first. While there a local told us about this guy who was living off the grid in the hills outside of town and he'd built a quarterpipe out of concrete as one of the walls of his living space. We checked a few photos and decided it might be a great place for a sunset session and maybe some fireworks before getting on the road. Our decision was a smart on and this J. Worth backside ollie with the cotton candy skies is the result (of the skating at least).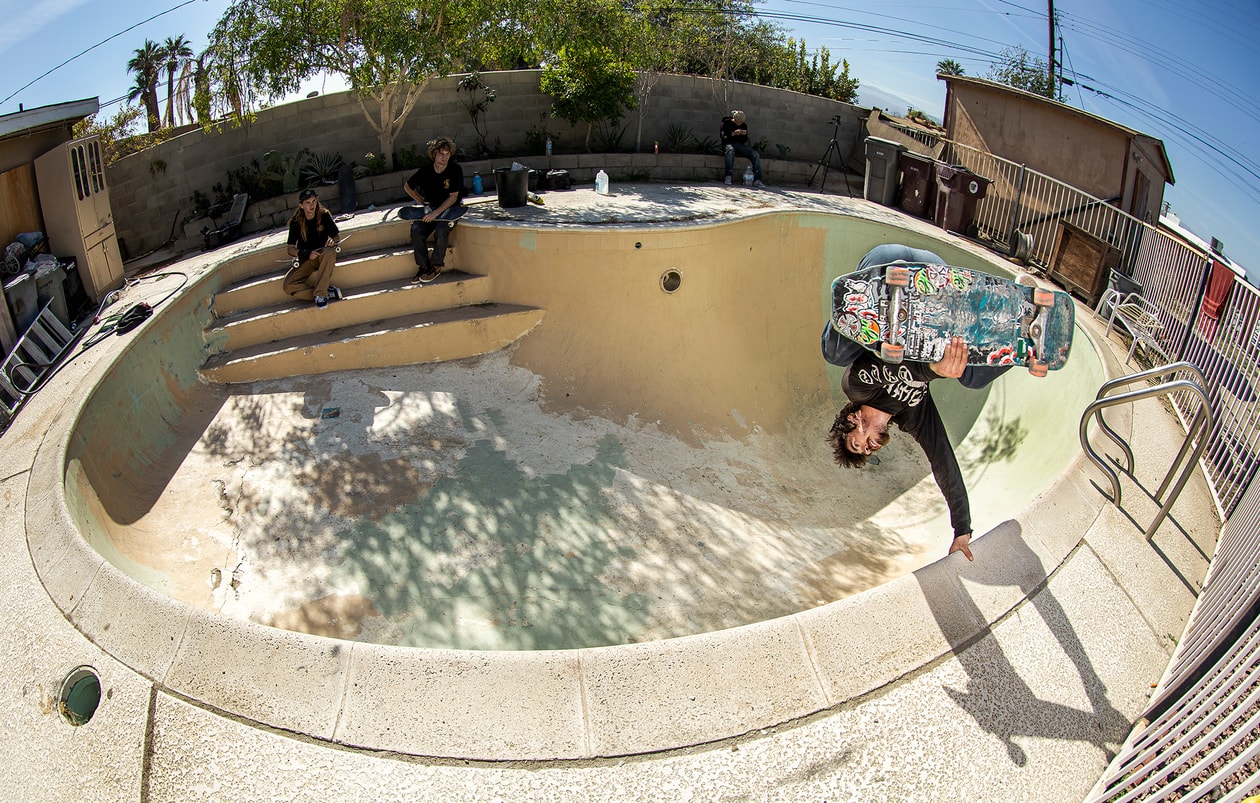 Marcel Martinez, Shallow End Handplant, Indio, California
Our last day of the trip was spent in Indio, California knocking on doors of houses that had empty pools on Google Maps. Some were filled up and most we got a quick denial from our request to skate them. This was the first of two we got to skate and it was a gem. Marcelle did a line with an invert into the shallow end that was quite a sight to see.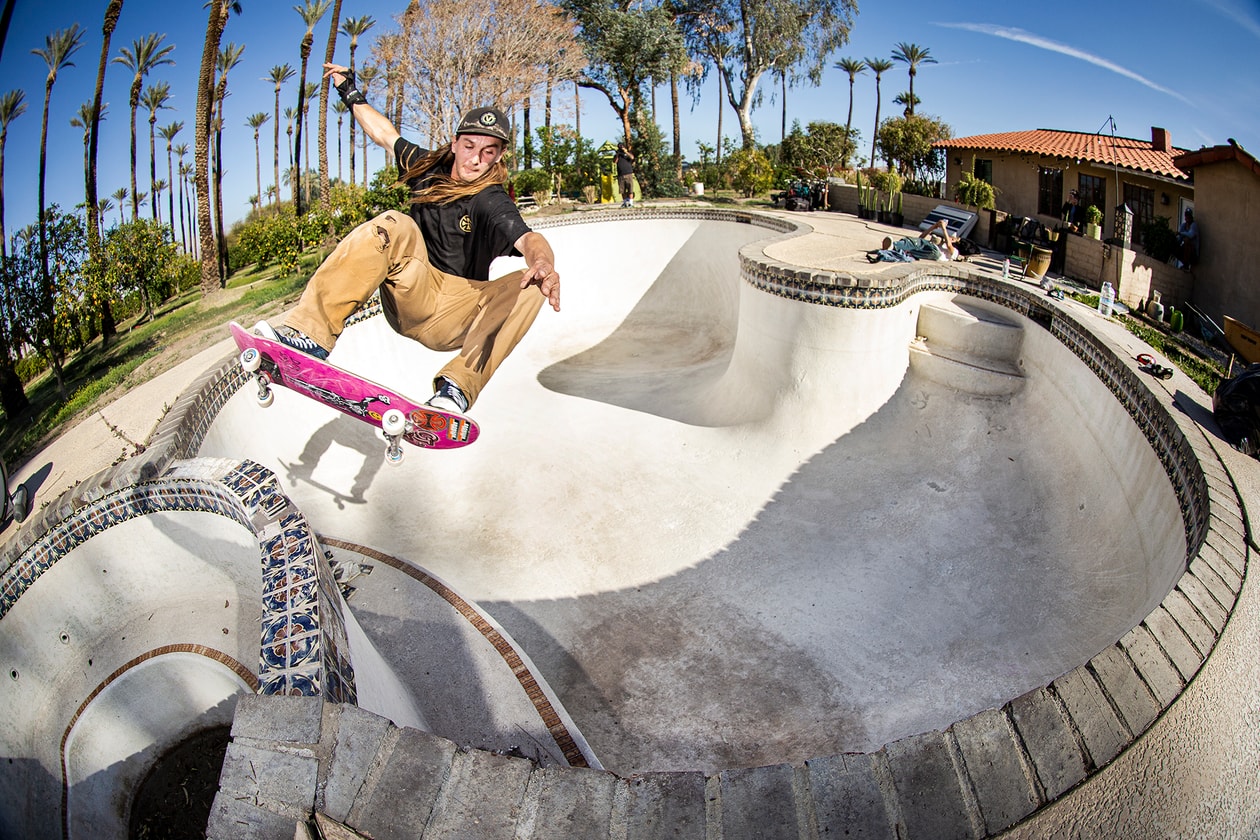 John Worthington, Ollie, Indio, California
We were pretty much over it when John said to make a U-turn so we could check out one last backyard possibility. We pulled up and John got out and talked to the owners who were open to letting us have a shred. In fact, their hospitality was above and beyond for a group of road weary skaters so John gave them something they'll never forget. This Jacuzzi clearing shallow end ollie was the perfect ender for a very productive skate trip.
Check out four decades of Dave Swift's portfolio at DaveSwiftPhotography.com!