SEOUL BROTHER NO. 1: INTERVIEW WITH TED KIM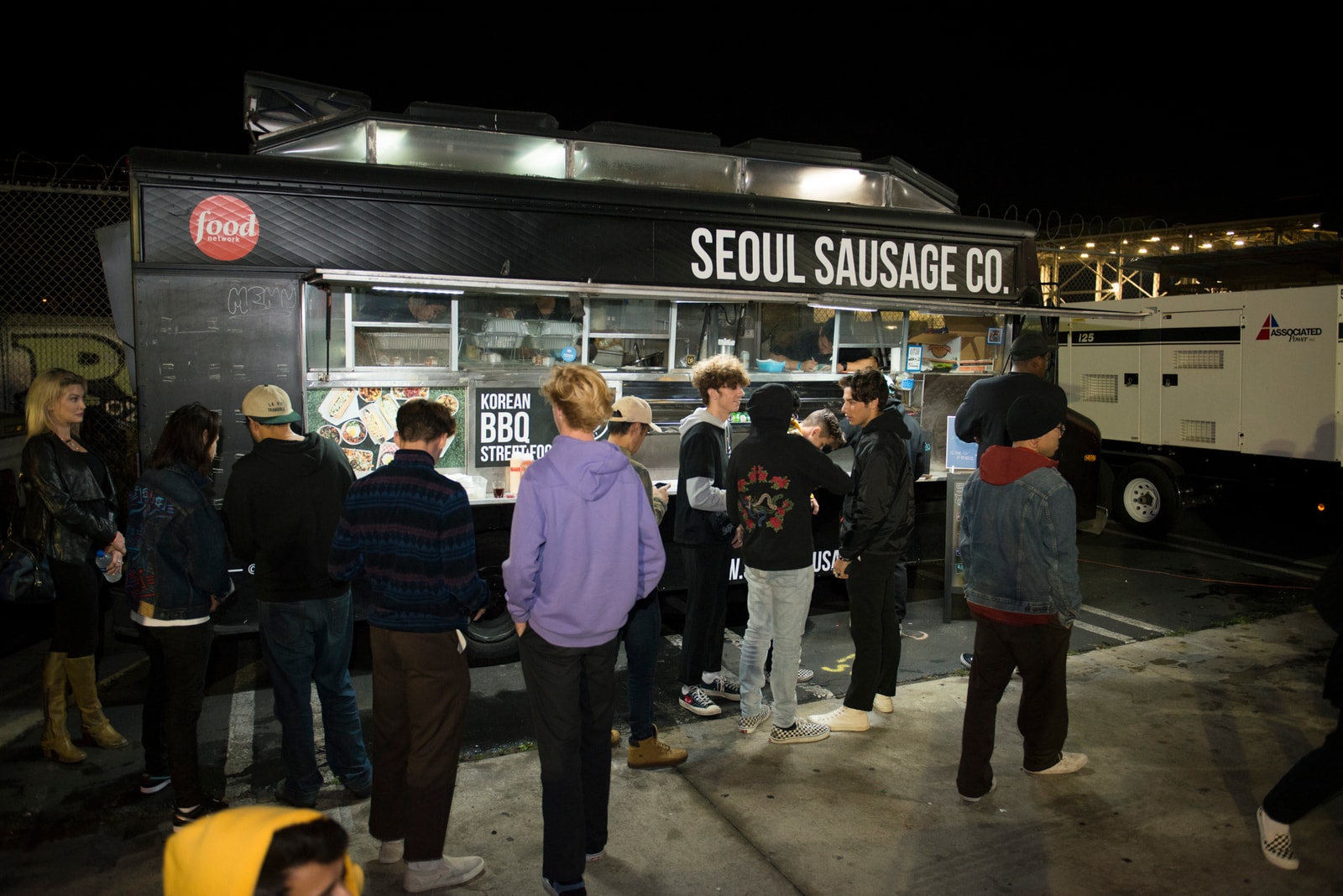 The Seoul Sausage Co. truck at BATB 11 Finals Night. 
WORDS: Stu Gomez
Los Angeles has a rich history of culinary experimentation, and this is probably best represented in the city's dynamic food truck scene. Cuisines of all genres and geographical origins can be found rolling around these busy streets with the freedom to reach their customers where they live, and expanding their palates. Then, they just disappear into the smog.
One such truck is operated by Seoul Sausage Co., founded by the brothers Ted and Yong Kim. Years ago, the Kims had a goal of creating a sausage that is true to their culture, and they succeeded even though they were technically sausage novices in the beginning. Starting out in their apartment, the homegrown operation eventually got an insane amount of recognition when the Kims entered in the third season of The Great Food Truck Race, a top-rated show on The Food Network. It was just the boost that they needed to expand Seoul Sausage Co.'s operation.
Now, the Kims have a restaurant and Seoul Sausage Co. is a regular fixture at LA sporting events. Luckily for us they haven't gotten too big to serve the hungry skaters at this year's BATB Finals Night, though! We chatted with Ted Kim after the smoke cleared from Luan Oliveira's victory to find out exactly how the (Korean) sausage is made.
It was great having you guys at the Finals.
Thanks for having us! It's actually funny—we got invited there through Hypebeast. Me and my brother Yong started by making our own sausages in our apartment; the first event that actually got us coverage was on Hypebeast. It was kinda cool to see that come through 7 years later.
Wow. Do you have a connection to skating?
My brother is a big skateboarder so we've always been about that culture, you know? My brother is like the Asian guy skateboarding—we were always wearing Stussy back in the day, and it's always just been part of our culture. We started off doing big catering events for The Hundreds, and we're just big, big fans of a lot of these streetwear brands and the people that work there. It was kind of a natural thing for us. We were actually at The Berrics a long time ago for HUF.
How did you guys become interested in doing this? Was there like a childhood sausage inspiration?
You know what's so crazy? We just love Korean food and we love sausages! At one point, Korean food was really popular in LA, but there was no such thing as a "Korean sausage," which is kinda weird because every country has its sausage except for Korean people. So, we learned how to make a sausage on YouTube and started messing around with it. We started doing pop-ups at festivals and just anywhere they would have us. It was really popular from the get-go!
Was it pretty easy to learn how to make a sausage?
It was not! It took quite a bit to learn that.
A pretty big learning curve, right? What was a major roadblock for you guys?
Just getting the flavor right. I think that the hardest part for us is that we're creating a new product, so we want to pay homage to our culture. We want to make sure that our parents' generation will give their stamp of approval on the flavors. And we wanted to make sure it resonated with the new palates of America, you know?
So you didn't try to dumb it down for American tastes?
We didn't. We totally tried to keep it real. When my dad ate it for the first time he was like, "I would definitely eat one of these after a round of golf." We were like, Oh shit! We got something nice here!
"We want the sausages to be the gateway drug to Korean food!"
Were you guys aware of what makes up a sausage? Like the casing… 
Yeah, they use pig intestines; most sausages use hog casings. My perception of sausages definitely changed after we started making them! We grew up like every Asian kid—eating Spam and processed meats—so sausage is just very nostalgic and hits home with us. Just the fact that we're able to make our own sausages is very cool, you know?
You also do balls and kalbi (short rib) burgers. What's your signature item?
At our restaurants we're all across the board. We really just try to promote real Korean flavors in a more approachable manner: we make Korean BBQ burgers; fried chicken with Korean sauce. I guess our staple item would be our sausages. We're trying to get them all across the country now—we want the sausages to be the gateway drug to Korean food!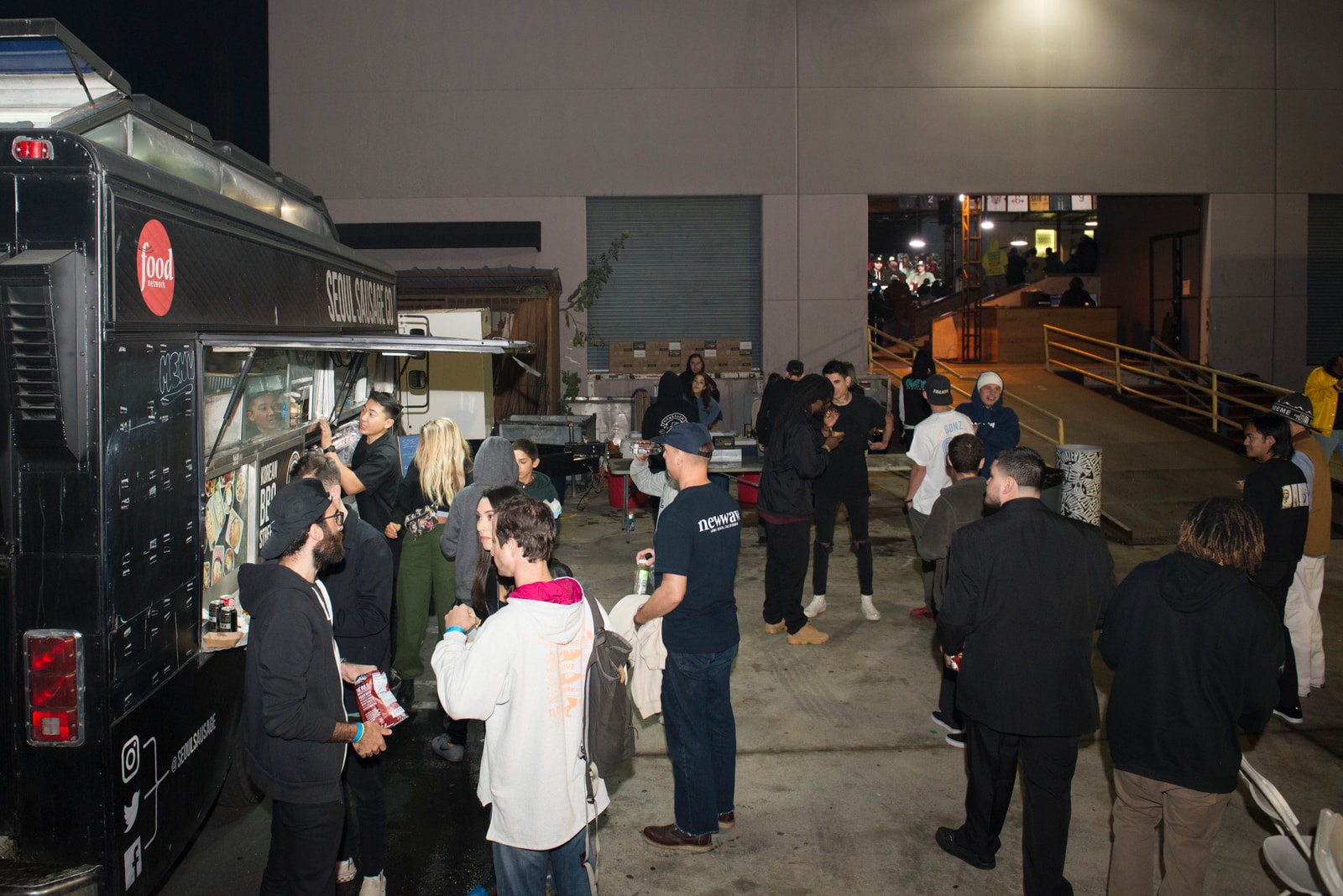 You had a pretty big growth period when you guys actually won the Great Food Truck Race. Does the food truck still make up a big share of your business?
Honestly, when we first started our business was when the Kogi truck and all these other food trucks started appearing, and we didn't want to go the food truck route. Not that we didn't "want" to, we just didn't put that in our business plan. But when we saw this open casting for 3 team members in a contest who have never been in a food truck before, we just jumped on that. We wanted to compete, and we wanted to see how our food performed in, like, random cities in Texas and Tennessee.
We wanted to see if America was ready for our product, and we ended up winning that season. It was a big eye-opener for us: America is ready for the Korean flavors, they just don't have access to it.
Basically it was market research you guys were doing.
Yeah, but we're having fun with the race, too! It was like a win-win situation for us.
Where can people try Seoul Sausage Co.?
We have a restaurant in Oxnard, and we're part of the LAFC—the new football club—at Banc of California Stadium, we opened up a booth there. Right now we're doing a lot of the Rams and USC games at the Coliseum as well. But everything is evolving: we get our sausages co-packed now and we're trying to sell them to retailers like Costco and Ralph's.
Being at the stadium is working out really well for us. It's kind of like a new, modern approach to your average hot dog. Just the fact that you can get a unique take on a hot dog has been performing really well for us. We're learning as we go: we're still adapting, we're still learning about what America likes to eat and we want to be there when they're ready for Korean food.
In skateboarding, there is a pretty big demographic of skaters who are interested in cooking and who in many cases actually work in restaurants for a living. What advice would you give to skaters who want to start their own culinary thing?
We actually had a lot of employees that were into skateboard culture and we even created our own skate decks and handed them out at holiday parties and stuff. And what I always tell those guys is… The restaurant industry is tough! But it's like skateboarding: you want to grind it out and practice.
I always recommend starting small. Have a pop-up, where you're inviting friends over and seeing if it's even good. And then from there you could try something like the Silver Lake Jubilee, a street festival where you might pay $100 to get a booth. Just try it out there and see how it resonates with people. Then from there you don't have to spend thousands of dollars, you just see is you have something special and how people respond. Just go organically from there.
And if it doesn't work, then you don't have to spend tons of money getting a food truck or opening a restaurant. Then, just go work in other kitchens because you can never stop learning in the kitchens. There are always new techniques, new recipes, and new food genres that are appearing every day. It's all just practice, man.
For menu, locations, and bookings visit SeoulSausage.com or  follow @SeoulSausage.