SHARP AS A HOUND'S TOOTH: THE SKATEMOSSS INTERVIEW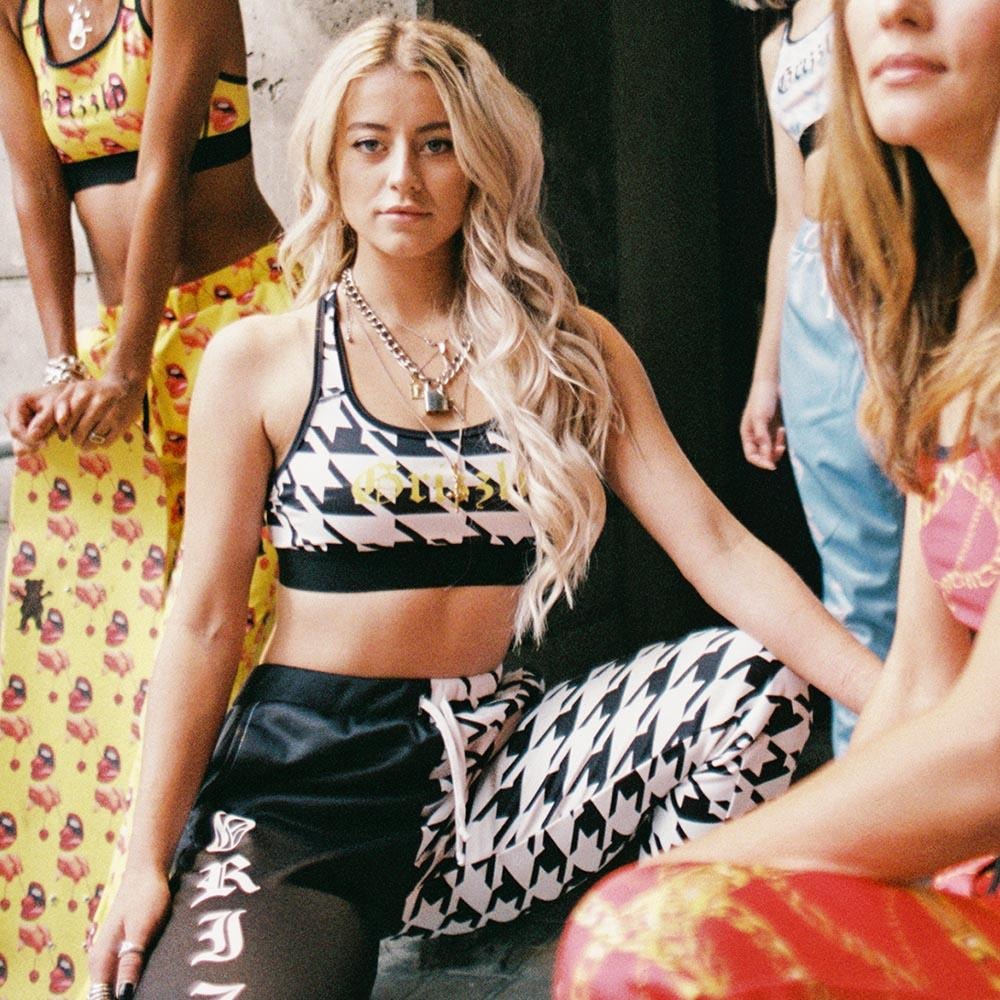 WORDS: Stu Gomez / PHOTOS: Natasha Riberio-Astrich
Victoria Taylor, the 22-year-old known worldwide as "SkateMosss," started skating last year and documented her progress on Instagram since the beginning. Just about every milestone, from the slams to the makes, were posted to her account.  Over the course of a year, it was frankly astonishing to see how much she had grown (casper flips and fakie 360 flips aren't exactly considered first-year basics for most skaters). After getting some recognition and reposts from—among others—The Berrics, Taylor's @SkateMosss account had shot past 92,000 followers. (At the beginning of May 2017, when Taylor posted her first skate clip, the account had just 4,000 followers.)
This week, Taylor's following got a shock when she announced that her inaugural clothing line with Grizzly Grip was now available for sale. Her fans, accustomed to being consistently surprised by Taylor's creativity and perseverance, should have seen this coming. The Utah native has had a lifelong passion for fashion, and is currently enrolled at FIDM in LA (as a high school senior, she submitted her portfolio to FIDM and FIT in New York). Her individualistic flair and little-to-no attention paid to "matching" (to Taylor, monochrome is basically a dirty word) are instantly recognizable characteristics—even casual observers could pick SkateMosss out of a line-up. And that's what she's counting on.
We caught up with Taylor after the smoke cleared from the announcement and talked to her about her personal style philosophy, how the Grizzly collection came about, and to find out what's really good with houndstooth.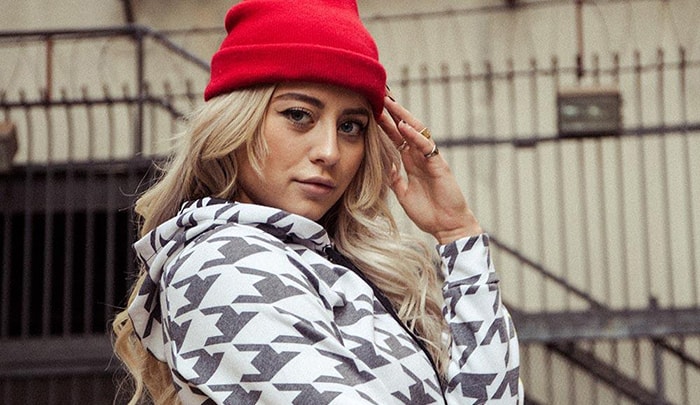 How long has this Grizzly line been in the works?
A couple of months, I'd say.
And how did it all come about?
They actually emailed me, all the dudes over at Grizzly, 'cause they liked my style and how I stood out—all these wacky colors and everything [laughs]. They just asked me if I wanted to help them and do a little fun collection! I met with them and we went over it all and then we agreed to do it.
Were you already a Grizzly fan?
Yeah, I knew a lot about them. And I do like their griptape, it's one of my favorites; it rides really well.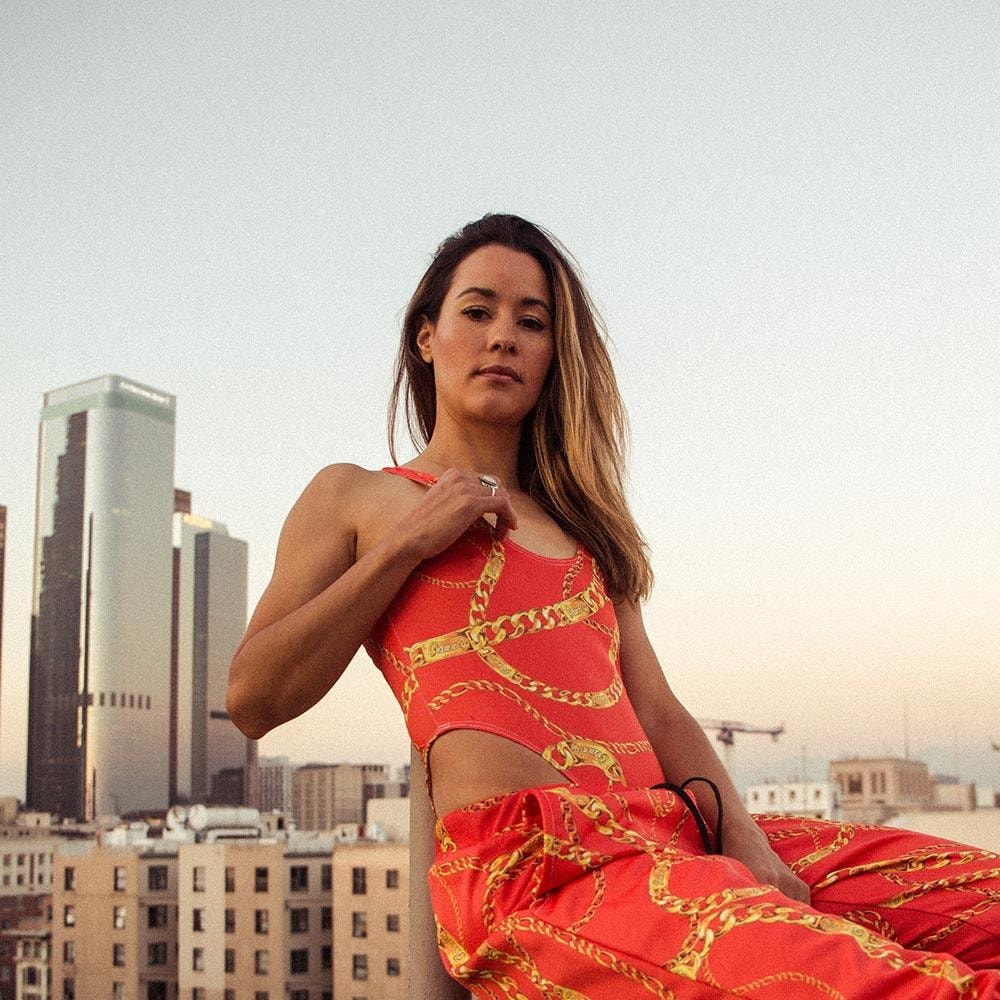 Were you thinking, Cool I can do some grip designs? Or were you immediately envisioning apparel?
I was stoked! At first I thought it was just griptape. Even then I was stoked 'cause I've always wanted to make some grip. I just felt like a lot of the things I wanted to have on my board a lot of companies didn't have, so I thought it would have been cool to make my drawings and my images come to life. When Grizzly reached out to me I was super stoked on that, and then they threw in "Well what about a women's clothing line?" I just lit up, I was so excited!
Were you like, "You guys do that?"
I was so confused! They were like, "This will be the first-ever women's capsule." I was like, No way! You want me? It was pretty rad—I was so shocked!
And you study fashion, right? Did Grizzly know about that?
Yeah, I go to school for fashion. I don't think they knew that, necessarily, but I've studied fashion my whole life. A couple of years ago I started going to school for it; that's why I moved to Los Angeles. For fashion.
Did you have a goal when you decided to enroll in school?
Yeah, I always knew that I didn't necessarily want to work for anybody. I just wanted to do what I wanted to do, and design my own clothes. Just make everything that I wanted to wear come to life, and eventually starting a business was my goal.
Were you already studying the business side of fashion when Grizzly contacted you?
Yeah, my degree is in merchandising and marketing, so I learned a lot about business plans and how to start a business, and how to keep a business going. Now I'm learning all the financial accounts and statistics, all the math… all the boring stuff! [laughs] I knew a lot about it, so it was cool to take what I'm learning in class and apply it in real life at such a young age.
"I just got a manager to help me with all the numbers and stuff."
How are you handling the balance between the passionate, creative side and the financial/number crunching side?
It's a lot, but I get help! [laughs] If I don't know something I get help. But I'm always busy with school and everything. Actually, now I just got a manager to help me with all the numbers and stuff, too, so it's not all falling on me. I get help with that [aspect], which is nice.
Wow, now you know things are getting serious!
[laughs] 'Cause I have too much stuff thrown at me! I needed some other brains added to the team.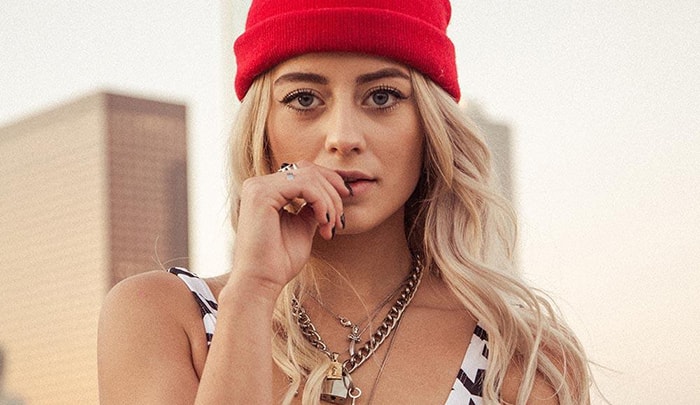 The collection seems really diverse—there are a lot of pieces. Where did you get the inspiration?
Well, if you were to walk in my closet you really wouldn't find a very plain, solid-colored piece of clothing. I really like to stand out and wear things that a lot of other people don't wear. So when Grizzly talked to me about this collection I was like, Okay, they have a lot of stuff that stands out, too—I thought that I could help them.
So I would go into my textile room at my school and I would look through all these patterns, but I wasn't stoked on what I was finding so I just started sketching up a bunch of random stuff. And then all these ideas would pop into my head, so I had like a million sketches! Then I would throw in all these random, crazy colors—that's what I like. I love patterns…
"I really like to stand out and wear things that a lot of other people don't wear." 
Nothing in the collection really matches. It all seems so spontaneous, just whatever you feel like wearing at that moment…
It makes a statement, and that's what I like. That was my inspiration, really: just making a statement and standing out.
It's definitely striking! How many pieces in total are there?
I actually don't know off the top of my head, but there's 4 different sweatpants; there's 4 different sports bras; 4 different hoodies; 4 different shirts, all in the same pattern but in different colors; there's 4 bodysuits; and a red beanie [laughs].
It really seems like the focus is on comfort, right? A combination of active, casual, lounge around…
I mean, when I made this line I wanted it to be something that I could skate in but also hang out in, and also be lazy in. You can dress up sweats, you can dress down sweats. You can dress up a hoodie, you can dress down a hoodie. Same goes with the bodysuits. That was my biggest pet peeve with normal clothing: you couldn't really skate in it or it'd get ruined. So I just wanted to make something that was super on-trend and you could use in any situation.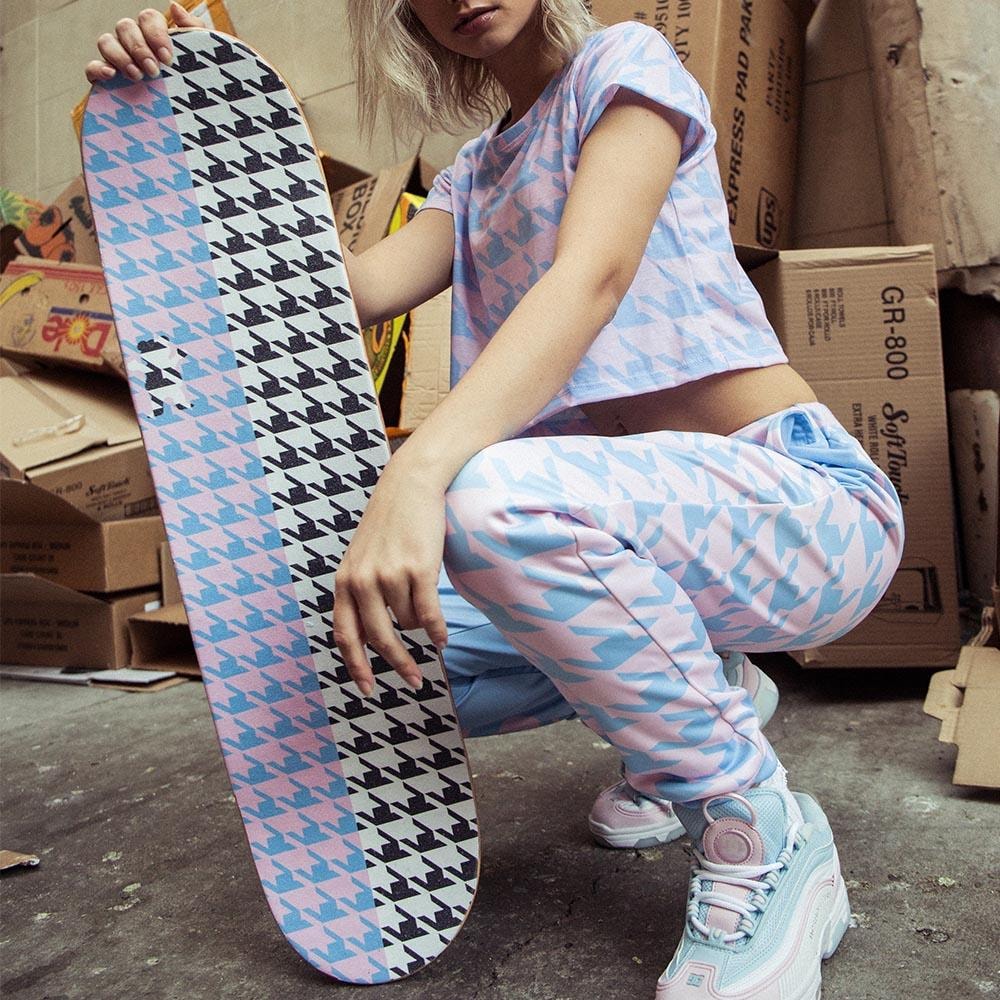 The houndstooth motif carries over on many of the pieces. Is there something specific that really draws you to that pattern?
I have loved that black-and-white pattern since I was a child. The first time I saw that pattern was when I was walking down the street, and I just saw this girl wearing it and I just died over it! It has just always caught my attention, and I thought it'd be fun to do just a classic black-and-white but also do pastel colors—I love pastel colors. I think it's a fun, different pattern you don't really see that often… It was around a couple of years ago, then it went away. I'm trying to bring it back, 'cause I like it! [laughs]
It's definitely classic, and it's nice to see a larger version of it on your griptape. It'll be fun to cut it up on your board and get creative. When did the collection drop?
It dropped Wednesday morning.
"People's support is everything."
How would you describe the response so far?
Oh my gosh… I've had the best response to it. My life is crazy! I woke up with the biggest smile on my face, I posted about it, and I was too scared to get on my phone for a while 'cause I was like, I don't want to see if anybody hates me or they don't like it! So I didn't check my phone for 5 to 6 hours, and when I pulled it back up I was just blown away. I received so many comments and I got the most likes that I've received on any photo.
And I've gotten a lot of messages about it. People's support is everything; I love that people are so supportive. I think that's super important.
What was the general sentiment in all the messages?
Well, I definitely think I really surprised people by putting out a clothing line with Grizzly so I think that was a whole different type of shock. But when they saw the clothing I don't think it shocked them as much. People know that I dress crazy; people know that I dress loud. So when they saw the clothing I think it was exactly what they expected. They were stoked on it, like, "Yeah this is so rad! I'm totally wearing this." All that good stuff!
It obviously represented you and your sensibility.
Yeah, for sure. That's stuff I'd wear every day!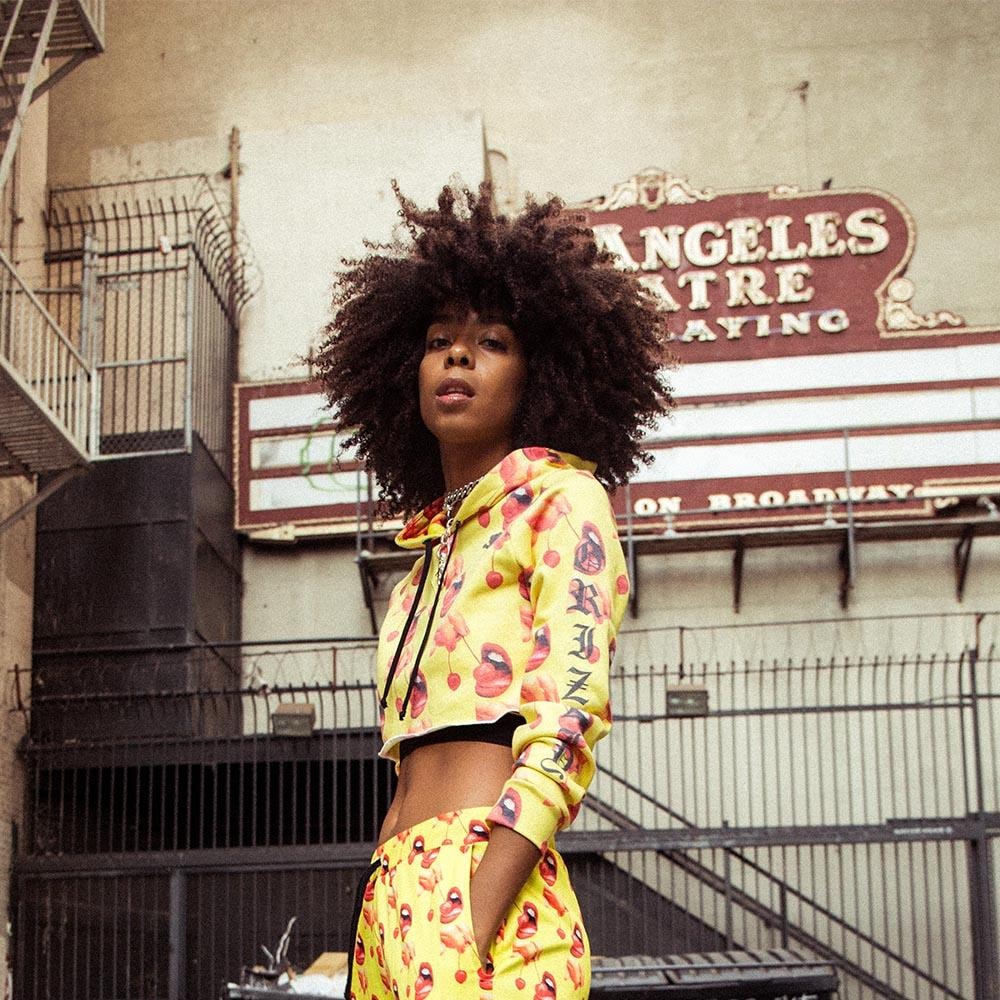 How'd the process of collaborating with the Grizzly design team go? Was a lot of it new to you?
Nothing necessarily was new to me because I've done it a lot, it just hadn't come to life yet. I went down to their offices, I sat down with them, I laid out my sketches, I had them pull out a bunch of colors. Then I had them send me sketches back and I would tell them, "No this needs to be changed," or, "This should be different." They would send those back to me, redo them, and put it up on the mood board.
It was a really big process but it was so fun to have everything laid out in front of you, and to pull things and throw things away. It was kind of a lot, but that's what's fun: just planning it all out.
Was it hard for you to balance designing this collection, going to school, and then trying to skate?
I mean, yeah. I'm always busy; I always get pretty tired. But I just gotta keep going. I gotta take advantage of it.
I'm in school for hours: I take 5 classes and they're all 3 hours long. And then I skate when I'm not in class, and then I gotta do some of my freelance jobs. I'm always busy, but it's good!
What's next for you?
Oh my gosh. Hopefully more! For sure I'll be making more clothes, but [they'll be] more luxurious, I would say. And probably my own line—I really need to take a lot of time on that. That's been in the works for a while. I've already been sketching out stuff, but I also want to make it worth it. So, this Grizzly collection, I'm just so blessed for it because it has helped me so much!
The SkateMosss x Grizzly collection is available now.