THE SHECKLER FOUNDATION'S 10TH ANNUAL 'SKATE FOR A CAUSE' EVENT IS GOING NATIONWIDE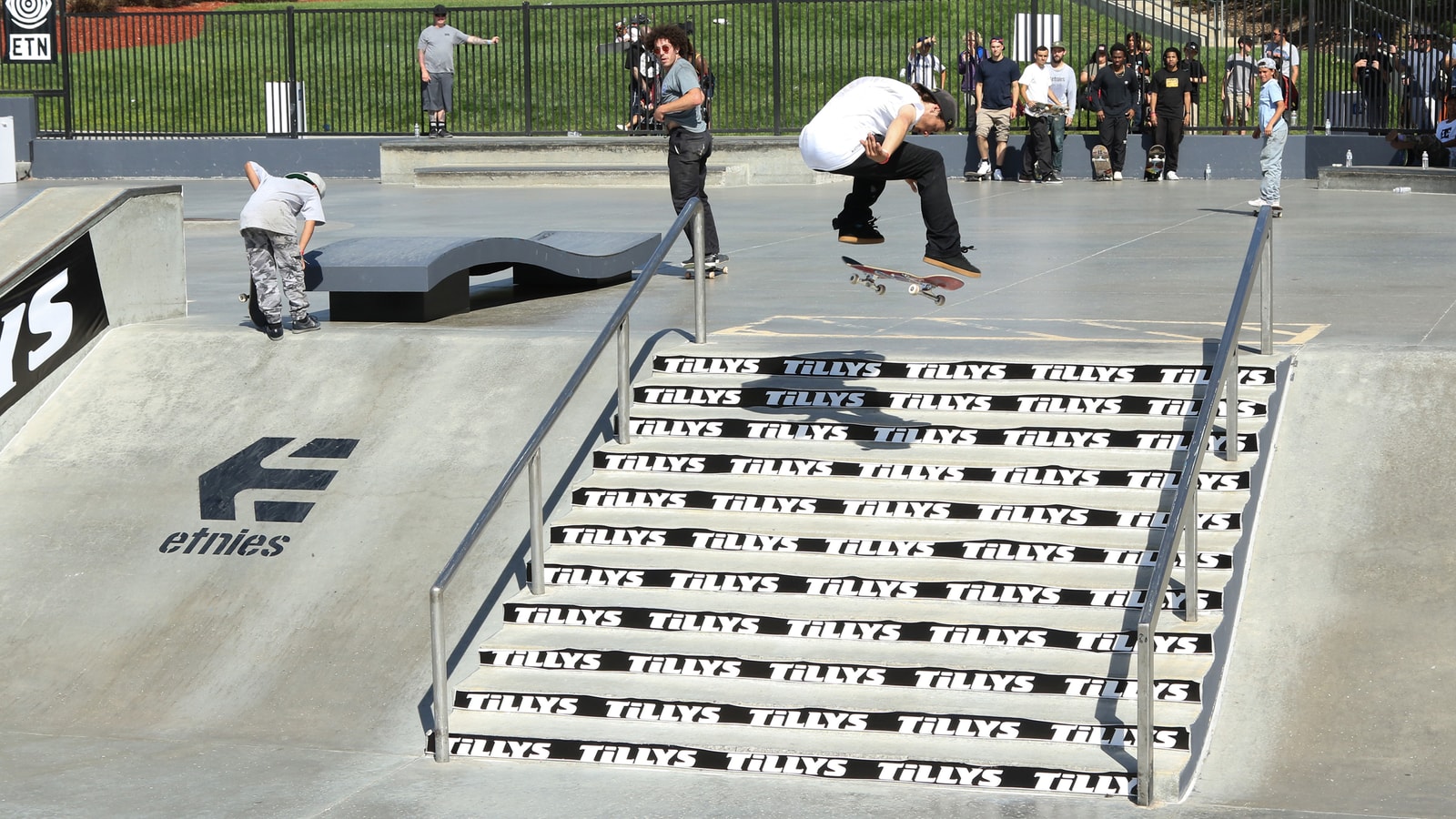 Chris Joslin at the 2018 Skate For a Cause. Photo: Custodio.
The Sheckler Foundation today announced they are taking their 10th annual Skate for a Cause nationwide this summer, revealing 10 recipients that will receive $10,000 "Be The Change" (BTC) grants.  Ryan Sheckler's foundation will be donating a total of $100,000 to causes across the United States that support its core mission for supporting injured action sports athletes and children in need.
For the last 9 years, Skate For A Cause has been a local, family-friendly event that features a world-class skate jam and carnival aimed to help raise funds for The Sheckler Foundation's "Be the Change" initiative.  This year, to celebrate the 10th Anniversary, the Sheckler Foundation is taking Skate for a Cause on a 10-city nationwide demo tour.  Attendees can come see Ryan Sheckler and Sheckler Foundation SKATEboard members when they visit any one of the cities represented by the grant winners.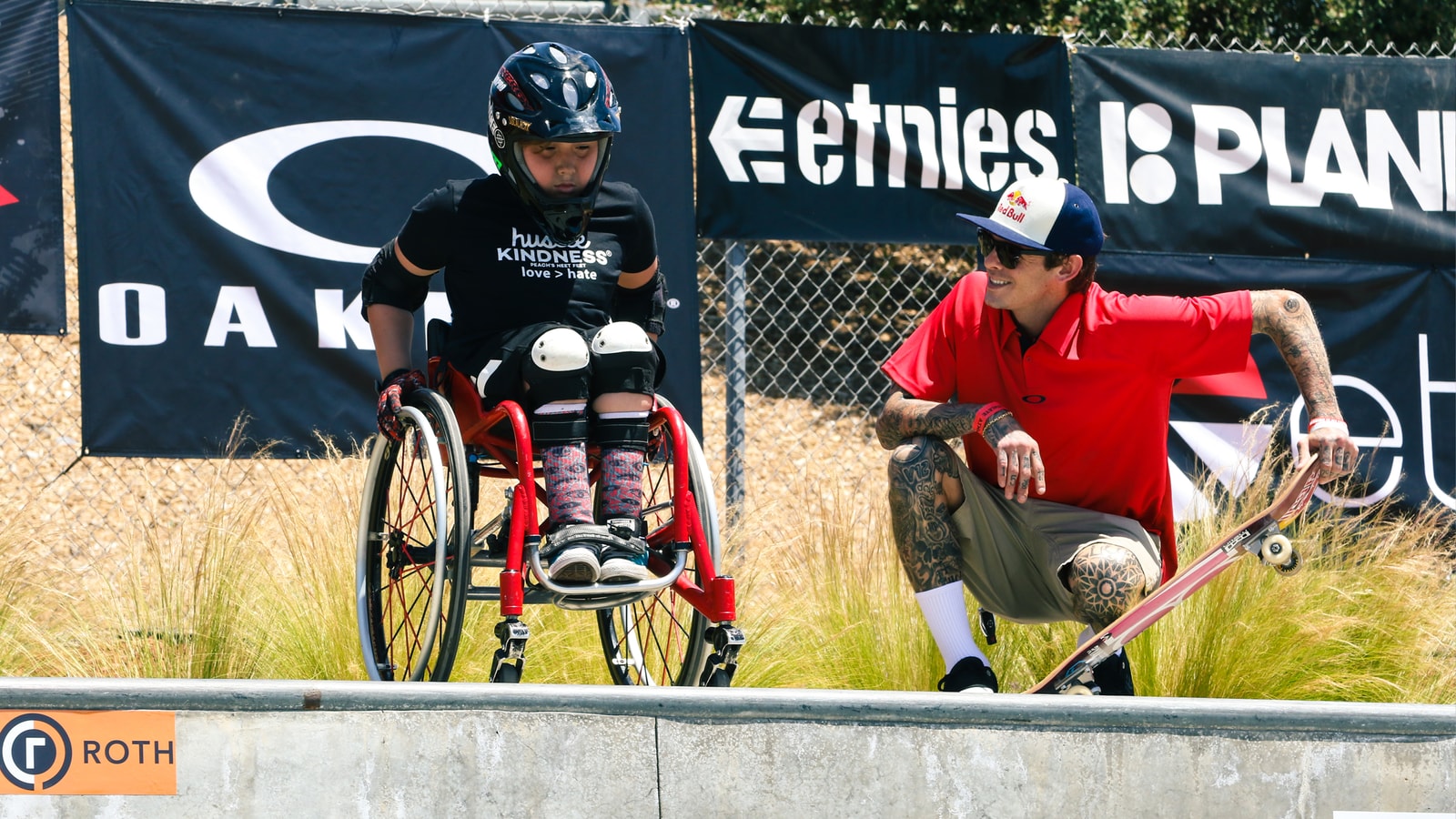 Sheckler with Rockin' Kumaka.
10 BTC $10,000 Grant Recipients and Skate for a Cause Tour Schedule:
From February 28 – March 13th supporters entered their favorite causes for "Be the Change," and The Sheckler Foundation is pleased to announce the following winning recipients will be included in each stop of the demo tour across the U.S.  Each recipient will receive a $10,000 grant to support their efforts to "Be the Change."
  Houston, Texas – Southside Skatepark Skateboarding Day Camp
Southside Skatepark will use its grant to give 50 scholarships to kids wanting to attend its skate camp, teaching perseverance, self-reliance, exposure to cultures outside their own and to never, ever give up.
YouTube link: https://youtu.be/0p1veEcTSXw
Rapid City, South Dakota – Process Skate Ministry Indoor Skatepark
After making a huge impact with Grace & Peace Skatepark in Colorado Springs, Process Skate Ministry plans to build another indoor skatepark in Rapid City, South Dakata to provide a safe, sober, year-round facility that skaters could come do what they love in a fun, encouraging environment. Process Skate Ministry focuses on at-risk youth in the areas of building relationships, finding community, overcoming fears and pushing themselves.
YouTube link: https://youtu.be/A67n_XWKVN0
Coconut Creek, Florida – Skate. Surf. Science
Designed to enrich children's school curriculum, its co-op classes offer physical activity through surf and skate lessons. Attendees can create their own skateboard decks, learn how a skateboard is created and find out what science has to do with landing a trick. At the classes, students are not just skaters in a park or surfers in the water, but scientists talking about motion, Newton's laws, simple machines and the environment.
YouTube link: https://www.youtube.com/watch?v=xKAbGWb5zOk
Minneapolis, MN – Wiggle Your Toes 
Wiggle Your Toes is a small but mighty non-profit in Minneapolis, MN that was founded by an amputee for the limb-loss and limb-difference community by providing peer support, financial assistance and sport-specific prosthetics (which insurance companies still refuse to pay for, considering them not necessary).
YouTube link: https://www.youtube.com/watch?v=leKZVL1NcMk
New York, NY –Harold Hunter Foundation's Legacy Program
HHF's Legacy Program provides essential support and resources, while harnessing and developing potential within the community through a combination of skateboarding activities, mentoring, case management, life skills workshops and psychosocial support.
YouTube link: https://youtu.be/_W6FuYgwNg0
Sacramento, CA – Project Lifelong
Project Lifelong's mission is to empower youth through skateboarding. Its shared dream and vision is to help make skateboarding accessible to any child, from any neighborhood designed to connect with marginalized youth from underserved areas.
YouTube link: https://www.youtube.com/watch?v=bwDUBKQzVjU
Trenton, NJ – Freedom
Freedom is an all-volunteer 501c(3) nonprofit organization dedicated to giving more people the opportunity to learn the life lessons skating teaches. Freedom's work to provide a safe space for skating and to provide skateboards to youth who would not otherwise be able to afford them are crucial to creating positive opportunities for kids who need them most.
YouTube link: https://youtu.be/WqglULmpQ3o
Lincoln, NE – The Bay
The Bay is Nebraska's only public indoor skatepark, and the largest in the region.  The Bay provides access to cameras, high-end computers and other digital arts equipment, helping to close the tech gap for kids living in poverty. All-Access Pass holders qualify for free/reduced lunch, are involved in the juvenile justice system, have experienced homelessness, come from single-family homes or foster care, and/or come from newly immigrant households.
YouTube link: https://www.youtube.com/watch?v=I23XrIQrHlY&t=21s
Nashville, TN – Maple Built
Maple Built is a non-profit apprenticeship program utilizing woodworking to shape the future for young men in Nashville, TN. One of the primary avenues through which Maple Built creates jobs for the young men of Nashville, is through Salemtown Board Co. (SBCo.).  SBCo. is a skateboard manufacturing company that was started in October of 2012 as a means to provide on-the-job training for the youth of North Nashville.
YouTube link: https://www.youtube.com/watch?v=dtMxQ0UlyPM
Tempe, AZ – Skate After School
Skate After School is a nonprofit providing innovative after school programs to underserved youth in the greater Phoenix area. Skate After School began as a community project nearly seven years ago. Today, it is a nonprofit that serves roughly 240 students per week across eight low-income schools in the Valley with a team of over 30 qualified volunteers.
YouTube link: https://www.youtube.com/watch?v=HSZ_nhaTSGQ
The Sheckler Foundation will announce the dates for each stop of the Summer 2019 "Skate for a Cause" Nationwide Demo Tour in the coming weeks.
For additional info on The Sheckler Foundation, stay tuned to: Facebook, Instagram, Twitter, LinkedIn, and visit: shecklerfoundation.org.