The 4th Annual Skate Shop Day is Saturday February 18th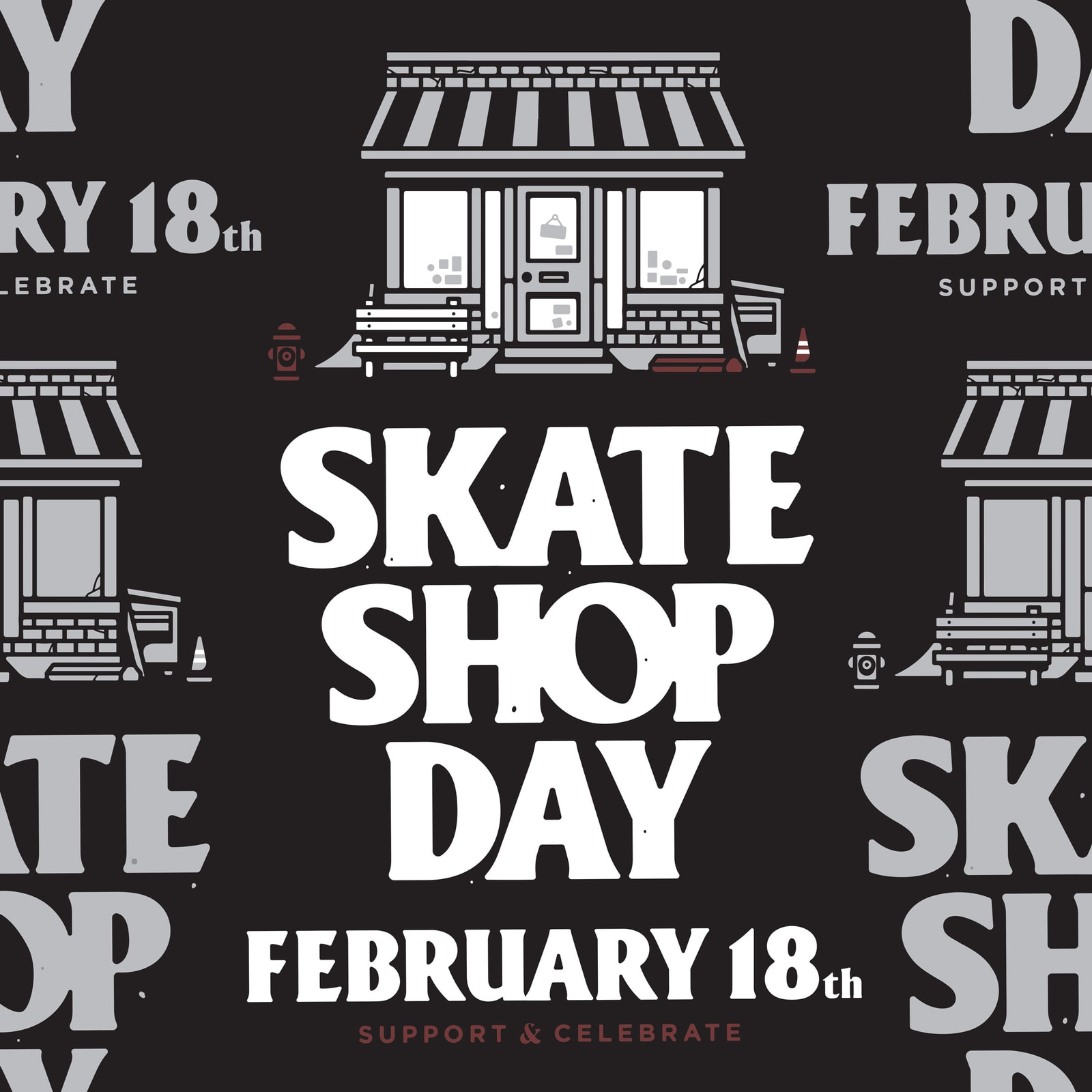 This Saturday, February 18th, marks the 4th annual Skate Shop Day, the day to celebrate skate shops all around the world. The day was created by Chris Nieratko and Scotty Coats in 2020 as a day to show love to your local skate shop that are so essential to our culture. After 3 successful years, this years is going to be Skate Shop Day's best year yet, full of limited edition Skate Shop Day products from all your favorite brands like Lakai, NB#, Emerica, ES, Real Skateboards and more!
Here is what co-founder Chris Nieratko had to say about this years event in an Interview with Skate Jawn:
"2023 is going to be Skate Shop Day's biggest year. We try to grow it incrementally each year without getting too psyched and blowing it out. We're partnering again with Deluxe and Mike Gigliotti (artist and former skate shop owner of Lotties) to release boards internationally, available anywhere Deluxe distributes around the globe. We're also getting Russell Athletic t-shirts and hoods with Mike's art into Canada, England, and Europe for the first time. So big moves for our fourth year. In addition to that, Igloo is making shop coolers for the United States, New Balance and Lakai are both doing rad Skate Shop Day shoes and Emerica and és are revisiting classic shoes from the early 2000's for their Skate Shop Say shoes with the Emeica OG1 & eS' One Nine 7. JBL is doing speakers for the shops, there are Socco Skate Shop Day socks and Legacy beanies. We've got so much rad stuff and honestly, we're just getting started."
Go visit your local Skate Shop for the 4th Annual Skate Shop Day this Saturday to show them some love and support. If you can't make it in person, Nieratko shares some other ways you can show your support:
"If you back a shop, just tag a shop in a post, let 'em know that you appreciate what they do, spread the word, tell other people to support that shop, and if you've got the money, go buy a shop shirt or whatever. Shop product is the best way to support that local shop… But again, it doesn't take dough just to tag somebody, or show a shop some love and let 'em know they mean something to you."
As well as limited edition Skate Shop Day product that is only available at participating skateshops, there will also be raffles for gift cards, as well as an exclusive Crailtap Raffle to win a visit from the Girl & Chocolate Team.
View this post on Instagram
A Skate Shop Day participating store is defined as a skater owned and operated retailer whose main primary business focuses on full time, physical store locations, with an always on deep rooted commitment to skateboarding. Check the list of participating shops at Skateshopday.com and make sure you go show your support at your local skate shop this Saturday!