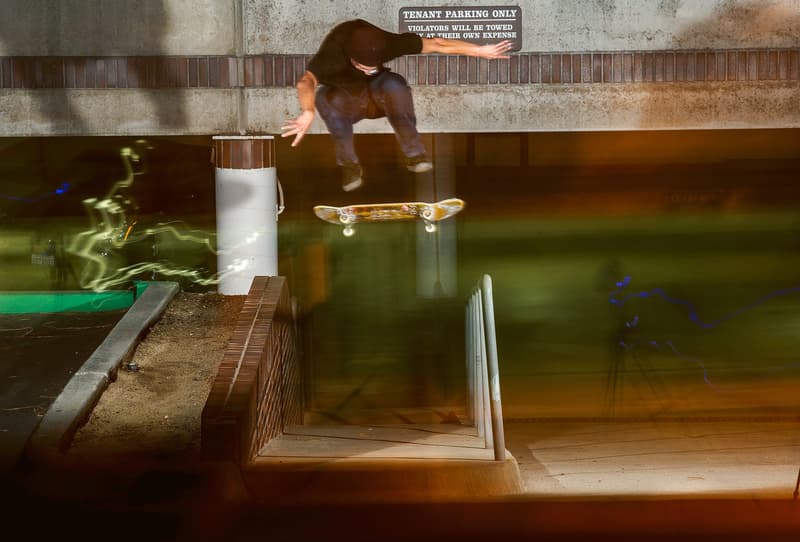 1 of 7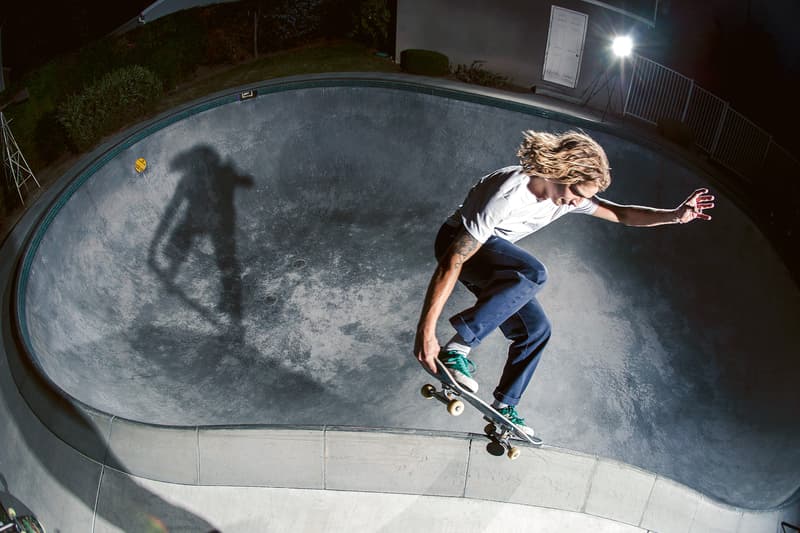 2 of 7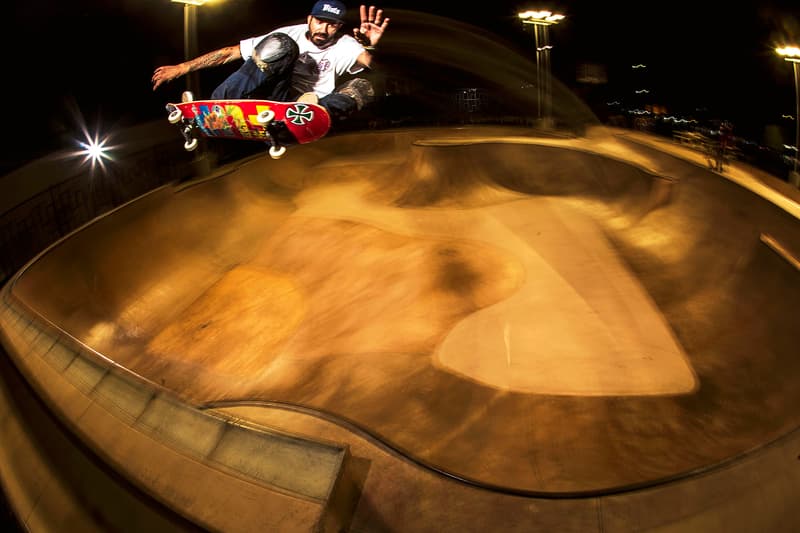 3 of 7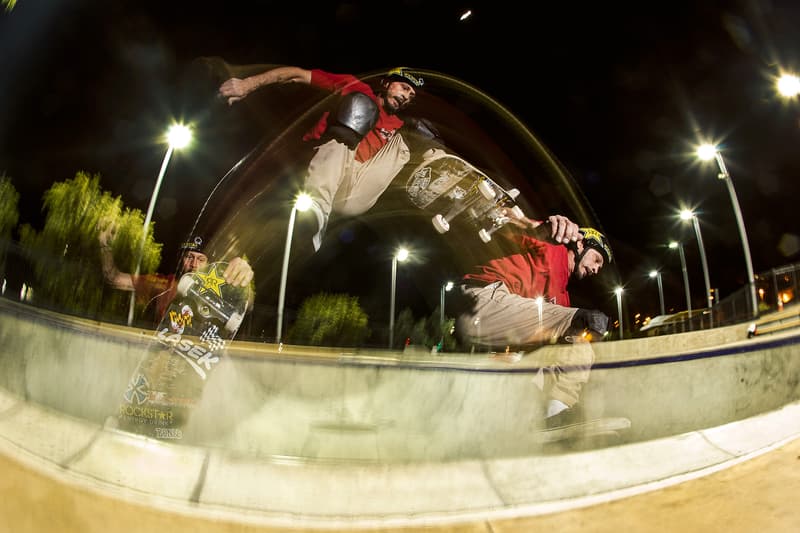 4 of 7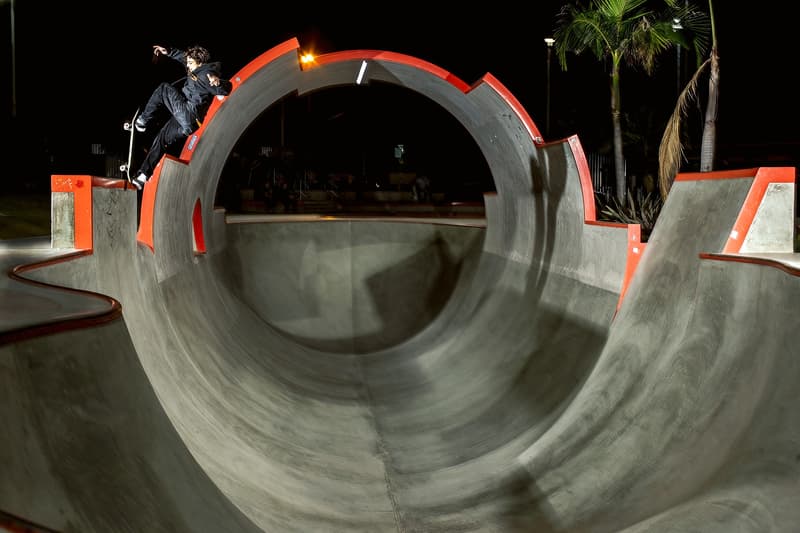 5 of 7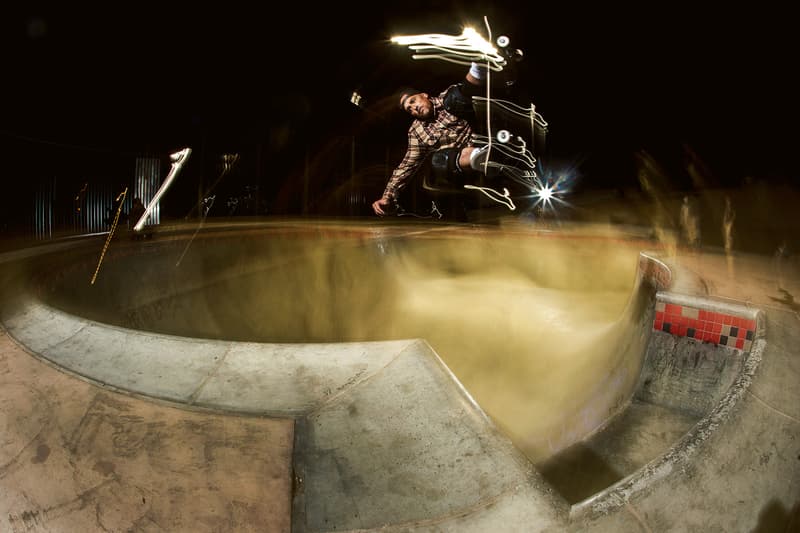 6 of 7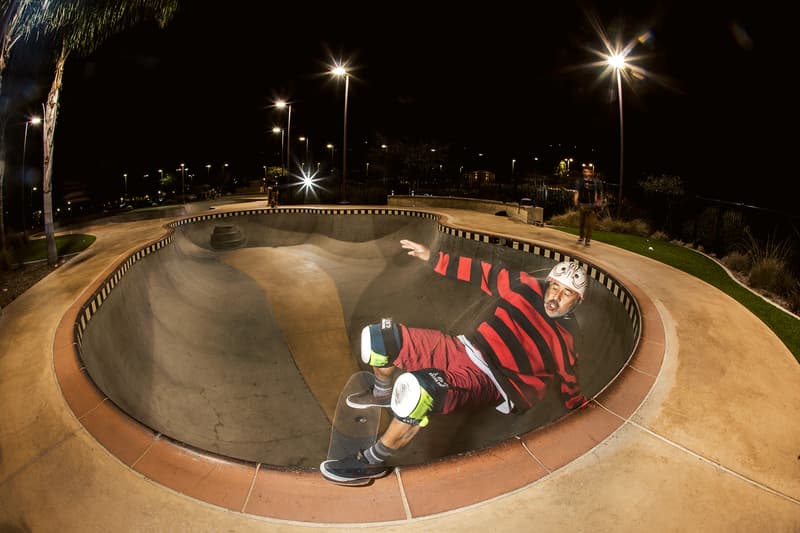 7 of 7
THANKS FOR THE NIGHT: DAVE SWIFT'S DIGITAL SHOTS AFTER DARK
Words and Photos: Dave Swift
When I started shooting this feature several months ago I had no real idea of what I actually wanted to do other than shoot a series of night photos. I started looking at images I'd shot over the years and there were certain techniques I wanted to recreate digitally with modern equipment. At the same time, I wanted to experiment with some stuff I'd never done before. Hopefully you enjoy the results.
If it's all right with you, I think I'm going to keep shooting at night!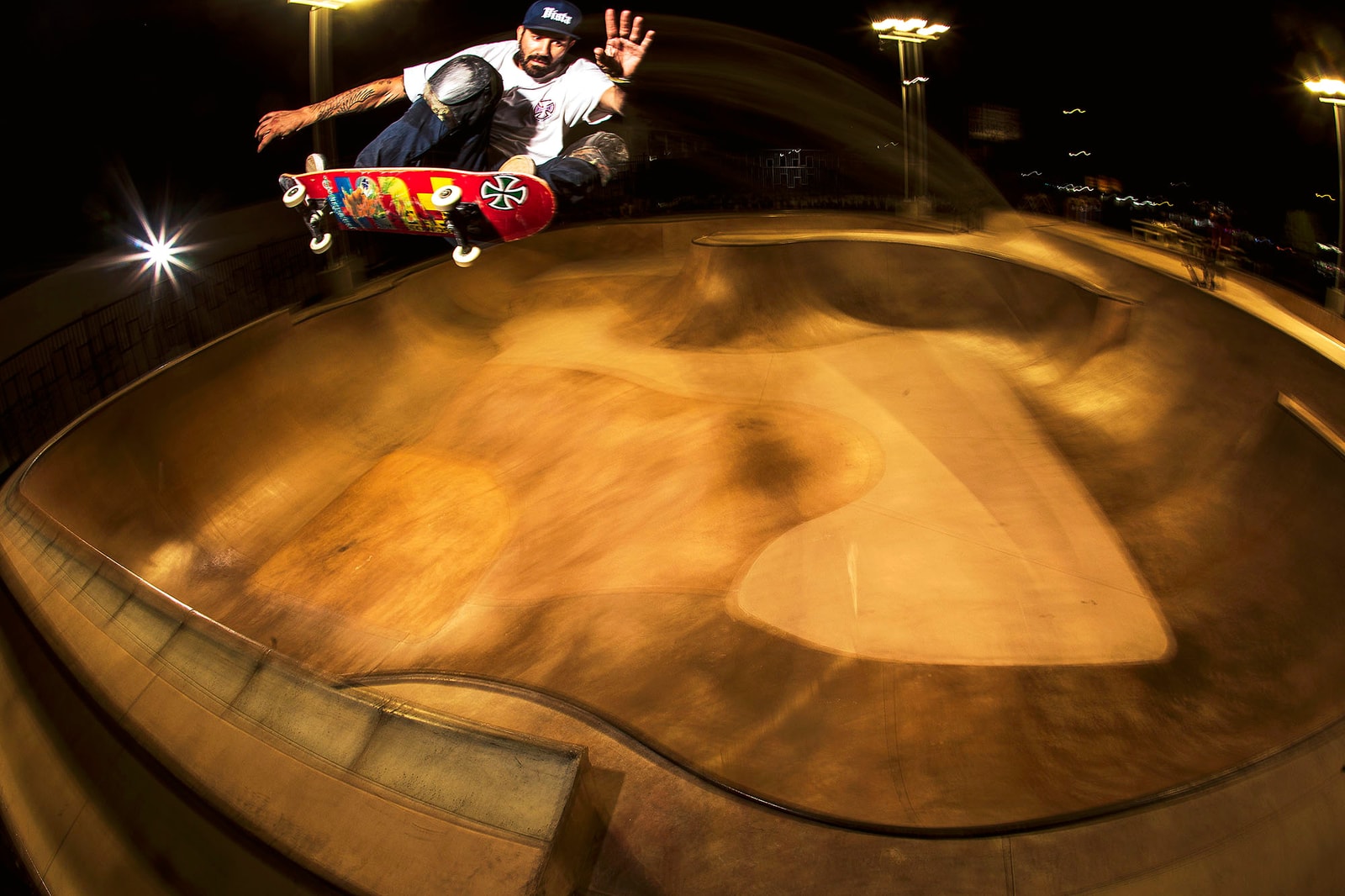 Bob Burnquist, Ollie Over Love Seat, Vista Skatepark, Vista, California
I saw on Bob Burnquist's Instagram account that he'd been skating the Vista Skatepark at night under the lights and I hit him up about shooting some stuff for a web feature on The Berrics. Bob's always been down so we decided to meet up in a few days for some fun under the lights. The lights at the Vista Park seem really bright which proved to be a bonus to my two flashes as I could still shoot slow without a ton of movement on Bob. This ollie was shot at a 1/2 second shutter speed at f/16 with my ISO set at 160 and I held the camera steady in my hand with my 15mm lens getting nice and close to the action. One thing I really like about this shot is how I filled the frame and didn't have to crop the image at all. Thanks Bob.
Bucky Lasek, Sweeper Over the Hip, Carmel Valley Skatepark, Del Mar, California
Let's get one thing straight before talking about this photo: this bowl is terrible and Bucky is the man for driving the 40-something miles from his Fallbrook home to shoot there. The best thing about this bowl is that it has lights, so in the winter it remains skateable after the sun goes down. I think it would be sick if the city of Del Mar demolished this and built something good like Vans did at their Huntington Beach park (even though I thought that Clover in HB was good). Using a 2-second shutter and popping the flash manually by holding the radio slave in my hand was how I made this image of Bucky. My tripod wouldn't go low enough, so I held the camera as steady as possible with one hand during the exposure. It had to be low because the trick to making these look good is to have as much of the action in the night sky as possible. Also, it doesn't hurt when the skater has a red (or other brightly colored) T-shirt.
Steve Caballero, Layback Rollout, Alga Norte Skatepark, Carlsbad, California
Any of you that have been to the Alga Norte park at night during the winter know how much colder it is than anywhere else in North San Diego county. Well ,January 4 of this year just might have been the coldest of the year but Steve came prepared with a few layers which helped a lot. This bowl is also one of those that unless you skate it often is not easy to ride but it looks fucking great in photos—especially at night. For this shot I put my camera on a tripod with my 15mm lens, set the ISO at 160 and the shutter speed at one second. I wanted as much depth of field as possible so my F-stops ranged from f/16 to f/22 with this particular one being at f-18. I like the starring effect on the lights at those higher f-stops and the overall crispness of the shot. And seeing the drain through Steve's board is also pretty sweet.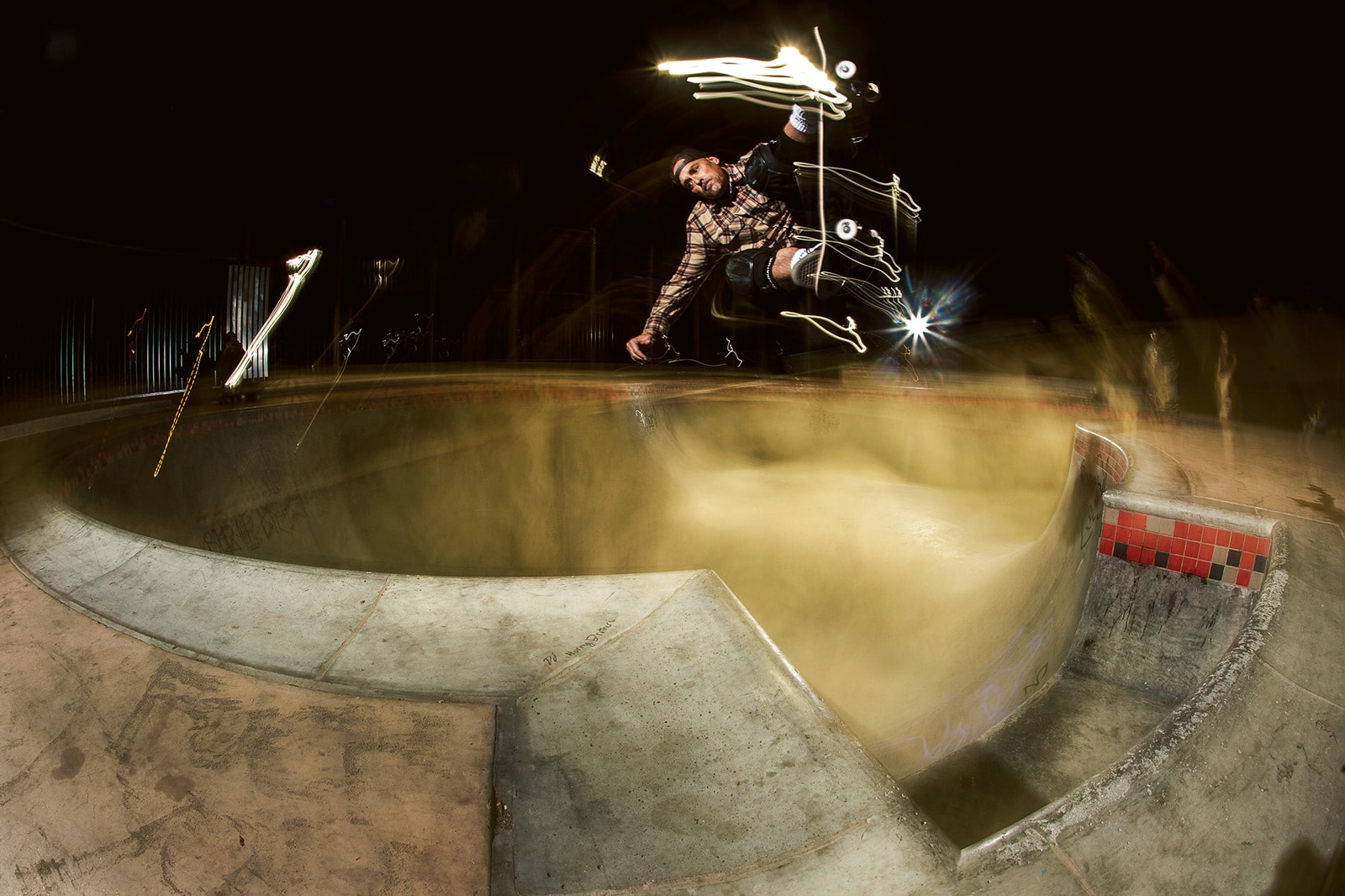 Omar Hassan, Air To Fakie Over Love Seat, City Heights Skatepark, San Diego, California
This is the style of shooting we'd do all the time in the '90s when shooting at night and for the most part before skaters lit up spots with generators. Slow shutter speed and purposeful movement of the camera during the exposure create the streaking lights effect which can be very hit and miss. Omar did this several times for me, I wanted to get the best image without light streaks going through his face or somehow ruining the action. This is my favorite as I think the lights enhance the movement and the ghosts in the background are pretty damn cool. If you want this effect, try a 1-second exposure or longer in varying f-stops (this one is f/16) and ISOs (this one is ISO 160) and two strobes (experiment with various power).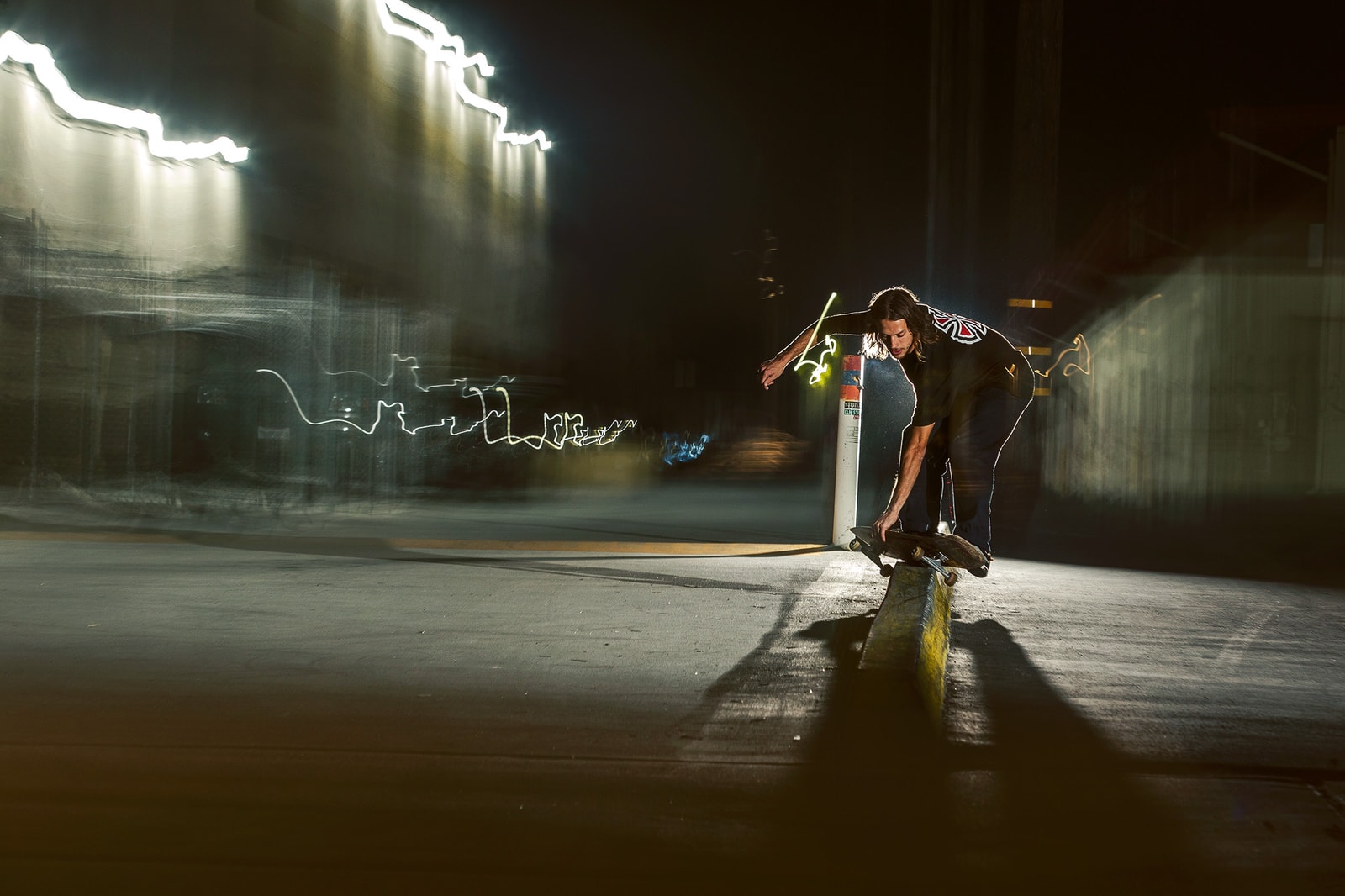 Ace Pelka, Boardslide to Hurricane Indy Grab, Oceanside, California
I definitely wanted to get some street action for this feature and I immediately thought of Ace and this yellow curb he'd been skating a lot. At first I wanted this to be the multi-image to show the different movements in certain slappy tricks but because I'd already shot one of Bucky I had to figure out a different technique. While Googling "Night Photography" I came across something called "Pull Zoom" and decided that's what I was going to do even though I'd never tried it before in all my years of shooting skateboarding. I set up the shot with one flash directly behind Ace to give it a rim lighting effect and my other flash was off to the side facing the action. This spot isn't the most lit up zone but I picked a spot for my focus, hoping that's where he'd be when I clicked the shutter and the flash went off. For the rest of the 2-second exposure I slowly zoomed out with my 70-200mm lens as Ace grinded toward me. Somehow, I got the image I wanted in just a few tries and really did the effect. I'm going to leave it up to you to figure out the f-stops on your own. I originally wanted to shoot this with a tripod but because I couldn't get low enough I had to do it handheld while sitting in the middle of the street.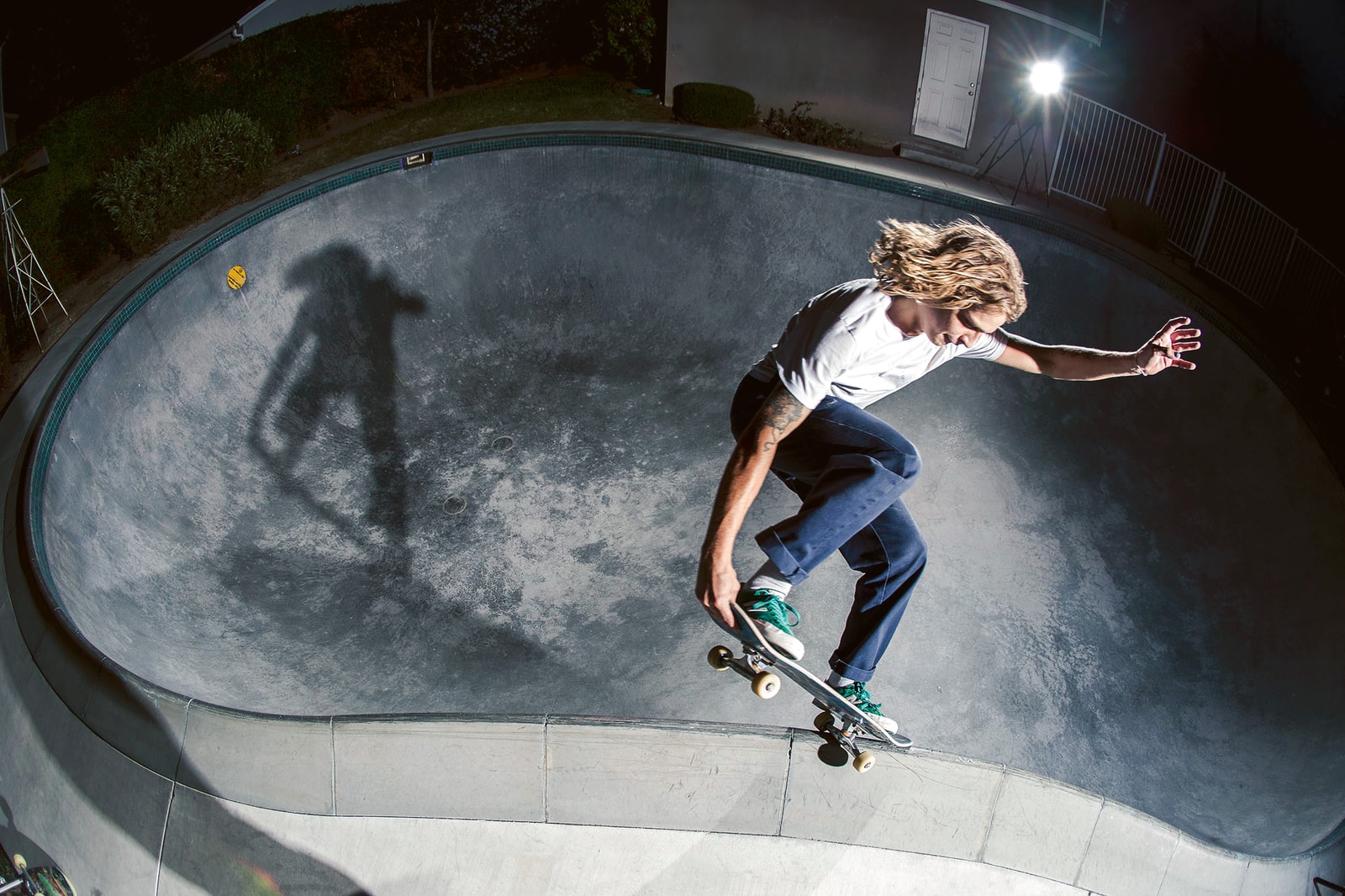 Axel Cruysberghs, Tailgrab Nosegrind, Rusty's Pool, Pasadena, California
The latest craze in flash photography, at least in skateboarding, is utilizing a shutter speed that is faster than your camera can normally sync at. (Please look up flash sync and high-speed flash sync to learn a little more about this trick.) In 2017, I finally bought the flash equipment and camera I needed to make this possible and the results have been pretty great, although at night I've been a little hit-and-miss with it. I was at this session in the Pasadena area, mainly to skate, but I had my photo equipment just in case some cool shit went down, which it did. This photo of Axel was shot using my Canon 6D, 15mm fisheye lens, Flashpoint flashes and high-speed transmitters at 1/500th of a second, f/3.5 at 400 ISO just after the sky turned black. Previously a shot like this would have been at a slower shutter speed (most likely 1/15th of s second) and there would be some blur from the action—generally a cool effect. But the ability to freeze the action at a higher speed gives a whole other look for nighttime skate photography.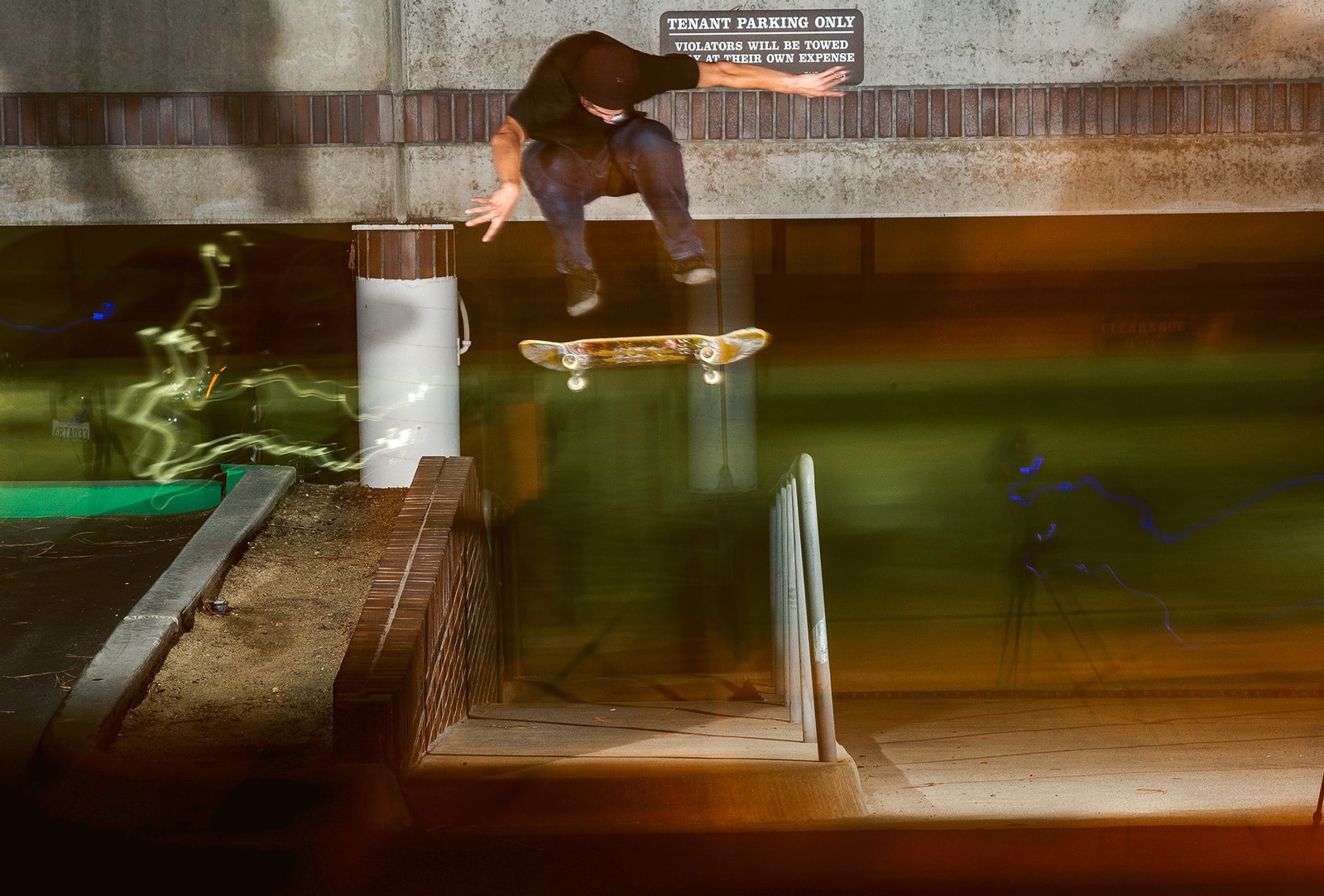 Alex Wilms, Heelflip, Del Mar, California
I had the hardest time with this, the last shot for this article. The light coming out of the parking garage made it hard to focus or get a good solid image of Alex speeding across the frame. For a number of tries I used a tripod for this but it just didn't look right. Lucky for me Alex was also having a hard time getting a proper flip over the curb, wall, and handicap rail in the darkness of night. In the end, I just took the camera off the tripod, moved my flashes a little, and did a pull zoom like I did for the Ace Pelka shot. At this point I though Alex was over it but he gave it one last go and this was the make. Not the sharpest photo of the series but pretty cool nonetheless with a 2-second exposure.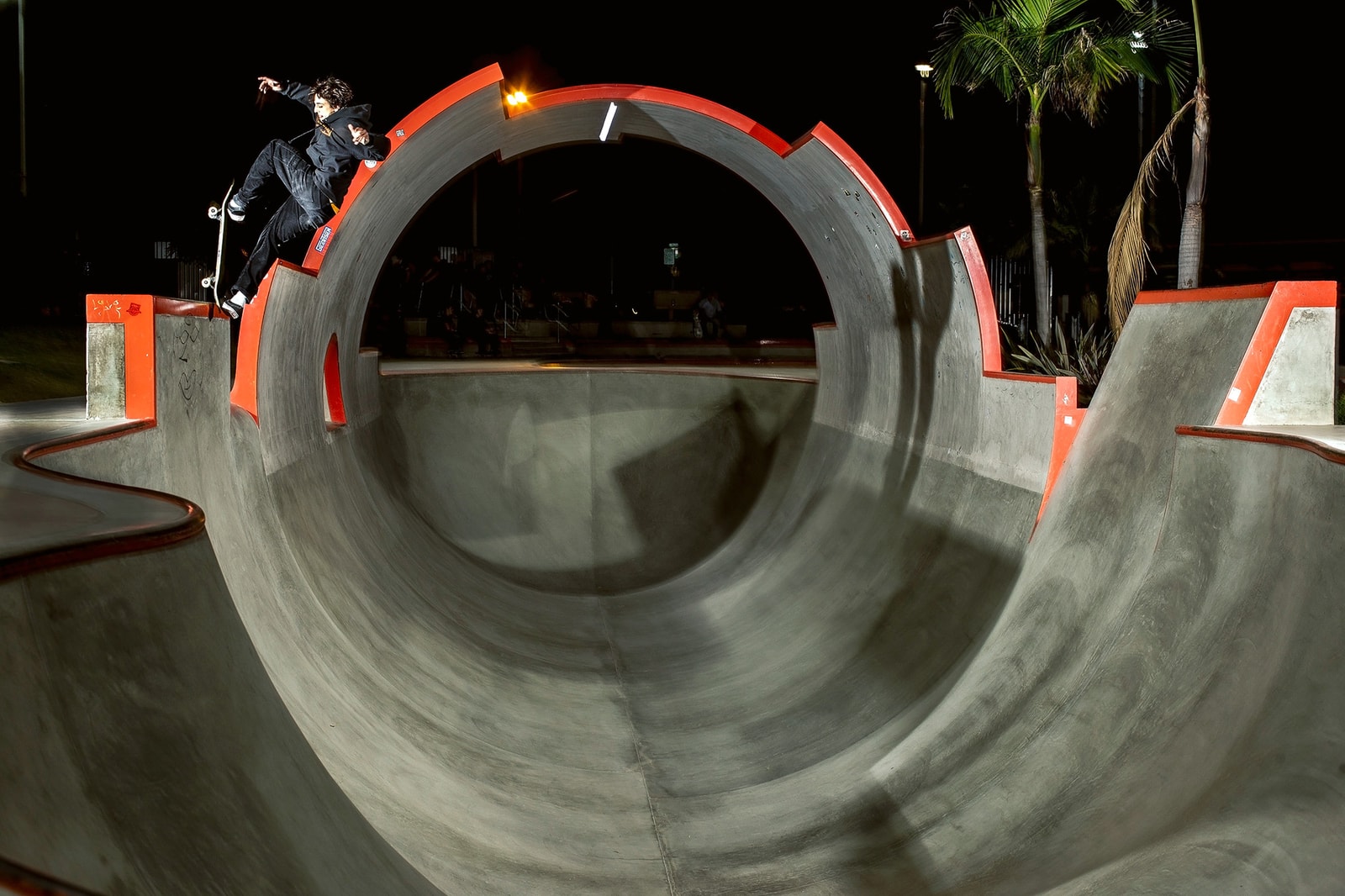 Cory Juneau, Frontside Blunt, Linda Vista Skatepark, San Diego, California
Of all the nighttime skatepark shots I did for this article this was the one I looked most forward to, as I think the pipe and the colors under the lights look so fucking cool. I didn't want to get tricky with this one and didn't want much movement so I shot it at 1/15th of second at f/8 and ISO 400, handheld with my 70-200mm lens. Two flashes, one on either side, light up the shot just like it was 1998! Sometimes the tried and true formula works great and needs not be fucked with. I do wish I would have shot a few of these with my film camera because Corey made it look so damn easy, which anyone who's skated this thing knows it to be anything but.
To see more of Dave Swift's work, past and present, head over to DaveSwiftPhotography.com!