The Heart Supply x Target Launch Limited Edition Complete Skateboard
In 2019, the founder of Element, Johnny Schillereff made the decision to roll away from the brand he had been driving for nearly 30 years to begin a new chapter within the industry. With his wife Kori, and their family they created The Heart Supply, a brand about giving back. Their mission is to put team riders and skateboarding first, make skateboarding more accessible, and give free complete skateboards to kids in need.
Today, a milestone for skateboarding was announced: Target with Heart. After years of department store skateboards damaging the image and first experience of many new skaters, Target and our first skateboard community brand (The Heart Supply) made the bold move to break the mold! An authentic skateboard company, with a legitimate team, that proudly endorses their quality complete skateboards. This will set the new standard for what your first board should skate and feel like!
Made by skateboarders for skateboarders, The Heart Supply has released a limited-edition skateboard complete at Target!  Johnny has been a lifetime advocate supporting the skate community. A portion of The Heart Supply proceeds is used to give skateboards to kids in need!
"Target with Heart brings a greater awareness to the creativity and happiness skateboarding offers… it helps create waves of new skaters, which benefits our industry, team riders, and communities… and it increases our ability to give free skateboards to kids in need."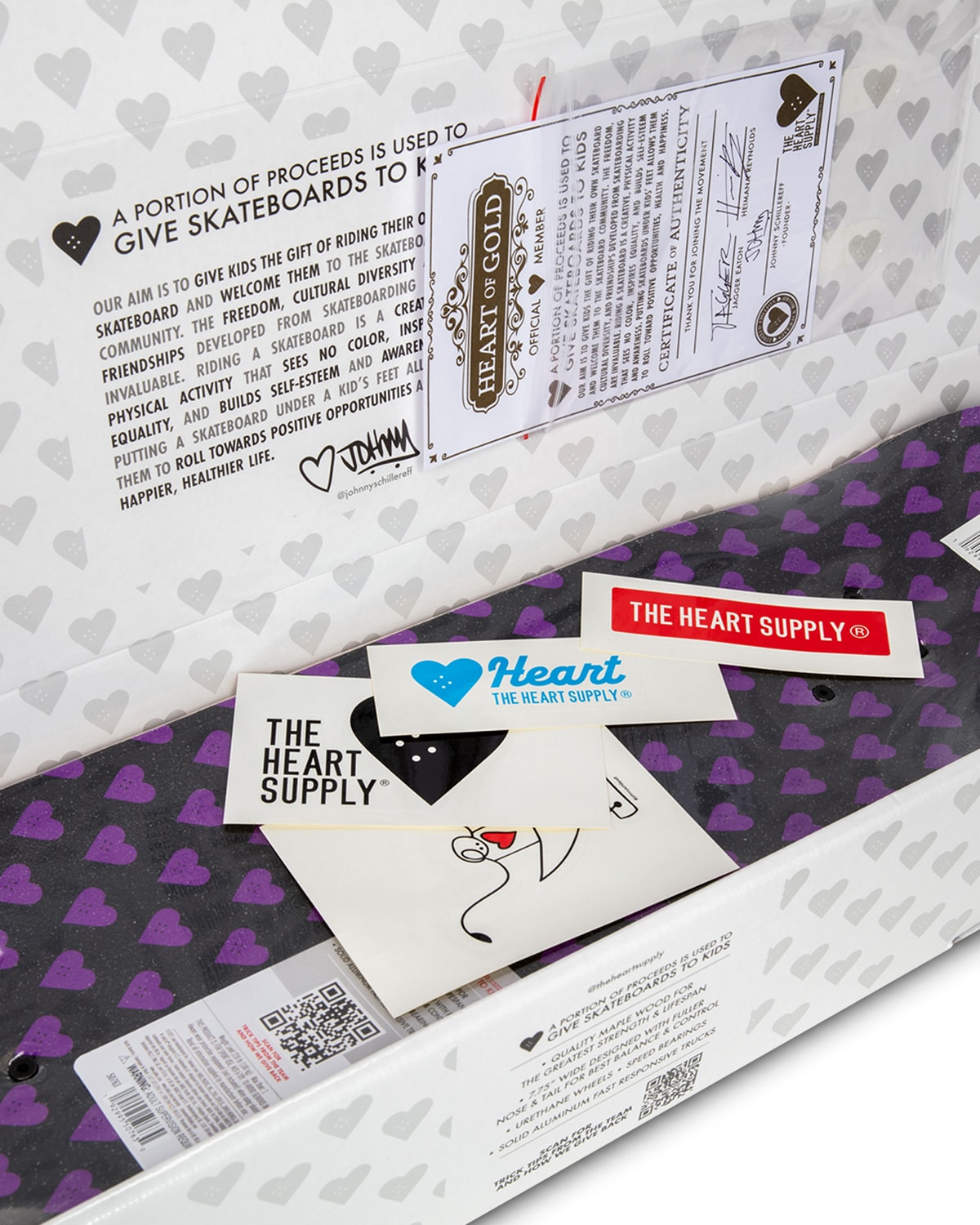 The Heart Supply's 'Limited Edition' complete skateboard is constructed with 7-ply quality hard-rock maple wood with great concave, in a proper 8.0" wide full shape providing a bigger surface for better board control. The complete rolls on 54mm traction urethane wheels, with pre-greased speed bearings and quality lightweight responsive trucks, with rebound bushings for enhanced turning and no wheel-bite. All the above materializes The Heart Supply's mission to give first time skaters the opportunity and accessibility to buy an affordable, high-quality skateboard that provides a positive experience.
With only 1,000 made, the graphic was designed by Johnny in his signature style. This board is packed inside a one-of-a-kind box where you will also find stickers and a Certificate of Authenticity signed by Johnny in addition to team riders, and Olympians, Jagger Eaton and Heimana Reynolds. The board comes fully assembled and ready to ride right out of the box!
At a price point of $59.99 it's the perfect board for those interested to try skateboarding and for new skateboarders to get on a better board! Get yours online now at Target.com!
Check out our recent projects with The Heart Supply, below: