THE PAST IN PRESENT FORM: DAVE SWIFT SHOOTS THE CLASSICS, PART 1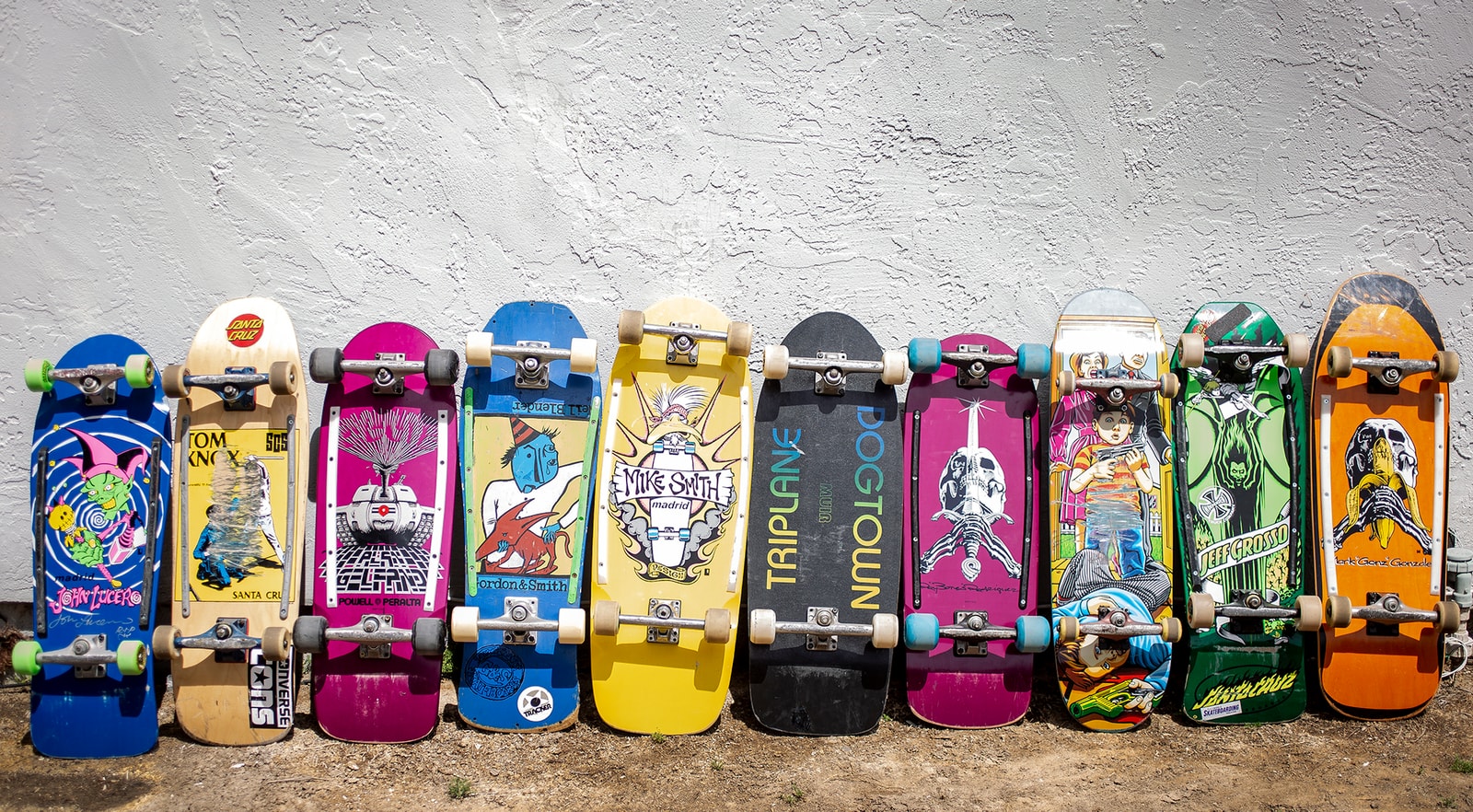 WORDS & PHOTOS: DAVE SWIFT
Lance Mountain struck a nerve in his The Nine Club interview when he coined the phrase "Playing Skateboarding" while talking about his days as a young skateboarder. He talked about this in reference to looking at magazines and absorbing the images he saw and copying them as best he could in his own world. You know what they say: "imitation is the sincerest form of flattery." My early days as a skateboarder in the late 1970s was guided by images I saw in the pages of Skateboarder Magazine, and I continue to do so in my fifth decade on Earth.
A few months back I was given a Dogtown Jim Muir Triplane reissue skateboard and K9 wheels and immediately set it up. This was a deck and graphic that I vividly remembered seeing in photographs (in particular a photo of Marc Sinclair doing a fakie ollie at Marina Skatepark) on the pages of the aforementioned magazine and I had always wanted one of these decks but really couldn't afford to buy an original off Ebay. Problem solved with the reissue of this 10 inch-plus behemoth released last year.
"I wanted to do a whole series of photographs with reissues that have been coming out in the last couple years."
I ended up bringing it out on a backyard pool session with CJ Collins and just for giggles asked him if he could do a tail tap on the monster. He laughed and took it for a quick spin around the pool, slashing it up on a deck that was nearly as big as him. He said he'd give it a go and I got myself in position for what I remembered as a classic 1970s tail tap shot from the magazines I looked at in my youth. Boom, a couple tries and it was done and after looking at the shot I believe we nailed it with graphics and colors blazing into your eyeballs. It was at that moment I decided I wanted to do a whole series of photographs with reissues that have been coming out in the last couple years from assorted skateboard companies.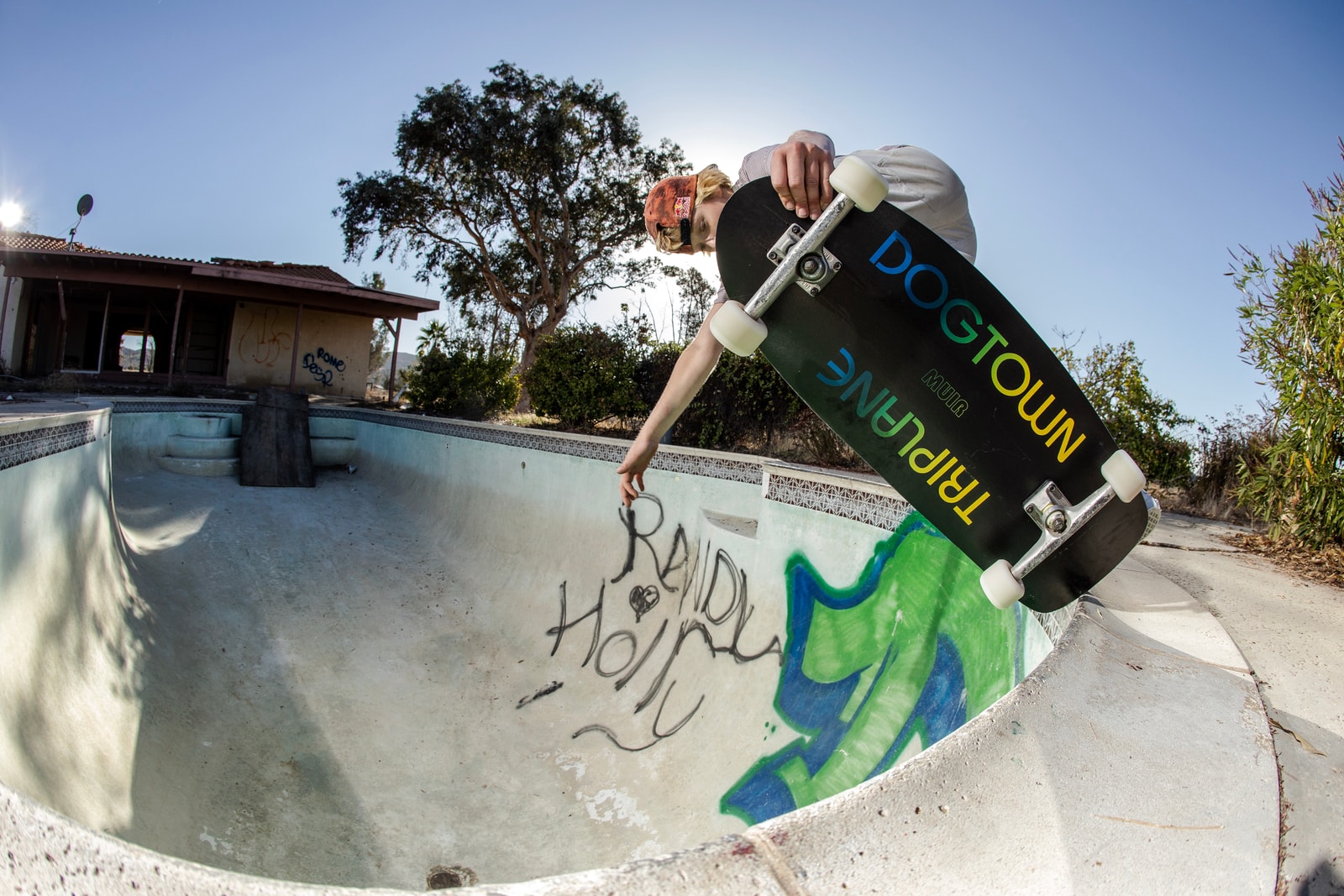 CJ Collins, Tailtap, Hemet, California.
My ultimate goal was to set these decks up just as they would have been back in their day from assorted eras of skateboarding and have some of my favorite pros and ams from today do similar tricks as would have been done on these skateboards. Seeing these decks with their graphics and colors in my camera's viewfinder brought back so many memories from my 40 years as a skateboarder. Playing skateboarding is the best—enjoy.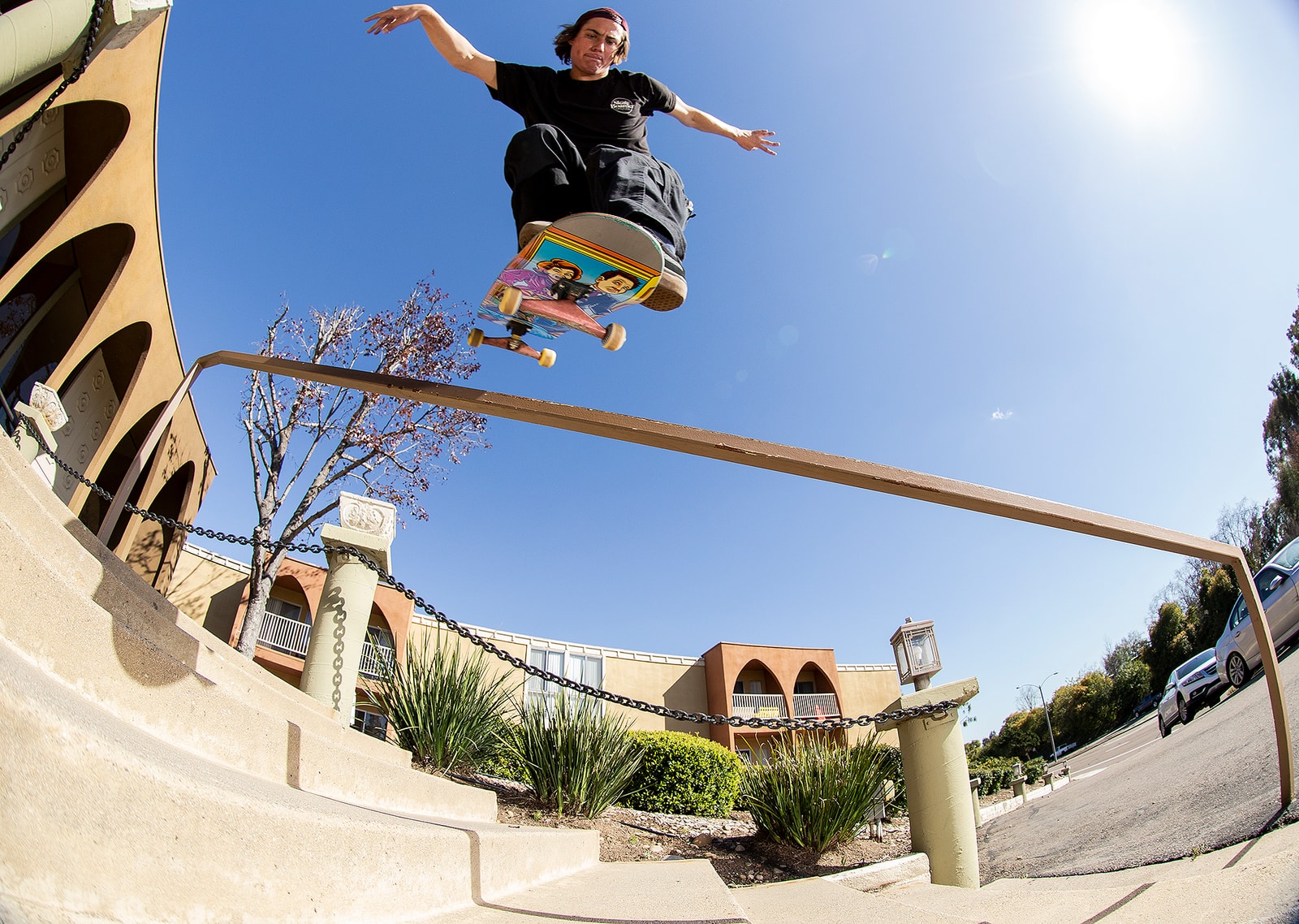 Alex Wilms, Backside Lipslide, San Diego, California.
So, I wanted to do a street type shot from the era of egg-shaped decks and small wheels and while digging through some boxes I found a re-issue Blind Guy Mariano "Accidental Gun Death" that kind of defined the time. In my head, I thought of a Spike Jonze photo of Guy doing a backside lipslide from his Blind days that got me inspired. I was out shooting a different trick of Alex and after he landed it I asked if he'd be down to go to a different spot and ride the deck I set up. Well, that was easy.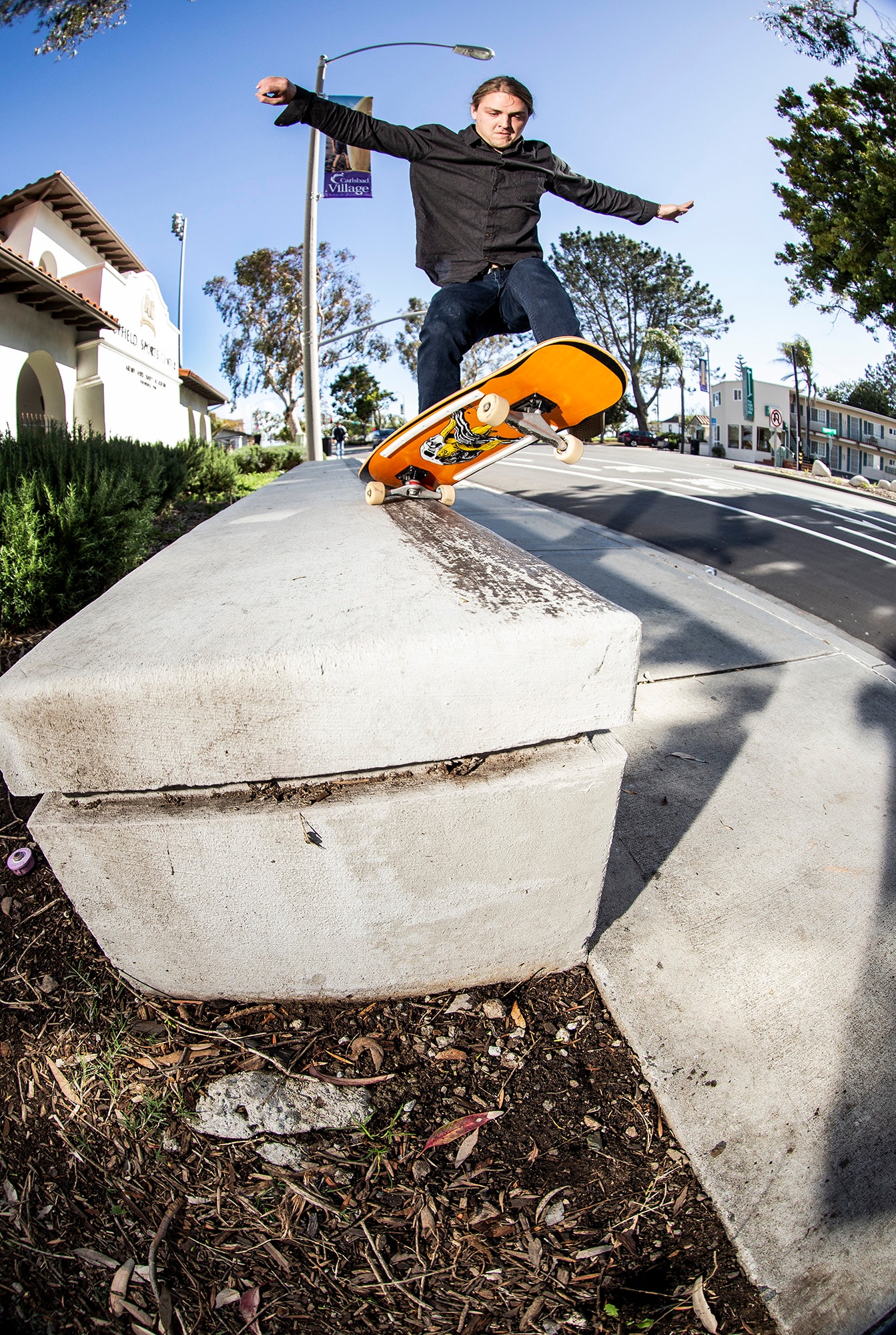 Dalton Dern, Frontside 180 Fakie Nosegrind, Carlsbad, California.
Oh man, the Blind Skateboards satire series of legendary VCJ pro graphics that came out in 1991 was the first of many "shots fired" by Steve Rocco at Powell-Peralta in the early part of the decade. Back then, graphics only lasted a month or two before being replaced by something new, so it was rare to see photographs of pros riding a certain graphic. I had a photo of Gonz riding his "Skull and Banana" in my head that was in TransWorld skateboarding, again shot by Spike Jonze that showed the graphic. I hit up Dalton Dern and asked if he knew of any skateable '90s style ledges in the area (which proved harder than I originally thought) and once we got it figured out we met up and got this classic-looking shot of a staple early 1990s skateboard trick. One of my main concerns was to show the graphic in all its reissued glory.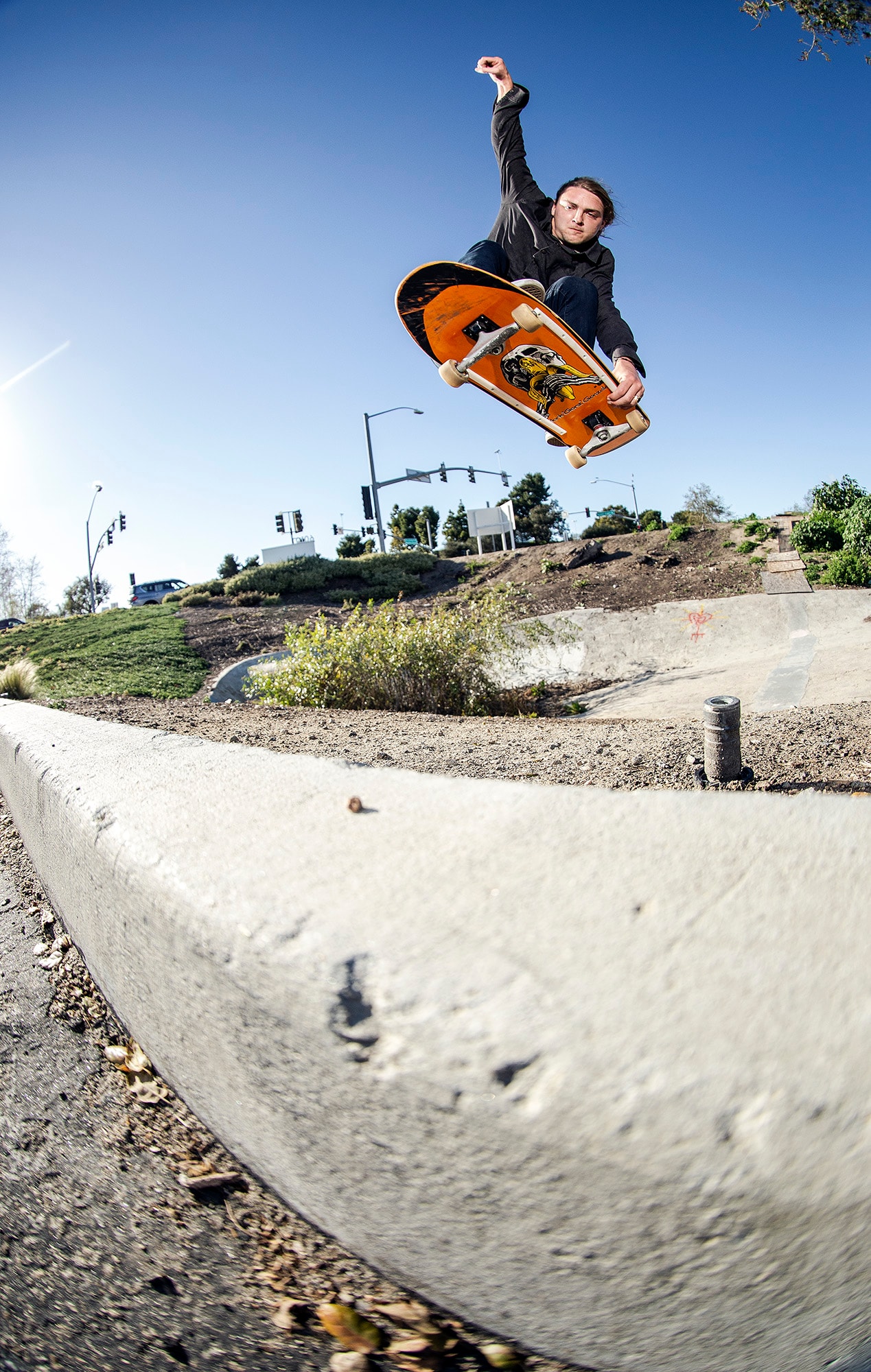 Dalton Dern, Indy Grab Up Euro, Carlsbad, California.
Grabs were still a cool thing in the early 1990s and Gonz had a good one. This gap up Indy poke is reminiscent of a MG Indy to fakie at the long-gone Tijuana skatepark.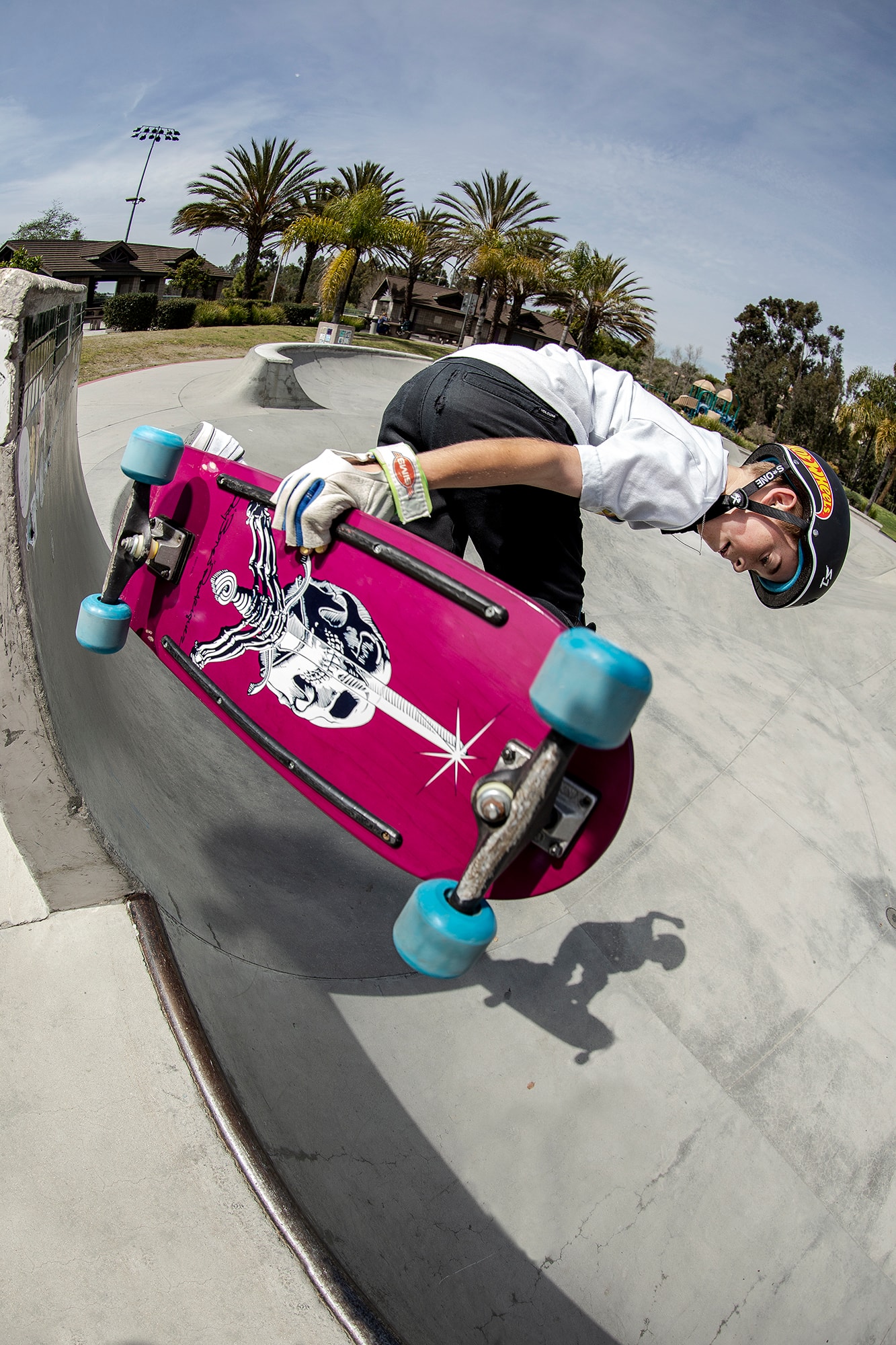 Gavin Bottger, Backside Air Off Extension, Oceanside, California
Powell-Peralta has been doing reissues of their classic graphics since 2005, so it was a no-brainer that I needed to get a couple of their most memorable decks for this feature. The Ray "Bones" Rodriguez Skull and Sword is one of those timeless graphics that transcends all eras of skateboarding. It looks as good today as it did when it first came out in 1979. Ray Rodriguez was a pro from California that always looked great in photos with the tricks he did and the colors of the set ups he rode. I really wanted to use a yellow version of his deck with green wheels but I had neither so purple and blue would have to do. In my memory, I imagined Ray as a short of stature human (I have actually never met him so I'm not sure if this is fact or not) so I wanted a small human to ride this giant snubnose version of the Skull and Sword. Gavin Bottger was the perfect candidate and I even got him to wear a homemade Sims Glove (thanks Greg Baller) that was popular at the time. This photo oozes late '70s skatepark style.
Gavin Bottger, Slob Fastplant on extension, Oceanside, California
As much as Gavin Bottger was a good sport and did the trick I was hoping for he also wanted to do a trick that actually challenged him a little. How about a slob fastplant on a set up twice the size you're used to on the extension?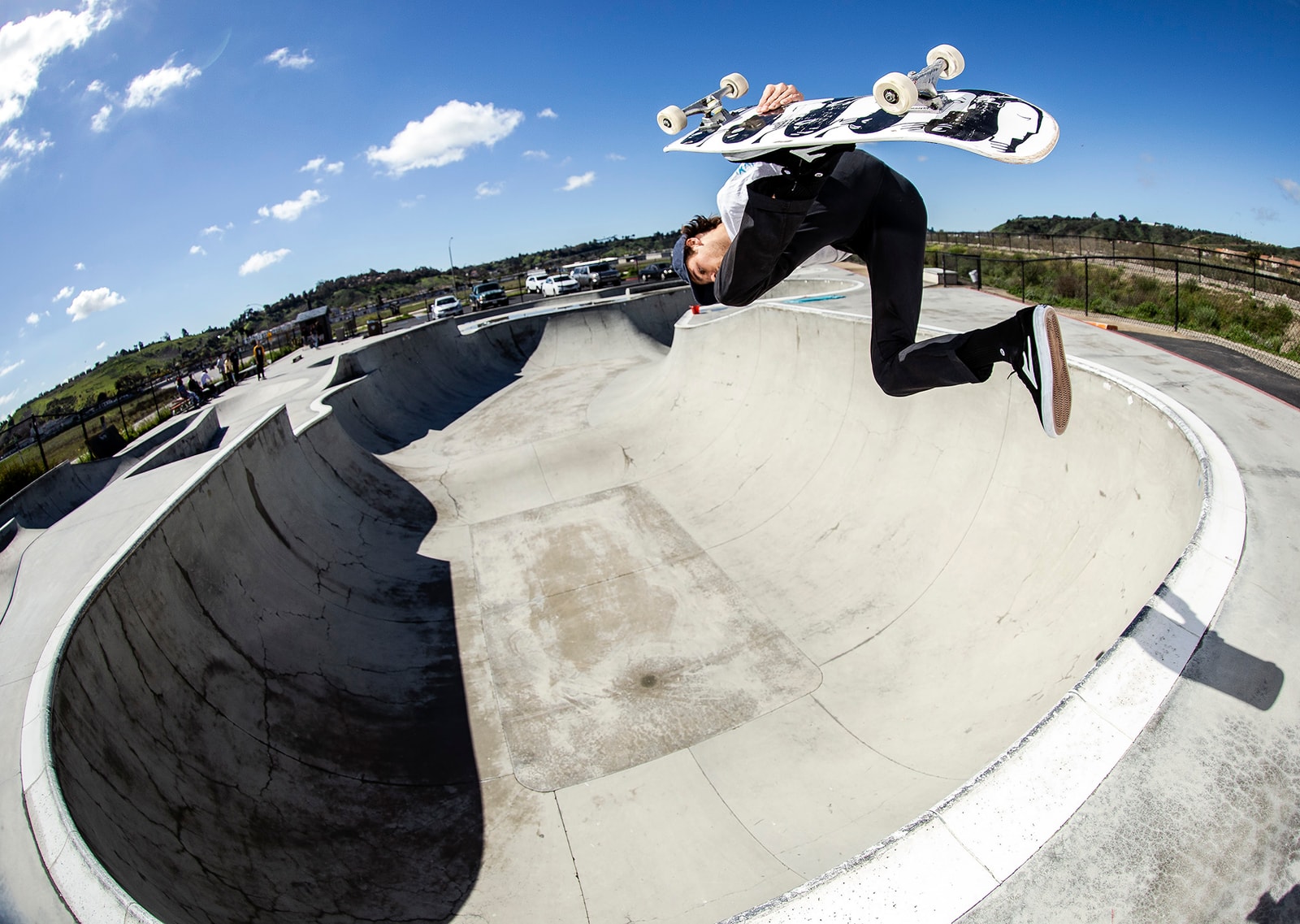 Jimmy Wilkins, Fastplant, Oceanside, California
It's no secret that Neil Blender is one of my all-time favorite skateboarders and as of late he's been working with his original sponsor G&S creating "Modified '80s" decks with his classic graphics. I saw a clip of one of my current favorite skaters Jimmy Wilkins hucking padless head high fastplants on one of these decks and hit him up right away to shoot it. If you've seen Jimmy skate, you already know he blasts everything so I made sure to bring a ladder to stand on so the graphic would show up in the shot.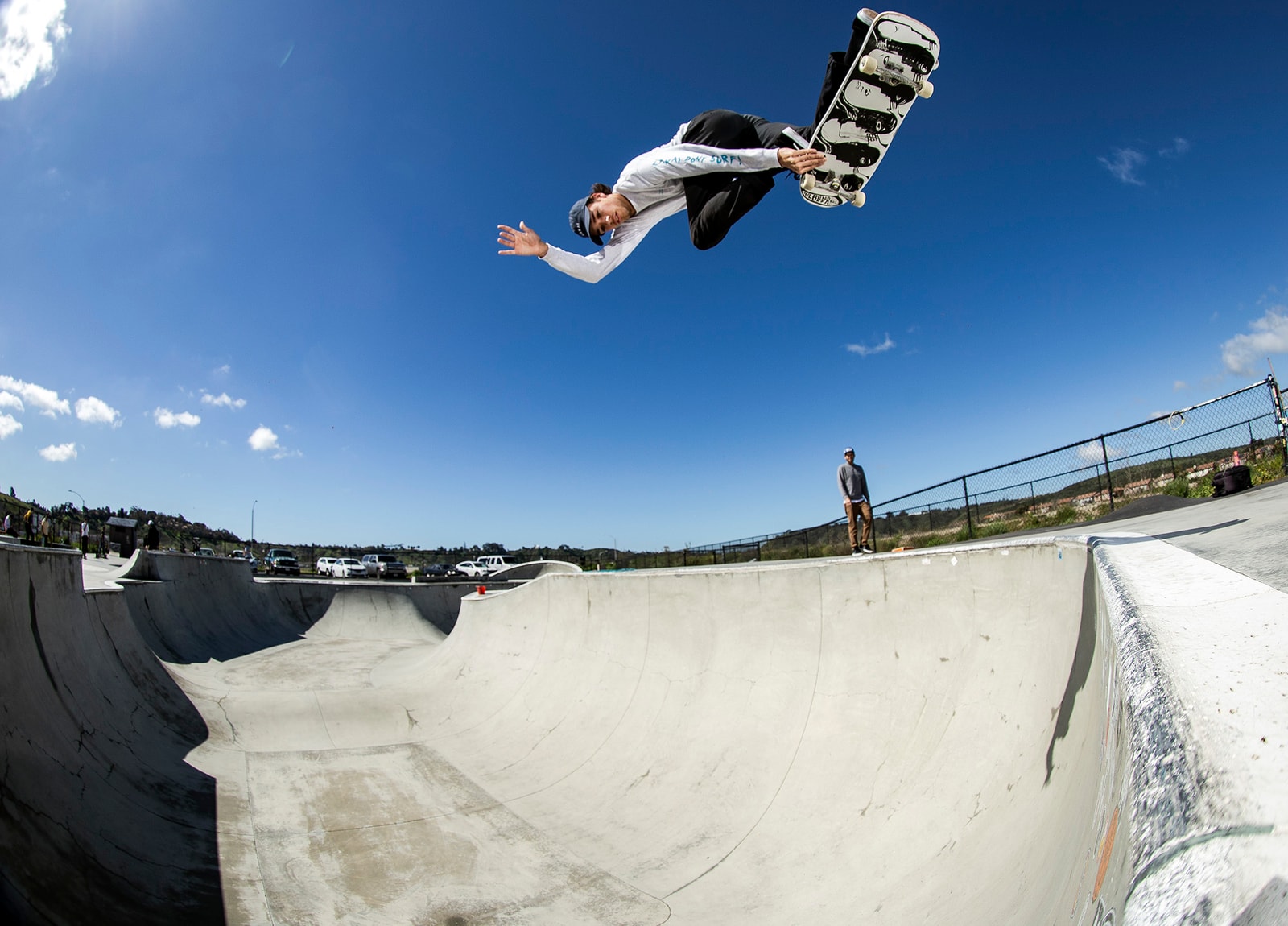 Jimmy Wilkins, Backside Tweak, Oceanside, California
Who's going to complain about another Jimmy Wilkins photo? Blender graphics on display.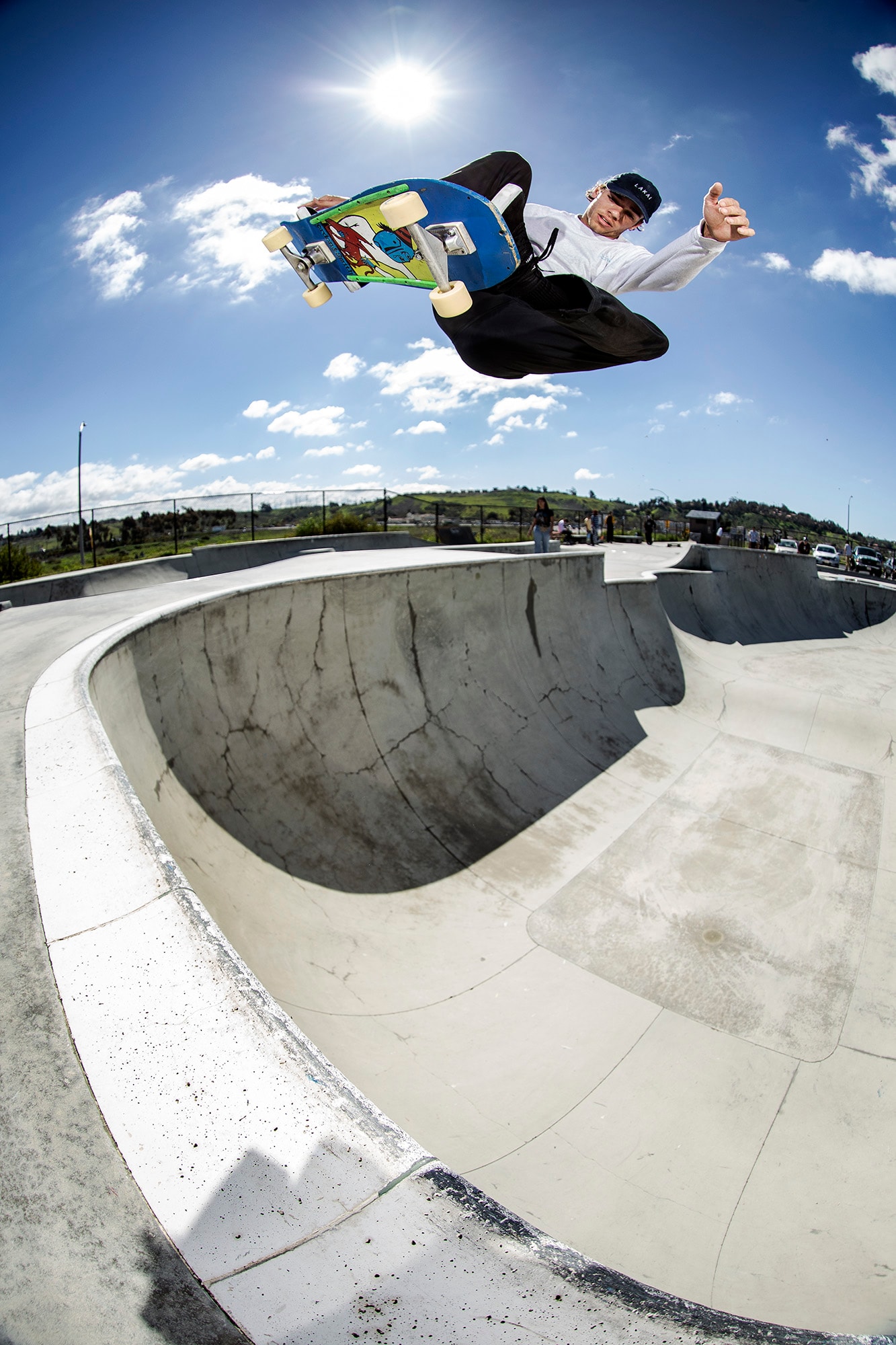 Jimmy Wilkins, Ollie, Oceanside, California
The second of the two "Modified 80s" G&S Neil Blender decks was the "Rocking Dog" and I just happened to have an original all set up the way Neil would have ridden it. Yes, Tracker Trucks, OG Rat Bones, and G&S rails and I brought it with me that day I shot Jimmy. In my head, I wanted to ask him to ride it but just felt it wouldn't happen because of the way it was set up. Well, Jimmy was down and after a couple laps around the flow bowl at Prince Park ollies were lofted in my face reminiscent of a classic J. Grant Brittain photo of Neil at Del Mar. The colors on this graphic looked so good flying through the air once again.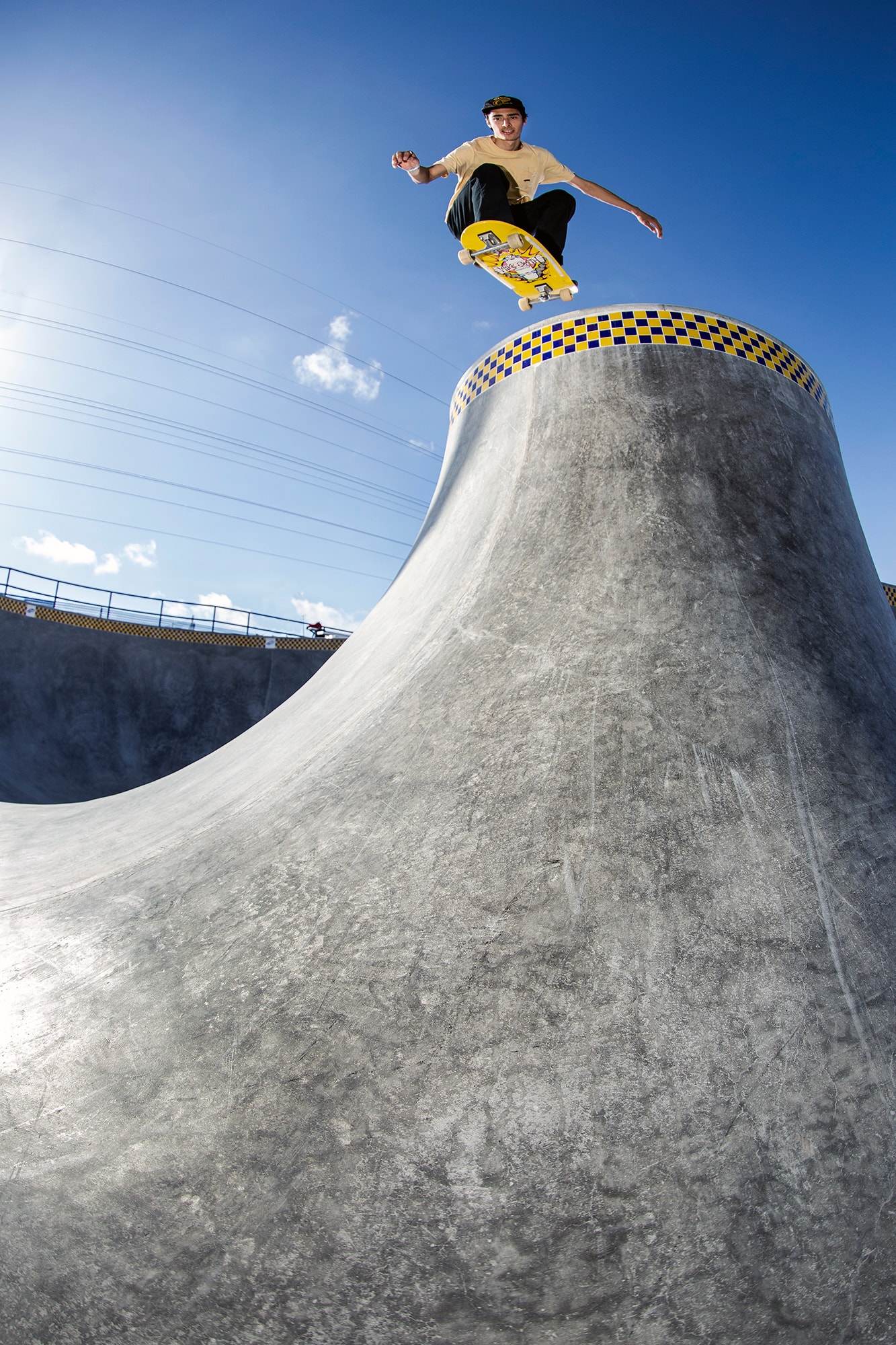 Patrick Ryan, Acid Drop, Huntington Beach, California
In 1982, when I was in high school my favorite skateboarder was Mike Smith. I had only seen Mike in the pages of Action Now and Thrasher, never in real life, but I knew this guy's style was the best in so many ways. When I finally got to see him, skate live before my eyes at the Del Mar Skate Ranch nothing changed, he was the ruler in my opinion. I had a few of his original Madrid skateboards pro model and would have definitely rode one of his John Lucero penned duck graphics had I not already been sponsored by Schmitt Stix when it came out. While doing this photo feature it came to my attention that Madrid had reissued the OG Duck on a yellow dipped pig shape and I knew exactly what I was going to do—an updated version another classic JGB photo of Mike acid dropping into the original Combi at the Pipeline skatepark. Shit, I even have a frame print of this hanging on the wall at my house. A week later the reverse Combi opened at the Vans Skatepark in Huntington Beach and I got a reverse skater (Mike was regular footed and I wanted a goofy footer), Patrick Ryan to be my guinea pig. We met up, I handed Patrick the set up, he chuckled and just rolled into the "Duncan" on the first go without even warming up. Kids these days.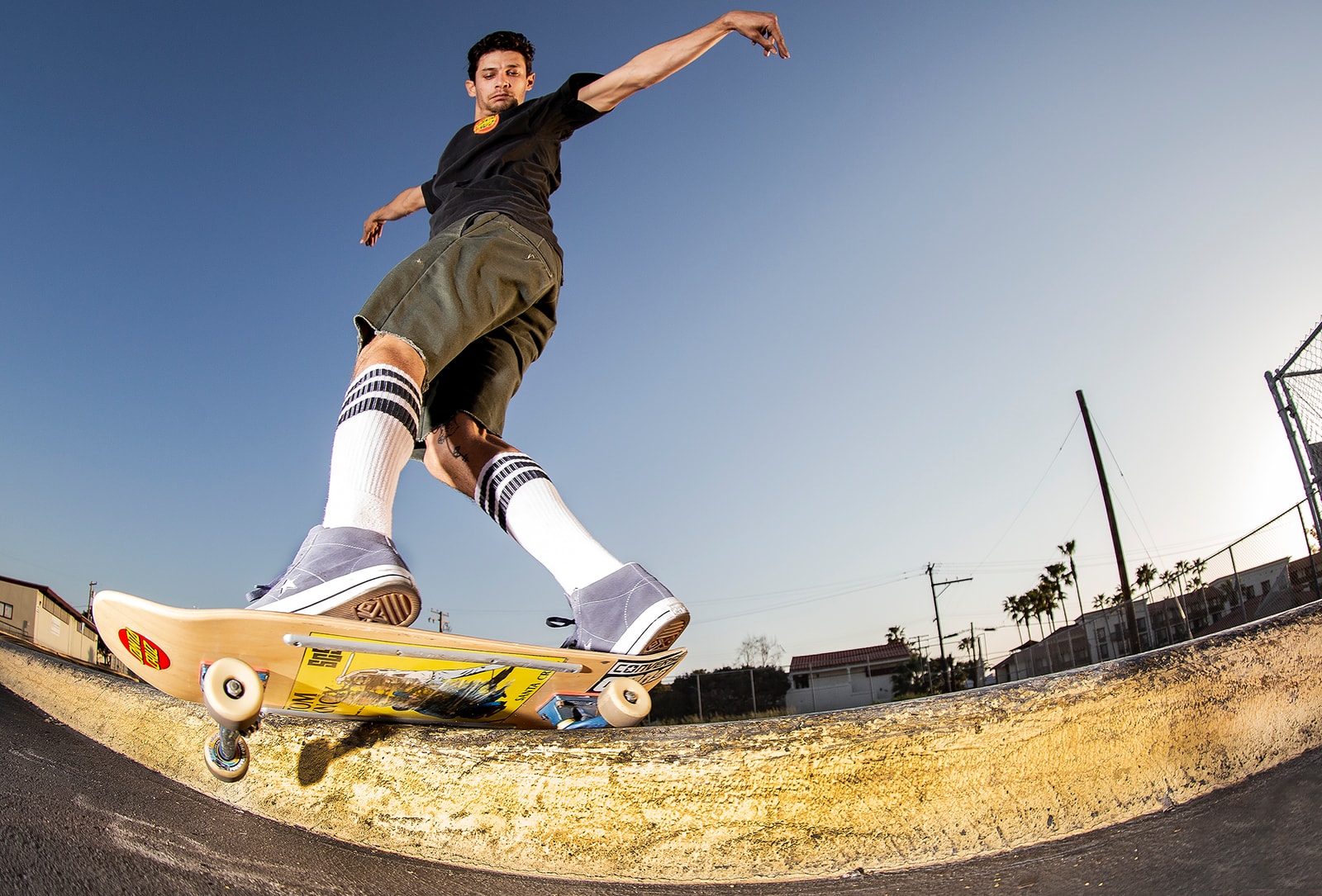 Tom Remillard, Hurricane, San Diego, California
Another company that has been in the reissue game for quite some time is Santa Cruz skateboards and they have so many classic graphics and shapes available that it was hard to choose just a couple. Well, I wanted a Tom Knox style shot from when he first got a pro model but that deck wasn't going to be available again until later this year so I needed to figure something else out. I dug through some boxes and found a reissue "Cop Beater" Tom Knox deck and set that up. Next, find a skater and a spot. Tom Remillard has the same first name and rides for Santa Cruz and that's what I did. Slappy Sunday curb in San Diego seemed like a perfect spot and before you know it, all done.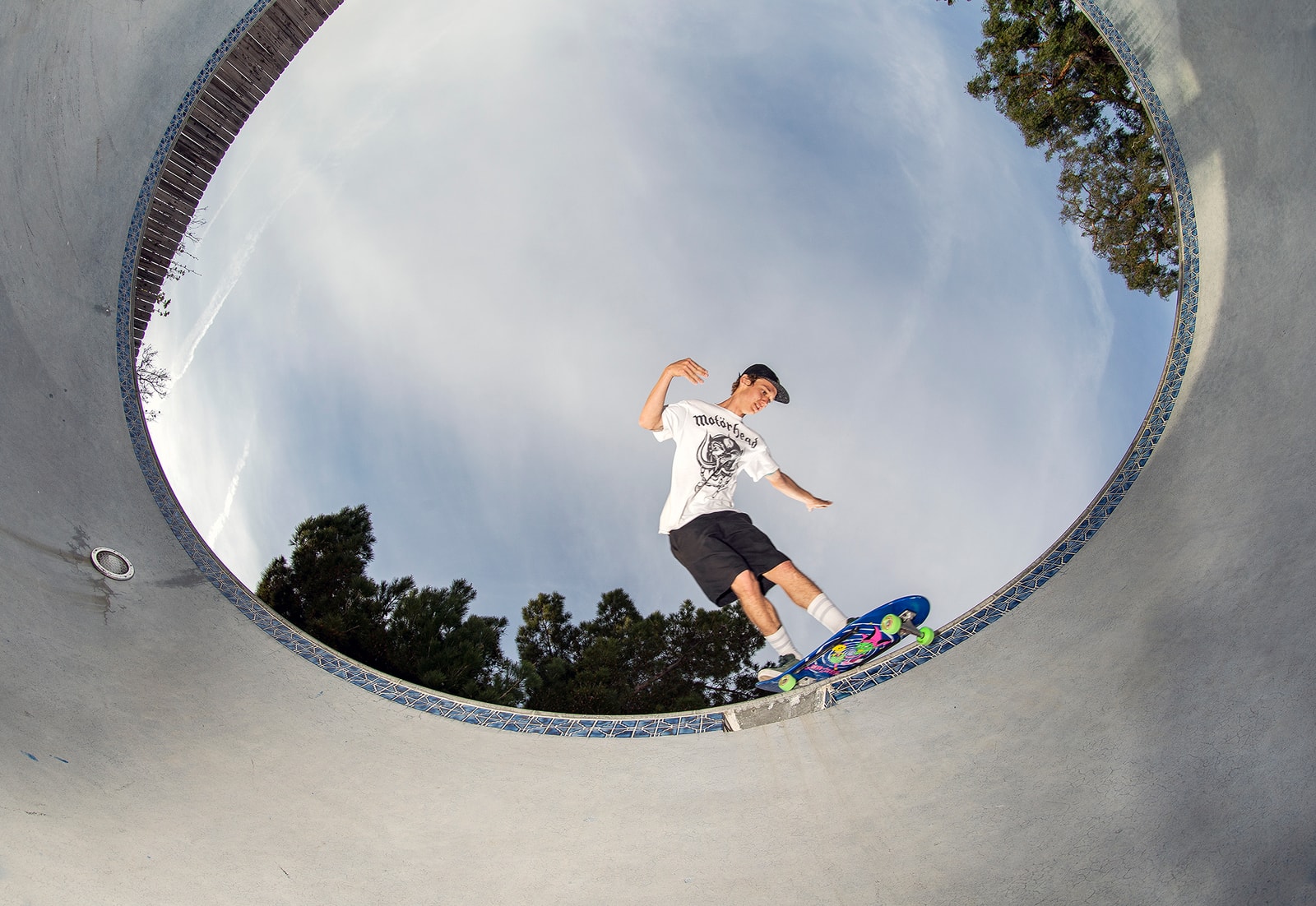 Tristan Rennie, Backside Smith Grind, Costa Mesa, California
On the opening day of the new Combi I was showing Black Label's John Lucero what I was working on and he was pretty psyched on it and hinted at me shooting a photo of someone riding his original pro model (with graphics drawn by him) from Madrid Skateboards that was recently reissued. He mentioned Black Label rider Jake Reuter doing a pogo and I was more than down. I wanted to find a different pool with tiles so I hit up Omar Hassan and somewhere in the conversation Omar said he could do a pogo on that deck and plans were made to shoot. On the day I was to meet up with Omar I was at the HB skatepark skating with Tristan Rennie when Omar called and said he was a bit sore from battling a trick and wasn't going to be able to get that trick for me. I asked if Tristan and I could roll over anyway and he obliged our request. While there, Omar suggested Tristan do the trick but I could tell Tristan wasn't down to try a trick he could barely do on a crazy '80s setup but he was willing to at least ride the board. Bam, backside Smith over the box? Works for me.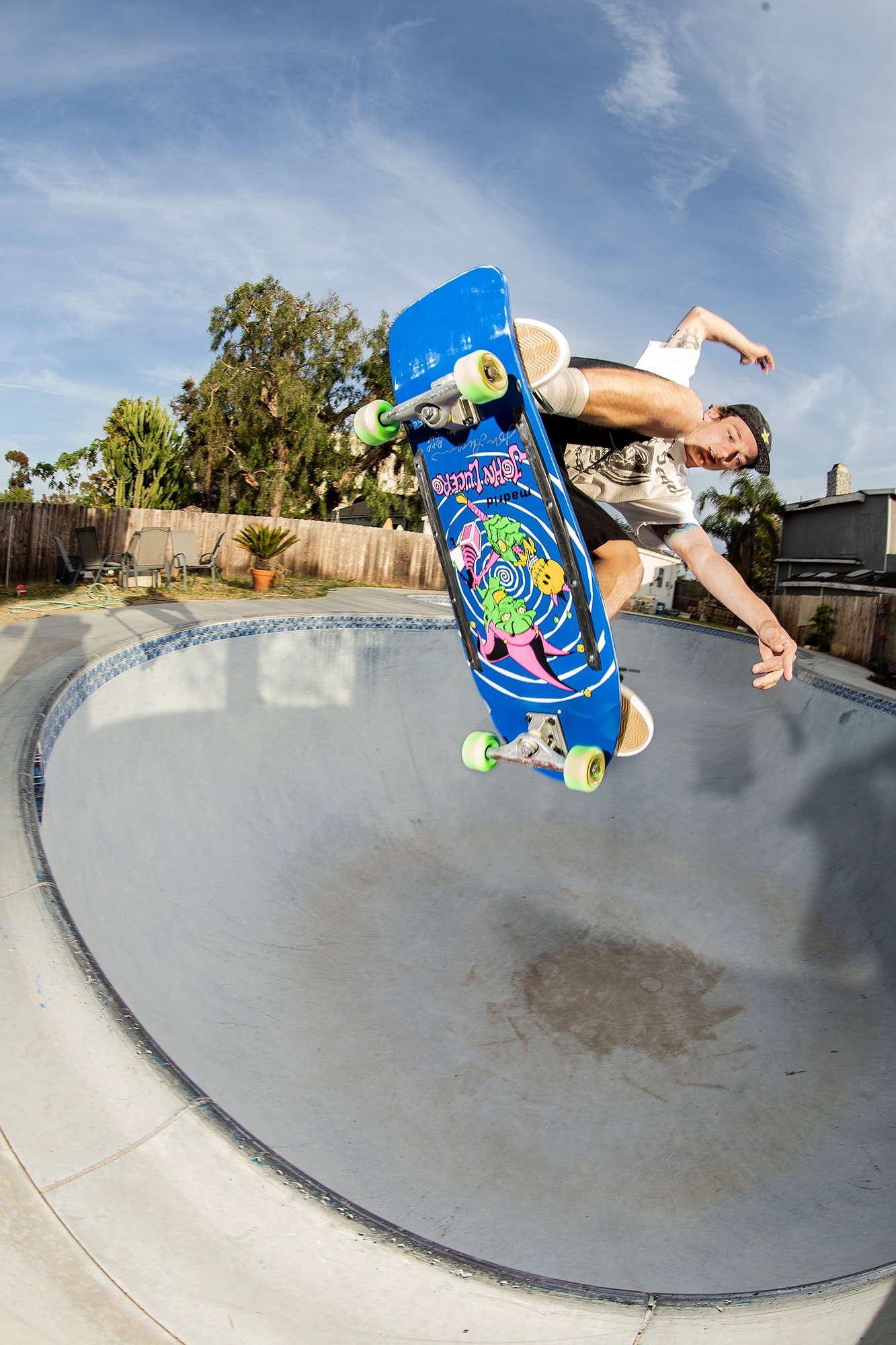 Tristan Rennie, Fakie Ollie, Costa Mesa, California
Again, the original idea for this feature was to shoot photos of tricks that the pro who rode it would have done back in the day. My other concern was to try and show the graphic as best I could. John Lucero had a good fakie ollie and the bottom of the deck would definitely be clearly visible on that trick. Thanks Tristan.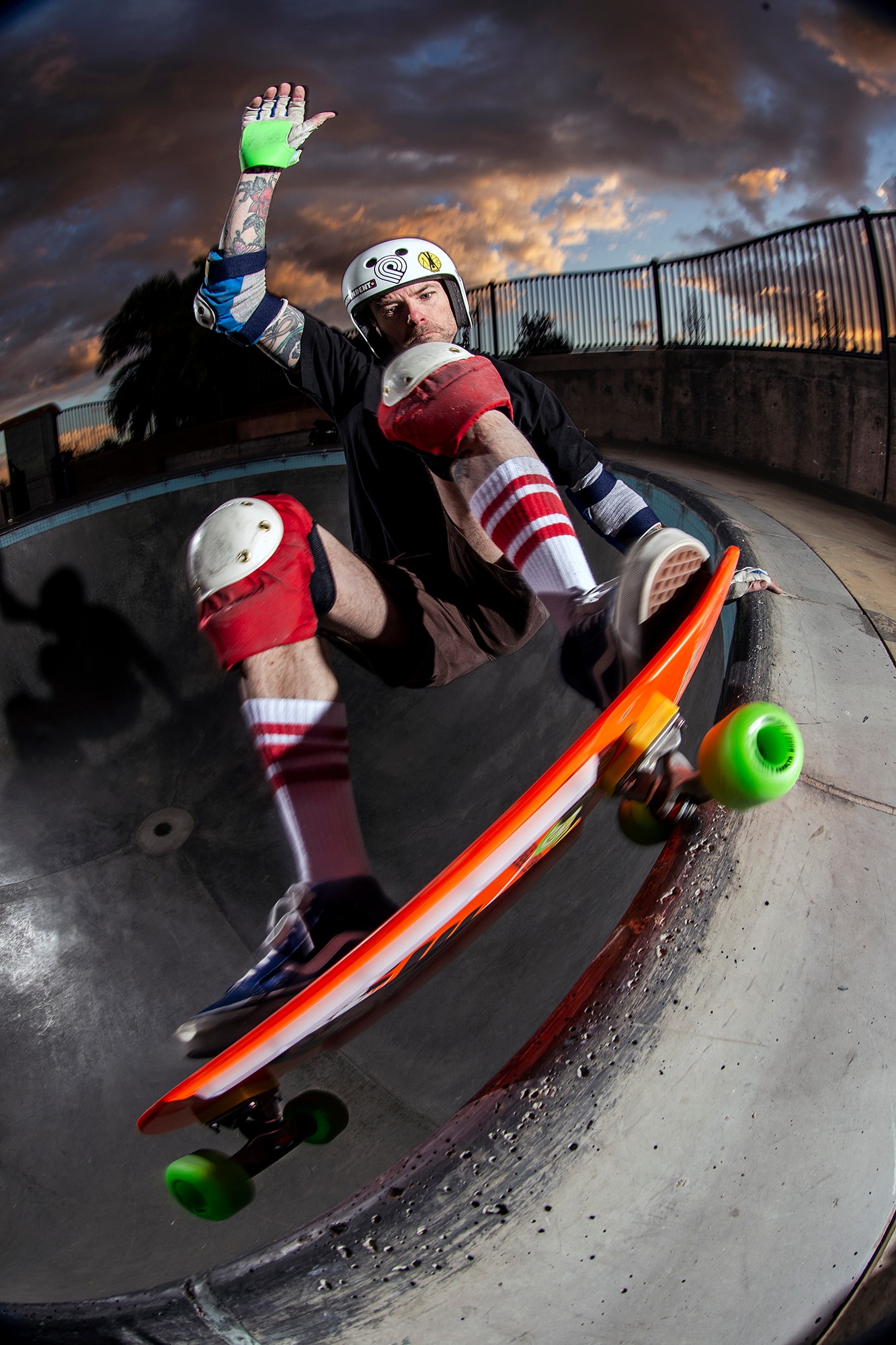 Greg Baller, Layback, Encinitas, California
At some point while shooting this photo feature I got a DM on Instagram from a skater in Halifax, Nova Scotia, named Greg Baller. I've known Greg for many years, as he and a large group of Canadian skaters spend two weeks each February skating concrete in Southern California. Greg's DM was a photo of legendary Powell Peralta skater Jay Smith doing a layback at the Marina Del Rey Skatepark in Los Angeles shot by Glen E. Friedman. Greg, out of the blue and not knowing that I was shooting my reissue stuff, asked if I was down to shoot a recreation of him doing the exact trick Jay was doing. The timing was crazy. In the next month or so I kept getting DM's from Greg showing me the fake Sims Gloves he was making, the deck he'd be riding and the gear he'd be wearing that would tie the whole shot together. He even asked Glen what equipment he used to shoot the original photo. When the influx of Canadians arrived at Poods on a semi-wet day I wasn't sure we'd pull off getting the shot but things cleared up and I did my best to make it look legit. Thanks Glen for all your fantastic images.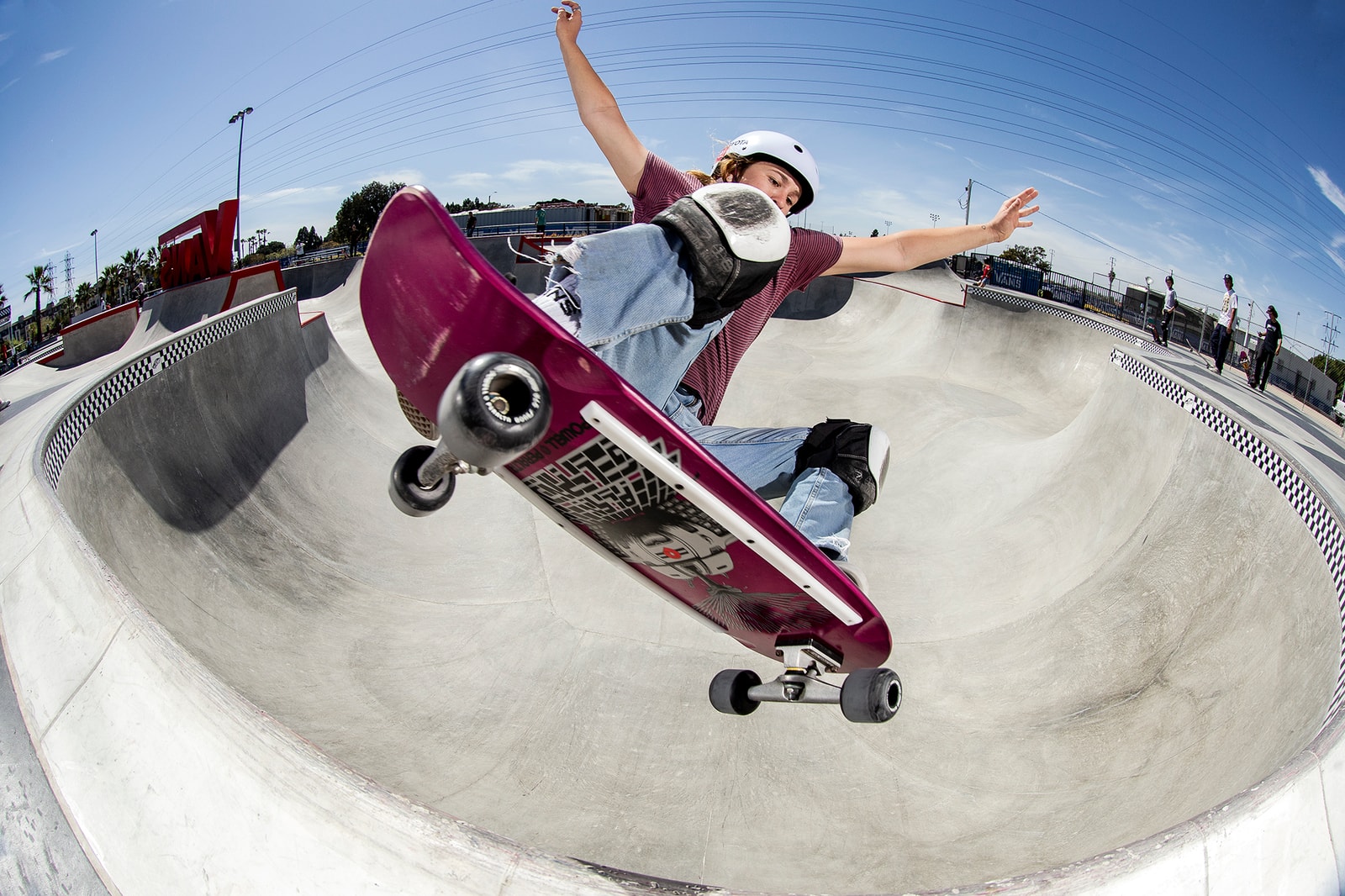 Jordyn Barratt, Ollie, Huntington Beach, California
The first pro model deck I ever had was a purple Powell-Peralta Alan Gelfand deck in 1981. Mine had purple Mini Cubics but those are nearly impossible to find so black was going to have to do. If you didn't know, Alan Gelfand was nicknamed "Ollie" and he is known as the inventor of the trick that bears that moniker. Here Jordyn Barratt pays homage to the great AOG with the trick that changed skateboarding forever.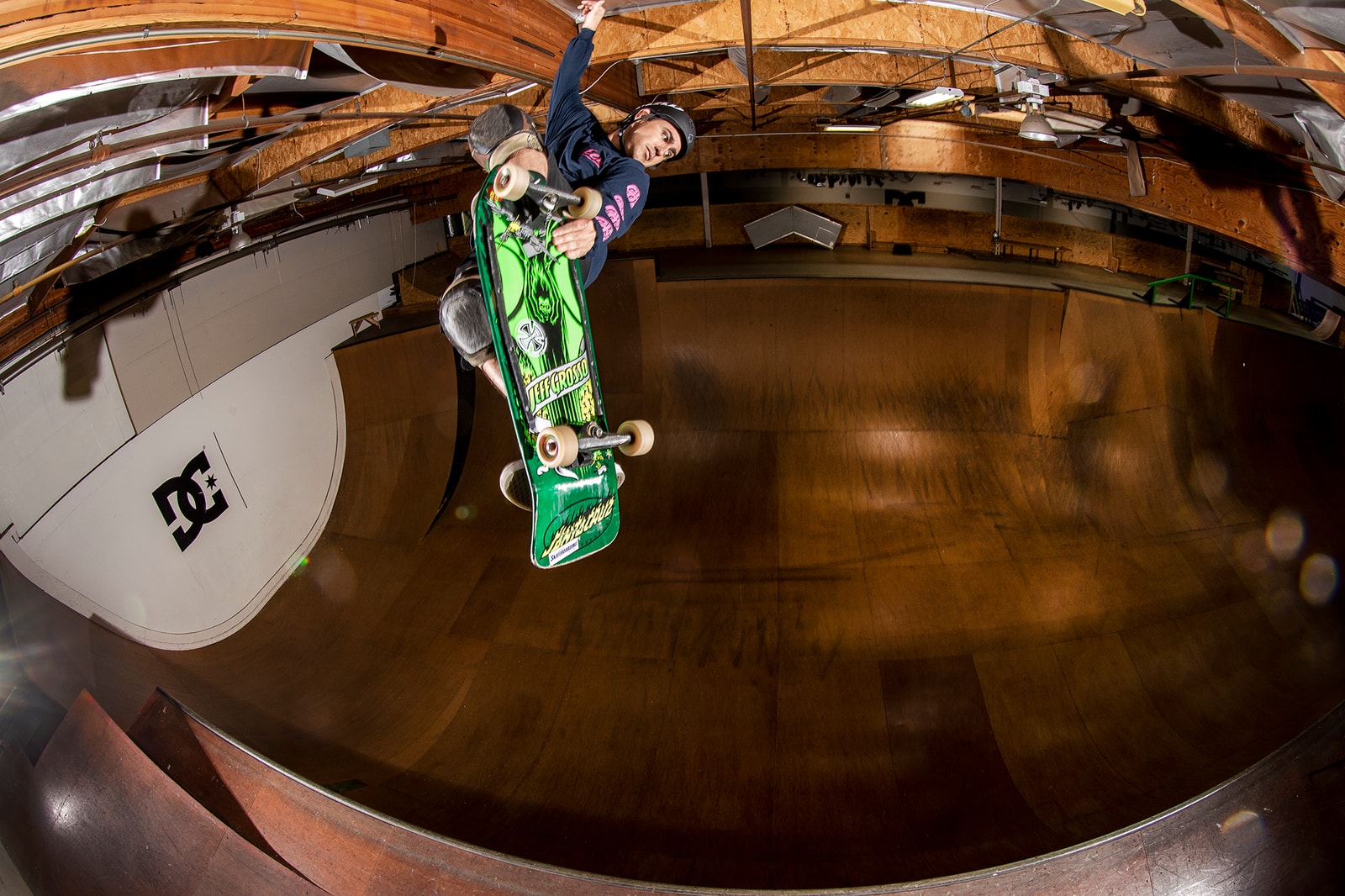 Alex Perelson, Lien Air, Carlsbad, California
It is a solid statement that one of skateboarding's greatest artists was Jim Phillips and he was responsible for so many classic Santa Cruz Skateboards logos and graphics in the 1980s. One of my all-time favorites from the time was Jeff Grosso's first Santa Cruz graphic that still looks amazing on the bottom of a deck today. I set up one of the reissue decks and hit up Alex Perelson about shooting a lien crossbone on it and he was down. I picked that trick because I had seen an old J. Grant Brittain photo of Jeff doing the same trick on ramp and the graphics were displayed perfectly. We met up at the DC ramp, he checked out the deck and immediately asked if it would be alright if he changed the bushings. That was the only thing he wanted to do before launching into eight feet plus lien airs— I know this because I was standing atop a two-foot box and I'm six-foot-tall and he was doing them right in front of my lens while I stood on my tippy toes. I'm sure this shape deck and graphic had never been as high as that before.
Special thanks to Santa Cruz Skateboards, OJ Wheels, Powell-Peralta, Bones Wheels, Dogtown Skateboards, Madrid Skateboards, Blind Skateboards, and G&S Skateboards. Check out more of Dave Swift's work at DaveSwiftPhotography.com.