THE SALAD GRIND: SALAD GRINDS & BEAN PLANTS #73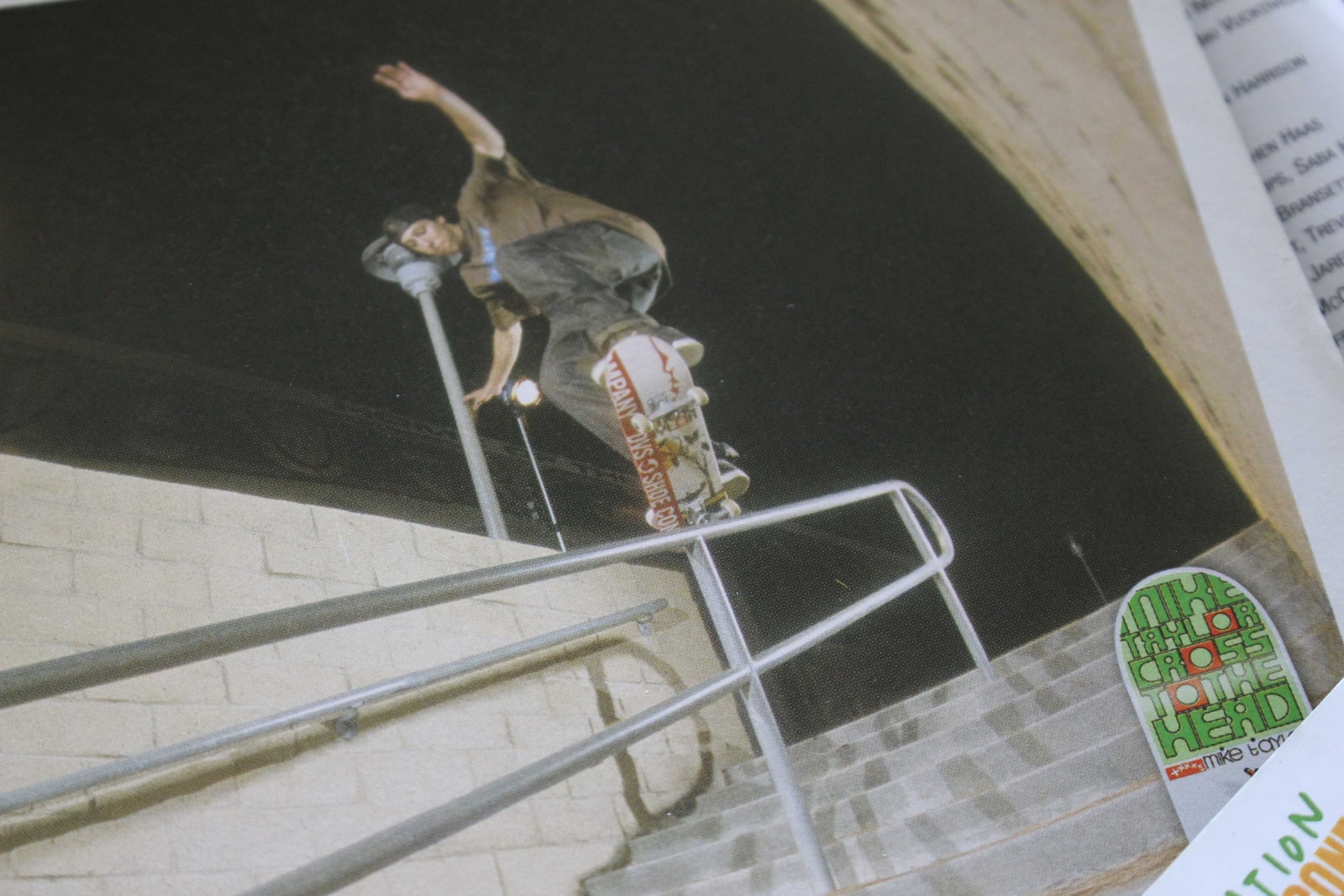 The Salad Grind
(A salad that defies all description and will change salads for you forever)
WORDS: Johnny Lozano
A couple of things to unpack here:
The description above of the recipe doesn't actually tell you anything, and I don't really care. If I were trying to achieve any kind of SEO goals with this blog, I wouldn't be calling all these recipes skate puns in the first place. Just trust me, this salad is going to kick your ass.

Yes, it was inevitable, I finally named a salad after

the salad grind

. It's the name of the blog, which means I've been contemplating this move for almost two years. I was just waiting for the right salad.
For a blog called Salad Grinds and Bean Plants, I post very few salads. This is not because I don't like salad; this is because, with the exception of salads that require some non-intuitive ingredients (

the Muskabeetz Salad

, for example), posting a salad recipe is almost insulting to anybody who has ever set foot in a kitchen. You just put the stuff together. How much? Doesn't matter. Do you mix it? If you want to. Could you have figured it out yourself? Most definitely.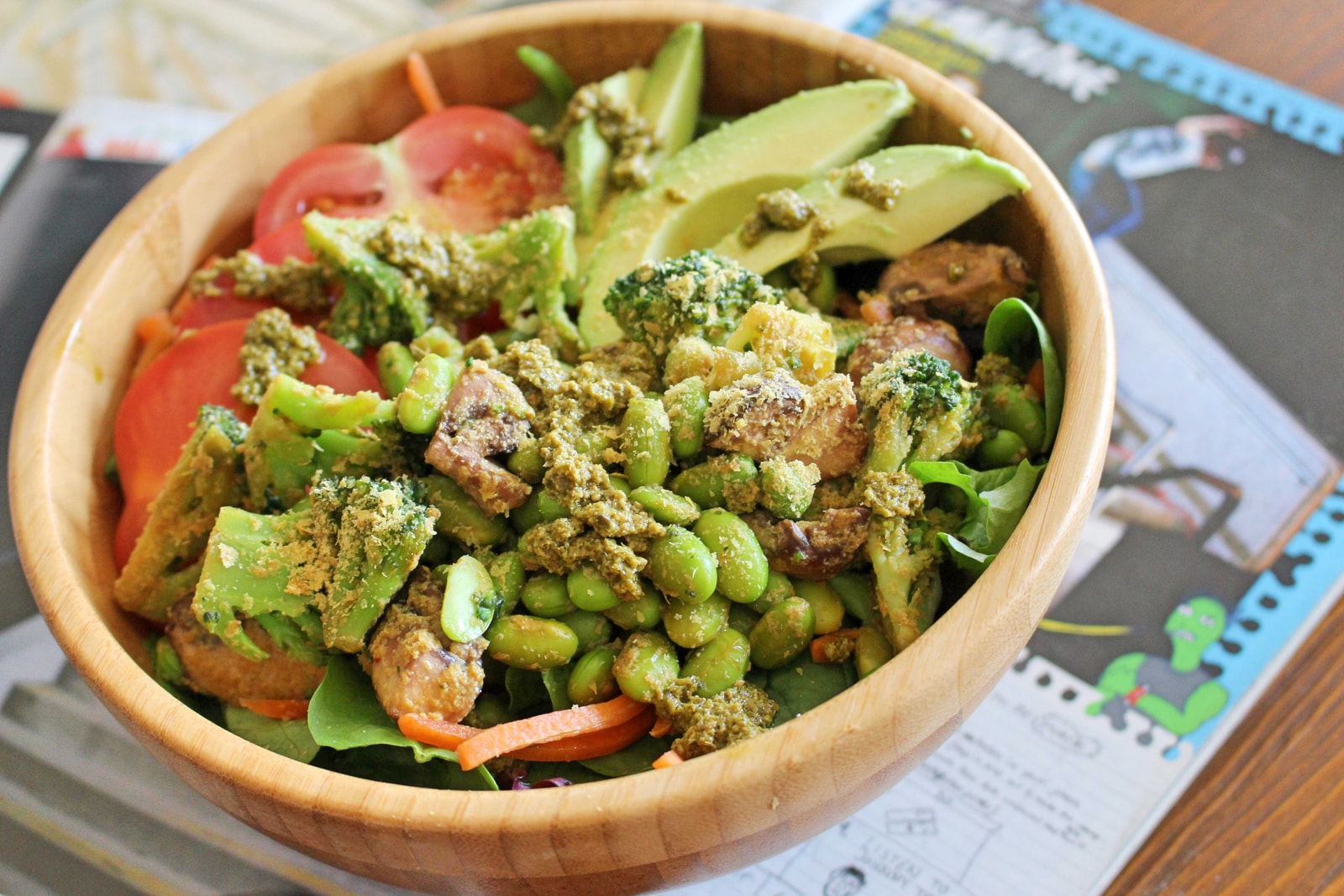 Ok, on to the real topic here: the monstrosity of a trick called the "salad grind." While it's not rare for a trick to die out (most often deservedly so – case in point, the benihana), it is rare for a trick that once enjoyed serious prominence to fall by the wayside. Shove it tailgrabs are long gone, but they were never really respected in the first place. Dog flips have always been controversial (I believe Berra has posted at least a dozen clips in its defense, which just shows that the trick is still miles away from unanimous appreciation).
But the salad grind?  The bastard child of a 5-0 and bluntslide that scratches neither itch and just dabbles in mediocrity (and is, in fact, easier than both of the aforementioned components)? THAT WAS A REVERED TRICK A DECADE AGO. To illustrate my point, I just randomly flipped through early '00s mags to find the photos for this recipe. I found the photos pretty quickly (and I don't say this to condemn Caswell Berry, Mikey Taylor, and Josh Harmony—the first three that I saw), which lets you know that this trick enjoyed some ineffable sense of legitimacy in the not-too-distant past.  
Alas, lest you think this rant is somehow going to tie into this week's recipe, it's not. I just wanted to ramble on about how this trick has been set out to pasture, to nobody's disappointment or surprise.
This week's salad, however, will blow your mind. I've had a few FLATBAR business dinners with Will Flores (@plantrider) at a hole-in-the-wall vegan restaurant in Austin called Bouldin Creek and this salad (on the menu as "Tarzen's Big Azz Salad") has has made me salivate every time I watch it whiz by to lucky patrons. Finally, I decided to see if I could recreate it with a few tweaks of my own. This isn't some chilled summer salad; this is a sizzling, spicy, savory, protein-, fiber-, and flavor-packed masterpiece. Really, I'm at a loss for words with this recipe. Just know that if the sound of stir-fried broccoli, edamame and mushrooms on top of a bed of greens and avocado with a vegan pesto sounds like your jam, you're gonna love it.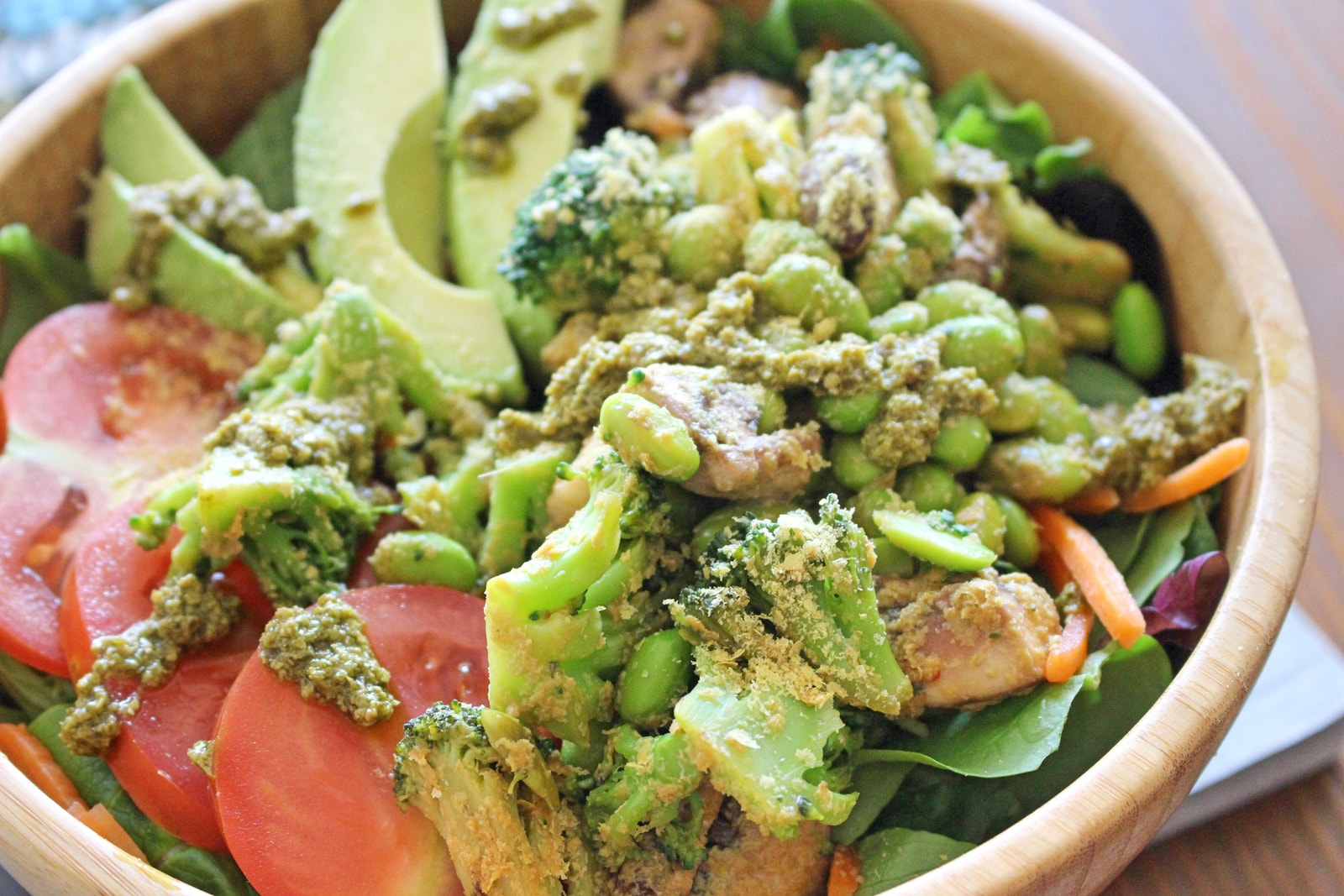 Enough rambling, here's a trick tip for a salad grind that doesn't reek of indecisiveness:
INGREDIENTS (note that this makes five servings, so when I don't list out exactly how many tomatoes or carrots you need, I'm letting you decide):
1 tbsp. olive oil

4 tbsp. soy sauce

1 tbsp. rice vinegar

1-2 tsp. minced garlic

1 tsp. crushed ginger

1 tsp. chili paste

Squeeze of ½ lemon

5 cups frozen broccoli

1 bag (12 oz) frozen edamame

1-2 cups sliced portobella mushrooms

3-4 tbsp. nutritional yeast (nooch)

Greens of your choice

fresh sliced tomatoes

Carrot matchsticks

Avocado

Vegan pesto (you can find it

here

, or you

can make it yourself

, although I suggest switching the pine nuts with pecans and adding a dash of chipotle powder)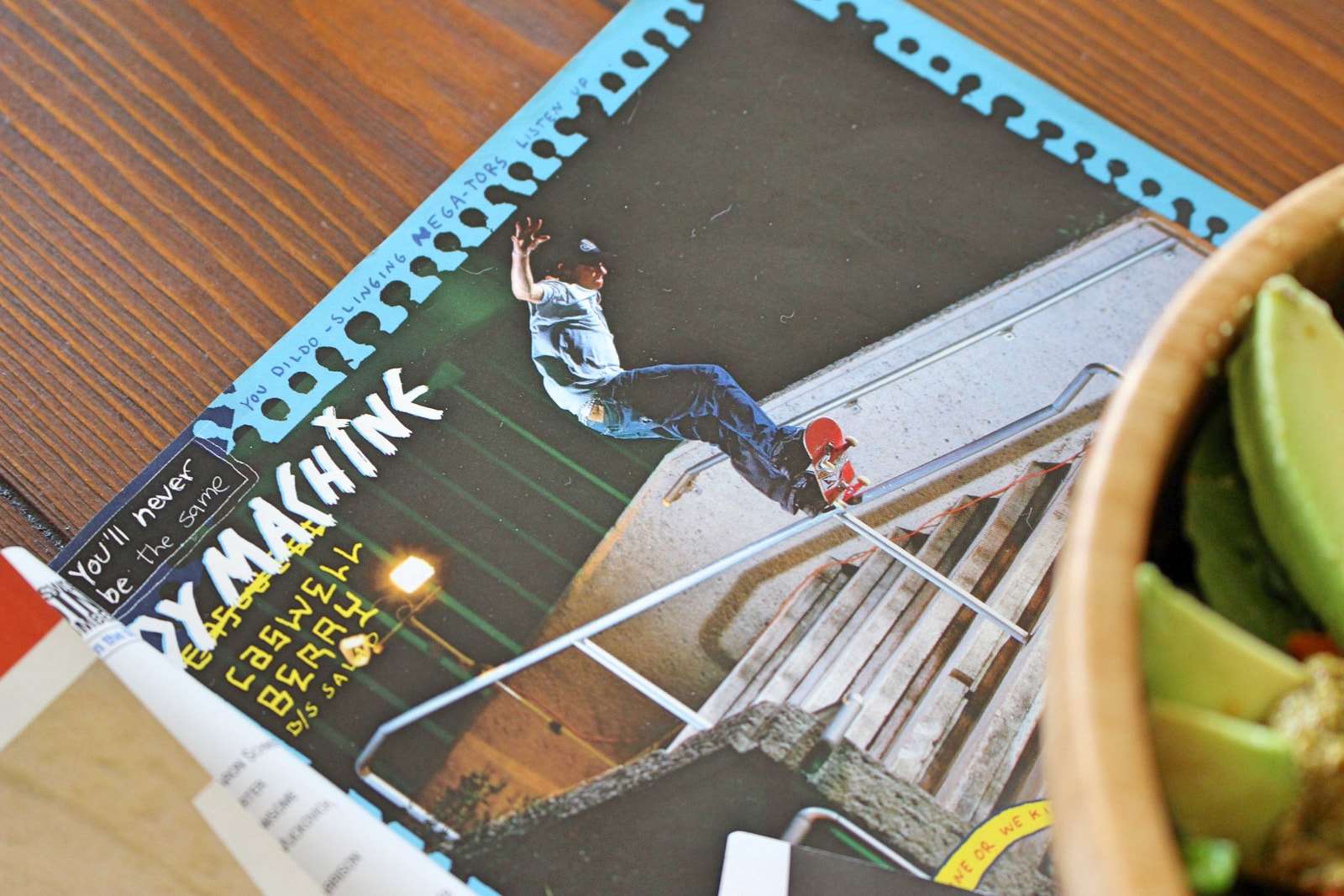 DIRECTIONS:
If you've made any of my stir fry recipes, this will sound familiar.  Bring the olive oil to medium heat in a large skillet on stovetop and mix together the soy sauce, rice vinegar, garlic, ginger, chili paste and lemon juice in a separate bowl.  Once the stove top is warm, throw the broccoli in the skillet and stir it around for 5-6 minutes or until it is a nice, deep green. Once greened and softened, throw in the stir fry sauce you just mixed and stir it around for another few minutes.

While that's doing it's thing, cook the edamame in bag (if you got a microwave bag) or add it to the skillet to cook it.  Once both the broccoli and the edamame are nice and stir-fried, add the mushrooms and cook for another minute or two. Set all that aside.

Mix up your greens, tomatoes, carrots, avocado and pesto and get ready to add the stir fry.  However, before you add the stir fry, toss in the nutritional yeast until the stir fry is coated.  Wait to do this until just before eating so that the yeast isn't completely soaked in when serving (not dangerous if it is, just less exciting from a texture perspective).

Chow down and go unlearn salad grinds.
Happy shredding,
Johnny