WORDS: Stu Gomez
Over the past 10 years, Japan has surpassed the rest of the skate world in terms of creativity and vision. The aspects that make skateboarding truly great—attitude, innovation, and style—are on full display in work by Japanese brands like TIGHTBOOTH and Evisen. The Evisen Video is a great example of this: They didn't even need a fancy title—they just let the skating, editing, and art direction do the talking.
Evisen's latest project is a collaboration with adidas Skateboarding. The collection, featuring a crewneck, tee, jersey, jacket, track pants, and 3MC shoe, has some very cool Japanese design details and is uniquely Evisen. We talked with the dude behind it all, Katsumi Minami, about how the collection came together, some of his design inspirations, and how skating in Tokyo has evolved since he started Evisen.
First, I have to ask about the crazy panoramic commercial for this adidas collection—it seemed like a "day in the life of Evisen." Was this done by TIGHTBOOTH? And how did you come up with the concept for this video?
Just to explain, Evisen and Tightbooth come together as one head company called Kinari between Tokyo and Osaka. We have the Evisen creative team in Tokyo and Tightbooth in Osaka where Shinpei Ueno works with us on some of our other output.
Our theme for the collaboration is "SAKE," and our Tokyo creative team came up with the idea and produced the commercial with close friends. This video depicts our daily lifestyle mixed with traditional Japanese cultural imagery.  We want to give the viewer an interesting image of Japan so skaters worldwide will want to come and visit.
You can have an experience almost the same as the one in the video one day.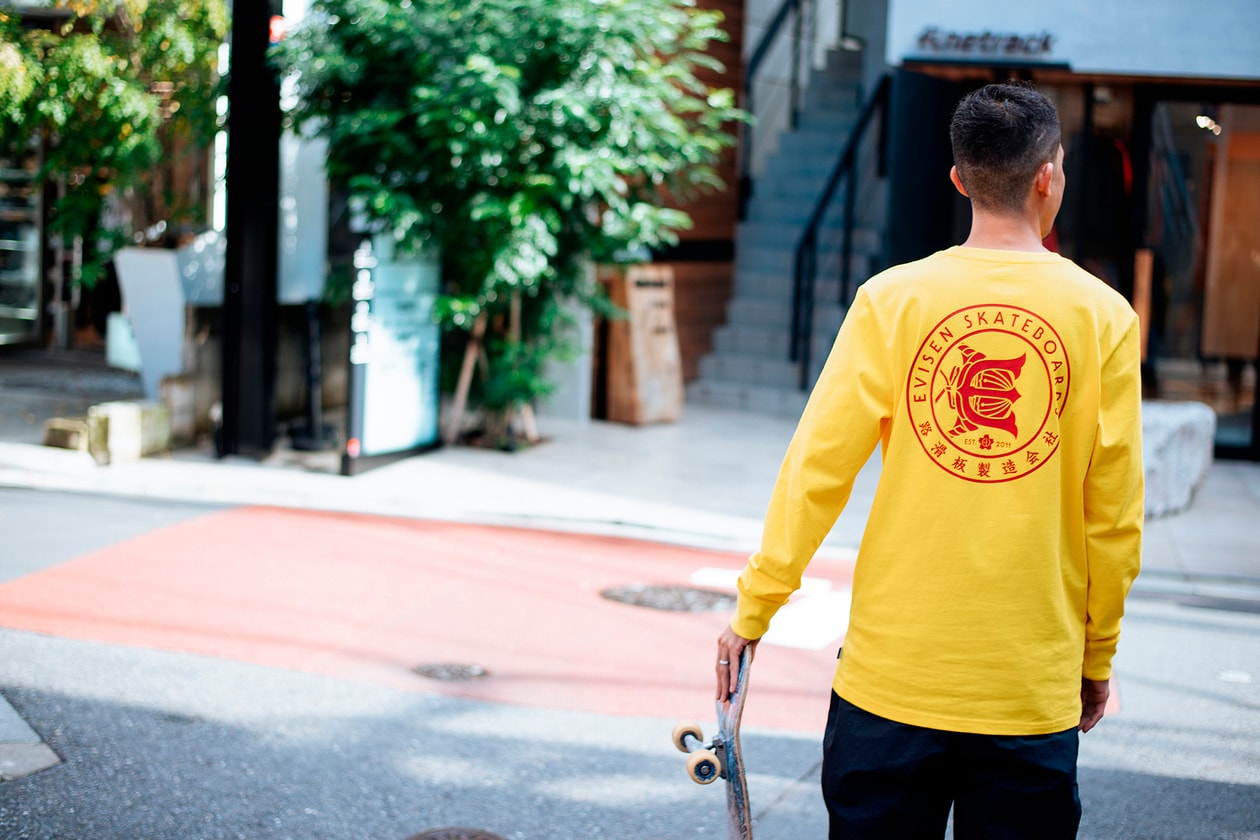 The collection itself seems to stay true to Evisen's mission of highlighting Japanese culture, while still being design-forward. What was it like to work with another company's design team for these pieces? Was the process easy to get used to?
It went very smoothly. Adidas showed full respect towards our crazy ideas and designs, and updated it in their own smart and experienced way to create the final product.
Evisen is probably one of the most aesthetically consistent brands right now—"Takeshi Castle" and the Power Glove board are brilliant. Where do you find inspiration for Evisen's designs?
For the design, we have fun brainstorming ideas with our art director Kazuhiro Hamaguchi, but our level of stupidity when coming up with new ideas is too much for me to put in print, haha.
Our basic principle is not to forget about enjoying what we do, the same as with skateboarding.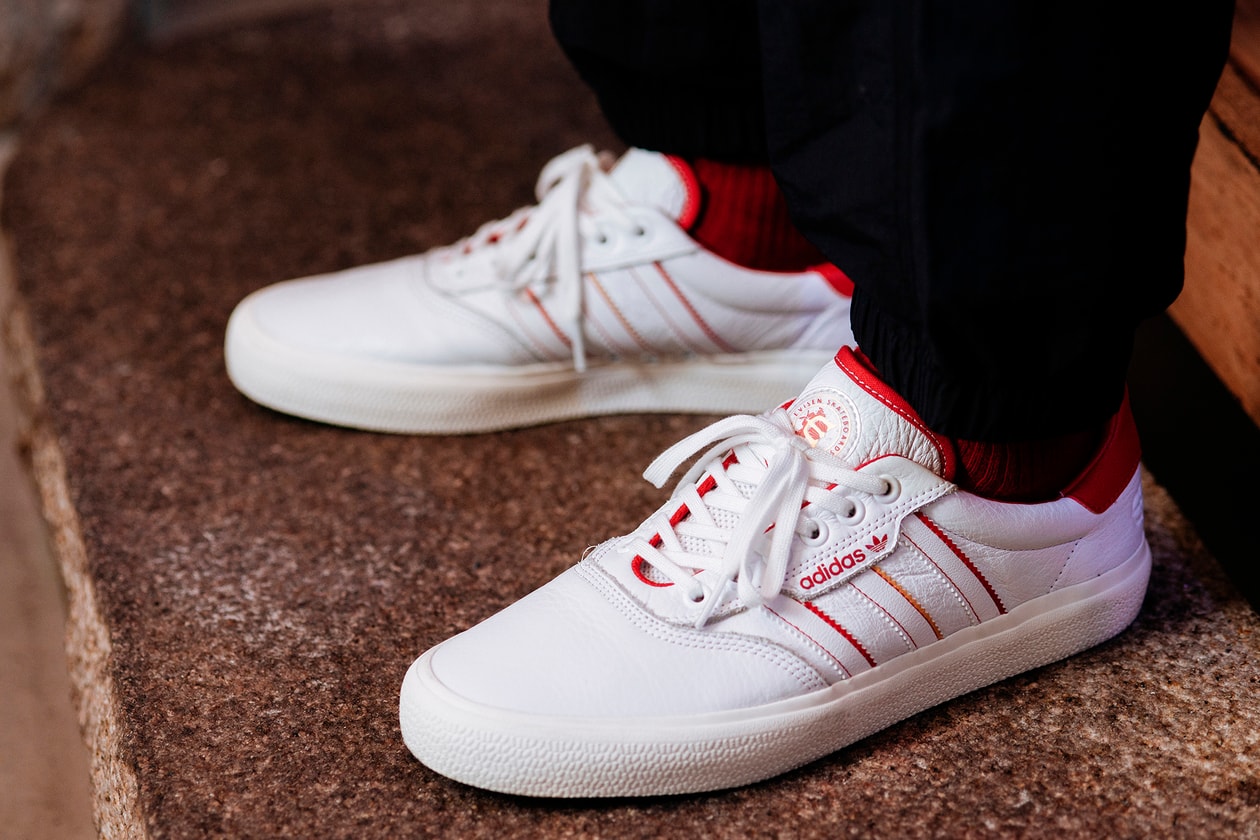 Since westerners probably won't understand most of your references, do you ever worry that non-Japanese just won't get the Evisen vibe?
We try to make products that are accessible to all cultures, but some of our ideas are probably a little too out there to be easily understood. But I really hope that our delicate Japanese cultural sensibilities can be felt by people all over the world.
I first learned about your brand when LENZ II came out, and it seems like since then Japan has gained a reputation as being a major trend-setting force in skateboarding. How do you feel about Japan's rapid rise as the home of some of the world's most unique and progressive skaters?
I feel more and more people are starting to skate in Japan, but the only way of standing out in this day and age in skateboarding coming from a small island in the Far East is by exploring individual expression, trick choice, and unique skate spots.
Probably the best thing about skating here though is how open-minded and inclusive skateboarders are.
Katsumi Minami from his Evisen Video part.
How has Tokyo changed since you founded Evisen in 2011? How has your vision for the company evolved since the early days?
Street skating in Tokyo is a nightmare. The police are taking things to a whole new level here and it's pretty fucked up at the moment.
I have a vision to build a skate plaza right in the center of the city, though.
I know it's almost impossible to get the law changed by using the media to sway public opinion, but as a company owner, I'd like to believe it could happen.
What are some plans you have for Evisen in the future?
I am planning to add a new rider to the team, put out some more video clips and go on more tours with the team. Watch this space!
The adidas x Evisen collection is available now!