RAWDOGRAW ZUCCHINI ALFREDO: SALAD GRINDS & BEAN PLANTS #60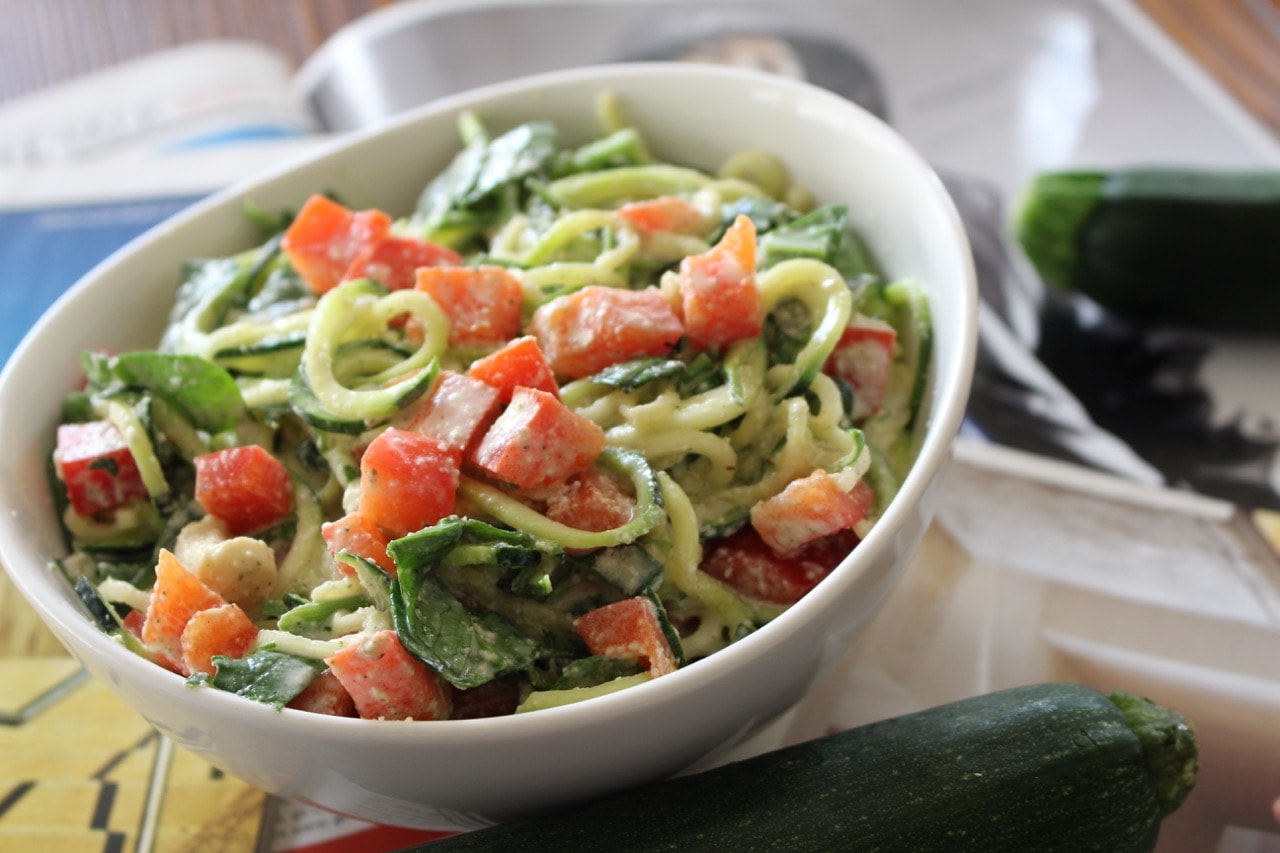 RawDogRaw Zucchini Alfredo
WORDS: Johnny Lozano
With the litany of board companies popping up every day, it's easy to miss important developments, even when they stem from some of skateboarding's most lovable legends.  No, this post isn't about Thank You Skateboards – I'm still processing that one (and frankly, it may take another few weeks just to wrap my head around Torey Pudwill's eons-long back tail).
No, instead this recipe focuses on another homies-driven brand, RAWDOGRAW (or WARGODWAR if we're getting all Danny about it).  With a roster that include Antwuan Dixon, David Reyes, and Jamie Tancowny, among others, this brand promises to be a three-way marriage of smooth styles, technical proficiency, and intimidating rails (frankly, Reyes's pro clip illustrates all three in one trick).  
Speaking of raw, my wife and I have been eating raw the last few days. Eager to undo the damage we've inflicted on our bodies via Thanksgiving indulgence, we have been committing to eating only non-processed, uncooked foods. This is somewhat challenging since it cuts out things like grains and beans, unless you sprout them, which is both time-consuming and potentially dangerous. The natural question, then, is why would anybody do this? In addition to really bolstering your will power, some benefits of eating a largely raw diet include:
Lower blood pressure

A focus on more readily absorbable nutrients

A boost to the immune system

Reduction of inflammation

Higher pH levels

Increase in energy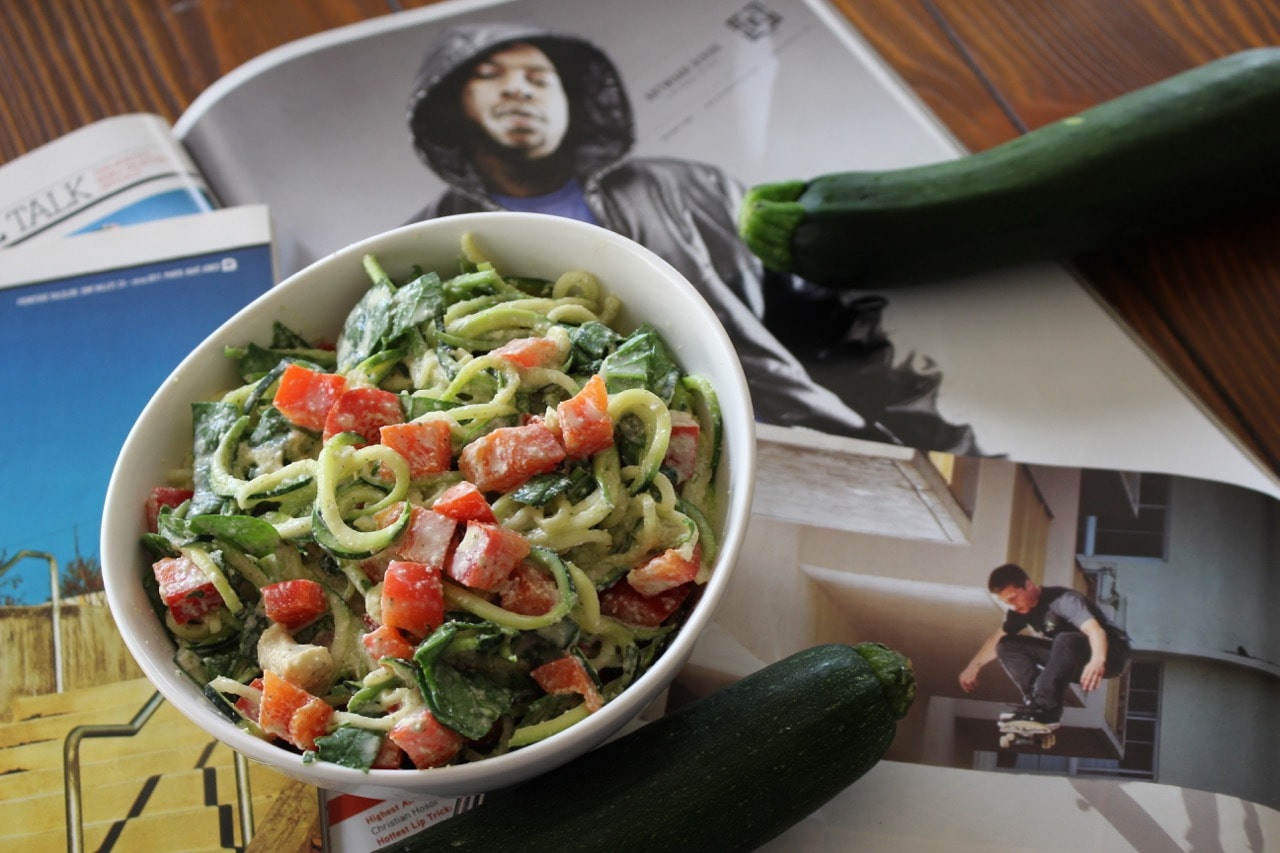 The last three of these have already proven helpful to skating after just a few days into the diet, so while it may not be my first choice of lifestyle, a raw vegan diet has already shown its benefits (apparently Alex Olson recognizes this and follows suit).
That said, eating raw doesn't mean you have to just pound raw broccoli and call it a day; after some research, there are plenty of non-salad recipes that check the "raw" box while providing both flavor and caloric satiety. My wife and I tried this Blissful Basil (www.blissfulbasil.com) recipe with a few modifications and found it to be easy, delicious, and filling. Will zucchini noodles taste like a perfect substitute for fettuccine noodles? Obviously not—but it's raw, dog. That said, the vegan alfredo sauce is almost a dead ringer for traditional alfredo sauce and can easily be warmed up if you're not going raw.
One bite of this and you'll be channeling your inner ODB.  Oh baby, I like it raaawww…
PASTA INGREDIENTS:
4 medium zucchini squash (spiraled)

1 red bell pepper (chopped)

2 cups spinach (chopped thin)

Juice of ½ lemon

Salt and pepper, to taste
ALFREDO SAUCE:
½ cup cashews + extra for crunch

½ cup hemp seeds

½ cup nutritional yeast

½ cup almond milk

2 cloves garlic (minced)

juice of ½ lemon

salt and pepper, to taste
DIRECTIONS:
Start by soaking the ½ cup cashews for the sauce. If you're going truly raw, you can soak these in warm water for half an hour (but if you want to cut that time a bit, you can soak them in boiling water for 10-15 minutes, keeping in mind that the cashews are then not technically raw). Once soaked, drain the water and toss them into a food processor with the rest of the sauce ingredients and blend until smooth. Toss in a few extra cashews for some crunch.

For the pasta, first spiral the zucchini. If you don't have a spiraler, you can get these spiraled noodles at almost any grocery store (but pro tip: if you think you'll ever make more than 4 veggie noodle dishes, it's cheaper to just get a $20 spiraler).  Chop the bell pepper and spinach and toss them into the noodles along with the alfredo sauce.
Happy shredding,
Johnny
For more recipes, check out www.saladgrindsandbeanplants.com or find us on Instagram at @salad_grinds_and_bean_plants.