TONY HAWK'S PRO TATER SMOOTHIE: SALAD GRINDS & BEAN PLANTS #79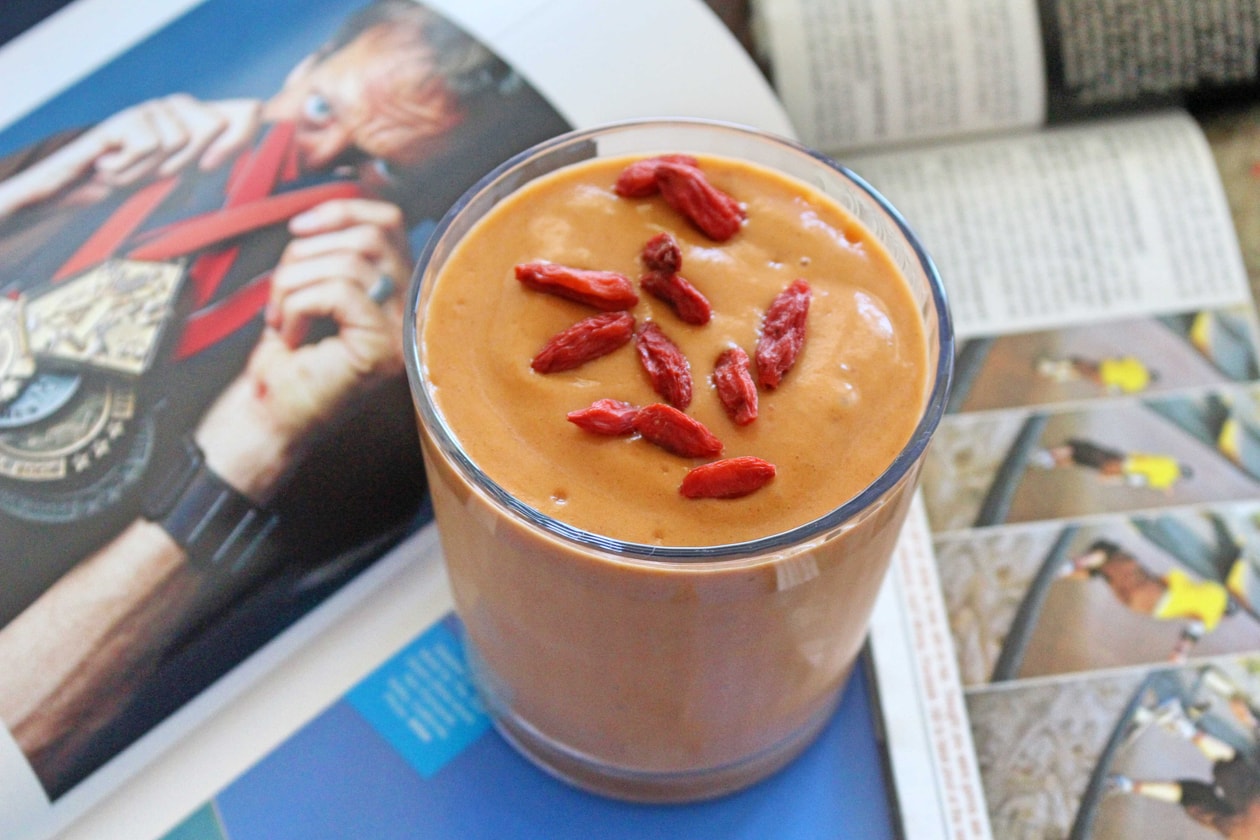 TONY HAWK'S PRO 'TATER SMOOTHIE
(Sweet Potato Smoothie)
WORDS: Johnny Lozano
I make a lot of crazy claims in this recipe series, but if there's one superlative I can throw around without any repercussions whatsoever, it's this: Tony Hawk is the most famous skateboarder in the world. And, if you weren't aware, the Berrics is honoring him all week, culminating in a Battle Commander this Saturday. I have no clue what to expect from the Birdman in a vert-deficient skatepark, but skateboarding's collective excitement is palpable.
When I was trying to think of a recipe to share for McSqueeb's special week, the most natural choice was a vegan version of Bagel Bites. But then, upon realizing that this would be a boring recipe with no nutritional value, I abandoned that homage and sought something else to pay tribute to his legacy. I'm not proud of this, but I won't hide it either: if Tony Hawk's Pro Skater hadn't taken the world by storm at the turn of the century, I wouldn't be on a board. Yes, I loved Back to the Future, but Marty McFly's mongo pushing didn't inspire me as much as the cinematic intro to THPS, set to the electrifying sounds of Dead Kennedys' "Police Truck." Apparently, I wasn't the only one whose world was turned upside down by Activision's collaboration with Hawk; his 9 Club episode alludes briefly to a $4 million royalty check that even caught him off guard. 
While the list of attributes that make Hawk a truly remarkable human is seemingly endless, what perhaps deserves the most attention is that at 51 years old, he still skates like a teenager. His Perched part in 2014 and his Saturdays part could easily go toe-to-toe with The End and I'm sure his Battle Commander will put most street dogs to shame.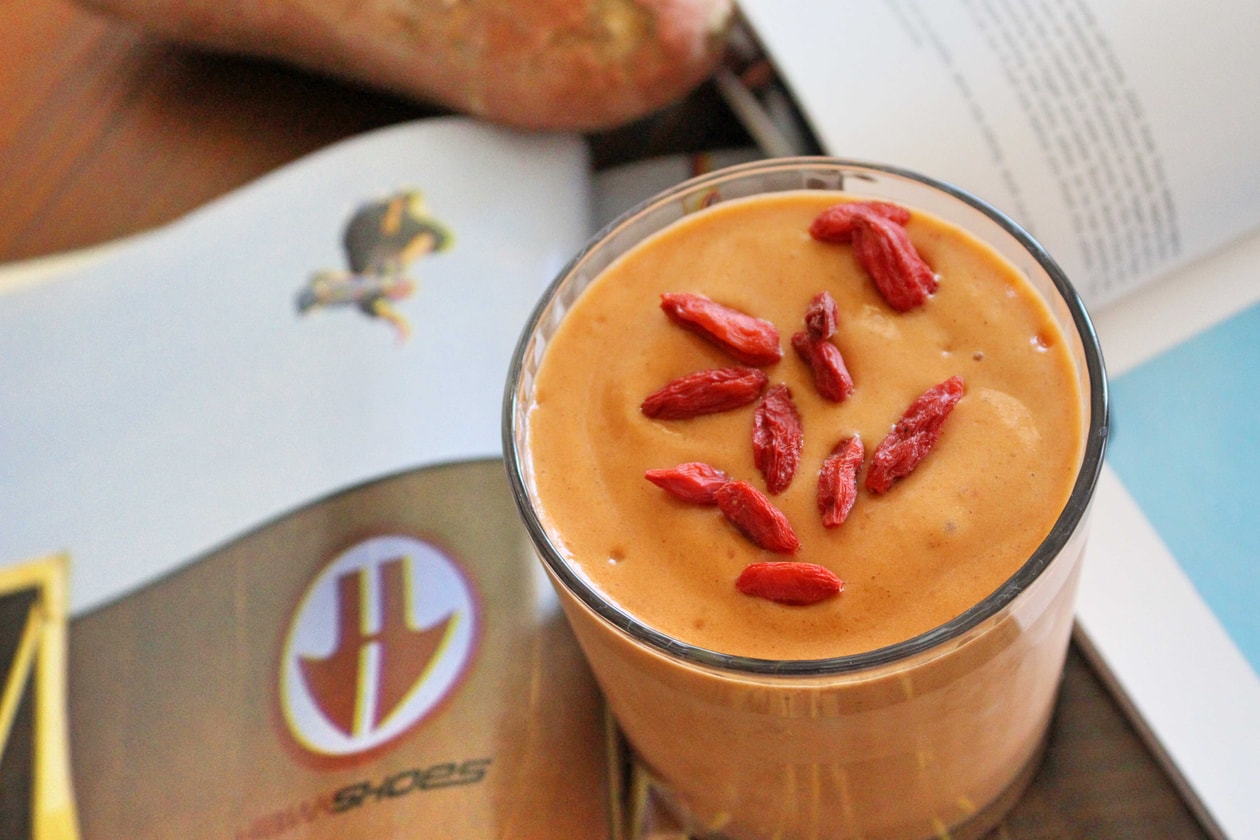 So, rather than recreate the wheel with vegan bagel bites, I wanted to introduce a smoothie that just might help you skate like a teenager well into your 50s. Allow me to introduce Tony Hawk's Pro 'Tater Smoothie. 
If your gut reaction to a sweet potato smoothie is one of disgust, I completely understand; the thought of drinking a potato is admittedly not pleasant, However, I'd counter that by pointing out that my best selling flavor of FLATBAR was heavy on the sweet potato, and this smoothie is pretty much a liquefied version of that. Not only does sweet potato get sweet when cooked (as the name implies), but when blended with banana, papaya and goji berries, it takes on a delicious tropical punch (like a piña colada full of vitamin A). This smoothie packs in the anti-inflammatories, while also adding in some protein for recovery, making it the ultimate skate smoothie.  
INGREDIENTS:
100g sweet potato (cooked)

100g fresh or frozen papaya

1 medium ripe banana

1 medjool date (pitted)

2 tbsp. goji berries (soaked)

1 scoop/serving hemp protein powder

½ tsp. cinnamon 

½ – 1 cup crushed ice (or cold water)
DIRECTIONS:
Start by cooking the sweet potato.  Normally I'd recommend cooking a sweet potato in the oven, but since you're going to blend it up, you only need a microwave for this recipe.  Poke some holes in each side of the potato with a fork and then microwave it for 3 minutes. Turn it over and microwave it for another 3 minutes, then take it out and set it aside.

Place the goji berries in a small (preferably glass) container and add hot water, just enough to cover the berries.  Let them soak for 10 minutes in the hot water so that they soften up for the blending.

Once the potato is cool enough to handle and the goji berries are soft, scoop out 100 grams of the inside of the potato and add that, the goji berries and all the other ingredients into a blender and blend it up until no chunks remain.

Drink it down and get mentally prepped for Tony's Battle Commander.
Happy shredding,
Johnny    
For more recipes, check out www.saladgrindsandbeanplants.com or find us on Instagram at @salad_grinds_and_bean_plants.