CHRIS JOSLIN: 2018 POPULIST NOMINEE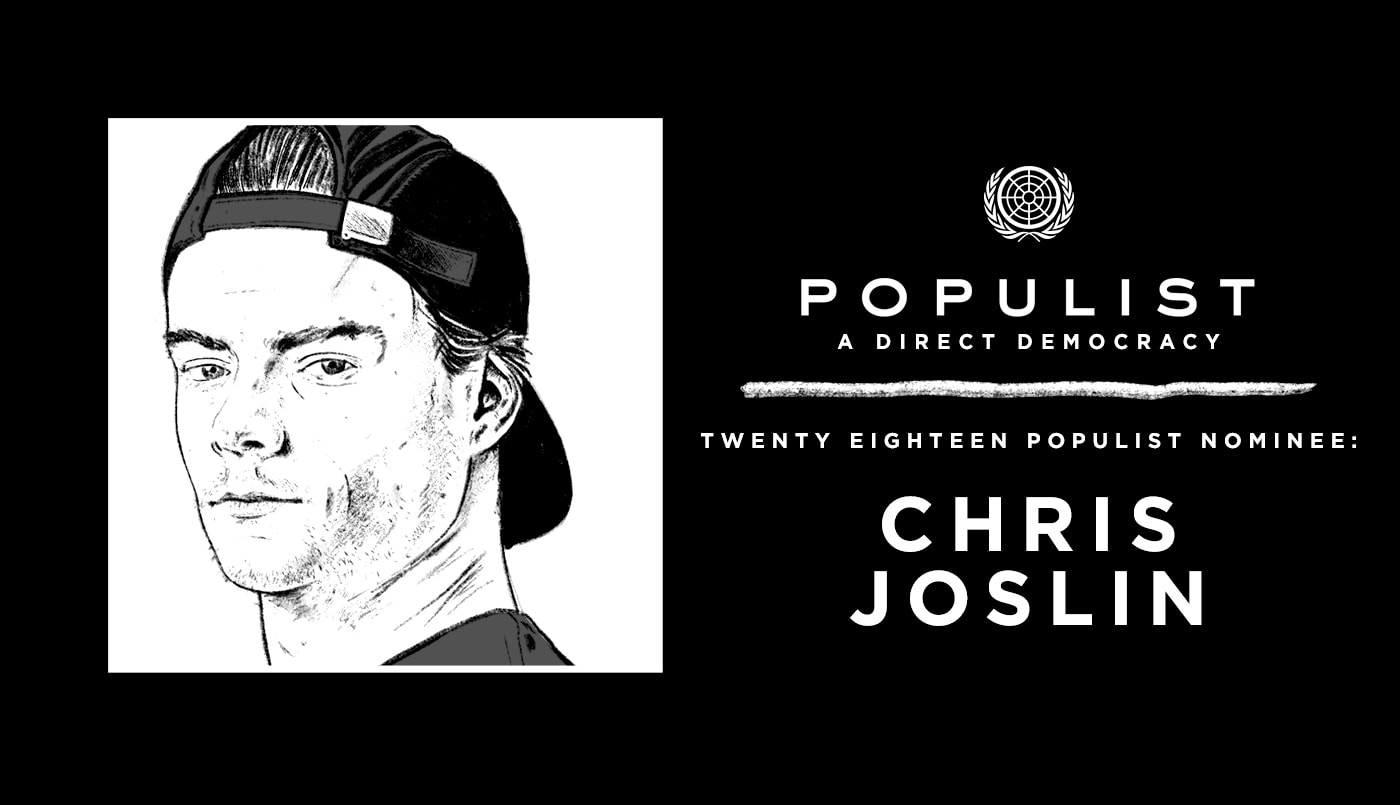 WORDS: Stu Gomez / ART: Eric McHenry
In April of last year, ahead of the long-awaited Etnies full-length Album, Route One UK interviewed Chris Joslin about his experience with the project. He had last part (which, at 12 minutes, accounted for 18% of the video) and it pushed the boundaries of how much abuse a body can endure. In the interview, he waxed philosophical about his drive to improve:
"The progression of skateboarding is really just the progression of a person outdoing himself."
In the part, Joslin's clothes told the story of countless hours of battling to one-up himself; they were literally streaked with blood, sweat, and tears. Any reasonable skateboarder would logically wonder, "What's next? There's got to be a limit"… not only physically, but mentally. And even equipment-wise—Joslin notoriously exploded 3 new trucks on 3 separate occasions when attempting to 360 flip El Toro.
So can there be such a thing as lateral progression? If a skater hits a plateau of height, length, or depth, is it acceptable for him to just keep the status quo? Is skateboarding just all about measuring sticks? 22-year-old Joslin, already one of the most prolific skateboarders of all time, has the answer: You don't go bigger, you just get better.
Enter "Unstoppable," the video for Joslin's first pro model shoe. The part is made up of primarily ledge and line clips, mostly switch and fakie. (There is only one stair-set in sight, which he switch 360 flips.) And then the hill-bomb section begins… We couldn't even say that he surprised us because we had front-row seats for the past 2 seasons of Battle At The Berrics.
It's been our pleasure to be a big part of Joslin's journey over the years. He can do it all, and in 2018 it really seemed like he did.
Vote for Chris Joslin as your Populist on January 15.