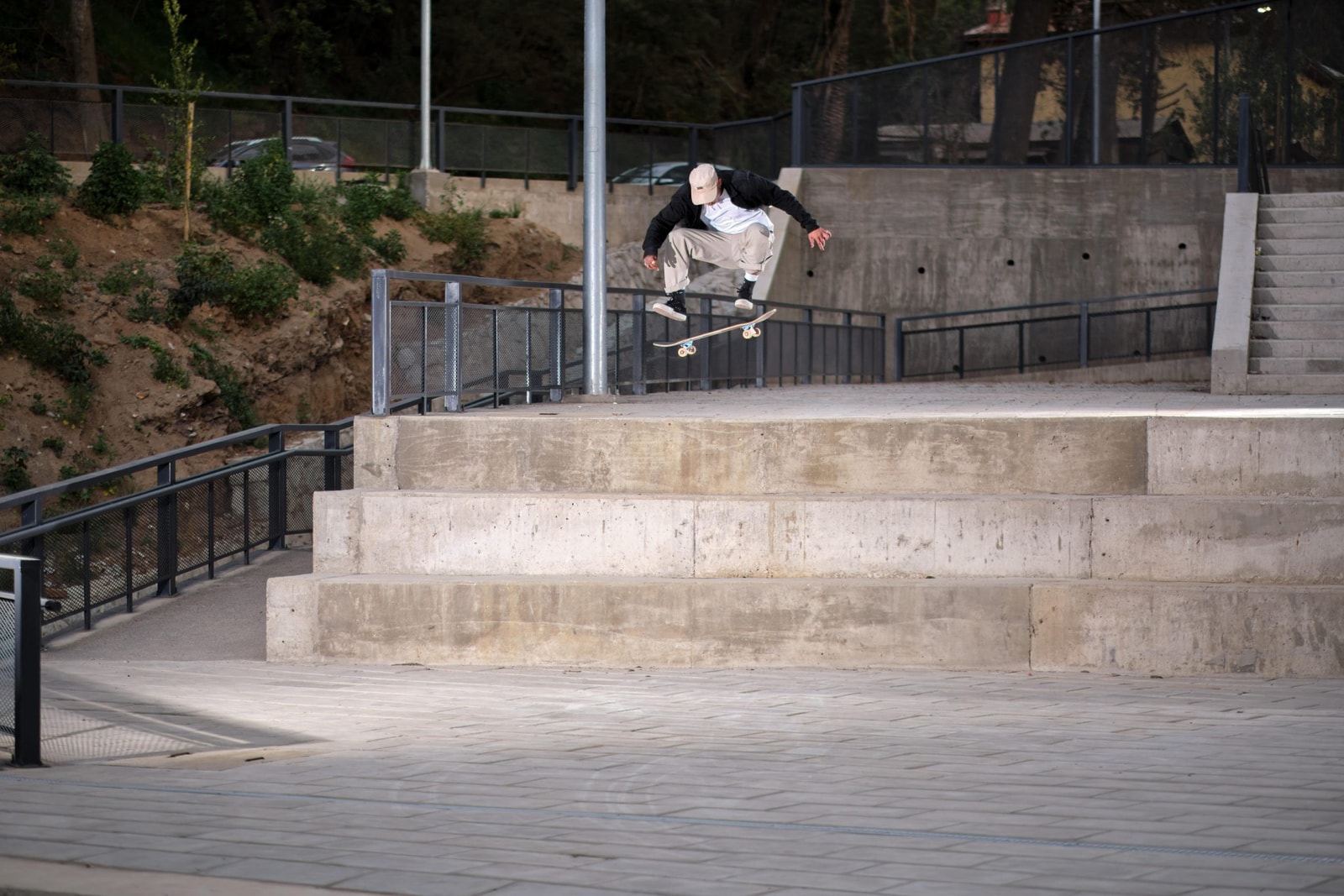 Frontside flip. Photo: Jose Parra Candia.
Words: Stu Gomez
Australian brand F.S.C., a 100% skater-owned and operated company, takes a different approach to skate commerce: The riders design the graphics, and they're the ones who sell and even ship the decks out! That's the kind of hands-on service you don't really experience very much anymore, and it's pretty sick to see a brand's team take that much pride in their work (the acronym does stand for Fun Skateboard Collection, after all).
In fact, F.S.C.'s team riders even manage operations in their respective countries. In Chile, this responsibility falls on the shoulders of pro Jesus Muñoz. He shared some insight into how he got connected with the company; how he's guiding F.S.C. to support more local skaters, and help fix his local skate supply chain issues; and why you should always keep liquids at least an arm's-length away from your laptop. Check out the interview, below:
How did you get on F.S.C.?
I started skating for F.S.C. because of a friend of mine had a small distributor in Chile. His name is Camilo, and thanks to him I got to meet [F.S.C. owner] Steve McInnes and I quickly became very good friends with Steve after the first tour we did in China!
F.S.C. stands for Fun Skateboarding Company, but… What does F.S.C. mean to you?
I know that F.S.C. means fun skate company but for me it has a more personal meaning that means strength, sweat, and cost—in Chile this is also abbreviated as F.S.C.—which for me are three values or qualities that one needs to advance in life, and the cost is the value of all your effort and motivation that you put into your life
Being in Chile, how do you stay connected with the rest of the F.S.C. team?
I stay connected with the rest of the team thanks to the fact that more than being a team we are a family made up of friends and thanks to the fact that we are very good friends with Steve. He helped me to be the manager of F.S.C. Chile so I can show and make known to the people of Chile what F.S.C. means and how incredible the brand is.
Jesus Muñoz's F.S.C. pro part.
What are some of the ways you are spreading the word about F.S.C.?
We are making videos every day, holding contests so that people can get boards and be able to skate them, and we are also using social media a lot to strengthen the brand in Chile
How did you end up handling F.S.C. in Chile? Was it a difficult adjustment for you to take on the additional responsibility?
I think we have managed it well: we have clear ideas, we are persevering and optimistic, and we also have the support of all our friends. We are very eager to start this project!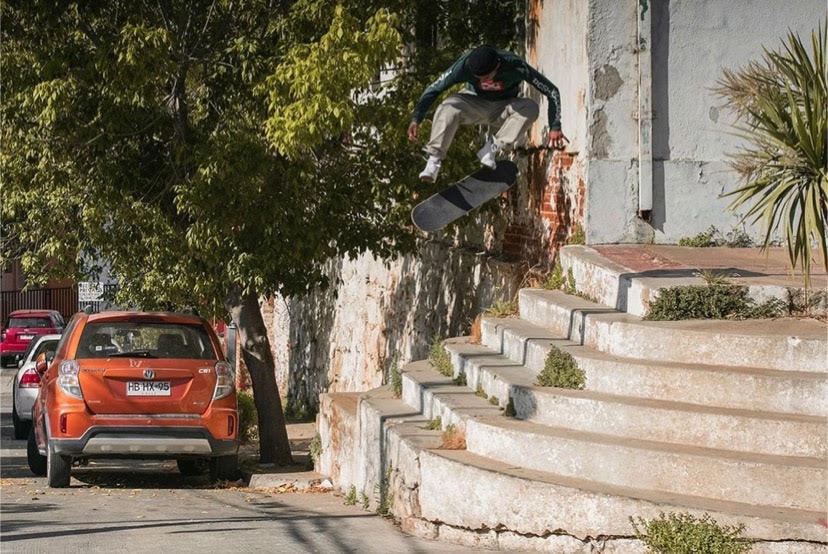 Backside flip. Photo: Yair Barrios.
Can you share an interesting story as a manager?
I never thought that, being a skater, I was going to end up managing a skate brand, so… One day we were working on a design for the boards, and when it was all over, celebrating, our coffee spilled on the computer and all the information was lost! I had to wait for a company that could retrieve the information from the disk.
What comes next for the brand?
We are making the first boards with F.S.C. to be distributed in the market and we also have new proposals from interesting Chilean illustrators.
How do you balance riding for the company and the management of the company in Chile?
Skate is something we do as children and we always had a crazy dream of being able to achieve something with Skate as well as being able to enjoy it. In Chile, making a living from Skate is very hard because of the mismanagement of Chilean brands and the bad support for riders. And now, thanks to F.S.C., we can give this small contribution to others by focusing on being sociable and showing that Skate is made for everyone!
Get familiar with F.S.C. and its riders here, and shop the company's latest drops at Club Distribution!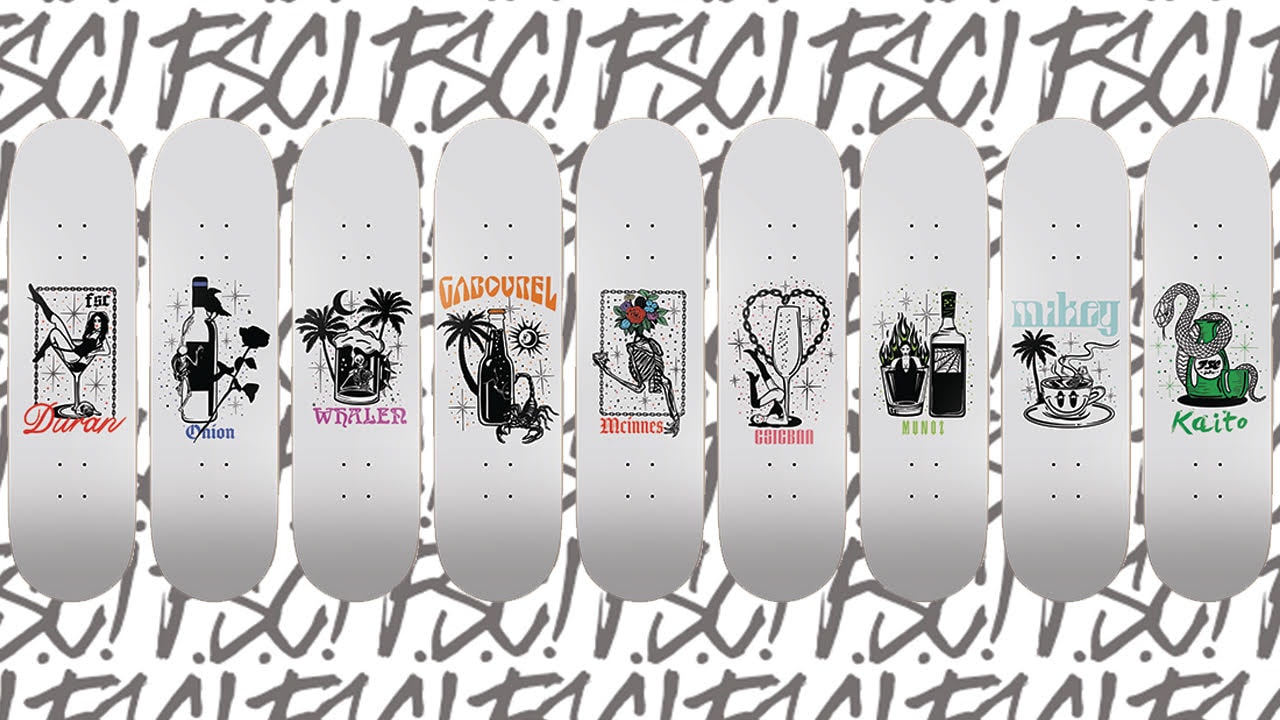 F.S.C.'s new "Sippers" graphic series.