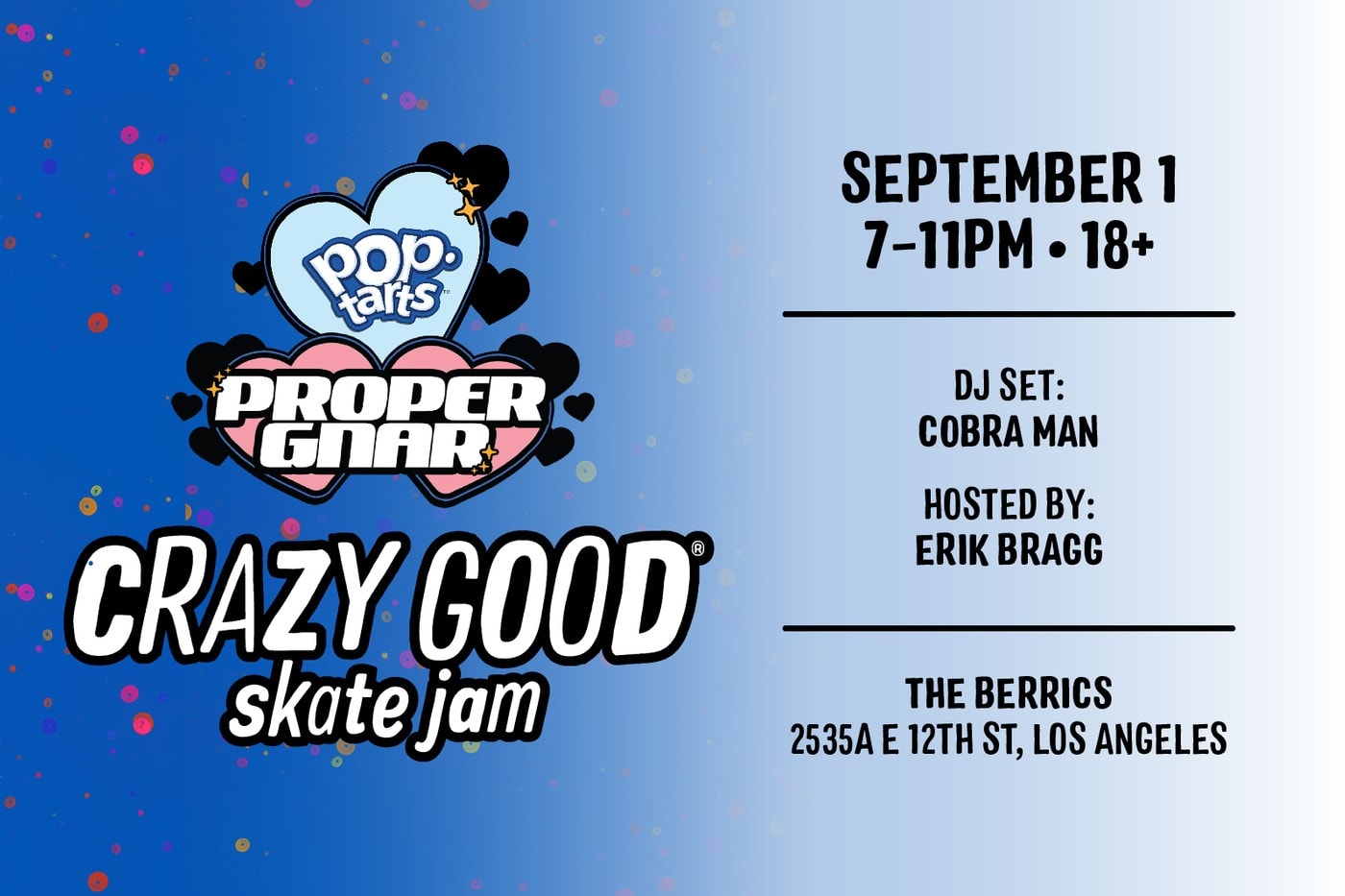 Hypebeast and Pop-Tarts have teamed up to bring the 'Crazy Good Skate Jam' to The Berrics. Hosted by Erik Bragg, the Crazy Good Skate Jam transforms The Berrics into an immersive Pop-Tarts experience, the one-night event includes a competitive skate contest, sampling opportunities and an exclusive chance to grab Proper Gnar's merch capsule that's inspired by the bold flavors of Pop-Tarts.
For merch that challenges the status quo, the Proper Gnar merch capsule includes apparel, hats, skate decks and grip tape that introduce unique twists to Pop-Tarts artwork. Artist, skater and founder of the brand, Latosha Stone presents her graphics on the pieces that include fun floating cherries, berry-colored stars and manicured hands that hold the sprinkle-covered toaster pastries. In creating the pieces, Latosha took inspiration from Pop-Tarts' classic frosting, filling, and sprinkles. And, much like how Pop-Tarts consistently bring flavor to unexpected places, the collection re-imagines Pop-Tarts in a futuristic, anime-inspired world that stays true to the look and feel of Stone's favorite flavors. The entire collection will be available exclusively at the Crazy Good Skate Jam for one night only.
The Crazy Good Skate Jam offers organized competitions for skaters to participate in, as well as free time to ride ramps and silver foil boxes inspired by their favorite flavors. There are two challenges that skaters can decide between before competing for a $1000 prize in an epic game of S.K.A.T.E. The first challenge is a Skate Race, where skaters will go as fast as possible to complete a lap around the entire skatepark. Alternatively, skaters can qualify for the final round by competing in a Most Pop challenge, where skaters do tricks with the most height off the ground and the loudest "pop."
Pop Tarts Crazy Good Skate Jam at The Berrics will take place on September 1 from 7 PM to 11 PM PT. Guests must be over the age of 17 to attend this event.
The Berrics
2535 E. 12th St. Unit A
Los Angeles, CA 90021