THE TRAVELER: SALAD GRINDS & BEAN PLANTS #65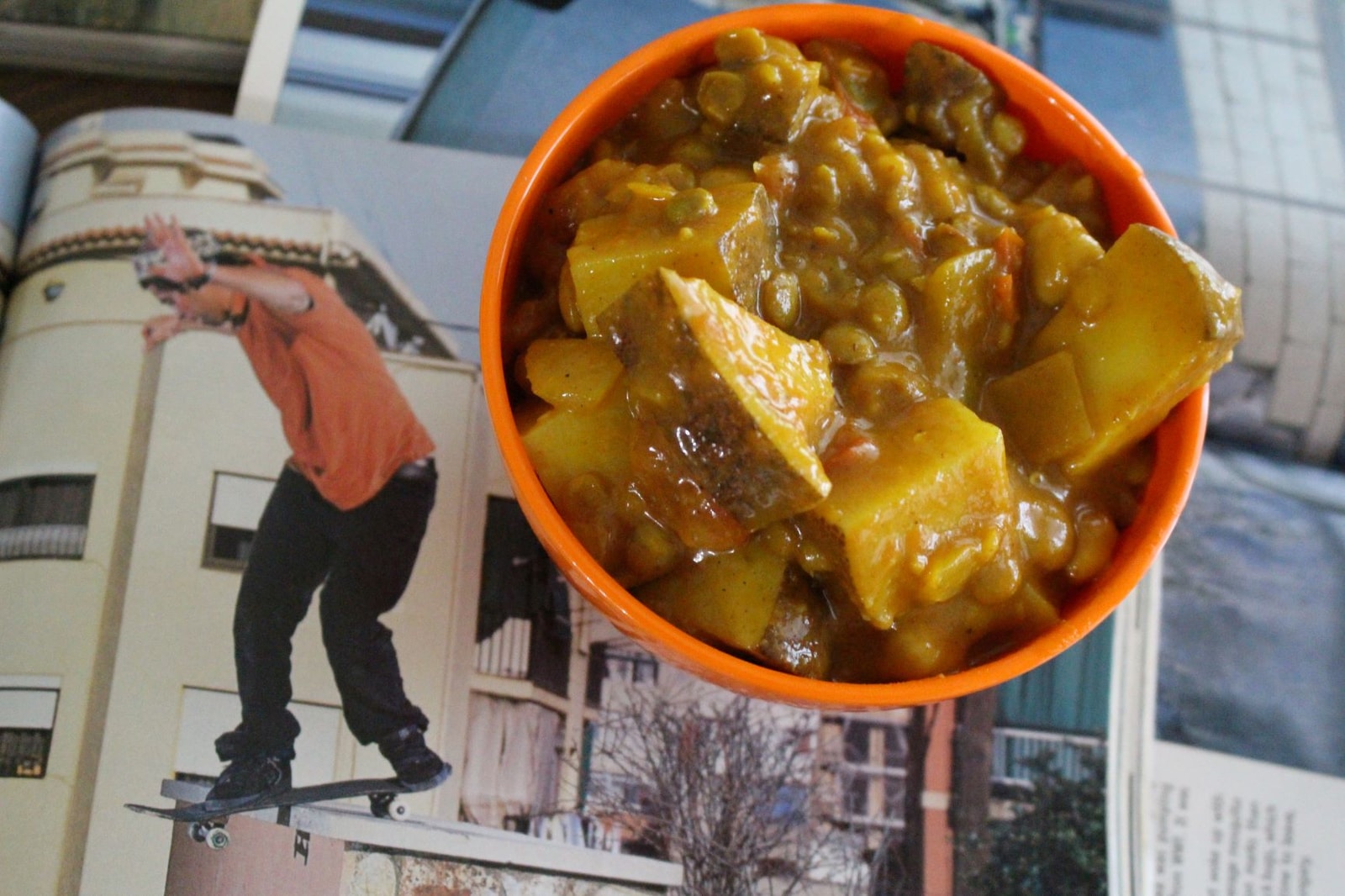 The Traveler
(Potato, Lentil and Chickpea Vindaloo)
WORDS: Johnny Lozano
Though travel budgets may have dwindled for pretty much every skate company except New Balance (seriously, their travel videos are wanderlust porn), there was a time when traveling with only a skateboard as your map was deeply, deeply fetishized. And while the mysticism of travel is still alive and well, the onslaught of readily available Instagram footage has made unseen spots less of a thrill and the introduction of skateboarding to other cultures more expected than novel.  
This week's recipe focuses on a time and skater that predated the normalizing of skate travel—in fact, his moniker was (and perhaps still is) The Traveler (also the name of his iPath shoe): Kenny Reed.  Throw a dart at any old 411VM or mag and there's a good chance you can catch a glimpse of Kenny spreading his buttery style over the undiscovered ledges of a country you've never heard of.  Not just a tourist, Kenny was more about immersing himself in a culture for prolonged periods of time rather than showing up, skating a demo, and getting back to the land of free soda refills. While he may be less of a household name to skaters nowadays, he's still traveling and was one of the first teachers in Skateistan and Girl Power in Mazar-i-Sharif, Afghanistan. While you may no longer see whole 411VM videos dedicated to passport stamps (I guess, technically you won't be seeing any more 411VM videos at all), it's refreshing to know that the spirit of travel and spreading the love of skateboarding is alive and well in one of the realest OGs out there.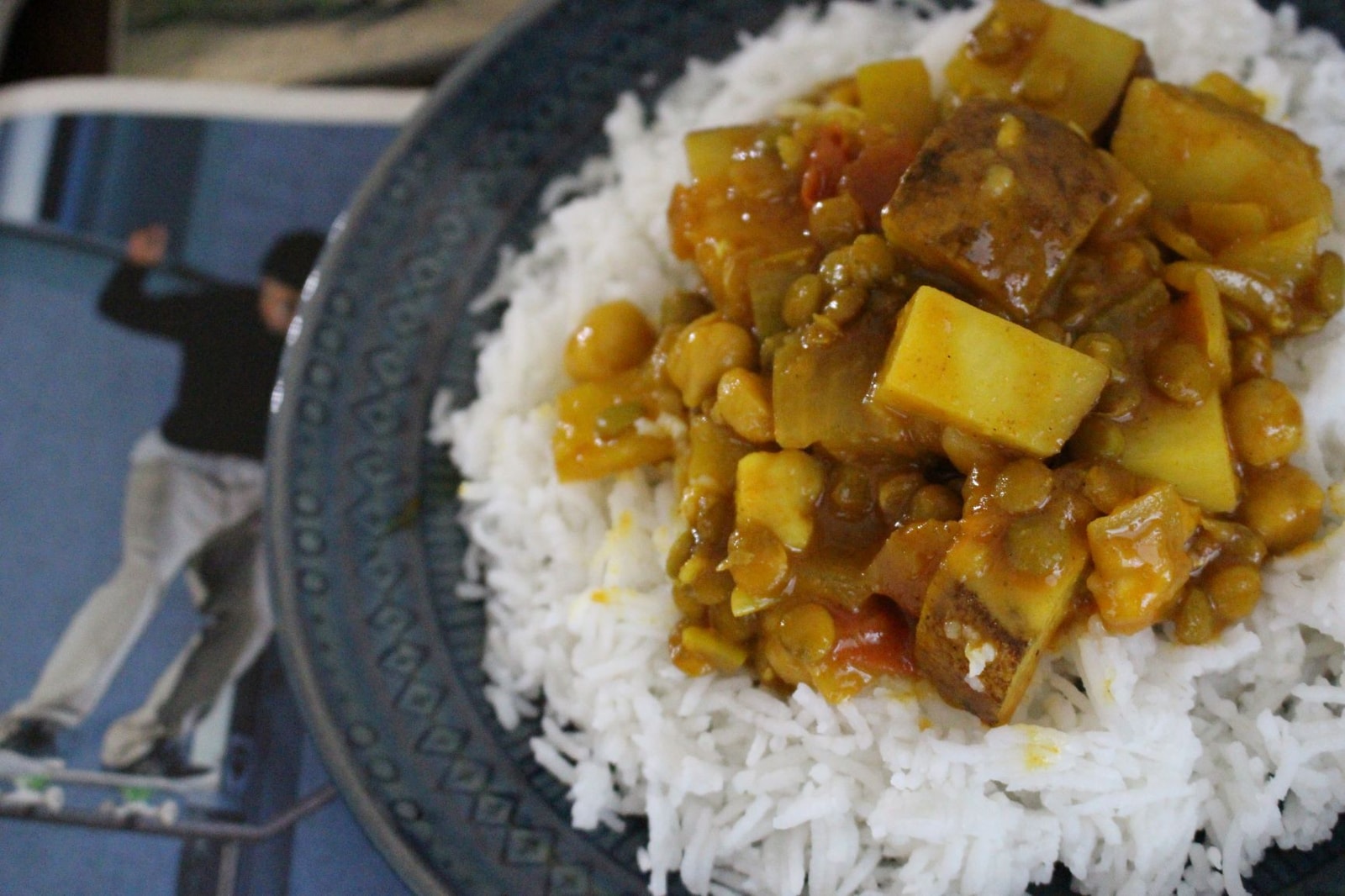 In the spirit of shaking off the dust of the ordinary and springing for something more exotic, this week's recipe brings out the spices: potato, chickpea and lentil vindaloo. If you've never had vindaloo, it's essentially a curry originating from Goa, India. Like many curries, it uses a coconut milk base and is spiced with, among other things, curry powder, turmeric, coriander and cumin. Once you start cooking, you'll be amazed at how fragrant your kitchen will smell.
While it can be made with any veggies (or meat), this incarnation has potatoes, chickpeas and lentils, leaving you with a dish that's full of fiber and filling as hell. If you want to throw in some extra tofu to get a little more protein, you can, but as a post-skate meal, this already boasts the kind of carb-to-protein ratio that'll help you recover. Additionally, while this is sometimes served with naan, I've included instructions to make the perfect (non-sticky) basmati rice to go with the vindaloo. All put together, this recipe is fragrant, spicy and hearty. I'd say it's a meal fit for a king, but it's really a meal fit for The Traveler.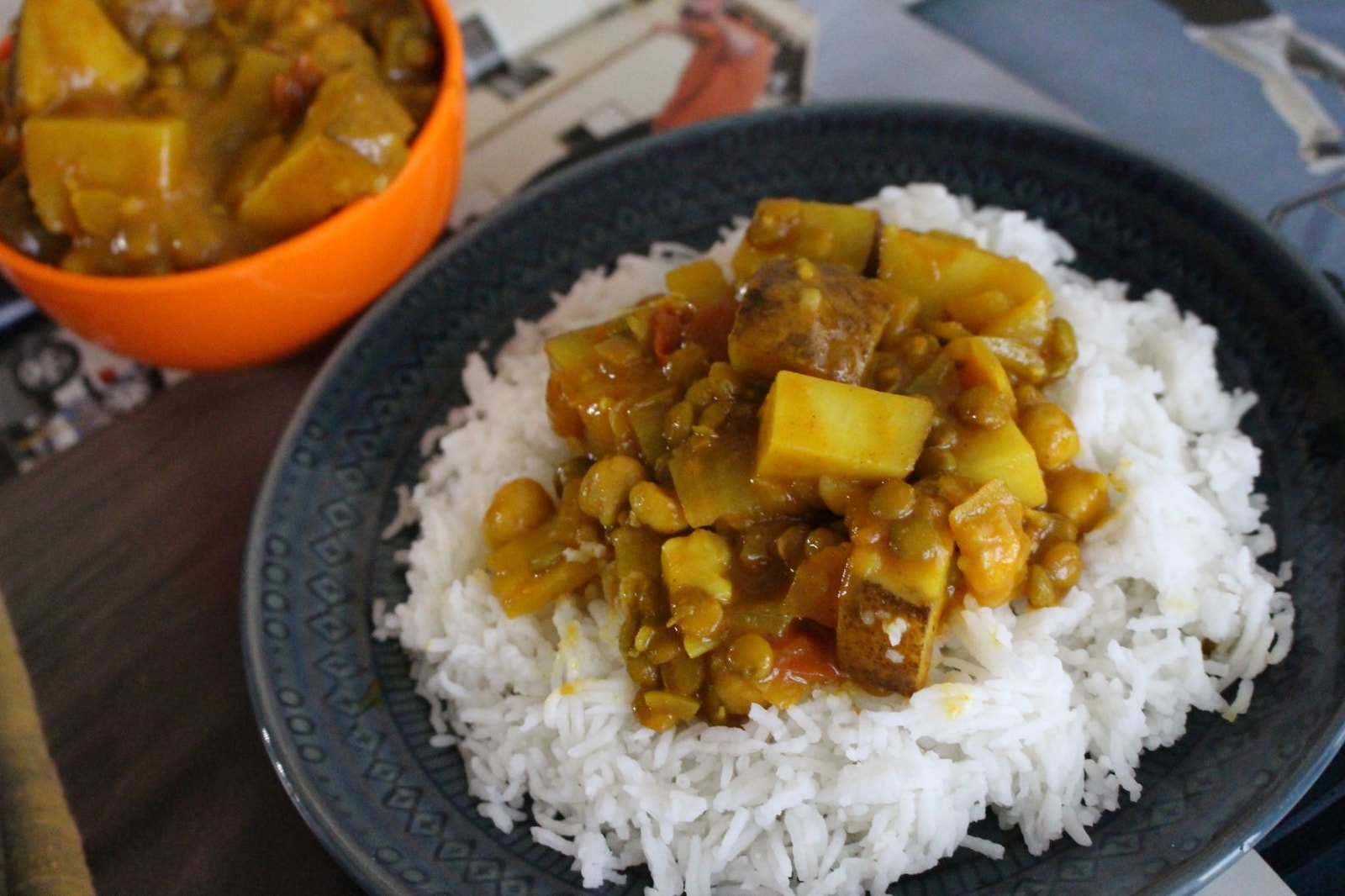 VINDALOO INGREDIENTS:
2 tbsp. olive oil

2-3 medium russet potatoes (diced into 1" cubes)

3-4 tomatoes (diced)

1 can (15 oz) chickpeas, drained

½ cup lentils (dry)

1 medium yellow onion (diced)

2-3 cloves garlic (minced)

1 ½ tbsp. curry powder

1 tsp. cumin

½ tsp. coriander

1 tsp. turmeric

1 tsp. cayenne

½ tsp. chipotle powder (optional)

1 can light coconut milk

2 cups vegetable broth

8oz tomato sauce

Salt and pepper, to taste
RICE INGREDIENTS:
2 cups basmati rice

½ tsp. salt
VINDALOO INSTRUCTIONS:
Though exotic, this recipe is surprisingly easy. Start by dicing/mincing all your veggies and garlic. Heat up the oil in a large (seriously, LARGE) skillet on medium heat. Once heated, throw in the diced onions and let them cook for a minute or two, then toss in the garlic, curry, cumin, coriander, turmeric, cayenne and chipotle. Mix the spices in the onions and let them get warm, cooking for 2-3 minutes or until they start to stick to the bottom of the pan.

Toss in the potatoes and chickpeas and cook for another 3-5 minutes, stirring it all around so that they get nicely coated in those fragrant spices. Next add in the diced tomatoes, lentils, coconut milk, broth, and tomato sauce and stir until it's all mixed. If you notice the veggies or lentils sticking out too much, add a little extra broth.  

Bring the skillet to a boil and then down to a low-heat simmer and cover for 20-25 minutes or until the lentils and potatoes are tender. Season to taste with a little extra salt and pepper and remove from heat so you can pile it on the rice.
RICE INSTRUCTIONS:
You might be thinking you know how to cook rice, but if you want non-sticky rice (as basmati typically should be), check this out. Start by putting the rice in a bowl and covering it with water. Mix it around with your hands until the water is cloudy and then drain the water. Do this several times until the water is no longer cloudy.

Leave the rice in the room temperature water for about half an hour (ideally, you can work on the curry while doing this). Bring 3 cups of water to a boil on the stove and then drain the rice one more time and toss it into the boiling water with the salt. Bring the pot down to a simmer and cover for 15-20 minutes or until the rice has absorbed all the water. Pour some vindaloo on top and enjoy!
Happy Shredding,
Johnny  
For more recipes, check out www.saladgrindsandbeanplants.com or find us on Instagram at @salad_grinds_and_bean_plants.