Yuto Horigome and Rayssa Leal Win Street League's Jacksonville Stop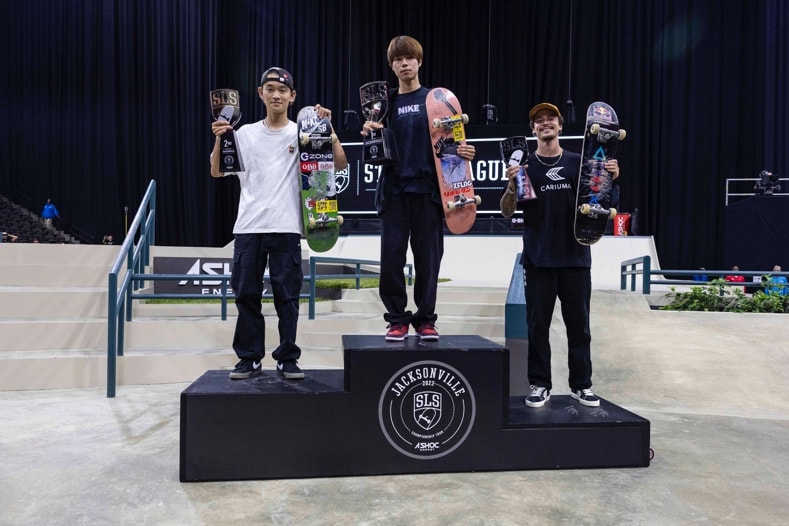 (Photo by Justin Crawford.)
Yuto Horigome and Rayssa Leal won the SLS Jacksonville stop last weekend.
Sunday opened with a battle in the Women's Final between the top two qualifiers, Leal and Yumeka Oda (Aichi, Japan). After the two run and four best trick sections, the top four skaters advanced to the Super Final where they each received two more trick attempts. Heading into the Super Final, Leal was in the lead off the strength of her third trick–a Kickflip Backside Smith for 8.5 points that launched her from fifth to first. However, Oda threw down the gauntlet with her fifth trick–a kickflip frontside feeble for 9.4 points, the highest women's score in SLS history. In the final run of the contest, Leal answered back with a Heelflip Frontside Boardslide for a 7.6 which beat out Oda by just .2 points for the first SLS win of the season and her fourth SLS win. Pamela Rosa (São Paulo, Brazil) rounded out the podium in third place.
Sora Shirai (Kanagawa, Japan) set the tone for a heavy competition, scoring a 9.1 on the first run of the Men's Final. In the skaters' second line runs, Shirai led a barrage of 9 Club scores with Shirai, Gustavo Ribiero (Lisbon, Portugal), Horigome and Nyjah Huston (Huntington Beach, Calif.) all scoring a nine or better to move into the trick section with a three-way tie for second place. In the trick section, Horigome scored two 9.5s – a Switch Tre Flip Lipslide to Regular, followed by a Nollie Backside 180 Switch Smith Grind to give him a 28.1 out of possible 30 score. Shirai landed the highest scoring trick of the day, with a 9.6 for his Full Cab Back Tail Bigspin to keep him in second place behind Horigome. Ribiero held on for third place despiteVincent Milou (Tarnos, France) being the only rider to land a trick in the Super Final. This marks Horigome's fifth SLS win and his first since 2019.
Congrats to everyone! Check out some of our projects over the past 6 years with Horigome and Leal, below: