Madrid's Augmented Reality 'Tarot Cards' Decks Are Available Now
View this post on Instagram
Madrid Skateboards, the progressive company that helped steer skateboarding through several eras of different board shapes over the past 45 years, has a new trick up its sleeve. The recently released augmented reality 'Tarot Card' deck series—with art by Chris Ovemery—is a living, breathing thing that comes alive when viewed through Eyejack's AR app. For everybody who believes that their skateboard has a soul, well, this is proof.
The Tarot Card series comes in three designs, with three distinct animation effects (check out the above video to see these graphics in action). Shop the Tarot Card series at the Madrid store here!
Maintaining a culture of innovation can be tough for any company after just five years, let alone 45. The Tarot Card series is just the latest in a decades-long line history of progression for Madrid, a brand that has been influential not only in how we skate but also in how non-skaters perceived skating over the years. For example: Back To The Future's Marty McFly, perhaps the most recognizable fictional skateboarder in history, rode Madrid so it stands to reason that the strictly-'80s kids from Stranger Things would ride Madrid, too. The brand's appearance in the second season of the show dovetailed with a line of Stranger Things-branded decks, tying in two worlds—and two eras—in perfect harmony.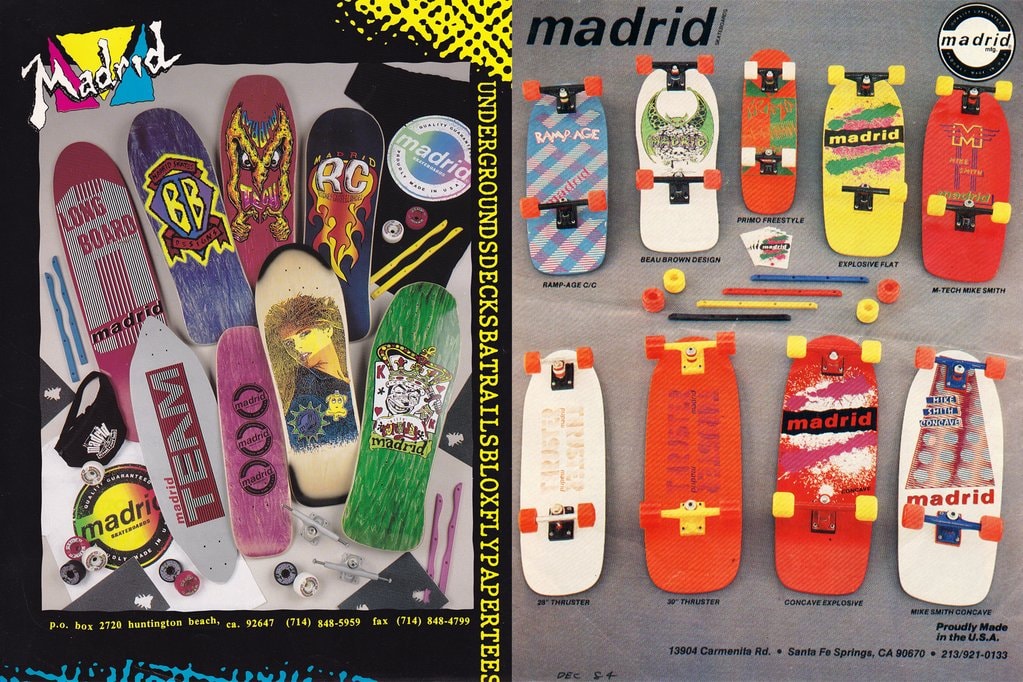 OG Madrid catalogs.
As Madrid embarks on its next 45 years, we can expect an incredible series of collabs that not only signal the future but also pay homage to the brand's rich past. Watch our 'Madrid: 45 Years Of Innovation' video from last May, below, and Viva Madrid!