TEAM AMERICA'S SWEET SIXTEEN: THE 2020 OLYMPICS SKATEBOARDERS HAVE BEEN ANNOUNCED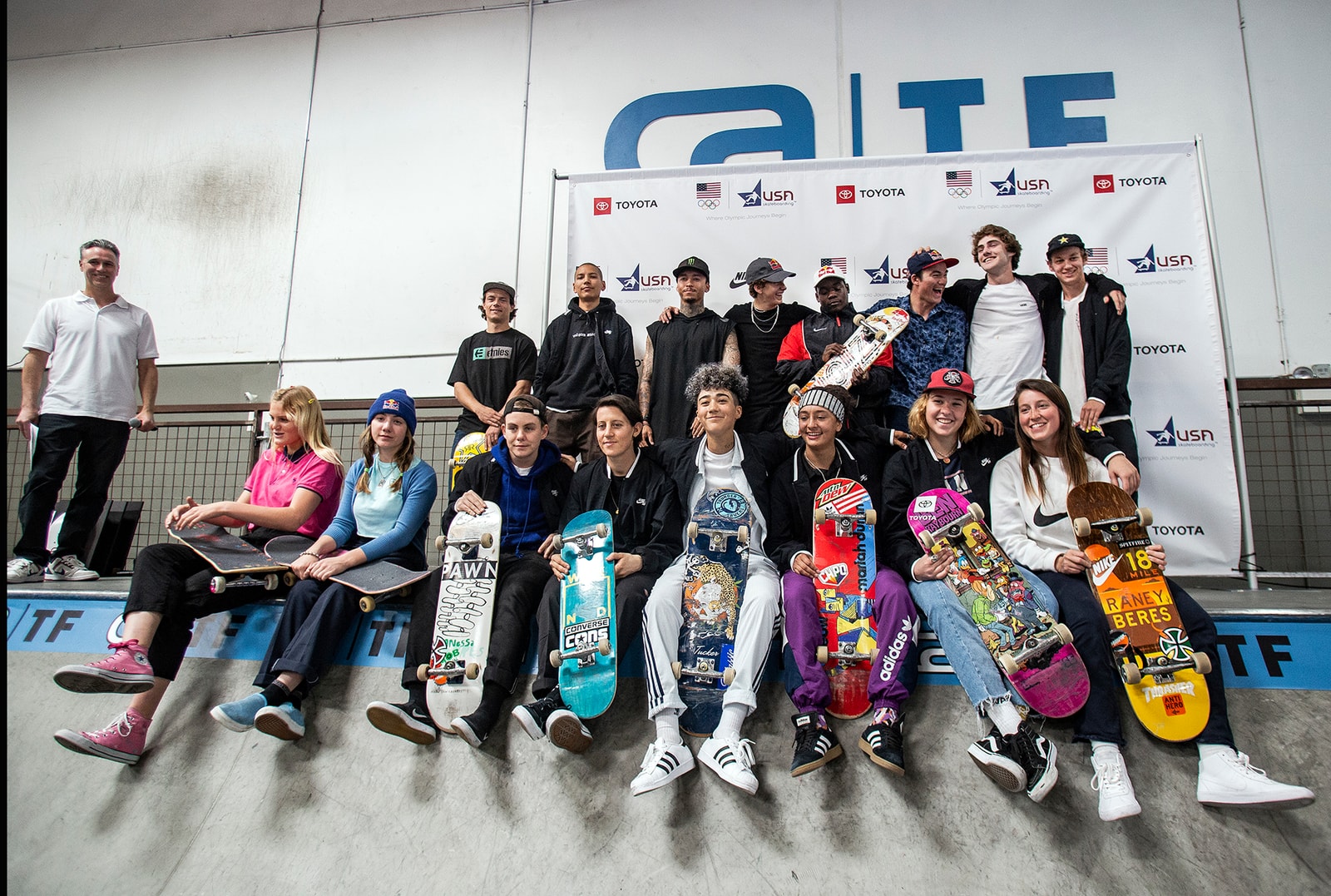 The sweet sixteen.
WORDS: Stu Gomez / PHOTOS: Dave Swift
"Can we get all the skateboarders to stop skateboarding for a minute?"
So began the announcement of the first USA Skateboarding Olympics Team at California Skatepark's Training Facility in Vista, California today. Josh Friedberg, USA Skateboarding's CEO, was on the mic introducing 16 skaters who will make history at the Tokyo 2020 Olympic Games.
Alluding to "politics and nonsense," Friedberg gave the crowd on the CA Skateparks street course a little background on the journey to the Olympics, a "long, long journey that started way back in 2003."
Joined on the quarterpipe deck by USA Skateboarding's Chairman Gary Ream (who said that this is "the happiest moment in skateboarding"), Friedberg highlighted the importance of this occasion: "The only thing greater than this moment is the emotion we're all gonna feel [in 2020]."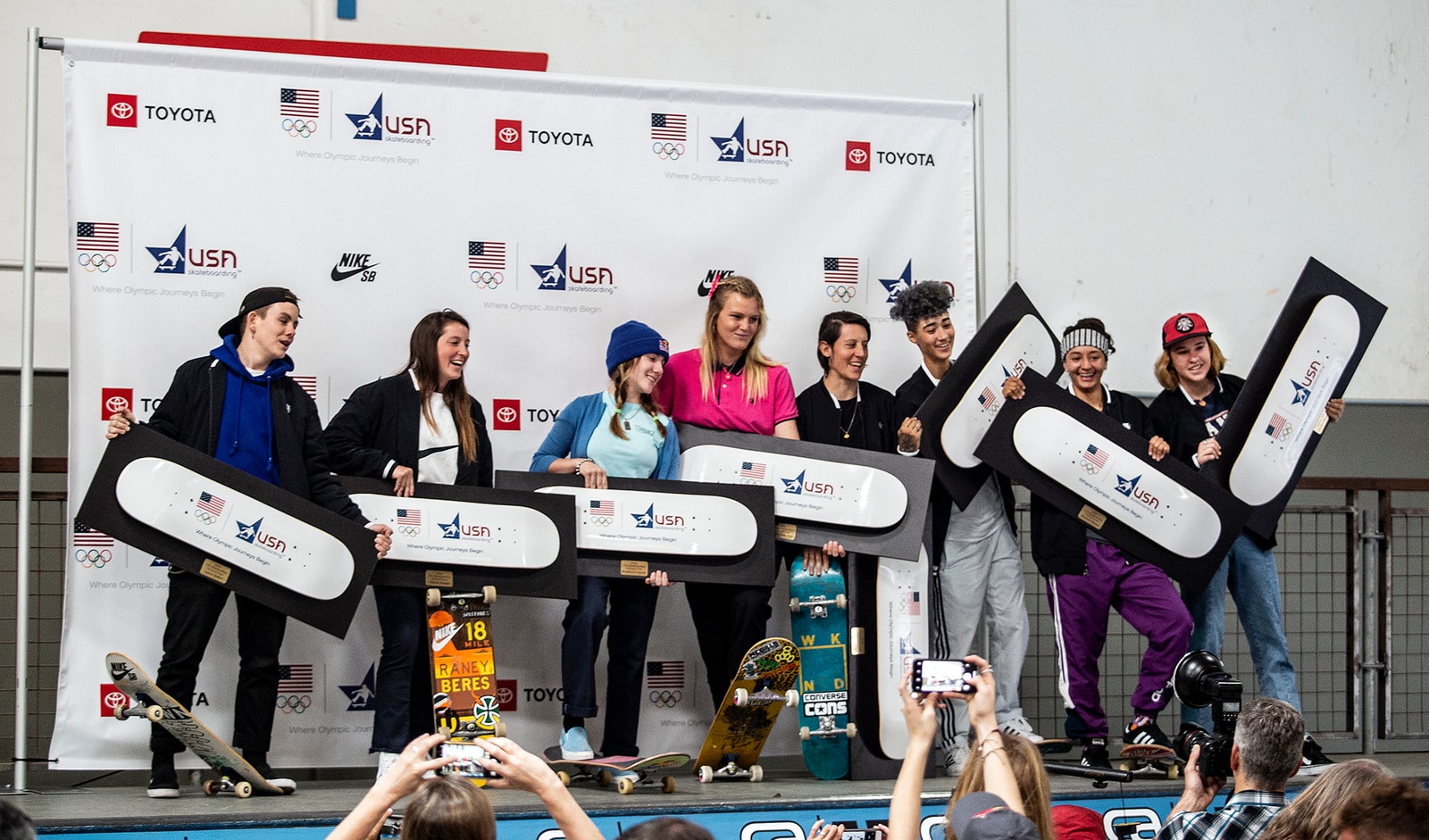 The Women's squad. So weird seeing a WKND deck in the Olympics!
With that, Friedberg announced, one by one, the Women's Park and Street competitors. Park: Jordyn Barratt, Bryce Wettstein, Brighton Zeuner, and Nicole Hause. And Street: Mariah Duran, Jenn Soto, Alexis Sablone, and Lacey Baker.
Next, the Men's riders (also known as "the Dudes"). Street: Louie Lopez, Jagger Eaton, Chris Joslin, and Nyjah Huston. And Park: Alex Sorgente, Tristan Rennie, Tom Schaar, and Zion Wright.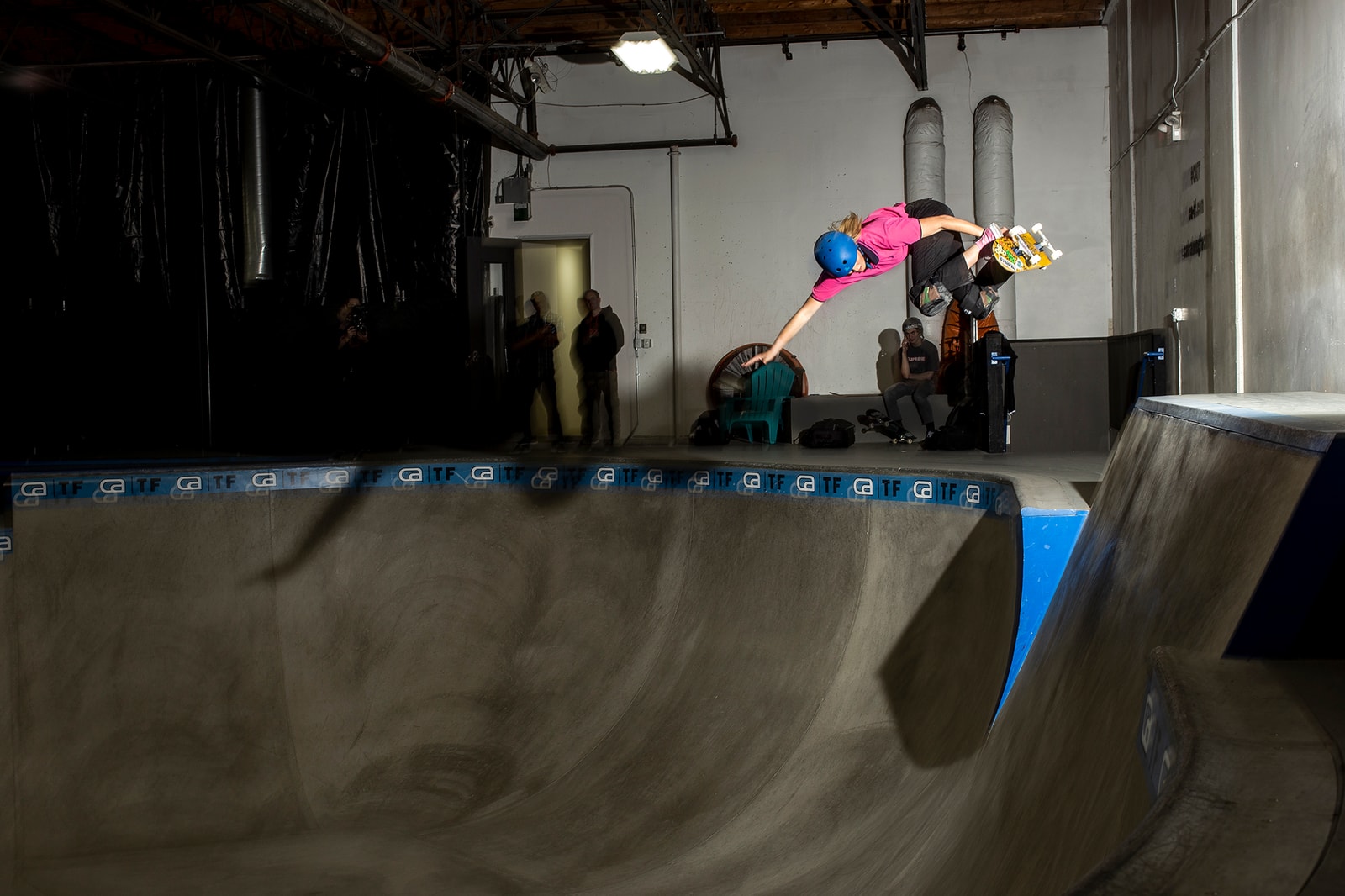 Bryce Wettstein, backside air.
Each rider was given a commemorative plaque with a USA Skateboarding deck mounted to it. Friedberg mentioned, after Team America was revealed, that each rider was chosen based on their performances during 2018 contest Finals. He also underlined the upgraded stakes for future contest seasons by adding that in the past, qualifying for the Olympics just wasn't even a consideration, "but it will be for future generations."
Friedberg capped off the milestone press conference by saying, "Thank you skateboarding."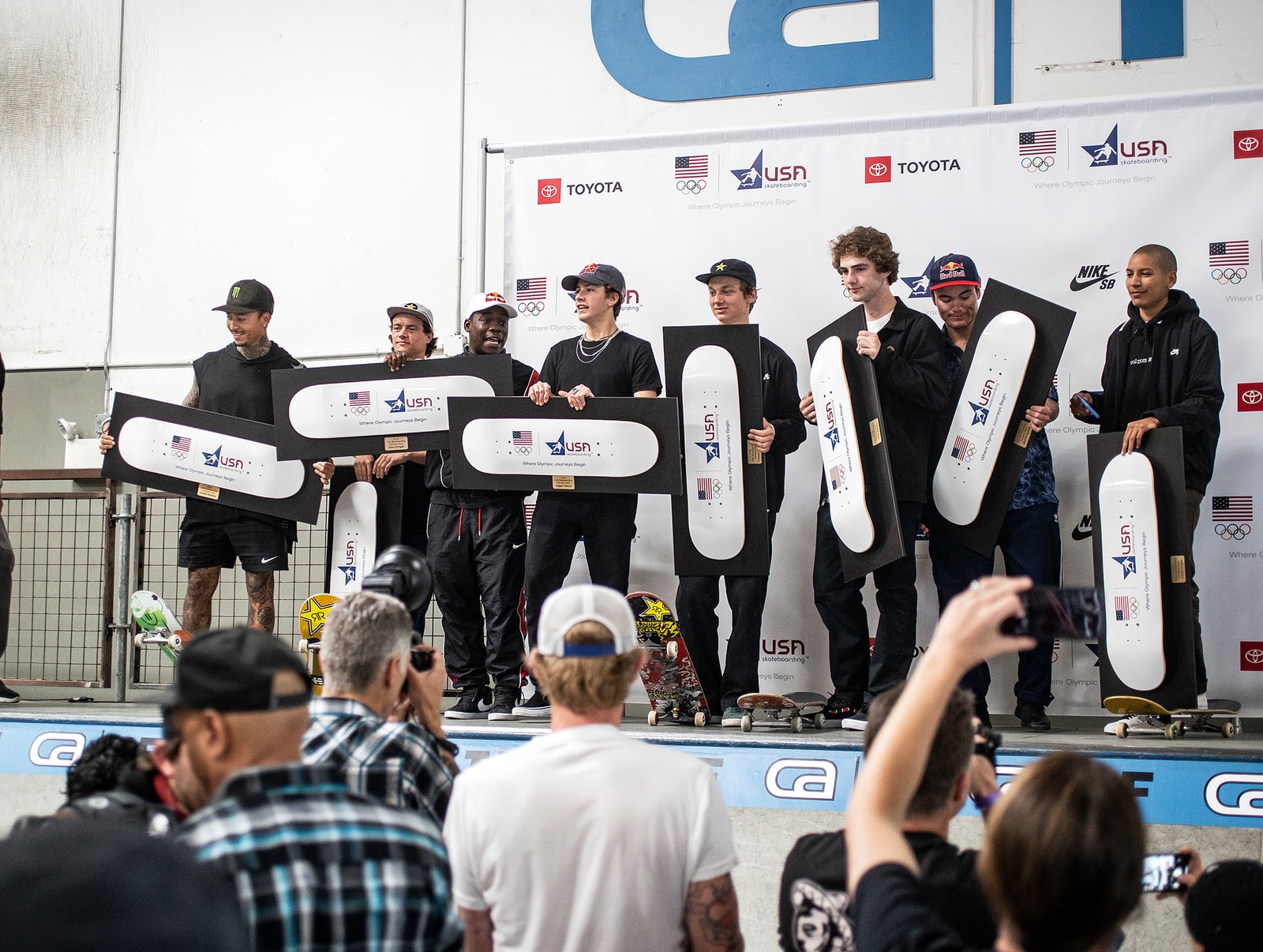 The Men's squad.
The Berrics began reporting on the Olympics in August 2016, when skateboarding was initially voted for inclusion in the world's foremost sports event. During the 4-year window, the concept of skate in the Olympics has proved has persisted as somewhat abstract for some. How will this change skating? Is it really that important? Are there, like, uniforms?
Inevitably, skaters chose sides regarding the Olympics; whether you're for or against it, the sheer unprecedented exposure will mark a major shift. The audience for the Tokyo 2020 Olympics is projected to be 5 billion viewers—that's 10 billion eyeballs, give or take.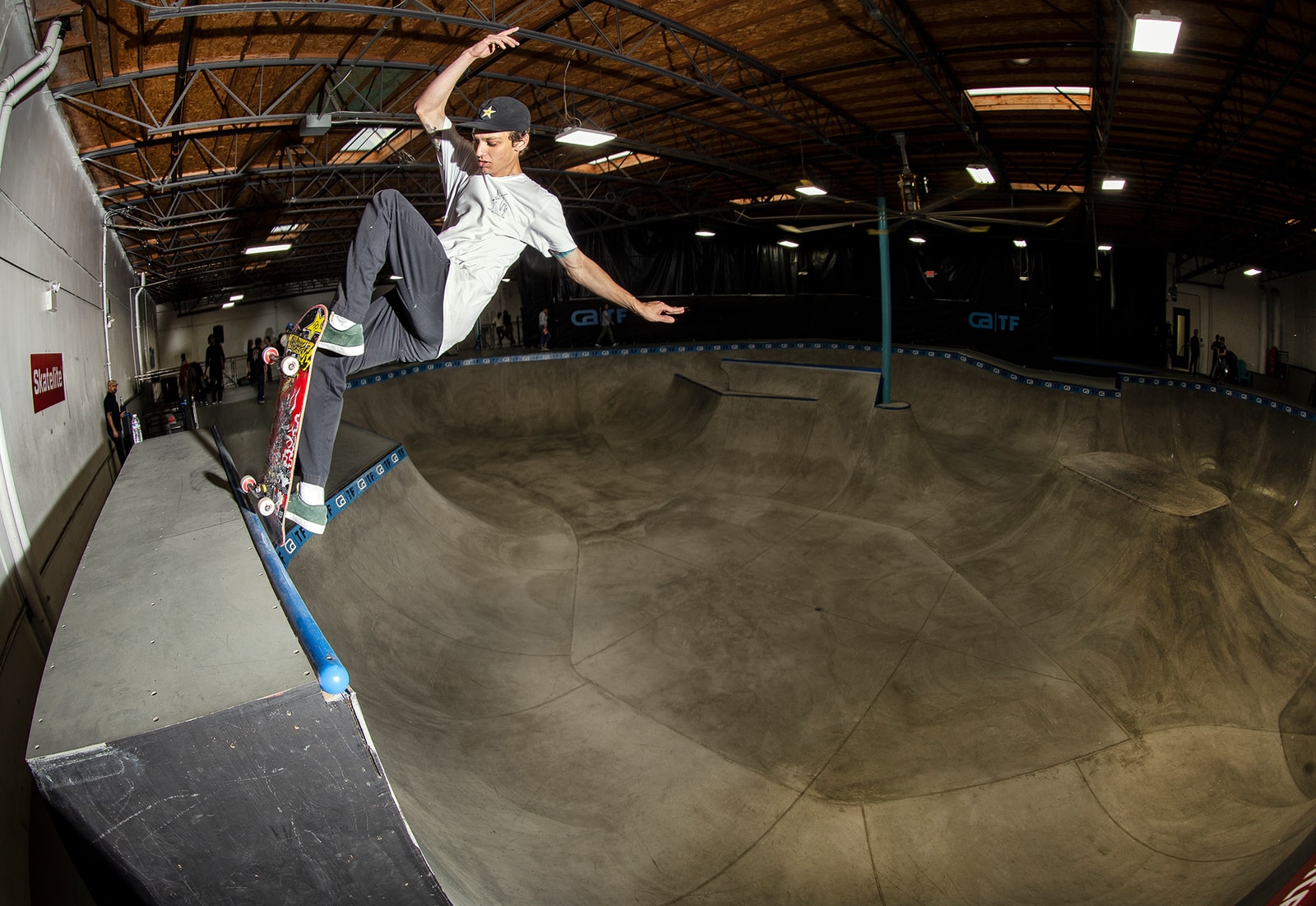 Tristan Rennie, frontside blunt.
The official sponsors of USA Skateboarding are Toyota and Nike. Read our interview with Josh Friedberg for more information about the Olympics planning process.
Stay tuned to The Berrics for more coverage of USA Skateboarding's Olympics journey.