A Short History Of Madrid Skateboards Collaborations
Madrid Skateboards, the progressive company that helped steer skateboarding through several eras of different board shapes, was influential not only in how we skate but also in how non-skaters perceived skating. Marty McFly (above), perhaps the most recognizable fictional skateboarder in history, rode Madrid so it stands to reason that the strictly-'80s kids from Stranger Things would ride Madrid, too. The brand's appearance in the second season of the show dovetailed with a line of Stranger Things-branded decks, tying in two worlds—and two eras—in perfect harmony.
As Jerry Madrid mentioned in our profile of the brand that premiered this morning, they had no idea if Back To The Future would even be a thing. It ended up becoming THE thing, spawning countless imitators and motivated thousands of kids to start skating. This is a great example of how Madrid's instincts have helped steer the company's success—you just can't manufacture intuition like this.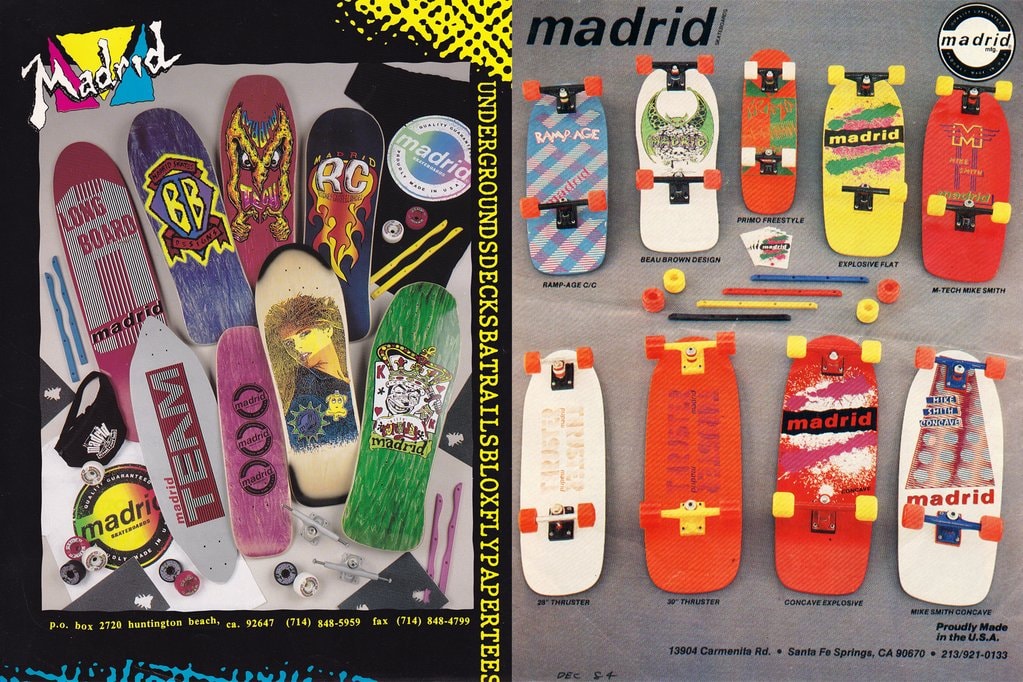 OG Madrid catalogs.
Another recent collab was with Jim Henson's Labyrinth, the trippy 1986 movie that has fascinated generations. The officially licensed collection came in a variety of shapes and prominently featured David Bowie's famously teased-out hair—the 'do that sold a million boards.
In 1987, shortly after the release of Back To The Future, Madrid teamed up with Vans to create on of the most popular shoe designs in history: Vans x Madrid Flypaper Sk8 Hi Pro. In 2016, for Vans' 50th anniversary, the brands re-released an updated version of the shoe, and it also flew off the shelves.
As Madrid embarks on its next 45 years, we can expect an incredible series of collabs that not only signal the future but also pay homage to the brand's rich past. Watch our 'Madrid: 45 Years Of Innovation' video, below, and Viva Madrid!