Skating In The New Normal (At Least Temporarily): Photos By Dave Swift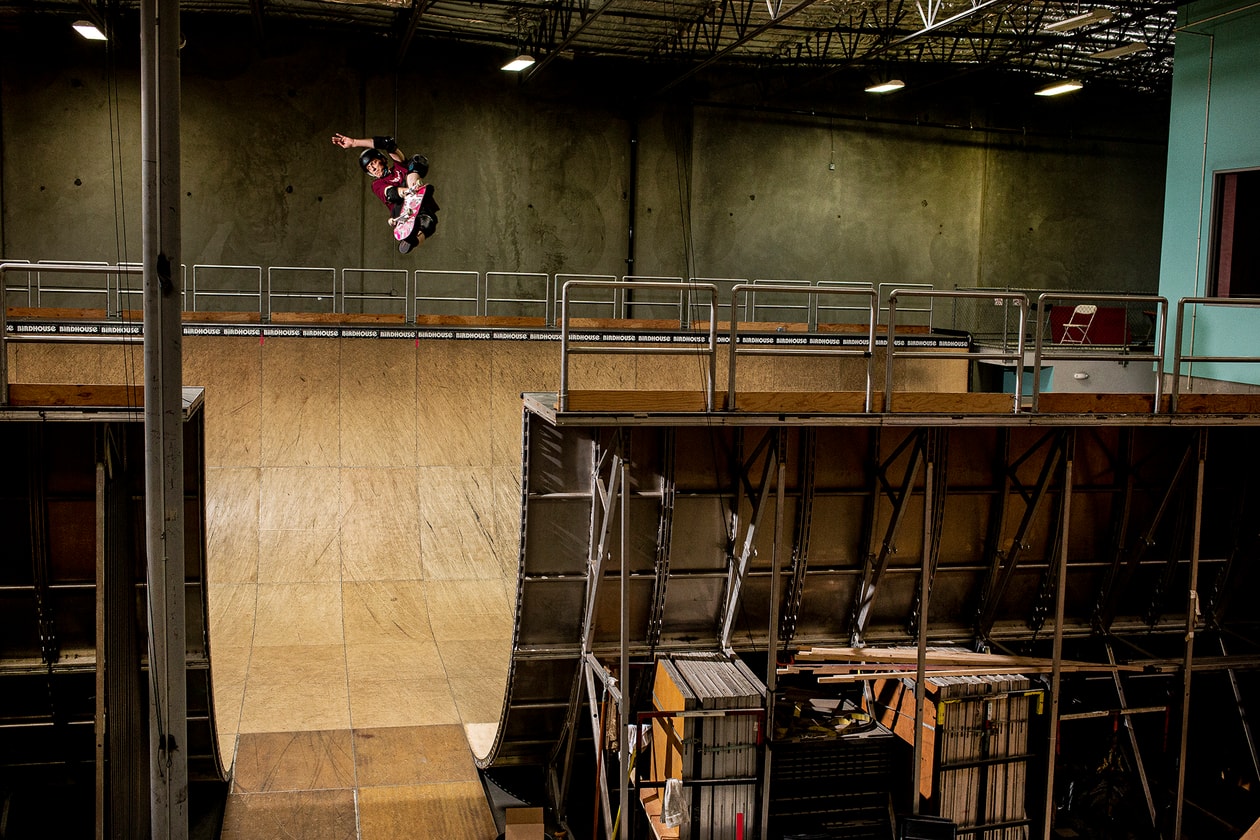 Tony Hawk, lien crossbone, Carlsbad. California.
Words/Photos: Dave Swift
In San Diego County, there are lots of pro and am skateboarders that have been figuring out ways to skate in light of the current climate. There are an abundance of backyard ramps, bowls, and street zones all over the county that have seen quite a bit more solo sessioning as of late but at the very least, skateboarding is still thriving during these strange times—although the size of the session has decreased dramatically. 
In the past month or so I set up sessions with those I knew had access to backyard skate stuff and also a few hardcore street skaters that were still getting out for lonesome sessions amidst the chaos. I sent those I photographed a short questionnaire that might give you an idea how they are doing during the crisis. 
[ABOVE: Of course, when I started this I wanted to shoot Tony Hawk and knowing that he'd be home with the rest of us indefinitely made It just that much easier. When I arranged to shoot him, I figured that there would be a couple of his closest skate friends in attendance but Tony showed up solo to an empty building on a Wednesday at the beginning of the Stay Home order in California. Personally, I hate skating alone but I guess Tony is just fine with it and did a few tricks over the gap for me. Thanks bud!]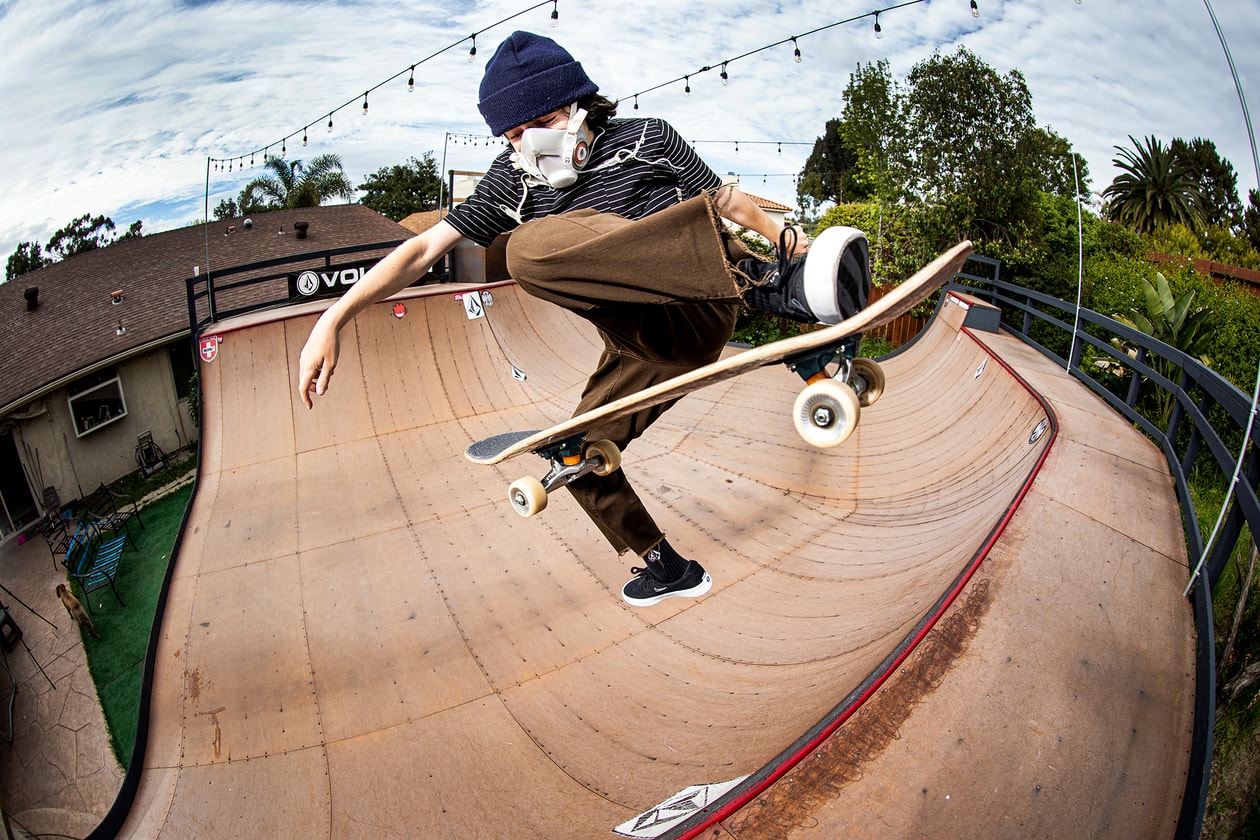 Gavin Bottger, No Comply Disaster, Oceanside, California. 

For young skaters, the Stay at Home situation is probably the toughest as they seem to thrive most when they are amongst their peers. Gavin Botger lives at home with his younger brother, mom and dad in Oceanside and not long ago filled his backyard with a sweet mini ramp. Seems he picked the right time to upgrade his backyard and it's obvious he's spending a great deal of time solo shredding at home.
How have things changed in your life over the last month?
BW: In the last month, things have changed quite a bit emotionally with the Corona Virus's impact with orders of quarantine at home, as well as the turn of events with people's passions. As well as the Olympics being postponed until 2021! I think it's definitely conveyed the symbolism of humanity's constant doing, and made this point known. It's like life has changed in a sense where are external surroundings have become limited increasing our desire to be even more innovative and creative, because we want to be imaginative during this time. But, my life specifically, had changed in a sense where I've been exploring the more individual world around me where things could become a little invisible before this time. Often the world spins so fast at the course of society and what we should be doing, that being in my house for me at an insane amount of time all the sudden has lead me to trying new things like yoga, or gardening. Sometimes little projects, as well as skating more and more, and in a sense, being subject to isolation and the experimental, visionary ideas that come with it. I become a little scatterbrained, especially in the skating neck of the woods, so I find splattering all the crazy thoughts on more confined walls, has given me a platform to dive and dissect things a little deeper, even more literally like finding time with my family. :) As for how it's changed me internally with the way things have been rearranged, I've been taking it with a more spontaneous outlook. Understanding that dedication to a dream will always be there at heart no matter what the delaying factors are.
ES: I don't really leave the house that much anyways, so it hasn't really changed that much. And, every event is cancelled this year so there isn't really much going on.
TH: Staying in one place is the biggest change; not traveling (flying) to events or driving to LA every few days like usual. I was scheduled to be in SLC, Vegas, Billings, Sydney, Melbourne, Brisbane and Vancouver in March/April. So, I've just been home with [most of] our kids, skating as much as possible and Zooming into meetings and interviews. I feel very lucky to be spending this much time with my family while still being able to skate.
AH: I think for most people it's been a pretty drastic change. A trip which was supposed to end in late March is still continuing today. Being a bartender, I was laid off work and have no idea when I can go back to work. The idea of living out of a Van in Canada wasn't ideal during these crazy times so I decided to stay stateside. My friend had an Air B&B that his renters cancelled on when the outbreak hit. He offered it up to me and my girlfriend until a new renter was found which ended up being almost a month (Thanks David!) I was able to stay in Oceanside in the same place with my girlfriend, going to the same grocery store and practicing social distance measures before all the parks closed down. After that it was backyard ramp and bowl sessions with a small crew. Oceanside was one of the last cities to shut everything down in SD County and after that it was off to Utah to isolate with family in a less populated area.
SK: with this global pandemic going on there has been change in a lot of plans I had for this year. planned to skate in Phoenix AM again, last year I broke my knee so I was shooting for a better outcome this time around. but shit happens, ended up using the funds I had for that trip to fly me & my girlfriend back to Mississippi to visit my family. So, it all worked out 
AW: In the past month with the covid crisis, not much has changed for me. I have been isolating a lot which is normal for me, except for when I go skate with the crew a few days out of the week.
LF: School hasn't changed at all for me. I haven't seen my friends or skated any parks since they closed them.
GB: My entire life has changed. I'm spending a lot more time at home, not traveling at all. And barely see any of my pals.
JH: Honestly not too drastically. I'm married and have two kids so I live a pretty structured lifestyle. Go to work, going home playing with my kids, eat, sleep repeat. Breweries (Black Plague Brewing) have been deemed essential business, so I still go to work every day. I guess the only thing that changed was instead of meeting up with my buds on the weekend to skate, I skate with my boys. But we'll do laps around the hood as our "walks" and try to film a thing or two.
NH: Well it was supposed to be the busiest year of my life and one of the most life changing years of my life. So, to speak, with not only the Olympics ahead in Summer 2020, but with all the trips with Nike and NHS I had planned as well. That's not to say this won't be the most life changing year still. The way things are going anything could happen and I'll be ready for it ha-ha.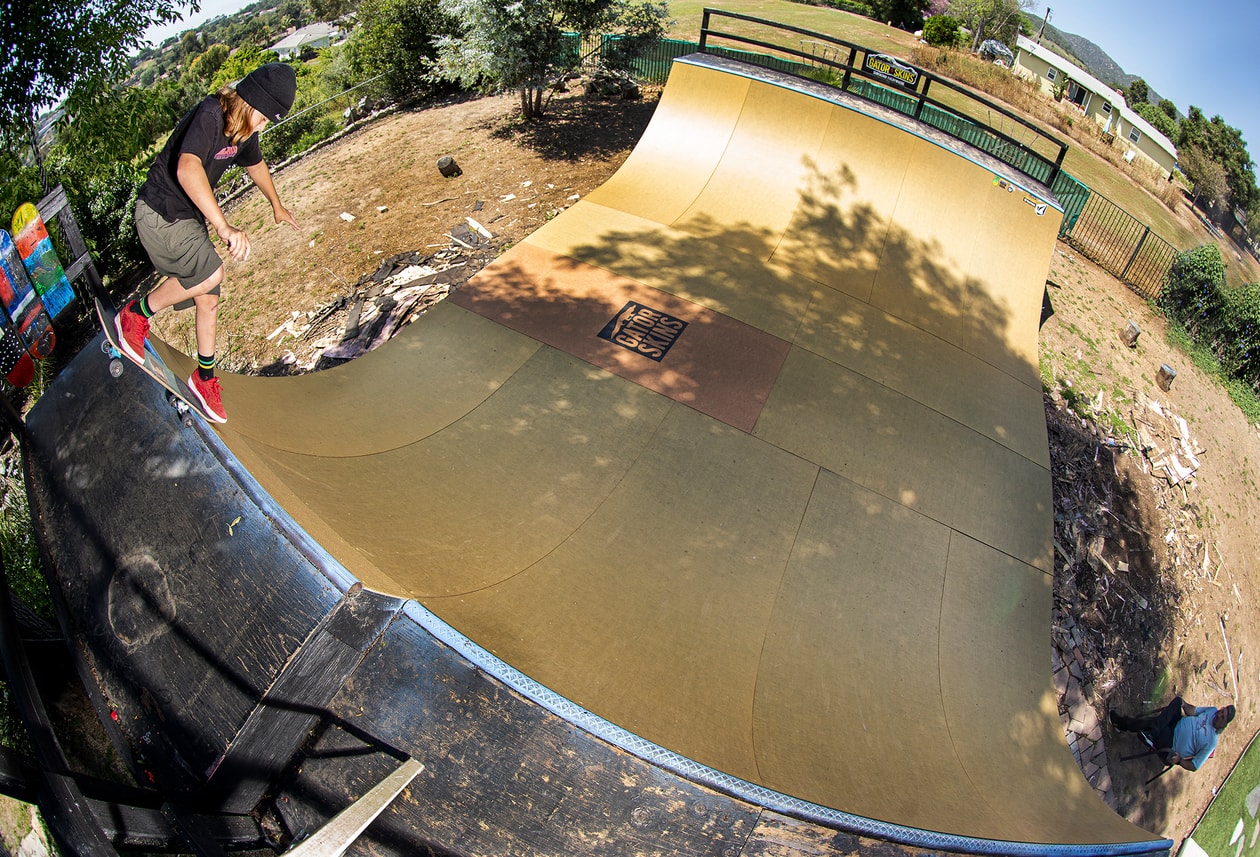 Logan Frank, Backside Noseblunt, Vista, California. Logan Frank is your typical fifteen-year-old park rat who daily spends several hours ripping the local parks in the area. When it all got shut down he was one of the lucky ones that had a ramp lurking in the backyard. The "Stay at Home" situation also hastened the purchase of a new surface for the previously mentioned mini ramp and some heavy solo sessioning has ensued. 
What has been the most positive thing to happen for you during this crisis?
BW: The most positive thing that's happened during this crisis, is the offered free time of offering understanding on I guess who I am, what the world means, and who my family is as people. By that sense, I've noticed my sister and I have gotten to experience opportunities we've just never gotten around to doing like science experiments, or learning little tricks on a rail, or even how to bake a cake! Being able to create a space of all formations of creations, and blending them together in ways unintentionally imaginable, until the day has ended and we've got to build a swing out of a skateboard, create pictures to invent a dream board, or even read a new book. :) Sometimes learning a new trick where there's no words left to describe what it is or where it came from. Despite the fatalities and negative attributes of the virus itself, there's now this given amount of time to elaborate and reflect on simple ideas, and room to fabricate a level of sophistication to those simple things. 
TH: Reconnecting with my family without constant distractions.
JH: Definitely being able to spend a lot more time with my family! I think we've been able to connect on some new levels and get a better understanding of how each other operate. We were so used to such a fast-paced lifestyle, keeping ourselves distracted and entertained. It's been nice to slow down and absorb a lot more of what's going on around you. I also seem to spend a lot less money! So, can't complain about that!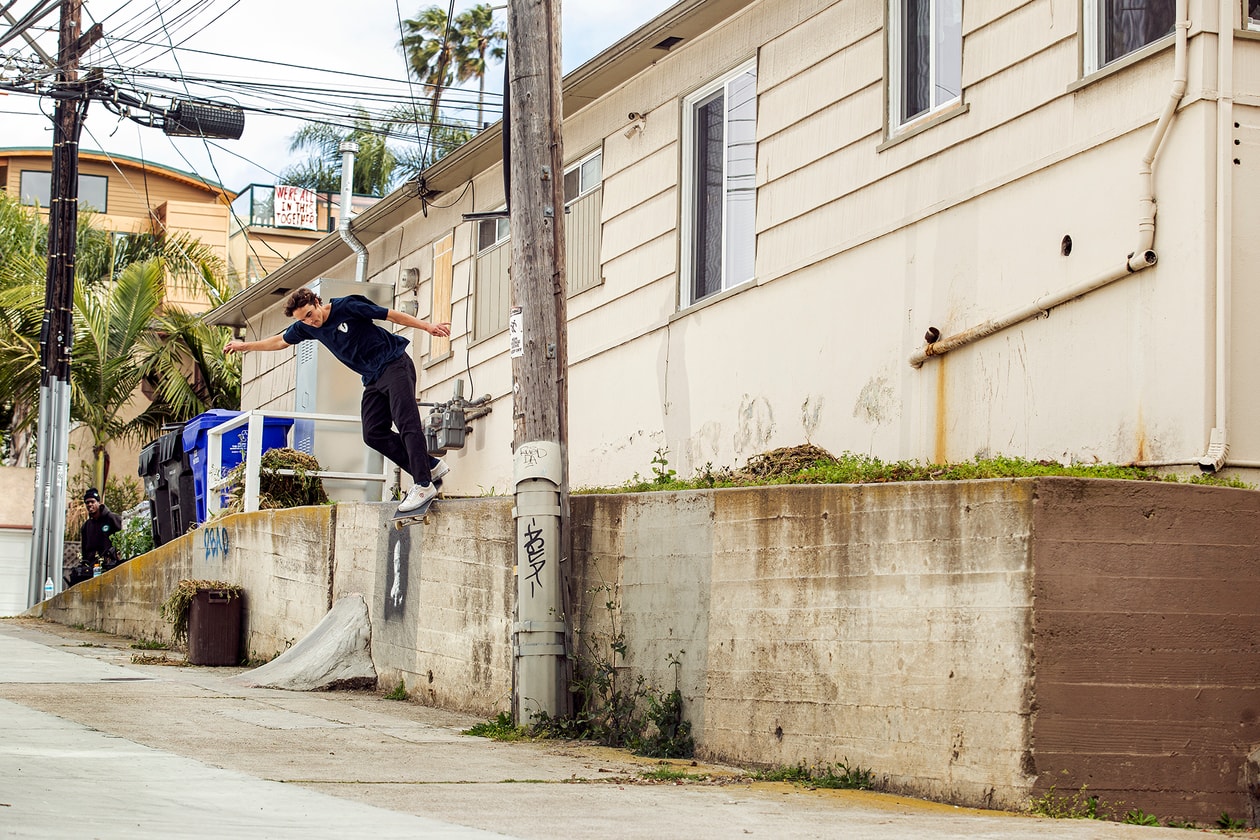 Skyler King, Backside Smith Grind, Ocean Beach, California. 

When I started this article, I was just going to hit up people that had their own skate zone in their backyard or a personal warehouse or the like. But I thought more about the spots that were pretty much security free and noticed a handful of skaters that were still going out and filming because that is what they do. Skyler King is from Mississippi and has been living in California for a little while and I saw a post of him skating this spot in Ocean Beach. Looked interesting and skating in an alley-way seemed like "Social Distancing" to me. If you look close, there is a sign in the upper right of the photo that reminds us all "We Are All in This Together." 
More or less skating?
BW: The wonderful bit about skating is they're millions of things constantly filtering out with it. It acclimates to all aspects of the world, and at any given point you can jump every which way on a skateboard whether it's in your house or at night in your bedroom. I'm grateful enough to actually set aside room in my backyard for a wooden bowl, which is like another little explorative world, and as well as a beautiful vert ramp. Obviously, this time has led me to a new level of appreciation for them, because in my head the possibilities would double themselves for the tenth time in a day, or a small combination would adjust just a little into something magical. It's absolutely amazing when a few people come over too :) because it's even more altering perspectives and little bits of happiness floating over because it's like a secret hideout until Covid-quarantine is over. It's a bit of an escape route.
ES: About the same.
TH: More skating for leisure, instead of the pressure to perform (for video or crowds).
AH: Definitely less but trying to keep the body moving in other ways. 
SK: skating more since the streets are empty, taking advantage of the open roads and closed businesses. been finding decent hills to bomb and smooth parking lots to ride.
Skyler King: Because you don't have your own TF or backyard zone for skating, have you been out searching for spots?
"Oh yeah, always on the hunt for new spots. Plenty around here in SD, especially right now with business and schools being closed." 
AW: I was skating every day until I dislocated my toe. I was trying to use the extra time to film tricks to finish up my part for the new SK8MAFIA video, mostly at places where there is usually high security. Trying to take advantage of the emptiness.
LF: A little less skating due to the parks closing.
GB: Definitely not as much skating.
JH: About the same actually.
NH: I was skating quite a bit still b/c I'm fortunate enough to have a ramp in my backyard. But actually, as I'm answering these questions. I just got a call that I have a complete tear of a ligament in my ankle. So, I've been laid up the past 2 weeks, and it looks like I have 6-8 more weeks. Bummer but that's skateboarding for ya.
Alex Willms: What worries you most about skating in the streets right now? 

"The virus is sketchy, but injuries are always my biggest fear. Little injuries lead to bigger ones later on by making you rusty. Hoping to stay on my board for a while before the next one."
Are you generally skating by yourself or do you have a small crew that skates with you?
BW: Right now, there's sort of a designated crew but mostly friends who've my family and I have known for a while, and people close to us. But of course, there's a flexibility because during this time it's hard to actually find a place that's open, and everyone needs to skate an inch of transition once in a while. We've been maintaining a safe distance, however. :) Also, some of my close friends who live superb close and I, haven been skating down to this local ditch, and one of them is super talented and spray painted a little image onto it.
ES: I've skated with a few people since this began. I miss the sessions we had at my place a few months ago.
TH: Usually a crew of 3-4. Today was an exception; Cab, McGill, Staab, Andy Mac, Bucky and me.  So, fun.
AH: When I was staying In Oceanside I was skating with the same crew all the time at a few private spots. When I did the drive to Utah it was just my lady and me. Now that we're here, I've been skating with her brother Max and a few of his friends. We're hoping to ride this out for another month or so then back to Canada if things have started to mellow out over there. 
SK: lately I've been in the streets with a crew in SD or traveling with homies to different houses to skate backyard ramps. if I'm not out with a crew then I'm probably out bombing hills with my friend Chris or skating with Dina around the house. 
AW: I usually roll out with whoever is on the mafia sesh. The rest of the days I will skate at my house solo, or drive around and look for new shpots.
LF: I've been skating by myself, occasionally friends come over and skate the ramp.
GB: Mostly by myself or with my homie Curran
JH: Me and my kids. No outsiders. Can't afford to get my kids sick. This isn't about me. It would be an extremely selfish move in my opinion.
NH: I grew up skating mostly by myself. So, I'm super comfortable with that. Doesn't bother me at all. I always love a solid sesh with all the homies though! 
Alex Willms: You live with your dad and he works in the medical field. How does he feel about you skating during this time? "He's not stoked, but I'll be inside healing up for the next few weeks so that calmed him down a bit ha-ha. At the same time, he does know that San Diego is pretty mellow compared to where the virus is spreading super buck, so he says as long as I keep my distance and wear the mask I could keep cruising out."
Have you found any new hobbies to occupy your time?
BW: During this time, There's been a various amount of new hobbies taking place in the household, for example little things like yoga or running with my mom even trying a little bit of mountain mountain biking, and baking pies and cakes, gardening, spray painting, painting, building little projects out of skateboards and skate decks, writing some music, learning new cord variations, obviously skating anywhere and everywhere in exploring new little place is like ditches and learning some new things , and a lot of journaling, and organizing, decorating, archery, and family game nights! Little science experiments too, and attempts at learning languages. Ha-ha there's a lot.
ES: I started painting and drawing. I used to do that a lot when I was younger, so that's been cool to get back into.
TH: My wife regularly plays VR so she's pulled me in and now I'm a believer. Pixel Ripped is an incredible game. My daughter and I play Mario Kart 8 when she's home, and we've just started playing online so we can race while she's not here. She's VERY good, btw. It's always close. If this lockup lasts much longer, I'm going to try and relearn how to play violin.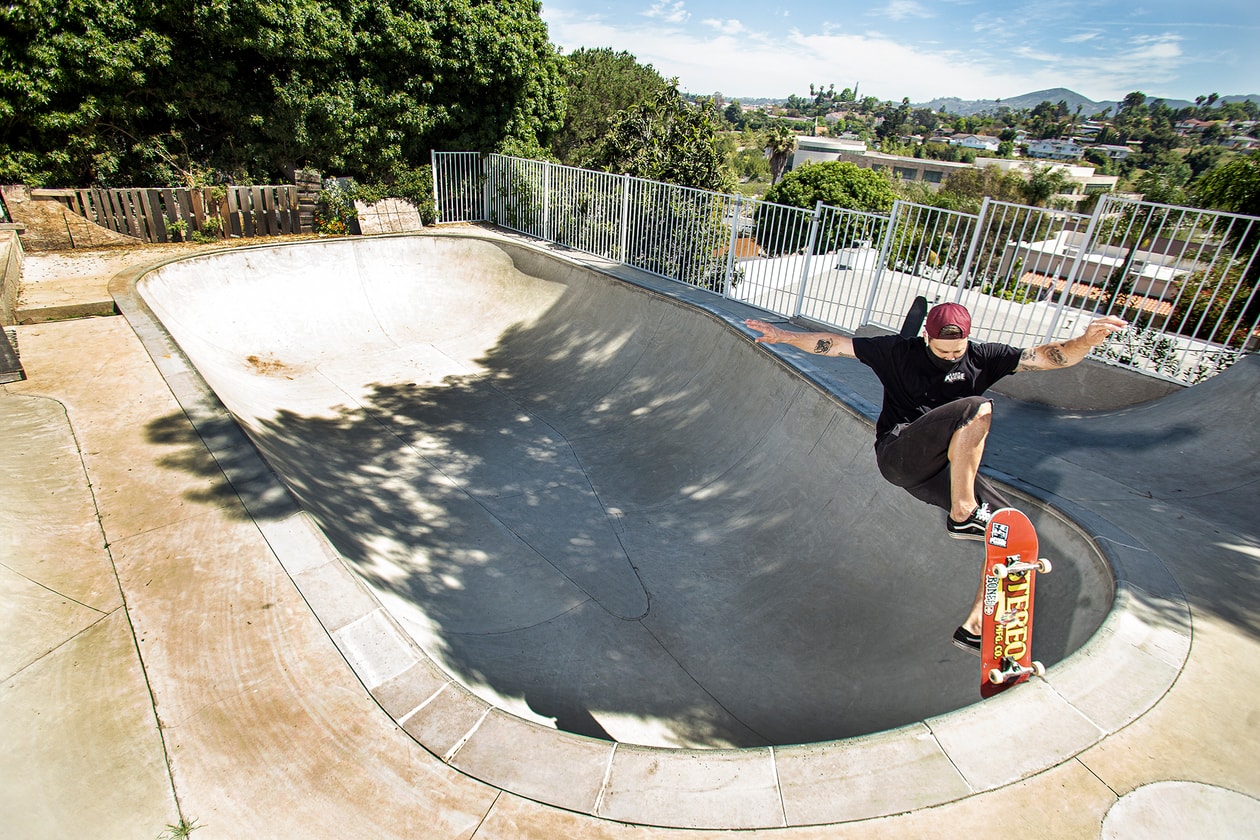 Jordan Hoffart, Frontside Blunt, Vista, California. 

Knowing that Jordan Hoffart was running a brewery with tasting room when this all started I was interested to see how that was going. The tasting room generated a lot of revenue for the business and that was shut down but Jordan says that things are chugging along at Black Plague brewing in Oceanside, California. I hit him up about shooting photos on his backyard concrete but got denied because his wife wasn't allowing anyone over. In the next few weeks I hit him up a few more times and finally got the okay as long as I wore a mask and gloves. Gotta adjust to the "New Normal!"
AH: I've been learning how to sew a bit. My girlfriend was sick of fixing all my blown-out pants so she's been teaching me how to use her machine. Learning how to fix clothing, put patches on hats and whatnot. I've been toying with the idea of starting a small brand down the line so it should come in handy.
SK: mostly just playing video games, which I didn't do before quarantine started. it's not the best hobby but playing online with homies across the country is pretty cool. 
AW: I've definitely been searching for some new hobbies especially since I got hurt. I've been doing a lot of gardening/landscaping with my Dad. We like to handle business in our yard, shit gets intense sometimes. I also just ordered a guitar and am going to try to learn how to play.
LF: I've really gotten into painting old boards and other kinds of art.
GB: Drawing, school and finger boarding
JH: FORTNITE! We squad up heavy. The wife plays too. It's a full family affair. My gamer tag is: HOFFINOMICS  I suck, but it's really fun. LET'S GO! 
NH: Editing footage on Adobe Premiere Pro. Takes some time to figure out, but I'm getting there.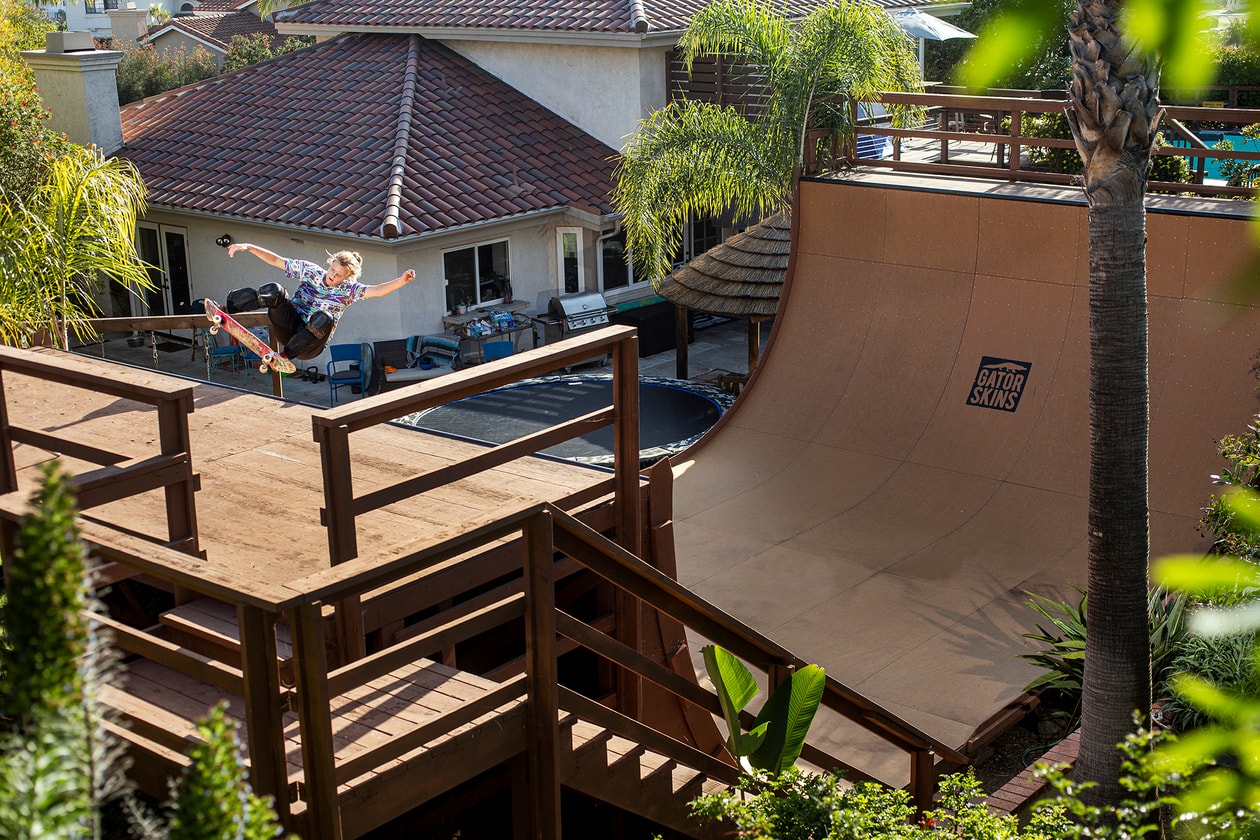 Bryce Wettstein, Ollie, Encinitas, California. Imagine being just a few months away from having the opportunity of a lifetime as one of the first female skate Olympians and getting the news that the games would be postponed until 2021. Well, Encinitas, California resident Bryce Wettstein found herself in that situation but it seems she's taking it all in stride. Having a virtual skatepark in your backyard makes it all a little easier I suppose. 
How do you protect yourself while skating that's is different going forward?
BW: Protecting myself while skating had been more or less similar! Wearing pads and a helmet when soaring out of the comfort zone a little bit. But my mom has been sewing a lot of masks out of new fabric for my friends and me.
TH: Avoiding crowds mostly. I don't know how we're going to do demos in the foreseeable future though
AH: Practice social distancing measures and avoid large gatherings of people. Changing your clothing as soon as you get home from the session as well as carrying wipes, hand sanitizer and face wash in my bag/vehicle. Elbow bumps, no handshakes etc. 
SK: nothing's changed but I'll wear a mask every now and then. 
AW: Both of my parents are in the medical industry, so they're pushing the precautions on me pretty heavily. I always wear the mask and try to avoid touching shit I don't need to touch. I was already a bit of a clean freak before all this so the sanitizer is always on the sesh.
LF: Skating has always been with my friends and I don't think that will change much. If you don't feel well, stay home.
GB: I skate at home most of the time but if not I'm with my dad.
JH: Not sure. Depends on the regulations they put into place. I'll follow the rules though. I don't have anything to gain by breaking them.
NH: Knee pads and helmet usually. But sometimes without. When I'm not skating with those, I usually have to tell myself to focus up, so I don't get broke off.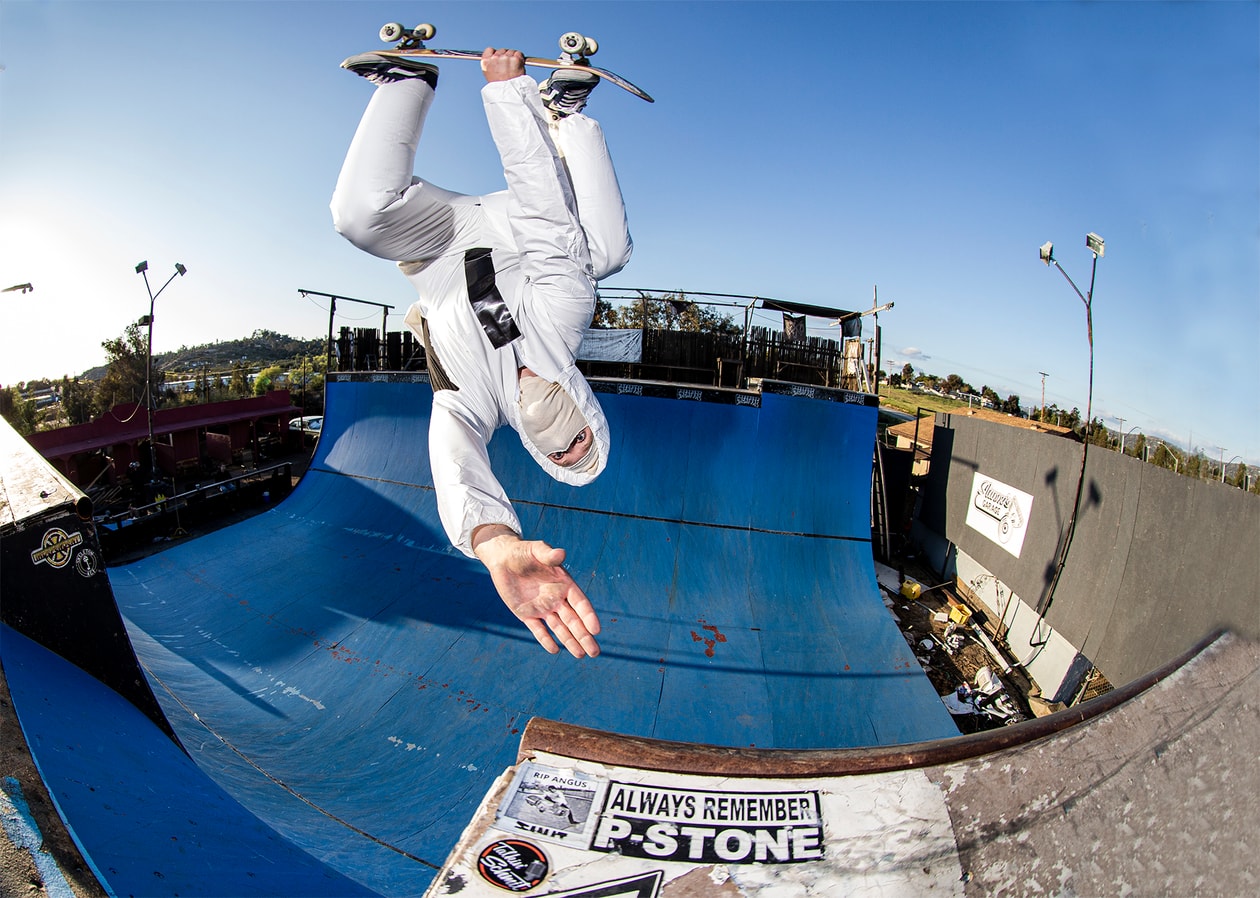 Adam Hopkins, Channel Invert, Ramona, California. 

On one of the last days the skateparks were open in Oceanside I got to skate with Canadian Adam Hopkins at Prince Park. He told me that he might just wait out the situation in the US because getting back into Canada might become difficult. A few days later I shot some photos at the famous Rumble Ramp in Ramona, California where a box of "Devo-styled" suits were found on the deck of the ramp. We all put them on and Adam hopped the channel via a handplant mostly safe from any unwanted germs. As of this writing, Adam still hasn't returned to Canada.
As far as social distancing is concerned, do you travel solo to skate—as in, you in the car alone?

TH: Usually, or with one or two of our kids. No outsiders, so to speak.  
AH: It's definitely not the same as it was before. I am usually traveling solo or with the few people I've been spending time with.
SK: Nahh I'm still skating with friends, keeping my distance but still showing love when a homie does something sick. 
AW: I always bring my own car to the spot these days.
LF: I'm only fifteen so I need to get rides.
GB: My dad takes me to skate.
JH: Fore sure. Why risk it? I mean, even if you don't believe it? If we ALL take the necessarily precautions. We are ALL good.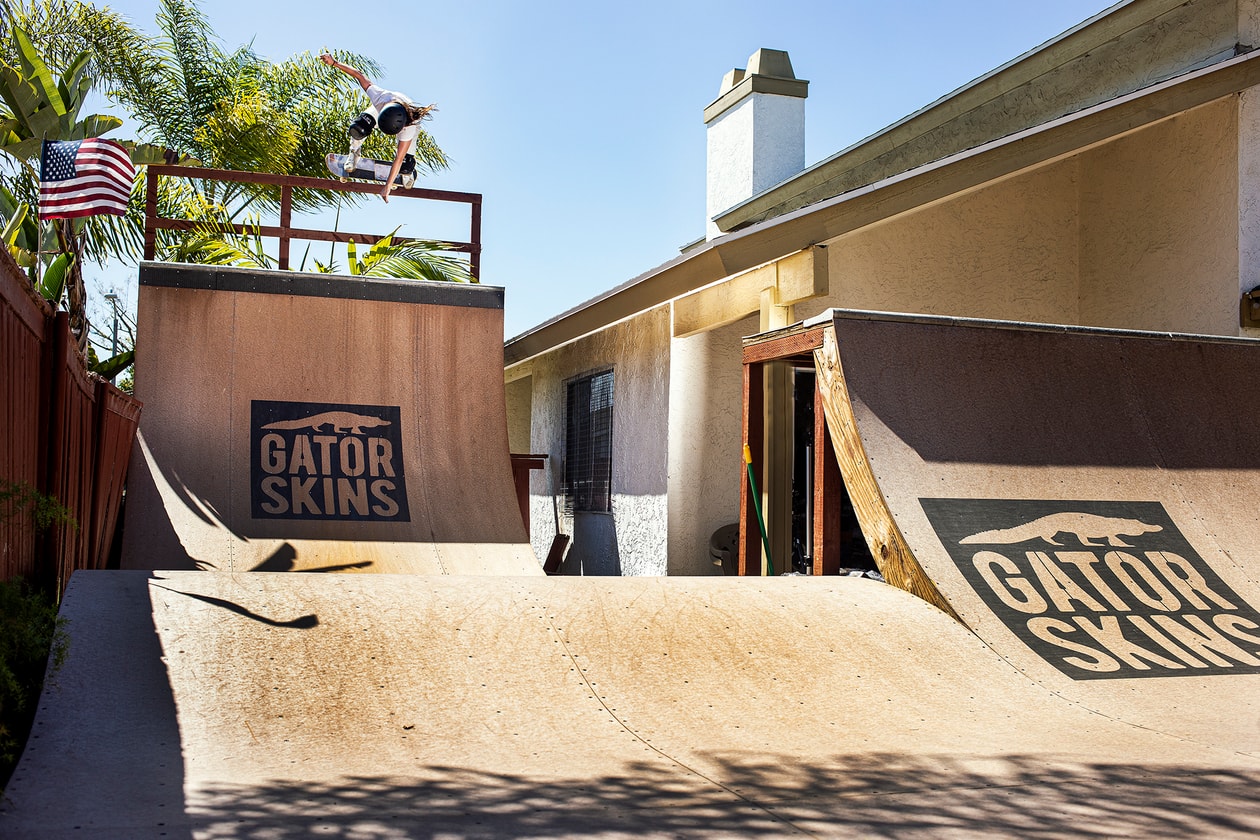 Nicole Hause, Backside Ollie, Oceanside, California. Nothing better than having a sick ramp in your backyard when you are subjected to state orders to stay home. Nicole Hause knows this better than most and just has to step outside her kitchen if she wants to rip. It was humorous watching the neighbor strolling outside on the sidewalk as she blasted backside ollies and other moves on the vert section of her home mini. 
Have you learned any new tricks during the lockdown?
BW: During the lockdown, I've probably learned some of the funniest looking shaped tricks ever before. Honestly, I have no idea what most of them are called, and it's kind of like whipping up accidental recipes or something. Just spinning around and trying to combine like four fun tricks consecutively to see what it feels like, and stringing along the eccentric never ending little dance routines. I've finally got around to committing to a back boneless, or one of those little back sweeper things inspired by Andy Anderson on the Braille game of skate the other day!  but most importantly, there's a little more time to play around in new ways that take you by surprise. At least for me.
ES: Frontside Laser Flip Lien and fakie flip les-twist
TH: Yes! I just learned rewind feebles (like a switch Losi grind). Trying to do a frontside 270 into it now, but it's so hard to aim.
AH: Sluggo and Colin have been giving me hell on my squatted out 540's for a long time and I started standing up on them recently. Is that a new trick? Take that skate squats. Backyard Vert is great for social distancing. You're 12' from flat and 30' from the other deck. Tons of space and easy to be in your personal bubble.
SK: Sort of… vert skating is fairly new to me, and every now and then I'll go out to Ramona and try something new on that ramp.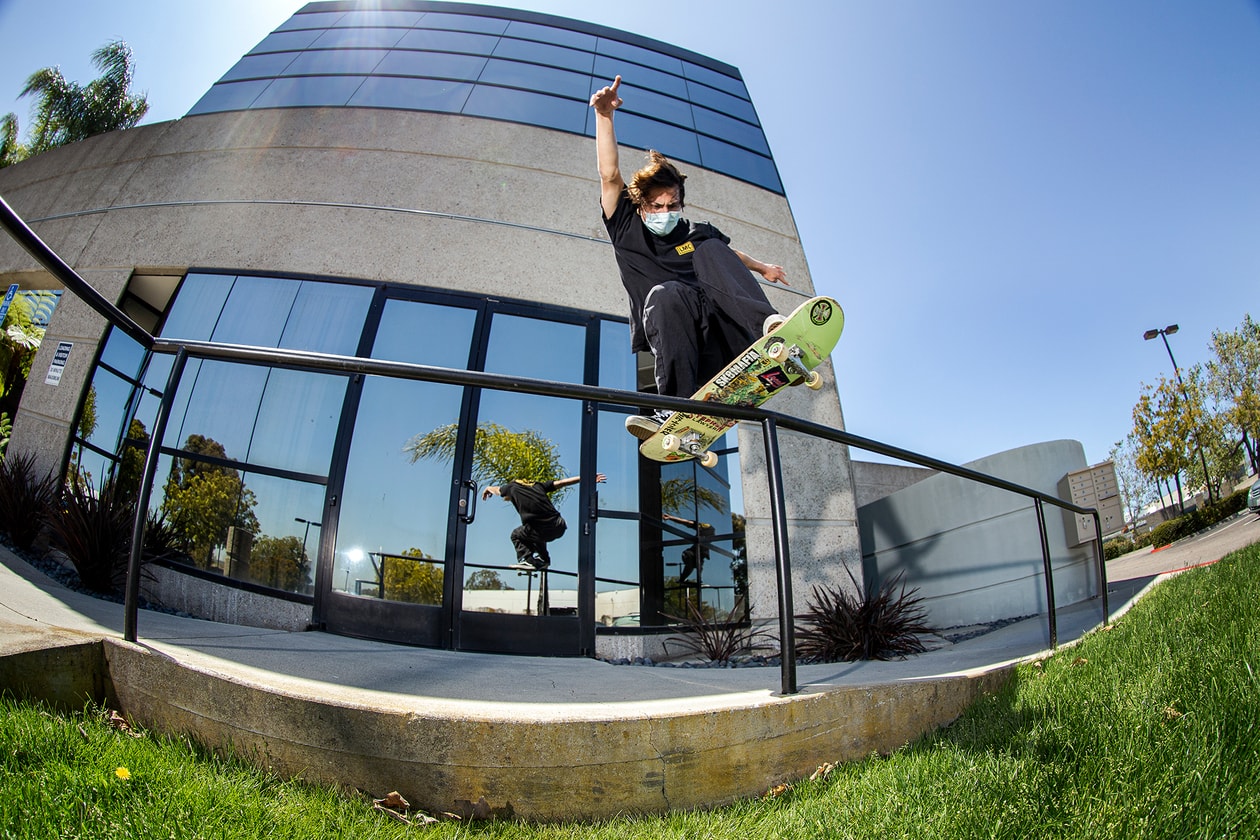 Alex Willms, Front Board, San Diego, California. 

I knew for a fact that Alex Willms was out skating spots around San Diego because I was seeing Instagram posts of him at spots that are virtually unskateable in normal times. I also knew that his parents were in the medical field so I wanted to know how they felt about him skating while all this is going on. Have you ever worn a mask while skating? It sucks.
AW: Yea! I've got a metal ledge at my pad that's really fun. I've been learning some stuff on that thing as well as on this new flatbar I just bought to bring on the sesh. Alexis just fuckin' fakie flip switch crooked it.
LF: I've learned Cab disasters.
GB: Ya, I learned a couple new ones— No comply front blunt, k.f. nose slide, alley-oop nose grinds, half cab crook to fakie and couple others I'm keeping in my back pocket. Favorite new trick is a no comply front blunt. Been skating a lot of switch.
JH: Mostly relearn tricks, like that front blunt in the photo. Probably been five years since I pulled one of those in the clam shell. That was scary for me. there's not a whole lot of transition on that wall.
NH: Kickflip to fakie at the very start of the quarantine, super-hyped on that one.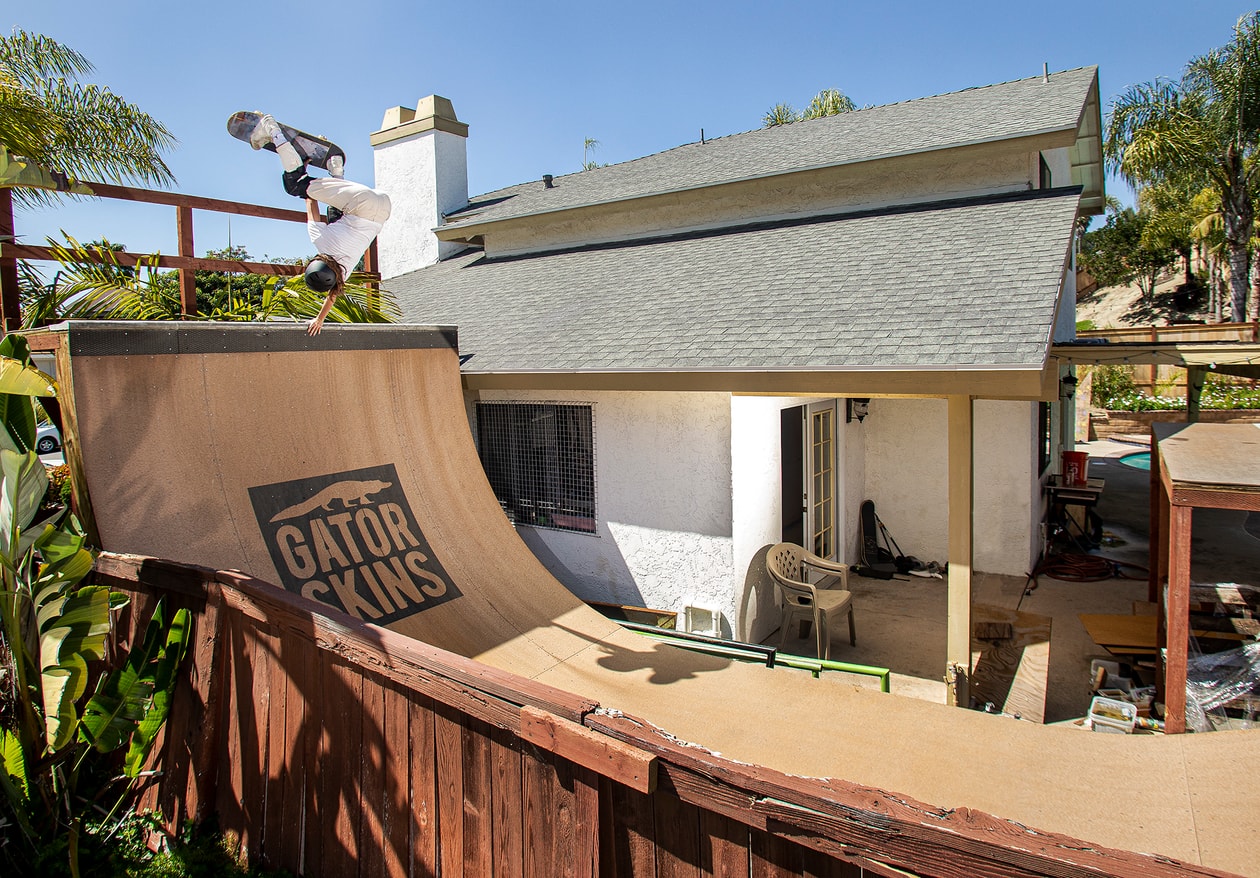 Nicole Hause, invert. Are your neighbors stoked to see you skating? 

"So far ha-ha, our neighborhood is so nice. They always stop to watch and say hi. No complaints yet."
What do you look forward to when things inevitably get back to normal?
BW: The ginormous vibrant thing I'm probably looking forward to when things inevitably shift in a normal direction, is hopefully having an opportunity to travel again with the people I love to new and adventurous places, or the feeling reuniting with the skateparks again and not living in the conscience bubble of having to be six feet away all the time! Actually, the biggest thing might be giving someone a hug. And of course looking forward to favorite destinations being open! More or less, for every person to be able to do what they love in an open area too.
ES: Going to concerts and events.
TH: People getting back to work so they no longer have to live in financial uncertainty, doing all my demos and speaking gigs that have been "postponed" indefinitely, and going out to dinner at expensive restaurants; it's my one excess and takeout isn't a substitute.  
Adam Hopkins: Being Canadian, was it weird being in California for the first 30 days? 

The first couple weeks were weird but after that it became normal everyday life. You accept the circumstances of what's happening and try to act accordingly and take precautions.
AH: First and foremost, I really hope things get back to normal to the way it was before. When the time is right of course. I look forward to Friday sessions at Hastings with the crew, Orcas Island camping trips, putting the van on the highway and traveling freely around the world chasing concrete.
SK: looking forward to traveling up the coast of California more, been stuck around SD since I moved here and really want to venture out, see new places and skate cool shit. but I doubt this thing will let up anytime soon. 
AW: It feels really tense out there and at home. It seems like people are dying left and right and there's a lot of panic on the news. I'm looking forward to everyone chilling out a bit.
LF: I can get back to the parks with my friends. Having fun just skating.
GB: Traveling, skating more spots, filming, working on a new part, contest and hanging with my friends and just getting back to normal life.
JH: Being able to go back to the skateparks and not feel weird about skating in the streets. Obviously, seeing my buds again and cruising over to my families houses for functions. On some jock-shit, watching UFC and going to the gym is what I miss the most. I have a feeling no one reading this is going to find that to be a big surprise, though. Stay safe everybody! Love ya'll.
NH: Seeing and traveling overseas with all the skate homies again and skating Prince Park.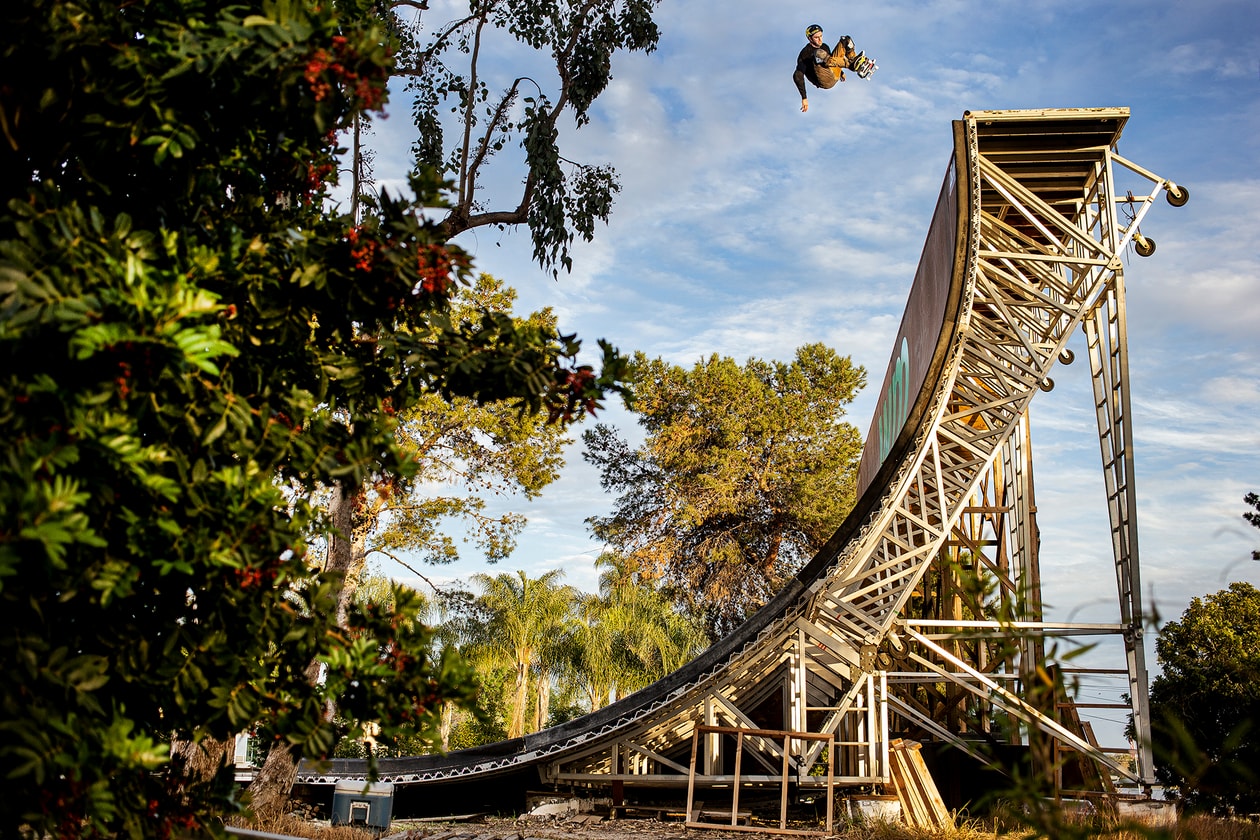 Elliot Sloan, Ollie, Vista, California. 

If you know anything about Elliot Sloan, you probably know that he has a huge skate zone in his backyard and normally has several people skating with him on the regular. I noticed that everything he was posting after the "Stay at Home" order was in effect showed he was skating alone. Not only was he skating by himself, he was learning some of the gnarliest tricks I've ever seen. Must be nice. Here's a sick frontside ollie on giant quarterpipe. 
Visit DaveSwiftPhotography.com to see four decades of his skate portfolio.